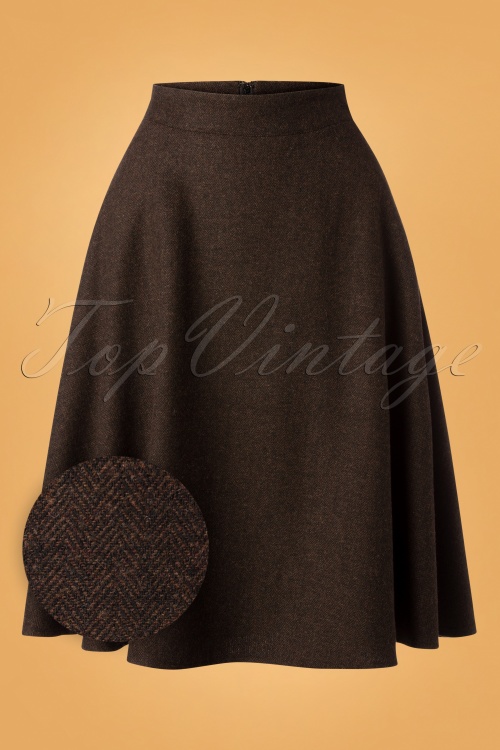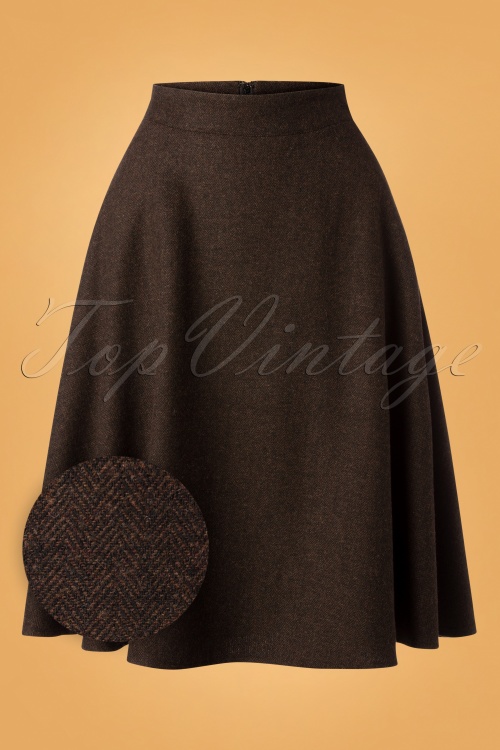 40s Shirley Swing Skirt in Herringbone Brown
Feel like a real classy lady in this 40s Shirley Swing Skirt in Herringbone Brown! Herringbone... we can't get enough of it! Wear her with your favourite top or cardigan, she'll totally complete your outfit. A full swing skirt that sits high on your waist, a vintage feminine silhouette is guaranteed with Shirley. Made of a thicker and warm, supple dark-brown fabric that feels like wool (doesn't stretch) and features a classic herringbone pattern. And she is fully lined ensuring she won't itch your legs ;-) What time is it?! It's herringbone o'clock! 
Swing style
Side pockets
Zipper and hook closure at the back
Fully lined
Hits below the knee at a height of 1.70m / 5'7''
Article nr.
30689
100% Polyester
100% Polyester Lining
Handwash inside out (don't leave it in the water)
Wash inside out
Wash dark colors separately
Machine wash 30c delicates cycle
Do not dry clean
Do not tumble dry
Iron inside out on low temperature setting
Do not bleach
Dieser tolle Rock ist aus einem schweren Stoff, aber trotzdem nicht unförmig. Der Stoff erinnert fast an einen Wintermantel. Größenmäßig passt er bei mir perfekt zu den Maßangaben; Ich suche jetzt nur noch ein passendes Oberteil, das gut zum festen Stoff des Rocks passt.
Ulrike
&nbsp|&nbsp
2019-10-20 18:47:49
---
J'ai craqué sur cette jupe, et malgré ce que disaient les commentaires précédents j'ai suivi le tableau des tailles et elle est parfaite.. je m'attendais à avoir besoin de la diminuer à la taille mais pas du tout!
AMELIE
&nbsp|&nbsp
2021-01-05 09:50:03
---
nl
Ik word hier zo gelukkig van
Prachtige kleding en aangenaam draagcomfort. De banned rokken wel in retour om een maat kleiner te bestellen.
Nathalie
&nbsp|&nbsp
2020-12-08 22:00:13
---
Stuk voor stuk mooie spullen
Nathalie
&nbsp|&nbsp
2020-12-08 21:55:13
---
I adore the cardigans from Banned but know to order one size smaller than recommended. They fit just perfect!
The green cardigan from Vixen I ordered in recommended XL to be save and fits just as nicely as the other ones.

For the blouse I kept to recommended size because it is non stretch. Glad I did, the fit is great, and the colour is gorgeous.

The green skirt I ordered in 2XL and it is slightly wide around the waist. I have a 93 cm waist so smaller would not fit according to the guide. Still wearable and cute so am keeping it.

The brown skirt I ordered in XL, I don't know why because I should have ordered 2XL. It may be dumb luck but it actually fits. Granted: I cannot gain weight over the holidays because the waistband has no give left. Lovely heavy weight!

Fantastic haul!
Dieuwertje
&nbsp|&nbsp
2020-11-29 15:12:18
---
de
Immer wieder begeistert
Ich kaufe sehr oft hier ein und bin immer wieder begeistert! Das ist einfach mein Lieblings Vintage Shop!
Die Ware wird immer sehr umsichtig verpackt und die Lieferung ist wirklich schnell.
Die Größentabellen sind sehr genau. Wenn man doch mal etwas umtauschen will geht das aber auch ohne Probleme.

Zu den Sachen:
Der Mantel ist ein Traum, er passt ganz genau und schmeichelt der Figur sogar mehr, als es auf dem Bild aussieht. Man fühlt sich richtig glamourös. Den Kragen kann man bis oben zu Knöpfen und durch das Kunstfell braucht man nicht mal einen Schal.

Die Röcke sind aus schweren warmen Stoff, passend für kalte Tage, sie sitzen gut und sind einfach schick. Ich liebe die Farben.

Das Oberteil ist etwas blasser als auf dem Foto, aber trotzdem hübsch. Und es ist sehr bequem.

Der Trägerrock ist auch sehr schön, allerdings oben rum ein Bisschen eng, weswegen ich ihn mit eine Nummer größer bestellen werde. Laut Größentabelle bräuchte ich L, aber nehme nun XL. Also würde ich Damen mit etwas größerer Oberweite empfehlen eine Nummer größer zu bestellen. Ansonsten ist er mega süß.

Bei jeder Bestellung wird einem ein kleines Geschenk mitgeschickt.
Ich freue mich jedes Mal wie an Weihnachten wenn ich hier bestelle.
Vielen Dank.
Mandy
&nbsp|&nbsp
2020-11-24 22:30:17
---
Toen ik de mail kreeg dat deze rok weer beschikbaar was, heb ik niet geaarzeld en meteen besteld.
Ik heb een taille van 104cm, maar de XL zit perfect!
Echt een super fijne rok met een heerlijke stof!
Chantal
&nbsp|&nbsp
2020-09-24 12:35:00
---
fr
En amour devant cette jupe mais...
Je suis tombée amoureuse de cette jupe.

Déjà pour sa couleur j'adore ce joli brun avec motif tissé et pour sa coupe rétro à souhait.

Je l'ai commandé en S mais malheureusement me situant entre 2 tailles XS et S la jupe ne me cintrait pas assez la taille. Elle avait tendance à glisser de mes hanches.

J'ai dû à contrecœur l'a renvoyé. J'espère qu'il y aura un réassort de cette jupe dans ma taille en XS car elle serait magnifique à porter en hiver avec des collants à motifs et mes petites derbies à talons.
Réalisé mon souhait de la réapprovisionner Top Vintage ♥
Mélanie
&nbsp|&nbsp
2020-09-22 15:31:16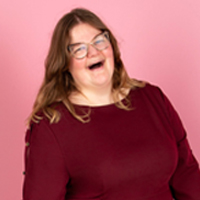 Response from Nicole

Bonjour Mélanie, quel dommage que la taille S est trop grande ! En ce moment il n'est pas encore si ou quand votre taille désirée sera réassortie, mais Si vous souhaitez obtenir automatiquement un message dès que cet article est de nouveau disponible - sans engagement - sur notre site web, veuillez indiquer votre nom et votre adresse e-mail en cliquant sur la taille désirée afin d'en être informée. On croise les doigts ! :-)
Cordialement,
Nicole
Service Clientèle
---
Vandaag de bruine en de grijze variant binnen gekregen. Hele mooie stof en mooi modelletje. Ook wat korter dan ik normaal gesproken heb, dus een welkome verassing. Vreemd is wel dat de rokken van hetzelfde merk en stof zijn, maar de maten in de maattabel zijn anders. De grijze zou ik een 3xl nodig hebben en de bruine 4xl. Maar helaas zijn beide te groot. De grijze zou misschien kunnen blijven hangen met een hele dikke trui erin, maar dat is niet de bedoeling. Mijn taille zit tussen de 103 en 106 cm. Scheelt ochtend of avond. Dus volgens de maattabel zou ik die maten moeten hebben. Deze 2 gaan helaas weer retour.
Angelique
&nbsp|&nbsp
2020-09-18 17:49:31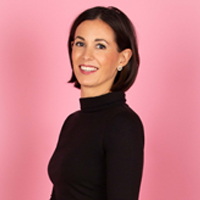 Response from Sylvia

Beste Angelique, wat jammer dat je de rokken moest retourneren vanwege de maat. Onze excuses hiervoor! Zodra we je retourzending ontvangen en verwerkt hebben, betalen we het aankoopbedrag weer aan je terug. Hopelijk is je volgende bestelling wél weer een match qua maat. 
Groetjes, 
Sylvia 
Klantenservice
---
Tolle Röcke!!!
Ich habe diesen Rock in braun und grün gekauft und beide sind wunderschön! Sie sind schwer, warm, gefüttert und sitzen perfekt. Ich habe diesesmal auf die anderen Bewertungen vertraut und den Rock in der kleineren Größe genommen (ich bin genau zwischen zwei Größen). Dennoch habe ich noch genügend Platz, um einen Pullover reinzustecken. Ich kann also jedem, der zwischen zwei Größen liegt, nur dazu raten die kleinere Größe zu nehmen!

Christina
&nbsp|&nbsp
2020-09-15 14:51:42
---
Ich habe diesen Rock in braun und grün gekauft und beide sind wunderschön! Sie sind schwer, warm, gefüttert und sitzen perfekt. Ich habe diesesmal auf die anderen Bewertungen vertraut und den Rock in der kleineren Größe genommen (ich bin genau zwischen zwei Größen). Dennoch habe ich noch genügend Platz, um einen Pullover reinzustecken. Ich kann also nur jedem, der zwischen zwei Größen liegt, nur dazu raten die kleinere Größe zu nehmen!
Christina
&nbsp|&nbsp
2020-09-15 14:35:55
---
Altijd heel fijn als er een pakketje van TopVintage arriveert.
De broek is heerlijk warm en valt goed. Wel pluist de stof na 1x wassen al een beetje. Hopen dat dit niet erger wordt.
De bruine rok is ook lekker winters maar is erg zwaar en zakte daarom af. Een maatje kleiner is waarschijnlijk weer te krap helaas.
Het zwarte rokje met de katten is erg leuk! De geborduurde katten zijn speels en keurig uitgevoerd. De rok valt bij mij (1,67) iets over de knie. De stof is niet heel dik maar met een panty toch prima voor als het kouder wordt.
Het truitje met de kattenkop valt vrij ruim in maat S/M maar hij zit heerlijk. Ook prima te dragen op een 'normale' broek.
Het groene vestje is van een super zachte dikke stof. Ik heb een maatje groter besteld dan normaal zodat de knoopjes goed dicht blijven zitten en dat werkt goed. Wel is dit duidelijk een kort model, dus alleen geschikt voor taillebroeken en rokken.
Datzelfde geldt ook voor het rode vestje. Wat is die trouwens mooi! Heel mooi patroontje in het breiwerk en echt zo felrood als het plaatje.
Al met al ben ik weer heel tevreden.
Mariëlle de Wind
&nbsp|&nbsp
2020-09-09 18:14:01
---
nl
Mooie rokken voor de herfst/winter!
Shirley: Absoluut prachtige zware kwaliteit rok, met groot genoege zakken dat er een telefoon in past én voering! Perfect voor de winter! Ben heel blij dat ik deze al in augustus ben gaan bestellen, vorig jaar viste ik achter het net.
Ik had ook de Di Di rok van hetzelfde merk gekocht in dezelfde maat (2XL) en deze viel beduidend kleiner. De Shirley valt wellicht wat groter (lager) door het gewicht van de rok, uiteindelijk de Shirley een maat kleiner laten komen en deze zat nét aan. Gezien kleding altijd wat uit loopt in het dragen er toch voor gekozen de kleinere maat (XL) te houden. Ik ben 179cm en taille 91 cm, de rok valt bij mij net wat over de knie.

Di Di: Gekocht in olijfgroen, prachtige kleur! Medium gewicht kwaliteit (niet gevoerd). Rok zit mooi, maar vind de kwaliteit van het naaiwerk tegen vallen in vergelijking met de Shirley, de 'decoratie flapjes' op de band zitten vast met knopen die te los staan afgesteld, hier door lubberen de flapjes een beetje wat juist je taille groter laat lijken. Gelukkig ben ik redelijk ervaren met naald en draad en is de knoop zo verplaatst dat het geheel mooi strak staat.
De rok is tevens opvallend lang! Langer dan andere swing rokken, ik ben 179cm en de rok valt ruim over de knieën.
Cecilia
&nbsp|&nbsp
2020-08-29 17:33:12
---
Lovely dress for the summer. Can't wait for it to get warmer so I can wear it.
Kirsten Norup Olsen
&nbsp|&nbsp
2020-03-15 08:27:10
---
Love my new owl brooch. The dog brooch is for a friend.

Skirt is lovely and warm. The colour is very warm and fits perfectly.

Earrings are gorgeous. Got quite a few compliments.
Kirsten Norup Olsen
&nbsp|&nbsp
2020-03-01 09:39:51
---
The Brown skirt was darker brown than expected. Not complaining though as it is a lovely colour still and very soft. I have to get it sewn in as the waist is a tad too big for me.

Earrings are gorgeous.
Kirsten Norup Olsen
&nbsp|&nbsp
2020-01-07 10:49:52
---
Ik heb de bruine versie gekocht maar de donkergrijze versie ontvangen
melissa legrand
&nbsp|&nbsp
2019-12-18 19:27:54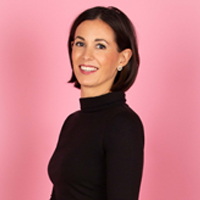 Response from Sylvia

Hallo Melissa, het spijt ons als we je per ongeluk de verkeerde kleur toegestuurd hebben. Onze excuses hiervoor! Ik neem uiteraard even contact met je op om dit met je op te lossen. 
Groetjes, 
Sylvia 
Klantenservice 
---
No words can describe the feelings I have for those skirts. They go with literally everything, they make a beautiful silhouette and they're super warm. The pockets are stable and spacious. I wear them about twice a week and couldn't imagine life without them anymore.
Katrin Fritz
&nbsp|&nbsp
2019-10-23 19:51:42
---
They're in a thicker fabric that is perfect fall, winter and spring here in Sweden, and probably some colder summer evenings.
They fit great and have a nice fall. Only thing I can remark on is the tendancy to wrinkle. It's not a big problem, but even if they hang to dry after a wash they seem to get a little wrinkly, and I don't have a lot of room and no dedicated space to iron, so I prefer clothes that does not need this.
Still beautiful though.
Camilla
&nbsp|&nbsp
2022-01-28 09:44:39
---
Wat een prachtige rokken! Het motief is heel erg stijfvol. Ik was bang voor de stof, statisch of goedkoop, maar echt geen van beiden. Prachtige elegante rok. Vanwege alle reviews over de maattabel heb ik twee maten besteld, voor mijn tailemaat (96) zou ik tussen 2xl en 3xl moeten zitten. Xl zit in de taille en 2xl wat lager, 3xl zou echt te groot zijn geweest.

Het vestje is heel mooi en heeft een klein pofmouwtje (jeeh) de stof ziet er rijk uit. De kleur is prachtig.
Thessa Koorenhof
&nbsp|&nbsp
2022-01-21 20:03:02
---
Je lorgnais sur cette jupe depuis plus d'un an, et quand l'automne fut venu... Eh bien, j'ai enfin pu me l'acheter ! Le style année 40 est un de mes préférés et j'adore les teintes terre, marron , terracott....Bref. Ces jupes Banned Retro me fond de l'oeil, s'il y avait des soldes j'en prendrai plein !
Au final la teinte en vrai ne me plaît pas, elle est bien trop foncé, on dirait que la jupe est quasi noire, or j'essaie de ne plus acheter de vêtements noirs. (j'en ai suffisamment !) Donc la jupe perd son originalité selon moi. Après, le matériau est comme je l'attendais: pas trop fin, doublé, doit être sympa pour cette saison. Mais je la trouver trop lugubre et pas aussi marron que je n'aurais pensé en la voyant sur le site donc je l'ai retournée.
Iris
&nbsp|&nbsp
2021-11-03 21:24:15
---
Volgens het maatschema zat ik net tussen M en L in. Ik twijfelde daar al over, maar toch maar beiden besteld om te passen. maar L is echt te groot. En ik vraag me af of S niet beter zit. Dus die nu maar bestellen en kijken welke beter zit. Ik loop daar wel vaker tegenaan, lastig!
Model verder leuk, stevig stofje en gevoerd.
Damaris Rijpstra
&nbsp|&nbsp
2021-11-03 11:39:23
---
Fan van TV.
De Stukken die ik bestelde passen als gegoten rond mijn iets voller zandloperfiguur.
De rok valt lekker zwaar, gevoerd, mooie kwaliteit, en de zakken maken het stuk praktisch.
De blouse is zo stijlvol, heel vrouwelijk.
De broek kleedt mooi af, die moet ik wel een beetje inkorten, maar dat heb ik altijd.
TOP, TOP, TOP. Ik bestel zeker nog meer :-)
lies
&nbsp|&nbsp
2021-10-27 00:16:23
---
Ich hatte diesen Rock schon länger im Blick, konnte mich aber für keine Farbe entscheiden - habe dann braun gewählt. Er sitzt gut! Ich trage meist 38 in Hosen und Röcken, habe mich hier wegen der Größentabelle für S entschieden. An der Taille könnte der Rock tatsächlich noch ein kleines bisschen enger sein, aber so passt es auch mit einem Pulli gut. Die Falten von der Verpackung waren etwas schwer raus zu bekommen, aber der Rock sieht klasse aus und fühlt sich toll an. Mein Highlight sind die Taschen.
Klare Kaufempfehlung und der Hinweis sich an der Größentabelle zu orientieren.
Jana
&nbsp|&nbsp
2021-10-09 20:56:54
---
nl
Prachtig, maar erg groot
Deze rokken zijn van fantastische kwaliteit, maar vallen helaas erg groot uit. Maar wat een stevige kwaliteit en goede fit hebben ze, helaas niet meer te vinden in een kleiner maatje, maar hopelijk komen ze terug!
Danielle
&nbsp|&nbsp
2021-03-20 20:12:18
---
Wat een heerlijke rok. De stof is vrij zwaar en van goede kwaliteit. Ze zit heerlijk en de maat komt goed overeen met de maattabel. Én het heeft zakken, altijd een groot pluspunt! Superblij mee.
Ellen
&nbsp|&nbsp
2021-01-09 14:08:55
---
nl
Heerlijk, comfortabel en kleed goed af!
Erg fijne rok, maat komt perfect overeen met de maattabel. De stof is wat dikker met een mooie onderrok en fijne zakken. Hij kleed heel mooi af. Ik durf nu eindelijk blouses en vestjes met zelfvertrouwen te dragen. Snel ook besteld in grijs en de groene komt ook nog wel!
Kim
&nbsp|&nbsp
2022-12-08 10:56:54
---
Such a thick fabric and gorgeous cut! Love it! The sizing is correct. Love it!
Alicia
&nbsp|&nbsp
2022-11-18 12:46:56
---