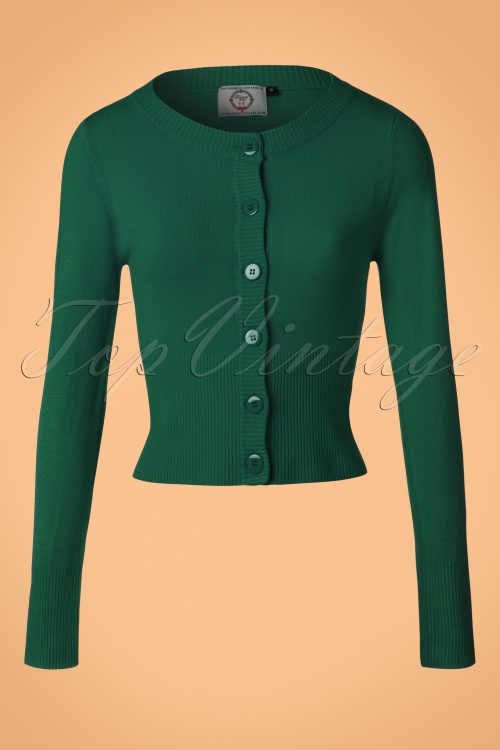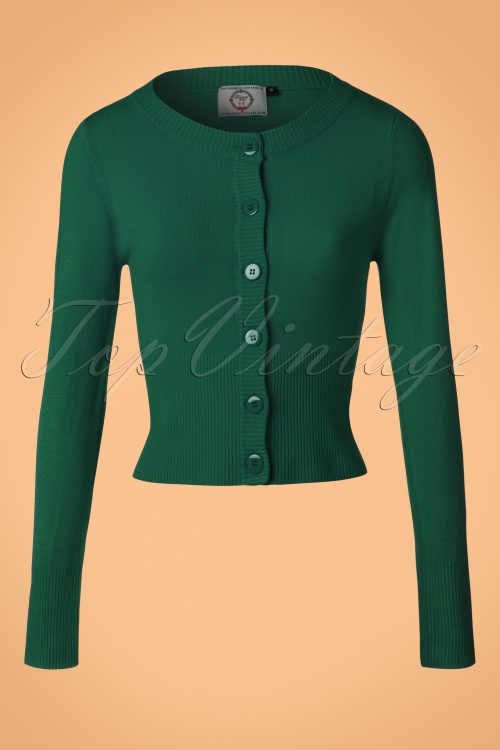 50s Dolly Cardigan in Dark Green
This 50s Dolly Cardigan in Dark Green makes with a perfect match with any outfit!

Dolly is classic, comfortable ánd playful. This short cardi features an elegant round neckline, long sleeves and shiny buttons. Made from a fine knitted, dark green fabric with a lovely stretch for a perfect fit. The combination possibilities are endless!
Round neckline
Long sleeves
Row of buttons
Stretchy board along the neckline, sleeves and bottom
Long enough to pair with regular trousers
Article nr.
22399
48% Viscose
28% Elastane
24% Nylon
Handwash inside out (don't leave it in the water)
Wash inside out
Wash dark colors separately
Machine wash 30c delicates cycle
Do not dry clean
Do not tumble dry
Iron inside out on low temperature setting
Der Rock ist sehr schön, passt perfekt! Auch die Steickjacken sind toll, passend zum Winter!
Sarah
&nbsp|&nbsp
2018-10-29 20:25:52
---
Super mooie jas, model had ik al van vorig jaar in het grijs, dus ik wist dat deze lekker lang is, vandaar dat ik deze ook wilde, omdat met mijn lengte, 1,75 ik de jassen altijd te kort vind....
Deze is tot op de kuiten waardoor deze erg chique oogt, super!

Blouse is mooi, maar wat een korte mouwen, lijken wel driekwart.
Wel mooi met het vestje wat ik al eerder had gekocht, en zo vallen de mouwen niet op ;)
Heidi Delissen
&nbsp|&nbsp
2018-09-19 12:16:38
---
nl
Heerlijk klaar voor de herfst.
In alle kleuren passend bij alle mooi jurkjes die ik al eerder heb gekocht.Echt geweldig:)
lidie boon
&nbsp|&nbsp
2018-09-07 15:56:04
---
Ontzettend blij met mijn bestelling! Alleen de mosterd gele top gaat terug. Helaas is deze niet flatterend voor mij. Ik zit meestal tussen een maat S en een M in en heb hiervan de S besteld. Om mijn romp paste hij goed maar hij zat te strak om mijn armen. Daardoor, en door de mouwlengte leken mijn armen mega kort en chubby.. ai ai. De vestjes zijn heerlijk zacht en de mouwen zijn lekker lang. Mooie lengte in mijn middel. Ik ben blij dat ik deze in M besteld heb ipv S omdat de sluiting nogal wil gapen tussen de knopen in. Het kerst truitje valt ruim en is goed stretchy. Deze heb ik in een S besteld en is nog steeds ruim genoeg! Ik ga hem met kerst dragen met een wit blousje eronder en een forest groene rok. De baret matcht er echt mooi bij! De rockin rollers heb ik vannacht uitgeprobeerd en ik ben zo blij dat ik ze nu eindelijk heb besteld! Ik heb eerder geslapen met andere papilotten, dat was geen succes. Met deze viel het 100% mee, en de krul zit er mega stevig in! Yay!
Desiree
&nbsp|&nbsp
2017-11-26 15:32:54
---
Leuke vestjes die mooi vallen. Ze zouden wat dikker mogen zijn qua stof voor mij als koukleum. Maar ik draag ze veel. Ik heb niet alle kleuren gehouden, niet elke kleur stond even mooi. Maar wel van elk type 1. Sommige mouwen zouden iets langer mogen zijn, maar ik heb erg lange armen, dus dat is een bekend probleem
Damaris van Schooten
&nbsp|&nbsp
2017-11-10 15:28:22
---
Schöne Cardigans zum Drüberziehen, wenn es etwas kühler ist; für richtige Winterkälte ist der Stoff vielleicht etwas zu dünn. Fallen meiner Meinung nach ein wenig größer aus und sind von der Länge her perfekt zu Taillenröcken. Geschlossen übers Top getragen - super!
Silke
&nbsp|&nbsp
2017-11-04 12:05:41
---
de
Super und nicht so super
Das karierte Kleid ist genial: fester, pflegeleichter, unkomplizierter Stoff, tolles Muster, klasse Schnitt. Genau richtig für den Winter mit Strumpfhose und Cardigan. Gäbe es 6 Sterne, so würde ich sie vergeben.
Deshalb wollte ich einen passenden, dunkelgrünen kurzen Cardigan zur Ergänzung. Leider hält hier die Qualität nicht, was man sich von einem winterlichen Cardigan verspricht. Er ist recht dünn und lappig. Wenn man ihn geschlossen von oben bis unten tragen möchte, so ist es eine akzeptable Wahl. Über einem Kleid geöffnet oder nur mit wenigen Knöpfen geschlossen hängt er traurig herunter. Er fällt groß aus. Nur 2-3 Herzen dafür. Schade, ich weiß nicht, ob ich ihn behalte. Da bin ich besseres gewohnt von Topvintage.
Das Kleid von Lindy Bob hat ein niedliches Muster und eine herbstliche Farbe. Der Stoff ist leider extrem dünn für ein Herbst - Winterkleid. Leider kam es sehr verkrümpelt bei mir an. Am Ärmel fehlte bereit bei Ankunft ein Knopf. Ich müsste den Ersatzknopf annähen lassen, da mir Faden in entsprechender Farbe fehlt. Ich frage mich, was ich mache wenn mir noch ein Knopf verloren geht, dann habe ich keinen Ersatz mehr. Schon blöd?! Auch hier weiß ich noch nicht, ob ich das Kleid behalte. 3 Herzen


Ulrike Schott
&nbsp|&nbsp
2017-11-03 20:36:26
Response from Mandy

Hallo Ulrike, entschuldigen Sie uns bitte dass Sie das Kleid von Lindy Bop so erhalten haben. Das hätte nicht passieren dürfen! Es tut uns sehr Leid. Natürlich werden wir das problem für Sie lösen. Ich werde mich heute noch bei Ihnen melden! 

Liebe Grüße, 
Mandy
Kundenservice
---
Prachtig vestje en hele mooie kleur groen!
Mieke
&nbsp|&nbsp
2017-10-20 13:40:08
---
Je suis ravie. Expédition rapide ainsi que la réception.
Pour une fidèle cliente, avez vous des codes cadeaux, histoire de fidéliser vos très bonnes clientes, like me






Nathalie AUTANT
&nbsp|&nbsp
2017-09-27 20:22:05
Response from Fleur

Bonjour Nathalie, un grand merci pour votre message positive ! Je vous enverrai aujourd'hui un petit courriel avec quelques astuces.
Cordialement,
Fleur
Service à la clientèle
---
Die Farbe ist toll, der Stoff ebenfalls. Aber die Knopfleiste ist seltsam gearbeitet. Es entstehen (von der Seite betrachtet) grosse Lücken, auch dort, wo ich noch viel Spielraum habe (Taille). Ausserdem "beult" (hängt) sich der Stoff zwischen den Knöpfen ganz seltsam, geht leider zurück.


Christina
&nbsp|&nbsp
2017-09-07 09:16:24
Response from Mandy

Hallo Christina, entschuldigen Sie uns bitte dass Sie nicht zufrieden sind mit der Passform von diesen Cardigan. Es tut uns sehr Leid. Ich werde mich heute noch bei Ihnen melden sodass wir es uns zusammen anschauen können.
Liebe Grüße,
Mandy
Kundenservice
---
de
Jedes Kleidungsstück ein Gewinn
Dank der Hilfe zum Finden der richtigen Kleidergröße habe ich alles behalten. Bin so glücklich!
Julia
&nbsp|&nbsp
2022-04-06 18:17:27
---
Super contente de tous mes articles. Je recommande sans hésitation ce site. Sérieux
Gout
&nbsp|&nbsp
2022-02-12 17:24:57
---
Le haut noire est superbe (juste un peu cher payé) car la matière est assez fine ! Quant aux deux gilets TOP ! Le Haut Uni Tave Années 50 en Vert est quelconque sur moi, il a donc été retourné.
Mimi
&nbsp|&nbsp
2021-12-14 15:44:17
---
De broeken - wat een heerlijke stof! Aanrader.
Ik had verwacht dat de lichtroze door zou schijnen maar dat doet ie gelukkig niet. Je ziet wel de broekzakken zitten.

Blouse met bloemetjes - So cute! De strikjes kan je zelf op maat strikken. Lengte top.

Het vestje - zo lekker zacht mmmh De lengte had ik graag wat langer gehad, maar ok.
Nancy
&nbsp|&nbsp
2021-03-30 16:26:47
---
Altijd heel fijn als er een pakketje van TopVintage arriveert.
De broek is heerlijk warm en valt goed. Wel pluist de stof na 1x wassen al een beetje. Hopen dat dit niet erger wordt.
De bruine rok is ook lekker winters maar is erg zwaar en zakte daarom af. Een maatje kleiner is waarschijnlijk weer te krap helaas.
Het zwarte rokje met de katten is erg leuk! De geborduurde katten zijn speels en keurig uitgevoerd. De rok valt bij mij (1,67) iets over de knie. De stof is niet heel dik maar met een panty toch prima voor als het kouder wordt.
Het truitje met de kattenkop valt vrij ruim in maat S/M maar hij zit heerlijk. Ook prima te dragen op een 'normale' broek.
Het groene vestje is van een super zachte dikke stof. Ik heb een maatje groter besteld dan normaal zodat de knoopjes goed dicht blijven zitten en dat werkt goed. Wel is dit duidelijk een kort model, dus alleen geschikt voor taillebroeken en rokken.
Datzelfde geldt ook voor het rode vestje. Wat is die trouwens mooi! Heel mooi patroontje in het breiwerk en echt zo felrood als het plaatje.
Al met al ben ik weer heel tevreden.
Mariëlle de Wind
&nbsp|&nbsp
2020-09-09 18:14:01
---
de
Bestelle immer wieder gerne hier
Hallo, auch wenn ich ein bisschen traurig bin, dass der rote Cardigan leider nicht passt - mit der Marke habe ich einfach kein Glück - so freue ich mich sehr, dass der grüne Cardigan passt und auch von der Farbe her der Abbildung entspricht. Habe lange nach so einem gesucht. Werde den roten also zurückschicken und mal sehen, ob ich von einer anderen Marke einen in rot und vergleichbarem Material finde. Retouren und Abwicklung funktionieren bei euch immer und auch für die schnelle Bearbeitung und Lieferung muss ich mal wieder ein Kompliment machen. Bestelle eigentlich ungern, aber bei euch mache ich es doch immer wieder.

Marion Kraemer
&nbsp|&nbsp
2020-01-10 09:38:22
---
Weer een heerlijk zacht vestje past perfect. Mooie kleur presies zo als afgebeeld. Love it.
Will van Hall
&nbsp|&nbsp
2019-07-18 08:26:29
---
Dankzij de reacties bij dit vestje en de topvintage maattabel een maatje groter besteld en hij zit inderdaad nu mooi rondom mijn boezem met niet teveel inkijk. Ook een mooie kleur!
Esther Hanko
&nbsp|&nbsp
2018-11-24 08:03:11
---
Das Kleid sieht super aus und passt prima zu dem grünen Cardigan, den ich gleich dazubestellt habe. Das Kleid passt in M super bei Größe 36. Vielen Dank für den super Service. Meine Bestellung war bereits am Folgetag da.
Der rote Pulli mit dem Schößchen sieht ganz klasse zum Pencilrock aus. Ich bin wie immer total begeistert.
Laura
&nbsp|&nbsp
2018-11-17 19:01:24
---
Aanrader! Mooie diepe kleur groen, lange mouwen maar hoge taille. Perfect voor boven jurkjes, high taille broeken of pencil skirts. Prachtig boven een blouse bijvoorbeeld.
Marloes
&nbsp|&nbsp
2023-03-14 19:01:46
---