40s Another Fab Swing Skirt in Brown
Feel like a real classy lady in this 40s Another Fab Swing Skirt in Brown! A full swing skirt that sits high on your waist creating a vintage feminine silhouette. Made of a soft, thicker and warm, supple light-brown fabric (doesn't stretch) with a classic check pattern in beige. And she is fully lined ensuring she won't itch your legs ;-) We are sure your wardrobe isn't complete without 'another fab swing skirt'! 
Swing style
Side pockets
Hidden zipper and button closure at the back
Fully lined
Hits below the knee at a height of 1.70m / 5'7''
Article nr.
30684
Handwash inside out (don't leave it in the water)
Wash inside out
Machine wash 30c delicates cycle
Do not dry clean
Do not tumble dry
Iron inside out on low temperature setting
Do not bleach
Deze rok is echt een topper voor de winter , met een taille van 94 een xxl genomen , is zo een 6 cm te ruim maar de xl is momenteel uitverkocht en die zou normaal niet passen volgens de tabel .
fanny wybo
&nbsp|&nbsp
2019-08-27 13:51:33
---
nl
Supergave rokken van geweldige stof.
De blauw geruite rok is echt super. Ik had eigenlijk niet verwacht dat ik me comfortabel zou voelen in zo'n apart modelletje maar hij is echt geweldig. Ik twijfel alleen nog over de maat. Ik heb hem nog in een maat kleiner besteld, want hij is aan de ruime kant nu.

De bruine rok is echt prachtig en de stof is geweldig! Alleen is deze ook veel en veel te groot ondanks de maat die ik volgens de maattabel nodig zou moeten hebben. Helaas is 1 maat kleiner uitverkocht, maar als deze weer op voorraad is bestel ik hem zeker weer.
ook zat in de linkerzak al een gat. Dat lijkt me ook niet helemaal de bedoeling. Dis deze rok moet helaas retour :(
Angelique Doornkamp
&nbsp|&nbsp
2020-09-11 09:52:24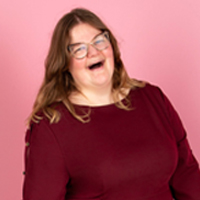 Response from Nicole

Beste Angelique, wat fijn dat je zo blij bent met de Alexa Blackwatch Check Swing Skirt! Maar wat vervelend dat de pasvorm en kwaliteit niet in orde zijn van de bruine rok. Ik stuur je vandaag nog een mailtje, dan weet ik zeker dat we het samen kunnen oplossen :-)
Groetjes,
Nicole
Klantenservice
---
Een heerlijke herfst/winter rok! Ik kan niet wachten tot het kouder wordt.
Naomi de Jager
&nbsp|&nbsp
2020-08-26 11:01:52
---
Der Rock ist super warm und richtig toll zu tragen! Er passt sehr gut und bleibt durch den Futterstoff auch nicht an der Strumpfhose kleben!

Das rote Oberteil it auch super süß und sitzt genauso wie auf dem Bild.

Auch das rosa Jäckchen ist unglaublich toll und ich musste es auch sofort tragen, als ich es bekommen habe! Ein super Kauf und ich kann die Sachen jedem nur ans Herz legen ♥
Darline
&nbsp|&nbsp
2020-08-21 06:02:14
---
en
Everything was gorgeous and fits great!!
It took about 3.5 weeks for my order to reach me in western Canada (that seems reasonable to me, and I wasn't in a rush to receive this order), and when the parcel arrived, everything was neatly wrapped and in great condition. The earrings are good quality - my ears tend to react really badly to "costume" jewelry, so I was nervous to buy these, but they don't irritate my skin at all and they look DARLING! I am so pleased that I took a chance and ordered them. The sweaters and skirts are exactly what I was hoping for, and fit perfectly. I measured myself before ordering and used the size guides, and everything worked out fine for me! I will definitely be getting more stuff from Top Vintage in the future - can't wait!!
Sharon Podesta
&nbsp|&nbsp
2019-12-12 15:37:24
---
Deze site is niet goed voor mij. Ik ga hier failliet aan...
De jas zit als gegoten en de sjaal past er mooi bij. Mouwen zitten wat strak. Een dikke trui moet je er niet onder aan doen, maar dat is altijd met mantels.
Het vestje is precies goed.
De rok en truitjes zitten als gegoten en mooie kwaliteit weer.
Alles in de maten die ik inmiddels weet per merk. Maattabel klopt voor alles. Jas wel een maat groter moeten nemen, maar dat doe je al snel bij een jas.
Kortom, ik ben weer super blij! Dank jullie wel weer!

Debbie Bakkum
&nbsp|&nbsp
2019-11-29 19:11:28
---
Love the skirt. Perfect for winter. It feels 'woolly' but not itchy. Fits perfectly according to measurements.
Kirsten Norup Olsen
&nbsp|&nbsp
2019-11-23 19:34:44
---
Hele mooie rok van dikke stof. Maar voor een maat 70/71 middel is de S te groot! Houdt er rekening mee dat deze rok aan de grote kant valt.
Amber
&nbsp|&nbsp
2019-11-21 15:28:17
---
Lovely necklace. It will fit perfectly for the Christmas party at work. The same goes fior the green earrings. They look really pretty.

The yellow and green 40s inspired earrings are lush. Can't wait to wear them❤
Kirsten Norup Olsen
&nbsp|&nbsp
2019-11-09 20:55:17
---
Adore the brooch. Perfect size and very cute.
The gloves fit perfectly. Very glad about that as I tend to have big-ish hands. Going to keep me warm this winter!

The hat is lovely. It can even stay in my very fine hair without 'help' from pins.

The skirts were a bit big in the waist. A little nip and tuck and I have the perfect size. I've gotten compliments about them already. Might have to get other colours now!
Kirsten Norup Olsen
&nbsp|&nbsp
2019-10-17 12:08:52
---
Er passt, er ist toll und hat eine neutrale Farbgebung. Über Kleid, Rock oder Hose mit einem passenden Darunter, schön zu kombinieren. Bolero ist herrlich weich und angenehm. Also meins.
Martina
&nbsp|&nbsp
2019-10-16 22:18:13
---
nl
Instant favoriet, past perfect.
Recentelijkheb ik 3 van deze banned retro swing skirts gekocht. 2 heringbone varianten in grijs en groen. En een bruin geblokte. Ik ging twijfelen welke maat ik nodig had door de revieuws betreft de maat maar voor mijn lichaam klopte de tabel perfect. Ik heb idd een cm of 4 over in de taille maar ik draag graag een dikke trui of meerder lagen kleding bij mijn rok in, dus dan past het perfect. Houd je van een wat strakkere pasvorm dan past 1 maat kleiner waarschijnlijk ook. Ik heb een taille van 85cm, heupen 110 en bilomtrek 120. Gezien ik dus een zandloper figuur heb zakt hij bij mij niet af en paste de maat L rokken allemaal perfect. De stof is dik en voelt bijna wol achtig de voering zorgt ervoor dat de stof niet aan je benen kriebelt. En ze hebben zakken! Yesss. Heb er nu dus 3.... Misschien heb ik er nog wel 1 nodig...
Saskia Kramer
&nbsp|&nbsp
2019-10-15 13:24:32
---
Der Rock sieht angezogen toll aus und ist auch von der Qualität her sehr angenehm, nicht kratzig. Allerdings hätte mir tatsächlich bei einer 88er Taille auch eine Größe kleiner gereicht. Er fällt in der beschriebenen Grösse größer aus. Also lieber eine Numme rkleiner bestellen, wie angegeben. Er sitzt sehr locker in der Taille, ist aber für mich kein Problem. Wer es mehr figurbetont mag, lieber die kleinere Größe wählen. Ein toller Winterrock mit vielen Teilen von euch kombinierbar.
Martina
&nbsp|&nbsp
2019-10-04 22:20:47
---
Beautiful swing pattern and super soft, fits perfect!
Diana Ortiz
&nbsp|&nbsp
2019-09-24 12:28:52
---
de
Der Herbst und Winter darf kommen !
Der karierte 40s Rock von Banned ist herrlich dick und kuschelig, genau das richtige für die kommenden kälteren Tage! Und kein bisschen kratzig da er gefüttert ist ! Der grüne Cordrock von Hell Bunny ist ebenfalls sehr tauglich für die kommenden kälteren Tage. Angenehm zu tragen,mit Gürtelschlaufen und in schöner fester Qualität. In meinen Augen kein bisschen 70 s, von der Machart her,da Tellerrock. Der Pulli ist von Collectif und hat die typische gute Qualität. Ich habe Größe 3 XL / 4 XL, je nach Marke, und die Größen fallen wie immer passend aus. Eure Maßtabellen sind wie immer gold wert. Hell Bunny ist meist größer geschnitten deshalb wie immer 3 XL, passt ! Ebenso der karierte Rock von Banned. Bei deren Oberteilen brauche ich 4 XL, wohin gegen deren Röcke in 3 XL immer passender sind da sie am Bund immer weiter ausfallen. So auch dieses mal. Und Collectif wie immer 4 XL. Passt ! Die Kälte darf Einzug halten ;)
Sonja Desens
&nbsp|&nbsp
2019-09-13 15:57:42
---
Had eerst de xxl besteld met een taille van 94 cm ( zoals de maattabel aangaf) maar deze zakte echt af ,had zo een 6 tal cm over . Nu was de xl er weer en deze besteld , hoewel ik hem niet ging passen volgens de maattabel past deze perfect !
Tessa
&nbsp|&nbsp
2019-09-13 10:54:17
---
Adore my new hat. It will join me for my birthday trip to Dublin in December. Very fancy and will fit perfectly with my Pearl coat.

I got the green skirt first and fell in love. I then spotted the brown skirt and had to have it. The green skirt is of a lighter material compared to the brown skirt. The latter will be used for when it gets colder. It is heavier as well. I might have to fidddle a bit with them both as they are slightly too big in the waist.
Kirsten Norup Olsen
&nbsp|&nbsp
2019-09-05 11:09:26
---
nl
Geweldig winter-klaar!
Beide rokken zijn geweldig! De bunny rok is ideaal voor de herfst, lekker zwierig!
De banned rok is helemaal voor de winter. Dikke stof, maar valt toch soepel. En geen jeukende beentjes door de zachte onderrok.
Collectif blouse is van een super zacht duurogend materiaal. Enorm stijlvol en een 40's vibe!
Deborah Bertrand
&nbsp|&nbsp
2019-08-29 11:24:43
---
nl
Klaar voor de koude en de feestdagen!
Ik zit net tussen de XS en S maat in, op basis van de maattabel en afmetingen toch voor de S gekozen in de rok omdat ik van plan ben om er dikkere truitjes op te dragen die ik dan steeds in mijn rok steek. Paste perfect!
Zonder de dikkere laagjes erin gestoken (en op bvb een hemdje in een gladder stofje) zakt hij wel wat tot op de heupen ipv in de taille maar zakt zeker nooit af, en dat staat nog steeds goed. Goede wollige stof voor de koude seizoenen!

Het kleedje wel in maat XS besteld aangezien het een strechty stofje is, past ook zeer goed enkel een béétje spannend aan de armen, maar dat hindert niet door de stretch stof! Mooie donkergroene kleur en zwierige rok. Ik weet nu al mijn outfit voor de feestdagen. :-)
Lindsay
&nbsp|&nbsp
2021-11-03 07:38:41
---
nl
dikke zachte stof super fijne kwaliteit.
Gezellig om naar te kijken deze goed vallende op figuur swing rok moet je hebben.
Herfst winter, koud voorjaar heerlijk warm item!
De ruit is zeer mooi, evenals de warme kleur.
Valt iets ruimer bij mijne dan staat aangegeven.
Blij mee!
Groetjes....
Jeanet
&nbsp|&nbsp
2021-01-29 14:48:54
---
Alles weer supertop zoals steeds :-) Love it!

Vooral de vavavoom dress (zwart/paars) laat mijn diva-gehalte naar boven komen! En met de flamingo bloese zal ik zeker opvallen ;-)

De rest is ook supermooi... laat de winter nog maar wat duren zodat ik dit allemaal kan dragen!
Nancy
&nbsp|&nbsp
2021-01-06 18:20:49
---
de
Immer wieder begeistert
Ich kaufe sehr oft hier ein und bin immer wieder begeistert! Das ist einfach mein Lieblings Vintage Shop!
Die Ware wird immer sehr umsichtig verpackt und die Lieferung ist wirklich schnell.
Die Größentabellen sind sehr genau. Wenn man doch mal etwas umtauschen will geht das aber auch ohne Probleme.

Zu den Sachen:
Der Mantel ist ein Traum, er passt ganz genau und schmeichelt der Figur sogar mehr, als es auf dem Bild aussieht. Man fühlt sich richtig glamourös. Den Kragen kann man bis oben zu Knöpfen und durch das Kunstfell braucht man nicht mal einen Schal.

Die Röcke sind aus schweren warmen Stoff, passend für kalte Tage, sie sitzen gut und sind einfach schick. Ich liebe die Farben.

Das Oberteil ist etwas blasser als auf dem Foto, aber trotzdem hübsch. Und es ist sehr bequem.

Der Trägerrock ist auch sehr schön, allerdings oben rum ein Bisschen eng, weswegen ich ihn mit eine Nummer größer bestellen werde. Laut Größentabelle bräuchte ich L, aber nehme nun XL. Also würde ich Damen mit etwas größerer Oberweite empfehlen eine Nummer größer zu bestellen. Ansonsten ist er mega süß.

Bei jeder Bestellung wird einem ein kleines Geschenk mitgeschickt.
Ich freue mich jedes Mal wie an Weihnachten wenn ich hier bestelle.
Vielen Dank.
Mandy
&nbsp|&nbsp
2020-11-24 22:30:17
---
de
Wunderschöner, warmer Rock!
Der Rock ist toll! Er ist aus einem dicken Stoff und hat ein schönes Futter. Perfekter Herbst-Winter-Rock.
Gaby
&nbsp|&nbsp
2020-11-13 17:07:27
---
Die Röcke sitzen super und sind richtig schön warm. So wirds auch bei kaltem Wetter nicht ungemütlich und man sieht schick aus. Habe schon viele Komlimente für diese schönen Teile bekommen. Ein Traum!
Anni
&nbsp|&nbsp
2020-11-06 17:14:03
---
Lang getwijfeld of ik hem zou bestellen! Uiteindelijk toch gedaan en geen spijt van! Mooie zware stof voor in de winter, tok valt perfect onder de knie (ben 1m71) én met zakken die totaal niet opvallen. Me happy
Nancy
&nbsp|&nbsp
2020-11-05 11:48:37
---
Hele zware (gevoerde) rok - superkwaliteit zo te voelen. Maar zo in de herfst/winter is dat wel lekker. Mooi combineren met een leuk truitje en laarzen en je kunt er weer tegenaan. Ik heb m'n confectiemaat gevolgd (en niet de "cm" tabel) en dat werkte bij mij prima.
Marjolein
&nbsp|&nbsp
2020-10-27 08:51:10
---
nl
Mooie rok, valt groot ui
Ik had deze rok besteld en zag het al toen ik hem uit de verpakking haalde. Hij valt behoorlijk groot uit. Ik heb uiteindelijk 2 maten kleiner besteld en die past perfect! De stof is mooi en goede kwaliteit, ook wat dikker en daardoor warmer. Prima voor de herfst en winter dus.

Miriam
&nbsp|&nbsp
2021-12-03 21:37:16
---
nl
Mooie rok, kriebelt wel
Een mooie rok, van een dikke stof. Heerlijk voor de koude dagen. Er zit een voering in de rok, zodat de stof niet aan je benen kriebelt. Helaas zit er geen voering in de tailleband, zodat die tegen je buik kriebelt, tenzij je de rok altijd over een top draagt. Jammer genoeg gaat deze dus weer retour.
Mirjam
&nbsp|&nbsp
2021-11-28 16:07:22
---