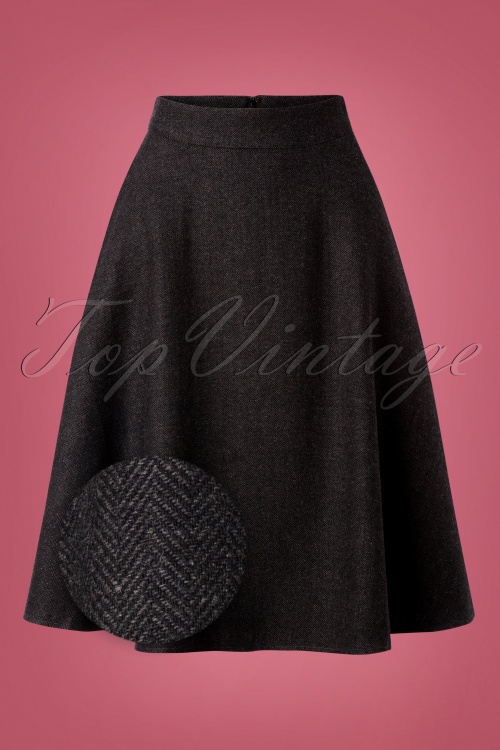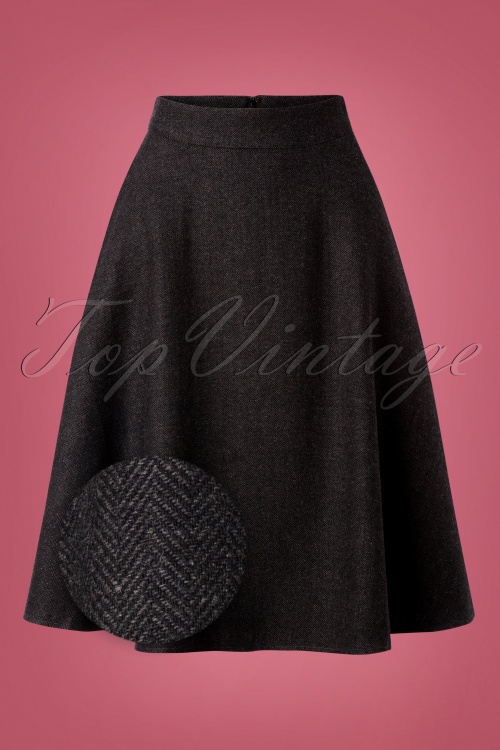 40s Shirley Swing Skirt in Herringbone Grey
Feel like a real classy lady in this 40s Shirley Swing Skirt in Herringbone Grey! Herringbone... we can't get enough of it! Wear her with your favourite top or cardigan, she'll totally complete your outfit. A full swing skirt that sits high on your waist, a vintage feminine silhouette is guaranteed with Shirley. Made of a thicker and warm, supple dark-grey fabric that feels like wool (doesn't stretch) and features a classic herringbone pattern. And she is fully lined ensuring she won't itch your legs ;-) What time is it?! It's herringbone o'clock! 
Swing style
Side pockets
Hidden zipper and hook closure at the back
Fully lined
Hits below the knee at a height of 1.70m / 5'7''
Article nr.
30691
100% Polyester
100% Polyester Lining
Handwash inside out (don't leave it in the water)
Wash inside out
Machine wash 30c delicates cycle
Do not dry clean
Do not tumble dry
Iron inside out on low temperature setting
Do not bleach
Ich habe mir diesen wunderschönen Rock zusammen mit einem senffarbenen Pullover und einer groben Strumpfhose bestellt und freue mich jetzt schon auf die ersten Herbsttage.Alle Materialien sind absolut hochwertig und sauber verarbeitet.Trotz grob anmutendem Stoff des Rocks ist er sehr angenehm zu tragen und sehr weich.Kombiniert mit ein paar hübschen Pumps oder Stiefeln definitiv ein richtiger Blickfang, trotz dezentem Auftretens.Eine klare Kaufempfehlung von mir.
Sandra
&nbsp|&nbsp
2020-08-25 16:57:01
---
de
Toller Rock, nur zu groß
Ich habe mir den Rock in der Größe S bestellt, obwohl ich gerade schon durch die Quarantäne zugenommen habe und bei einer Taille von circa 74 bis 75 bin. Ich bräuchte jedoch tatsächlich die XS hier, damit er nicht total runter rutscht. Man könnte sicher auch eigene Gürtelschlaufen anbringen, aber das ist ja nicht der Sinn. Super süß, halt nur so groß :)
Darline
&nbsp|&nbsp
2020-08-21 06:08:23
---
Rode truitje van Collectif is echt een heel fijn truitje, heerlijk zacht martiaal en sluit mooi aan en zit heerlijk.
Rok van Banned Retro kwam ten eerste heel erg gekreukt uit de doos helaas, maar ben er nu wel achter dat lange rokken mij niet staan, ben meer van net boven de knie.
Vestje van Vixen was mij helaas wat te groot teveel stof over op de rug waardoor deze niet mooi aansloot op mijn taille.
De 2 laatste artikelen gaan terug helaas, rode truitje blijft :)

Ellen M
&nbsp|&nbsp
2019-10-30 01:05:59
---
No words can describe the feelings I have for those skirts. They go with literally everything, they make a beautiful silhouette and they're super warm. The pockets are stable and spacious. I wear them about twice a week and couldn't imagine life without them anymore.
Katrin Fritz
&nbsp|&nbsp
2019-10-23 19:51:42
---
nl
Instant favoriet, past perfect.
Recentelijkheb ik 3 van deze banned retro swing skirts gekocht. 2 heringbone varianten in grijs en groen. En een bruin geblokte. Ik ging twijfelen welke maat ik nodig had door de revieuws betreft de maat maar voor mijn lichaam klopte de tabel perfect. Ik heb idd een cm of 4 over in de taille maar ik draag graag een dikke trui of meerder lagen kleding bij mijn rok in, dus dan past het perfect. Houd je van een wat strakkere pasvorm dan past 1 maat kleiner waarschijnlijk ook. Ik heb een taille van 85cm, heupen 110 en bilomtrek 120. Gezien ik dus een zandloper figuur heb zakt hij bij mij niet af en paste de maat L rokken allemaal perfect. De stof is dik en voelt bijna wol achtig de voering zorgt ervoor dat de stof niet aan je benen kriebelt. En ze hebben zakken! Yesss. Heb er nu dus 3.... Misschien heb ik er nog wel 1 nodig...
Saskia Kramer
&nbsp|&nbsp
2019-10-15 13:24:32
---
en
Sublime petite jupe pour la mi-saison
Cette jupe de la marque banned rétro était tout ce que j'attendais pour la mi-saison. D'un tissus doublé de couleur gris foncé très agréable, elle se maris très bien avec tout un tas de tenue. Je fais habituellement une taille 38 voir 36 en jupe swing et j'ai pris une taille M pour pouvoir porté un pull glisser a l'intérieur pour être a l'aise. Je vous conseil de faire de même si c'est l'effet escompté, sinon prennez votre taille habituelle.
Wendy
&nbsp|&nbsp
2019-09-19 11:09:22
---
Wat een prachtige rokken! Het motief is heel erg stijfvol. Ik was bang voor de stof, statisch of goedkoop, maar echt geen van beiden. Prachtige elegante rok. Vanwege alle reviews over de maattabel heb ik twee maten besteld, voor mijn tailemaat (96) zou ik tussen 2xl en 3xl moeten zitten. Xl zit in de taille en 2xl wat lager, 3xl zou echt te groot zijn geweest.

Het vestje is heel mooi en heeft een klein pofmouwtje (jeeh) de stof ziet er rijk uit. De kleur is prachtig.
Thessa Koorenhof
&nbsp|&nbsp
2022-01-21 20:03:02
---
de
Perfekter Herbst-/ Winterrock
Ich habe den Rock bereits in grün und es war klar, ich brauche auch den Grauen.
Ein super Rock, aus festem, dickem Stoff, der schön fällt und perfekt sitzt.
Normal trage ich bei Röcken und Hosen M/L, hier sitzt M bestens.

Sonja
&nbsp|&nbsp
2021-11-08 21:12:51
---
Der Mantel sitztperfekt und schmeichelt der Figur. Besonders praktisch sind die amnehmbaren Fellbesätze.
Sara
&nbsp|&nbsp
2021-02-23 09:25:54
---
De rok is van een mooie, dikke stof. Heerlijk voor de winter. Past perfect (maat 40/L)!
De crême-witte wikkelblouse is mooie. En door de elegante, grote strik aan de achterkant, accentueert het je taille. Wel dunne stof dus wat doorschijnend en, in mijn ogen, te fris voor de koude dagen als je er niets dan een bh'tje onder g]draagt. Mooi kanten hemdje o.i.d. zou heel mooi zijn.
Anouk
&nbsp|&nbsp
2020-11-18 11:27:18
---
La jupe est magnifique, bien chaude et lourde. Je l'ai essayée et je dois en commander une autre pour ma fille qui a elle aussi un coup de coeur.
Les pulls sont vraiment de belle qualité et le look des manches est tout à fait adorable.
Laurence RUFFIE
&nbsp|&nbsp
2020-10-31 17:31:29
---
Ik heb me gehouden aan de maten zoals genoemd bij TopVintage maar de rok is veel te ruim. Had beter naar de reviews kunnen kijken. Jammer want een hele mooie stof.
Anne
&nbsp|&nbsp
2020-10-23 10:05:27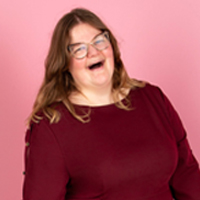 Response from Nicole

Beste Anne, wat jammer dat het item te groot was! Als je twijfelt over de maatvoering mag je altijd even contact met ons opnemen, dan kunnen we altijd even meekijken in de maattabel!
Groetjes,
Nicole
Klantenservice
---
Vandaag de bruine en de grijze variant binnen gekregen. Hele mooie stof en mooi modelletje. Ook wat korter dan ik normaal gesproken heb, dus een welkome verassing. Vreemd is wel dat de rokken van hetzelfde merk en stof zijn, maar de maten in de maattabel zijn anders. De grijze zou ik een 3xl nodig hebben en de bruine 4xl. Maar helaas zijn beide te groot. De grijze zou misschien kunnen blijven hangen met een hele dikke trui erin, maar dat is niet de bedoeling. Mijn taille zit tussen de 103 en 106 cm. Scheelt ochtend of avond. Dus volgens de maattabel zou ik die maten moeten hebben. Deze 2 gaan helaas weer retour.
Angelique
&nbsp|&nbsp
2020-09-18 17:49:31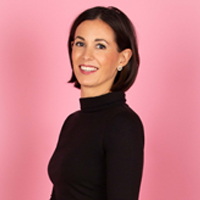 Response from Sylvia

Beste Angelique, wat jammer dat je de rokken moest retourneren vanwege de maat. Onze excuses hiervoor! Zodra we je retourzending ontvangen en verwerkt hebben, betalen we het aankoopbedrag weer aan je terug. Hopelijk is je volgende bestelling wél weer een match qua maat. 
Groetjes, 
Sylvia 
Klantenservice
---
Ich besitze diesen Rock bereits in braun und grün und liebe sie beide sehr!!! Nun wollte ich gerne auch noch den grauen haben, habe aber lange gezögert, da er 5cm kürzer sein soll als die braune und grüne Version... Ich bin froh ihn dennoch gekauft zu haben, denn zu meiner großen Überraschung sind alle drei Versionen exakt gleich lang (ich habe sie aufeinander gelegt)! Der graue Rock ist also nicht kürzer als die anderen beiden. Für mich ist das ein Glücksfall aber andere könnten sich ärgern, da die angegebene Länge nicht stimmt, deshalb wollte ich das erwähnen. Ansonsten ist es für mich der perfekte Winterrock (weich, warm, toll geschnitten) in der perfekten Passform - sofern man ihn, wie schon andere geschrieben haben - eine Nummer kleiner bestellt, er fällt weiter aus als angegeben!
Christina
&nbsp|&nbsp
2020-09-17 12:19:08
---
nl
Rok die je niet meer uit wil trekken!
De rok zit perfect en draagt heerlijk. Vandaag via de post ontvangen. Meteen gepast... en niet meer uitgetrokken! Zal hem in het najaar en in de winter nog vaak dragen. Je kunt er echt van alles mee combineren. Vestje, truitje of blouse. Lekker casual of chique. Ga meer van dit model bestellen!
PATRICIA JONGMAN
&nbsp|&nbsp
2020-08-29 17:31:43
---
Bello il maglione con i cuori, mentre quello bordeaux ho dovuto togliere il gioco perché troppo pesante e cadeva male lo scollo. La gonna molto bella anche se mi sta grande nonostante ho credo le misure .
Memole
&nbsp|&nbsp
2022-11-24 08:50:29
---