40s Sophisticated Lady Swing Skirt in Brown
Feel like a real classy lady in this 40s Sophisticated Lady Swing Skirt in Brown! A full swing skirt that sits high on your waist creating a vintage feminine silhouette. Made of a sturdy, yet soft and supple, rust-hued fabric (doesn't stretch!) making her the perfect addition to your autumn wardrobe. Sophisticated Lady? Oh yes, they are talking about you ;-) 
Swing style
Side pockets
Hidden zipper and button closure at the back
Hits below the knee at a height of 1.70m / 5'7''
Article nr.
34554
Handwash inside out (don't leave it in the water)
Wash inside out
Wash dark colors separately
Machine wash 30c delicates cycle
Do not dry clean
Do not tumble dry
Iron inside out on low temperature setting
Do not bleach
De maattabel klopt niet , met een taille van 93/94 cm de xxl genomen en deze was zeker 10 cm te groot . De xl besteld en heb nog ruimte genoeg
Fann
&nbsp|&nbsp
2020-10-08 18:21:43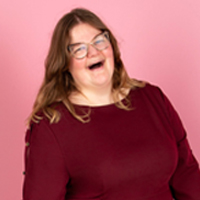 Response from Nicole

Beste Fanny, wat vervelend dat de rok te groot was! Inmiddels hebben we al contact per e-mail, dus we gaan het zeker voor je nameten!
Groetjes,
Nicole
Klantenservice
---
nl
Mooi maar veel te ruim
Leuke rok , mooie kleur . Maar met een taille van 93 cm bijna 10 te groot ( de xxl) was al aan het twijfelen omdat ik dit al heb voor gehad met rokken van banned . Heb de taille zelf opgemeten ervan en was 49 cm en stretcht nog tot 51 cm veel te groot dus voor mij. Jammer dat ruilen niet meer kan want nu moest ik deze meteen opnieuw bestellen en moet ik weer wachten op mijn retourgeld .
Tessa
&nbsp|&nbsp
2020-10-06 13:14:08
---
de
I really love TopVintage
This skirt wasn't my first purchase and won't be my last for sure. The colour of the skirt is perfection, a little bit more on the brown side instead of orange like in the picture. The fit is just perfect for me. I'm not very slim, but I need a XS, so maybe very small and skinny women can't find a size here.
C. H.
&nbsp|&nbsp
2020-09-16 06:01:57
---
Rok heeft een heerlijke pasvorm en staat goed bij het witte truitje. Het truitje heeft een mooie sluiting bij de hals en de mouwen hebben een chique uitstraling. Rok zwiert mooi om je heen en heeft een gemakkelijke rits aan de achterkant
Debbie Nijssen
&nbsp|&nbsp
2020-09-15 12:22:48
---
Ich habe den Rock zusammen mit dem Banned Retro 50's Christmas Bear Jumper gekauft und die beiden Teile passen wirklich hervorragend zusammen.
Der Stoff vom Rock ist dünner, wie erwartet.
Passform und Aussehen gefallen mir aber gut. Ich trage normal eine M/L bei Röcken und Hosen, hier war M absolut okay.
Sonja
&nbsp|&nbsp
2021-11-25 22:08:38
---
Deze combinaties staan prachtig bij elkaar. De ribbelstof lichtbruine rok is zo fijn voor de herfst. Als je klein in je taille bent dan raad ik een kleinere maat aan, de XS paste mij goed. Deze kleur staat prachtig met petrol blauw / teal, vandaar de bijpassende tops. De blouse draag ik een maatje kleiner vanwege de vrij volumineuze mouwen. Ik draag de blouse graag met de mouwtjes iets omhoog en dan het teal Mak vestje erop, met de ribbelrok of met de iets donkerdere bruine circle skirt. Dan komen de rouches van de mouwtjes net uit de mouwtjes van het vestje. Heel erg mooi bij elkaar. De bruine circle skirt is dunner dan je misschien verwacht (kreuk-gevoelig ook) en draag ik ook in een maatje kleiner (XS) en dan nog is hij ietsie ruim. Prima met een trui! De teal coltrui is lekker dik en staat mooi op beide rokken. De ivoor cabeltrui is iets warmer wit en daarom perfect voor mijn huidskleur. Hij is echt kort (bij mij ongeveer op de navel) maar daardoor perfect voor hogere taille rokken zoals deze twee (geen trui ophoping in de rok). Hij past perfect op beide rokken, heel mooi met een bruine panty met een werkje bijvoorbeeld (Marianne heeft zo'n panty). Ook de teal panty staat perfect bij de teal truitjes en de bruine rokken. Heel heel blij met deze items! Tip: er is een velours rokje van King Louie in de kleur Lovell. Deze truitjes passen daar perfect bij.
Amber
&nbsp|&nbsp
2021-10-09 09:33:44
---
nl
Ik word hier zo gelukkig van
Prachtige kleding en aangenaam draagcomfort. De banned rokken wel in retour om een maat kleiner te bestellen.
Nathalie
&nbsp|&nbsp
2020-12-08 22:00:13
---
Stuk voor stuk mooie spullen
Nathalie
&nbsp|&nbsp
2020-12-08 21:55:13
---
Ich liebe diese Bluse❤️❤️❤️
Der Rock passt ausgezeichnet dazu❤️❤️❤️
Die rote Jacke ist sehr gut und warm leider geht zurück weil ich zu dem Weihnachtskleid bestellt hatte, der leider an den Schulter irgendwie defekt war. Das blaue Kleid ist super bequem und wunderschön, hätte ich mir nichts schöneres bestellen können ❤️❤️❤️
Olimpia
&nbsp|&nbsp
2020-12-04 16:53:10
---
Ik had eerst de bruine rok besteld die echt veeeeeel te groot was. Toen de groene in een maat 'te klein' en deze is zelfs nog ruim. Ik heb de groene maar gehouden, omdat hij wel mooi staat en nog een maat kleiner echt te klein is. Misschien kan ik hem laten innemen. Het is een beetje een stug sofje, maar valt heel mooi.
Libby
&nbsp|&nbsp
2020-12-02 17:32:38
---
de
Chic durch die kalte Jahreszeit
Ich bin verliebt in meine Shoppingerrungenschaften und freue mich diese weiterhin ausführen zu dürfen, egal ob auf Arbeit oder in der Freizeit.

Die Röcke habe ich mir gleich in mehreren Farben bestellt, weil sie super fließend fallen und spitze sitzen - ein Lob wiedermal an die Größentabelle.
Die für mich passenden Oberteile dazu sind ein Traum. Vom Tragekomfort wie auch von der Qualität.

Ich kann all diese Stücke nur weiterempfehlen!
Maria
&nbsp|&nbsp
2020-11-25 08:16:26
---
Ik heb lang getwijfeld of ik deze geruite rok zou aanschaffen, maar wat ben ik er blij mee! Hij is inderdaad iets donkerder dan op de afbeelding, maar dat vind ik niet erg. De kleuren zijn mooi en de kwaliteit van de rok is prima (wel wat gekreukt ontvangen). De maat is perfect voor mij: maat L bij een taille van 84, dat kan dus best. Zit echt niet te krap.
Het oranje truitje past er heel goed bij en zit erg prettig. Mooie stof en comfortabel. Maat M is idd maat 38. Ik ga zeker nog wel een ander kleurtje hiervan bestellen.
De bruine rok (Banned Retro - ook aardig gekreukt ontvangen) is eigenlijk ietsje te groot voor mij (valt ruim in de taille). Ik heb maat L besteld, maar ik houd hem en neem hem zelf wat in. De rok zit namelijk heerlijk en staat erg mooi. Goede kwaliteit en lekker warm voor de winter. Nu maar wachten tot het bijpassende groene truitje weer op voorraad is. Al met al heel blij met mijn nieuwe aanwinsten :)
Annieta
&nbsp|&nbsp
2020-11-12 16:22:24
---
Ein schöner Herbstrock, der toll fällt. Fester, mitteldicker Stoff, der optisch Ähnlichkeit mit Wildleder hat. Er fällt, wie derzeit alle Röcke von Banned, einige cm größer aus als angegeben (Taille). Alles in allem sehr empfehlenswert!

Da die Kleidung neuerdings in Plastiktüten verschickt wird, war auch dieser Rock leider extrem zerknittert, aber das ist nur ein kleines Ärgernis, das sich sicherlich durch bügeln beheben lässt.
Christina
&nbsp|&nbsp
2020-10-13 12:32:58
---
nl
Mooie kleur ROK, leuk voor najaar
Heerlijk swingrok, fijne stof echt leuk voor het najaar.
Irma
&nbsp|&nbsp
2023-08-31 19:30:18
---