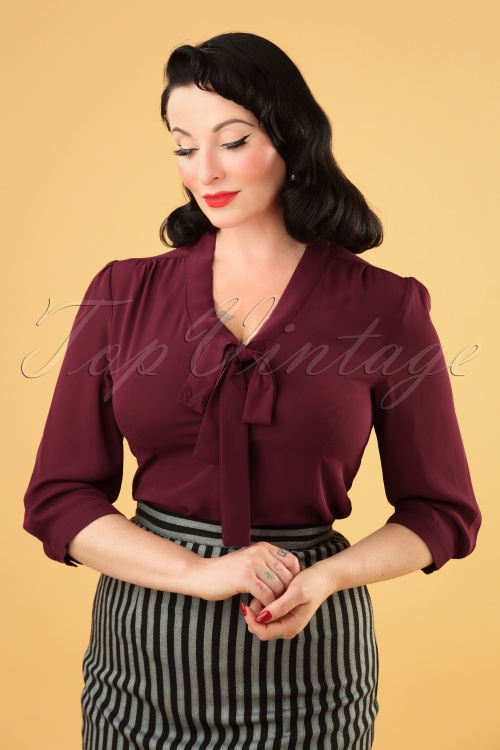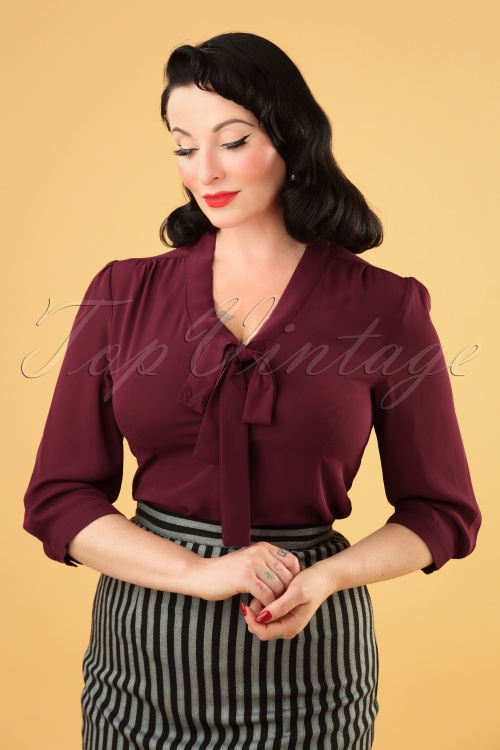 50s Perfect Bow Blouse in Burgundy
The combination possibilities are endless with this 50s Perfect Bow Blouse in Burgundy! Dress it up or keep it classy... this beauty is a perfect match with everything! She features a V-neckline with fixed tie straps, a row of shiny buttons and 3/4 puff sleeves for an extra vintage feel. Breathtakingly beautiful and super comfy thanks to the supple, burgundy-red fabric (doesn't stretch!). The Perfect Bow Blouse, indeed! 
Tailored cut
V-neckline
Fixed tie straps
3/4 puff sleeves
Row of buttons at the front
Long enough to pair with regular trousers
Article nr.
30620
Handwash inside out (don't leave it in the water)
Wash inside out
Machine wash 30c delicates cycle
Do not dry clean
Do not tumble dry
Hang to dry
Iron inside out on low temperature setting
Do not bleach
Die rote Bluse ist toll. Ich hab sie bereits in Schwarz und wusste, was mich erwartet.
Das Cremetop war leider ein Fehlgriff. Ich hab gedacht, es wäre so ähnlich wie die Addicted Sweater, aber leider sitzt es total eng wie ein T-Shirt. Geht schweren Herzens zurück, die Farbe hat mir gefallen.
Melanie Jentsch
&nbsp|&nbsp
2020-01-07 09:55:27
---
Zit heerlijk. Leuk model. Ik ga meer kleuren bestellen!
Maaike
&nbsp|&nbsp
2019-12-30 18:24:08
---
De laarsjes ontvangen en ik kan niet wachten tot ik eens in het bos ga wandelen om ze te kunnen dragen. Het enige dat mij iets stoort aan de laarsjes is dat de patronen per schoen heel verschillend zijn, maar met zo'n print kan dat waarschijnlijk niet anders.

Maar toch hele leuke laarzen ! ❤️
Rani Deriemaeker
&nbsp|&nbsp
2019-12-20 14:47:48
---
De marlene pants gecombineerd met het rode blousje en het staat geweldig. De stof van de broek is super comfy maar valt nog mooier dan hij aanvoelt. De pencildress is te mooi om waar te zijn. Super pasvorm en stof, en de kleuren maken hem helemaal een topper!
Angelique Luijkx
&nbsp|&nbsp
2019-10-24 16:45:19
---
De kleuren zijn heel mooi . Ik heb wel direct de knoopjes goed vastgenaaid want bij de bordeaux rode blouse zat geen reserveknoopje bij .
Gèrry Vercammen
&nbsp|&nbsp
2019-09-27 18:48:05
---
Super mooie blouse, kleur is ook heel erg mooi.
Yasmine Peeters
&nbsp|&nbsp
2019-09-18 16:56:18
---
De artikelen zijn tot nu toe altijd mooi van kwaliteit. De schoenen waren bij de neus iets aan de ruime kant maar dat is zo opgelost met een zooltje, ze lopen goed! De broeken zitten bovenaan erg mooi en kunnen onder nog flink worden uitgelegd(ik ben 183). De blouse zit goed, ook ruim genoeg op de bovenarmen!

Weer bedankt top vintage!
Jorien
&nbsp|&nbsp
2022-01-29 14:30:19
---
nl
Maten deze keer niet ok...
De ruiten rok veel te ruim en de polkadot veel te klein.
En helaas de blouse te wijd op schouders...terwijl knoopjes bij borst niet dicht gaan...
Nog niet eerder gehad dat het echt allemaal niet past..??
Marloes Kort
&nbsp|&nbsp
2021-12-07 18:39:08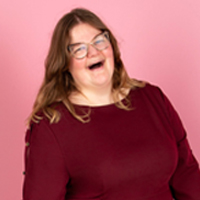 Response from Nicole

Beste Marloes, wat jammer dat het deze keer geen match was! Ik weet zeker dat je gauw mooie alternatieven vindt. Mocht je twijfelen over de maatvoering van een bepaald kledingstuk dan mag je altijd even contact opnemen :-)
Groetjes,
Nicole
Klantenservice
---
Das Oberteil ist einfach toll. Die Farbe gefällt mir sehr gut. Das Material ist weich und fühlt sich angenehm auf der Haut an.
Julia
&nbsp|&nbsp
2020-12-12 18:58:29
---
I adore the cardigans from Banned but know to order one size smaller than recommended. They fit just perfect!
The green cardigan from Vixen I ordered in recommended XL to be save and fits just as nicely as the other ones.

For the blouse I kept to recommended size because it is non stretch. Glad I did, the fit is great, and the colour is gorgeous.

The green skirt I ordered in 2XL and it is slightly wide around the waist. I have a 93 cm waist so smaller would not fit according to the guide. Still wearable and cute so am keeping it.

The brown skirt I ordered in XL, I don't know why because I should have ordered 2XL. It may be dumb luck but it actually fits. Granted: I cannot gain weight over the holidays because the waistband has no give left. Lovely heavy weight!

Fantastic haul!
Dieuwertje
&nbsp|&nbsp
2020-11-29 15:12:18
---
Commande reçue et je suis conquise !
La jupe est très belle, le tissu est épais et de belle qualité, parfaite pour la saison automne hiver qui s'annonce.
Le bas du pantalon est un peu plus large que ce que je pensais, mais il est très bien taillé et fait une belle silhouette. La matière "jean" légèrement extensible est très agréable à porter.
Le chemisier est sublime !!! J'adore la couleur, le tissus, les détails de couture, j'adore !
Et que dire des chaussures... J'en suis tombée amoureuse quand je les aient vues sur le site et je n'ai pas été déçue à la réception. Le guide des tailles est conforme à la réalité. La qualité est parfaite ! Le talon est haut mais le pied n'est pas trop cambrées, du coup elles sont hyper agréables à porter ! J'ai marché avec une journée complète dès le premier jour de réception sans avoir mal aux pieds. Bref, elles sont parfaites :)
Magali
&nbsp|&nbsp
2020-10-15 07:59:56
---
J avais le même en noir je le voulais en vert puis j ai craqué pour le bordeaux.. Parfait pour la mi saison bonne taille belle couleur.
AMELIE
&nbsp|&nbsp
2020-09-22 22:05:17
---
Cette chemise est tout ce qu'il y a de plus joli.
Le nœud à faire soi-même permet de varier la coupe du decolleté.
La couleur est wha.
Je l'adore
(Et toujours aussi top le guide des tailles, celle que j'ai pris me sied à la perfection)
Kamille
&nbsp|&nbsp
2020-09-15 15:35:51
---
Taille parfaitement. Vraiment vintage. Coupe superbe
Marielle sorro
&nbsp|&nbsp
2020-01-14 14:30:16
---
Love all the items bellow. The cotton cardigan is soft, color is a little darker as on the photo, but still beautiful. Blouse and trousers fits perfectly. I'm a european 36 number and i ordered xs trousers and small blouse and cardigan and if you are a thin 36 i would recommand xs for Banned retro trousers.
The bag is quite elegant, not to big, and it has a closing zipper, two inner pockets. The earings are very well made, with all the details and are a perect fit for many combinations.
MaryJane
&nbsp|&nbsp
2023-01-30 10:42:08
---
de
Wunderschöne Hose, jedoch merkwürdig geschnitten, Bluse top!
Als die Hose ankam war ich super glücklich! Sie sieht wunderbar aus. Jedoch ist sie im Hüftbereich merkwürdig geschnitten. Habe extra die Nummer kleine gewählt, hat jedoch nicht geholfen. In der Taille sitzt sie dank des dehnbaren Materials super. Eng, ohne einzuschneiden. Beine sitzen auch wunderbar, nur eben im Hüftbereich/Unterbauch nicht. Da hängt der Stoff und das obwohl ich keine super schmale Hüfte habe. Geht Fahrer wieder zurück. Ich würde mein Glück ja mir einer kleineren Größe probieren, jedoch habe ich schon die kleinste Größe bestellt. Schade. Die Bluse wiederum ist fantastisch! Schlicht, elegant und sitzt ausgezeichnet. Selbst mit einer großen Oberweite wird nichts gequetscht. Die behalte ich.
Julia Mo
&nbsp|&nbsp
2022-09-07 16:22:29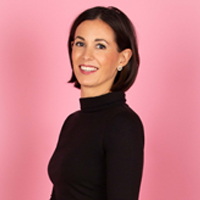 Response from Sylvia

Liebe Julia, schade dass es mit der Größe der Hose nicht geklappt hatte. Schicken Sie und diese einfach zurück! 
Wir wünschen Ihnen viel Spaß an der Hose zu. 
Liebe Grüße,
Sylvia 
Kundenservice 
---