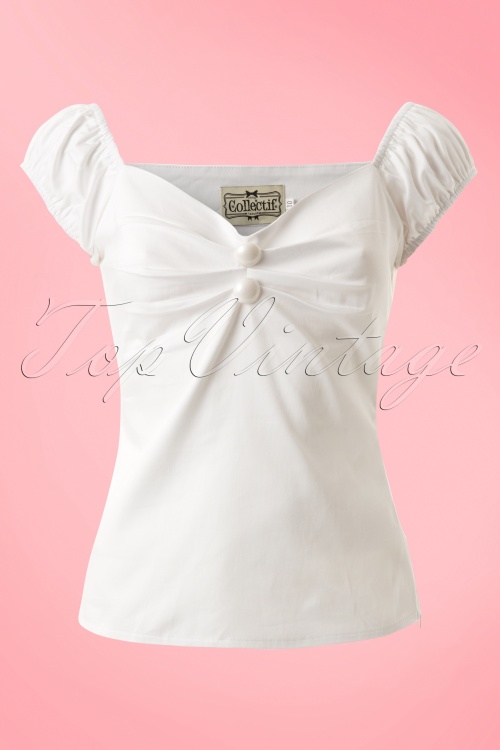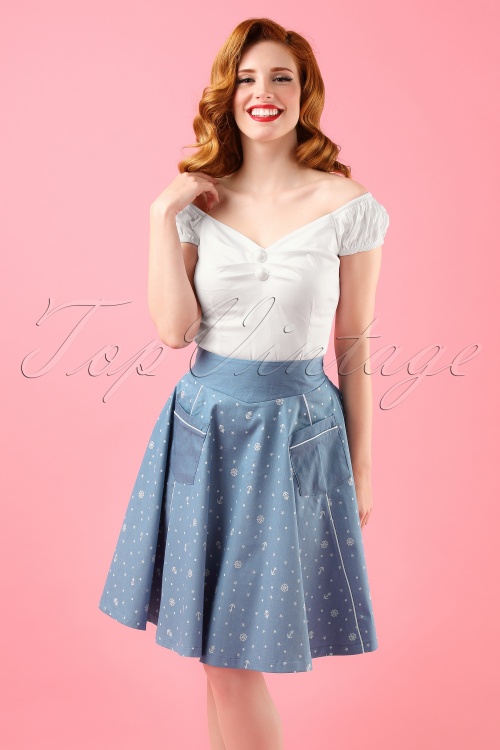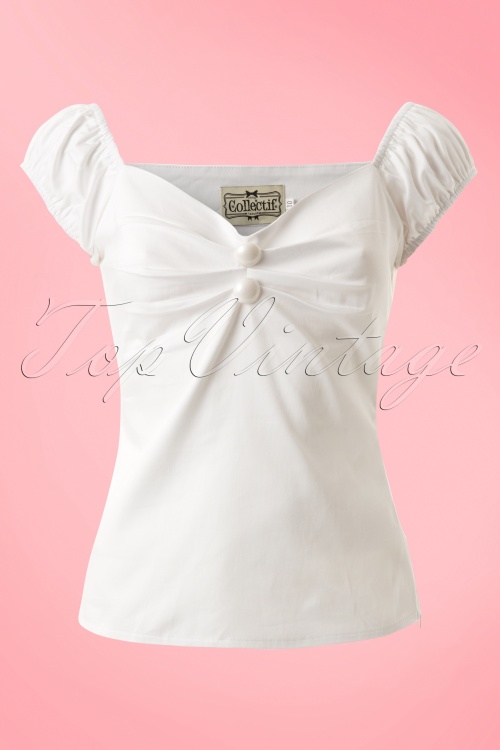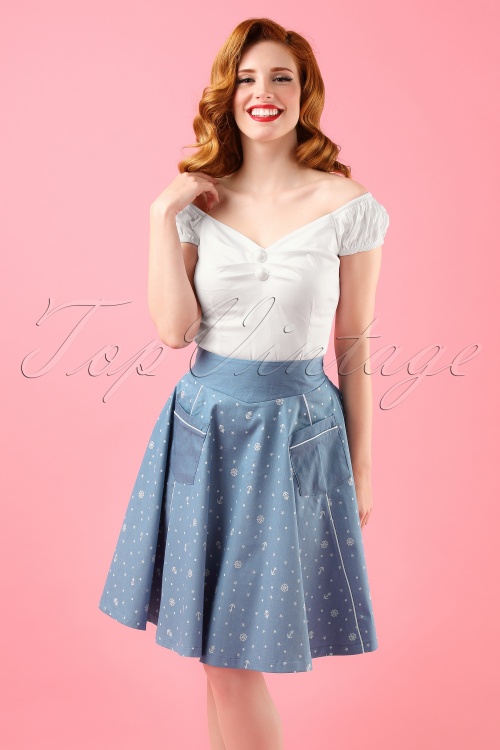 Hola señorita! The 50s Dolores Top in White is truly a must-have! Top in carmen style, cute puffy sleeves which can be worn off-shoulder and pleats at the bust for a beautiful cleavage. Made from a white cotton blend with a light stretch for a lovely fit. The always oh so pretty Dolores!
Short sleeves with elastic trim
2 faux buttons at the bust
Hidden zipper at the side
The featured skirts and accessories are not available in our shop
Article nr.
10349
Handwash cold (don't leave it in the water)
Machine wash 30c delicate
Do not tumble dry
Rok Maat M past perfect. Heerlijk stofje!
Witte topje M past nog net bij mijn 80C.
Dus hangt al in de kast.
De groene jurk is werkelijk supervrouwelijk. Beweegt lekker mee en de kleur groen is heel apart.
tresia
&nbsp|&nbsp
2017-06-21 19:44:06
---
Einfach wunderschön. Passt zu allem und kann prima kombiniert weden! Wird gleich in anderen Farben nachbestellt! :)
Heike
&nbsp|&nbsp
2017-05-24 10:09:30
---
The blue top is pure gold giving super feminine shape. Colour is magnetic and makes me feel like snow white.. sizing is accurate.
Collectif tops have a tricky sizing I always size down for a perfect fit.
The red Ariel top is Tha bomb
T shirts are soft and go with everything!
Cardigans are even softer, the buttoning is a bit of an effort but who cares..
The collectif capris runs wide waist hips legs... but the quality is a keeper. I will be buying the xs as soon as I find some financial luck...
Hmmm the Dolores top gives a nice shape But! It's not very comfortable for every day. The xs runs big on my bust , I am a 70C ...but it will look good on other girls I am sure..
The heart of haute top XS also runs too wide unfortunately I will exchange it :( or I will start some bodybuilding .will see
Keds are easy to pair but I bought some extra inner cushions/bottoms to be able to dance with them and not need a massage the next day...
Great job top vintage ... Would love to see more pug items yeah?
Love you from Greece
Areti
&nbsp|&nbsp
2017-05-20 12:59:32
---
Ik ben helemaal verslaafd aan de heerlijke Dolores tops! Zitten heerlijk en vallen heel mooi uit :)
Larissa
&nbsp|&nbsp
2017-04-06 05:19:54
---
Helaas een beetje doorschijnend waardoor je de naden kunt zien, maar dat valt te verwachten bij een wit shirt. Verder een hele mooie en flatteuze snit. Ondanks dat het een wat strakker shirt is, lijkt het toch lekker licht en luchtig. Helemaal blij mee.
Astrid
&nbsp|&nbsp
2017-04-05 07:05:08
---
Helaas een beetje doorschijnend waardoor je de naden kunt zien, maar dat valt te verwachten bij een wit shirt. Verder een hele mooie en flatteuze snit. Ondanks dat het een wat strakker shirt is, lijkt het toch lekker licht en luchtig. Helemaal blij mee.
Astrid
&nbsp|&nbsp
2017-04-05 06:59:10
---
de
Einfach nur wunderschön
Bin sehr zufrieden mit beiden zuletzt bestellten Artikeln, Rock und Bluse passen wie angegossen, herrliche Materialien. Danke für die so liebevoll verpackten Sachen und die kl. Überraschung, bin total begeistert, Gini
Regina
&nbsp|&nbsp
2016-08-13 17:39:03
---
Schickes teil!
Miryeo
&nbsp|&nbsp
2016-08-11 17:57:29
---
Alles, was ich hier kaufe ist einzigartig und wunderschön. Stoffe von guter Qualität, gutes Preis-Leistungs-Verhältnis, sehr schnelle Lieferung, netter Kontakt, alles prima! Sie machen mich immer sehr, sehr glücklich. I love you!!!
Pupessita
&nbsp|&nbsp
2016-07-29 19:05:35
---
Sehr schön und komfortabel, die Größe passt perfekt, der Stoff ist von sehr guter Qualität. Ich habe es mit dem 50s Sweet Talker Sailor Swing Skirt in Denim Blue kombiniert, einfach ein Must-have!
Pupessita
&nbsp|&nbsp
2016-07-29 18:59:48
---
Deze rok is echt fantastisch, zit heerlijk en heeft zakken! Goed combineerbaar met alle Dolores tops!
Sam
&nbsp|&nbsp
2016-06-25 04:53:02
---
Zeggen m'n zoons,
mam wat zie je er toch weer leuk uit,
Dat is toch t grootste compliment wat je kunt krijgen op mijn leeftijd..........(67).......
Riny
&nbsp|&nbsp
2016-06-13 21:57:30
---
Weer erg uitgekeken naar jullie pakje. Zo blij als een klein kind als de post dan eindelijk komt :)
Het rood wit gestreept truitje is van mooie kwaliteit. Helaas zat het bij mij te strak bij de borsten.
De lange jurk is prachtig en valt heel mooi. Heb er al veel complimenten over gekregen. Wel zeker 10 centimeter korter moeten laten maken en ik ben 1.68.
Het zwarte truitje was iets te groot maar ook vond ik de stof wat tegen vallen dus deze retour.
De broek is ook geweldig en van een goede stof. Deze ook helaas te groot besteld.
Het witte truitje zit ook top (gelukkig ook bij de borsten)

Bedankt weer voor het leuke cadeautje erbij!
anita
&nbsp|&nbsp
2016-06-06 08:28:34
---
Helemaal happy met Top Vintage, maar moet me echt inhouden met bestellen haha...Zelf ben ik goed voor een maatje 46 en ik vind het leuk dat ik kleding heb gevonden dat mij mooi & sexy staat (in pluszise). Jurken zitten goed, sjaaltjes in mijn haar en ready to GO
Chanel
&nbsp|&nbsp
2016-05-27 20:35:28
---
nl
2 super outfits voor de komende zomer
Hartjesrok van Banned had iets kleiner gekund, maar ik ben toch voor de L gegaan. Ik kan er nu ook blousjes in dragen van een dikkere stof. Ik ben normaal niet zo'n fan van elastieke mouwtjes i.v.m. mijn spekarmen, maar de collectiftop maakt mijn armen niet tot een rollade (Thank god!). Safari jurk van Hell bunny zit mooi. Armen wel oiets aan de strakke kant, maar het kan net. Waarschijnlijk wel 5 cm eraf, omdat hij nu echt te lang is.

Snelle levering, mooi en verzorgd verpakt.
Fenneke
&nbsp|&nbsp
2016-04-23 12:36:28
---
de
Weiße Blusen kann man nie genug haben.....
und diese hat mir noch gefehlt! Nichts kneift, nicht zu eng, nicht zu weit, sehr stretchig und damit auch noch bequem und nicht nur schön. Wo bleibt die Sonne, diese Bluse muss bald hergezeigt werden!?
Judith
&nbsp|&nbsp
2016-04-15 22:53:45
---
kan niet echt blijer zijn met al mijn aankopen. Draag alles met plezier. Elke keer weer een kadotje als ik t binnen krijg. stoffen zijn mooi en van goede kwaliteit. Ook al is het zeer fout voor mijn (spaar)rekening kan ik geen genoeg krijgen en vind ik mezelf surfend op jullie site bij elke paar minuten dat ik kan. Vind het enorm fijn dat je dus ook n wishlist kan aanmaken...(of niet omdat t me zo meer kost...lol) Super site!!!!
JC
&nbsp|&nbsp
2016-04-15 09:02:09
---
nl
MOOI 1 Artikelnr. 10349
Dit bloesje pas perfect. Samen met een mooie Marine rok gekocht van Miss Candyfloss.
Zoooo mooi jullie site.
Helma
&nbsp|&nbsp
2016-03-04 13:28:40
---
Wat een schatig katje.
Staat mooi bij een van mijn Top Vintage Kleding.
Helemaal verliefd op jullie mooie spullen.
En jullie service is zoooooo goed!!!!!!
Helma
&nbsp|&nbsp
2016-03-03 20:37:51
---
Weeral superblij met mijn nieuwe aankopen!!!
Carla
&nbsp|&nbsp
2016-02-11 12:52:28
---
Kersentopje is gemaakt van heerlijk zacht materiaal, zit ook perfect om je lichaam heen. Lekker lang, ook perfect op een broek. Wel jammer van de witte achterkant van de stof, dan lijkt t soms alsof je er een witte bh onder aan hebt.
Geruite topje is een mooi classy model, ideaal op een high waist skirt, maar ook lang genoeg op een gewone broek.
Witte topje superleuk, heb m ook al in rood met wit. Heb wat stevigere bovenarmen, dus ik heb het elastiek in de mouwen vervangen door een iets losser elastiek. Perfect!
Het rode tasje is too cute, heb al veel complimenten en jaloerse blikken gehad. Superschattig met die strikjes. Past ook best veel in, alleen de metalen rits is oppassen met je nagels.

Weer superblij met al mijn nieuwe spulletjes!
marisol
&nbsp|&nbsp
2016-02-04 08:05:44
---
Dit is een heel leuke combinatie. De witte top draag ik off shoulder, omdat de mouwtjes anders te veel knellen. Het is een beetje jammer dat ik er dan geen beha onder aan kan doen, maar in de zomer is dat niet zo erg. Verder is het een mooie, stevige top!

De gestipte rok is van een heel erg stretchy stof, wat heel erg comfortabel zit. Alleen slankt ie niet echt af, m'n heupen lijken er erg breed in. Dit zou opgelost zijn met shapewear, ware het niet dat de broekspijpjes onder het splitje te zien zijn als je gaat zitten. Maar daar vind ik vast nog wel iets op, want hij is te mooi om terug te sturen!
Silke
&nbsp|&nbsp
2015-11-02 22:51:24
---
Komen mij ronde vormen mooi in uit en heb veel complimenten gehad! Eindelijk kleding waarin je je echt vrouw voelt en het niet zo erg is dat wat voller bent op sommige plekken.
Hanneke
&nbsp|&nbsp
2015-08-14 22:34:14
---
Dit snoesje bloesje past goed bij de short en mijn BB capri! Hij valt klein, dus ik heb hem moeten ruilen wat razendsnel geregeld was. Ook de short (vooral de taille) viel klein uit, dus ook geruild. (Het is wel een 'dingetje' als je opeens een L moet bestellen, terwijl je altijd s/m draagt… ;-) Maar deze zit nu echt goed en ziet er heel 'hot' uit. Ik ga er van genieten op vakantie. Dank voor de geweldige service. Jullie zijn een Top Site!
Willemijn
&nbsp|&nbsp
2015-08-01 13:57:21
---
wat moet ik nog zeggen. Deze broeken vallen geweldig ze sluiten mooi aan in de taille En het zijn heel aparte stoffen en dat is juist leuk . Een gewone broek kan je overal al kopen. Maar deze zijn echt uniek .En de witte top kan er natuurlijk mooi op . Weer een geweldige set.
Chantal van Schooten
&nbsp|&nbsp
2019-03-19 11:44:28
---
Na recensies gelezen te hebben van meerdere witte off-shoulder tops, besloot ik deze te bestellen. Dat was een goede keuze! Aan de zijkant van de top zit een ritsje, waardoor hij makkelijk aan te trekken is en goed aansluit. Ik heb een aardig grote cupmaat(F75), wat het soms best lastig maakt om flatterende tops te vinden, maar deze top in maat M zit me perfect!
Simone Veldkamp
&nbsp|&nbsp
2019-03-18 20:49:21
---
nl
Zo blij! Tijd voor zomer!
Deze combi is te gek voor de zomer! Samen met mijn rode lakpumps maakt het rode riempje de outfit speels en sexy.
Het advies bij Collectif Clothing 50s Willow Denim Playsuit in Navy is aan te raden wanneer je tussen twee maten zit. Rond mijn taille zit het wat strak, maar met het riempje krijg je geen "snoer" effect. Voor mij niet de moeite waard om het te ruilen, maar wel voor de TopVintage lovers te helpen met een melding.
Yanti Knoops
&nbsp|&nbsp
2019-03-03 09:08:39
---
Première commande sur votre site et je suis ravie ! Livraison très rapide et colis bien emballé.

Les trois vêtements sont pris en taille M/ 12 uk.
La robe jaune est un énorme coup de coeur ! Elle est parfaitement ajustée à ma taille. Légère elle sera parfaite pour cet été !

La robe blanche est également très belle. Elle est un petit peu plus grande que la jaune au niveau de la poitrine et de la taille mais est très bien avec une ceinture.

Le haut blanc est également bien taillé.

Merci Top Vintage !
Célia Perpoil
&nbsp|&nbsp
2018-07-04 15:53:03
---
nl
Fantastische broek en tops

Eindelijk de broek gevonden die ik zocht, wow! En mooie pasvorm van de tops.
Ben er erg blij mee
Marleen Dijkema
&nbsp|&nbsp
2018-06-28 14:30:54
---
de
Hallo Liebes Top Vintage Team
Was soll ich sagen..alles wie immer super schön...
Service perfekt, Lieferung wie immer pünktlich..und die hübschen Stücke machen mich wie immer chic...
zu den Schuhen..sitzen 1a und passen in die komplette Sommergarderobe..
Gingham Style...sitzt perfekt... muss ich aber kurz durch spülen da es sehr steif ist..
Das Kirschenkleid ein Traum..hab S genommen statt M was ich sonst trage ...passt tadelos...
gelbe Bunny Bluse Gr. M auch super...
der Haarreif ...sehr niedlich zum Gingham Style...
das Kirschblütenkleid wunderbar...Frau sollte erst das Kleid anziehen-dann Makeup und Haare...bisschen schwierig mit den Reißverschluss im Rücken das er nicht bis zum Kragen durchgeht..
das rote Baumwollshirt..sitz, wackelt und hat Luft..S reichte auch hier wie es beschrieben war...TOP
die weisse Bluse mit der Schleife im Rücken... der Knaller... nicht schleudern ist ratsam..das sie sonst sehr knittrig ist..aber alles spitze...
das wisse Collectif Blüschen ... sitzt super das sollte man seine normale Größe nehmen sonst ist es zu fest an den Armen... ..Qualität ist toll nur leider immer ausverkauft .. !!!
So nun zu letzten Teil...die Gingham Capri.... da muss ich leider sagen 1x getragen wollen und kurz vor dem losgehen festgestellt die Poponaht ist auf...wohl beim anziehen passiert... :O(...das sollte doch die Nähte überarbeitet werden...die Hose sollte eng sitzen aber auch die Nähte sollten das aushalten...
Fazit.....alles wieder gut...und immer sehr sehr zufrieden...
Danke für das schön machen...
Bis bald...und alles eine gute Zeit
Anja ;O)
Hallo Anja, Danke für Ihre tolle Bewertung! Bezüglich die Gingham Capris werde Ich mich mit Ihnen in Verbindung stellen.
Liebe Grüße,
Sylvia,
Kundenservice
Anja Inderbiethen
&nbsp|&nbsp
2018-06-03 18:53:46
---
de
unerwartet sehr enttäuscht
Gestern erreichte mich die 50s Maddie Trousers in Pale Blue in M und ich bin fürchterlich enttäuscht. Zunächst ist die Hose in M, obwohl ich mich mit Konfektion 38 an die Grössenempfehlung hielt, viel zu groß: eine S hätte mutmaßlich locker gereicht. Was aber richtig krass ist: auf dem Oberschenkel links, wie auch dem Unterschenkel rechts sind zwei ca 12 Zentimeter lange blass-rostrote, längliche Streifen. Die Verschmutzung stammt natürlich nicht von den vier Sekunden Anprobieren, aber eine schmutzige (verfärbte??) Hose kann ich leider nicht umtauschen. Ich habe die Hose jetzt in die Reinigung gebracht und werde sie danach zum Schneider bringen - in der Hoffnung, dass noch etwas zu retten ist.

Als wäre das nicht genug, ist an dem Wickellcardigan der Bund eingerissen. Hatte extra Fotos gemacht, um sie hochzuladen, aber das ist an dieser Stelle, wie ich gerade feststelle, nicht möglich. Ich bin sehr traurig, aber auch irritiert, weil es sich ja um Neuware handelt, die mich bislang immer und ausnahmslos in einem Top-Zustand erreichte.

Zudem war der rosafarbene Cardigan nicht in der Lieferung enthalten. Hierzu erhielt ich allerdings bereits eine sehr freundliche E-Mail, auch das Geld war bereits zurücküberwiesen. Anscheinend war der Cardigan zwischenzeitlich ausverkauft, ist nun aber wieder auf Lager und könnte neu bestellt werden.

Die Pumps sind zuckersüß, der Rock etwas weit, aber tragbar und bildschön ( Zuckerprinzessinlevel

Hallo Nana, es tut uns sehr Leid dass Sie so viele enttäuschende Probleme hatten mit dieser Bestellung. Das hätte nicht passieren dürfen! Entschuldigen Sie uns bitte! Natürlich werden wir das Problem perfekt für Sie lösen. Ich werde Sie heute noch per E-Mail kontaktieren. :-)
Liebe Grüße,
Alexandra
Kundenservice 


Nana
&nbsp|&nbsp
2018-04-27 04:52:34
---
Het rokje flatteert enorm door de kleur en de pasvorm, het zit zeer comfortabel. Ik heb brede heupen maar door het model (A-lijn) worden die mooi gecamoufleerd. Het witte topje heeft aan de zijkant een rits waardoor je het zeer gemakkelijk kan aantrekken. Ik ben opnieuw super tevreden met mijn nieuwe outfit en niet te vergeten: de geweldige service van Top Vintage.
Ann de Backer
&nbsp|&nbsp
2018-04-12 16:19:20
---
Dieser Rock ist einfach bezaubernd. Ob mit oder ohne Petticoat- er sieht einfach toll aus. Trotz dem, dass er einige Farben hat,wirkt er nicht zu bunt und lässt sich toll kombinieren. Selbst die Kassiererin im Supermarkt hat mir ein Kompliment dazu gemacht. Einfach toll. Auch die Qualität überzeugt.

Das weiße Oberteil ist auch super. Der Stoff ist fest und auch nicht durchsichtig. Es ist sehr bequem. Bei manchen Bewegungen muss ich Acht geben, dass man mir nicht in den Ausschnitt schauen kann aber das ist nur eine kleine Sache, die ich gern in Kauf nehme. Ich habe zwischen S und M geschwankt und mich dann für M entschieden, da ich mir mit meinem kleinen Bäuchlein nicht sicher war. Es war die richtige Entscheidung.
Susanne H.
&nbsp|&nbsp
2018-04-11 14:34:52
---
de
Der Frühling kann kommen!
Liebes Topvintage-Team,
wie immer passt alles wie angegossen. Der orangene Blumenrock war sowohl vom Schnitt als auch vom Muster Neuland für mich und: er ist perfekt
Mschinne
&nbsp|&nbsp
2018-03-30 10:02:32
---
Die Bluse überzeugt durch den tollen Schnitt und den leicht dehnbaren, sehr Wertingen Stoff. Ich habe die Bluse in weiß.
Toska
&nbsp|&nbsp
2018-03-23 15:50:30
---
Un site vraiment trop génial, la jupe superbe avec son petit haut sexy que j'ai reçu
Le trop jolie sac....que du bonheur
Et j'en ai pas fini de mes prochaines commandes !!!!! hi ! hi !
corinne
&nbsp|&nbsp
2018-03-18 17:24:19
---
Weer helemaal tevreden en alles past perfect dankzij de handige maattabel. De sophia tops zitten geweldig en sluiten mooi aan. Ondanks deze straks zitten verdikken deze niet.
Laat de lente/zomer maar komen
sarah surinx
&nbsp|&nbsp
2018-03-09 19:06:16
---
De strapless blijft heel goed zitten.
Het zit allemaal heerlijk
Esther Zaaijer
&nbsp|&nbsp
2017-08-04 11:55:17
---
J'était à la recherche de " THE " haut blanc pour assortir avec mes jupes et celui la est parfait, bonne qualité, bien coupé, pas transparent !
Bossard
&nbsp|&nbsp
2017-07-04 11:30:09
---
bin ich von jedem Artikel. Ausnahmslos!
Die Größenbeschreibung ist eine große Hilfe, da Konfektionen unterschiedlich ausfallen. Sonst wäre ich geneigt dazu gewesen, mir die Kleidung zu groß zu kaufen.
Die Materialien sind auch allesamt sehr angenehm, was mir sehr wichtig ist.
Beim schwarzen Rock von steady clothing unbedingt auf die Taillenweite achten, dann passt der Rock optimal. Der Bund strecht nämlich nicht.

Fazit: ich bin mega glücklich :-)
Yvonne
&nbsp|&nbsp
2017-07-01 17:41:14
---
This top!! All heart eyes
E.E.
&nbsp|&nbsp
2023-03-03 04:31:35
---
helaas wel teruggestuurd: als de top mooi aansluitend zit, is het wel doorschijnend,net iets te veel naar mijn smaak, daarom geretourneerd..
nelie
&nbsp|&nbsp
2022-07-11 10:23:54
---
The white top is a winner anytime, but I advise wearing a bra as it is a bit see-through. The black top is soft and despite my bigger boobs I would venture without a bra for comfort. The capri is true to size, flattering model and great material. It's the second time I am ordering it, as the previous one bought years ago was worn to the bitter end!
Eliane
&nbsp|&nbsp
2022-04-23 08:58:59
---
Hallo
Pia
&nbsp|&nbsp
2021-02-27 19:31:49
---
Les tops sont super jolis et taillent parfaitement. J'adore! Comme tous les habits que je commande chez Top Vintage, belle qualité et belle coupe
Aline
&nbsp|&nbsp
2020-10-23 16:58:59
---
Der Schnitt, die Farben und das Material sind der Hammer. Ich bin mega begeistert. Ich liebe einfach die 50er.

Kathrin Vent
&nbsp|&nbsp
2020-04-16 12:19:17
---
Beide shirts vallen ontzettend mooi op een broek of zitten mooi strak onder een tuinbroek of jumpsuit. Erg blij mee en precies goed passend als je de maattabel volgt.
Elsje
&nbsp|&nbsp
2020-01-17 20:04:05
---
nl
Opvallend, fleurig, vrolijk, vrouwelijk en mooi. Real vintage!
Gekocht voor op de bühne en ik krijg er veel positief commentaar op.
Jurk past bij de muziek uit vervlogen tijden.. Compleet in stijl!

Lilian Dentener
&nbsp|&nbsp
2019-10-10 16:07:35
---
Hatte das Outfit für einen Konzertabend bestellt, da wir Frauen ja nie was im Kleiderschrank haben,was für den einen ganz bestimmten Anlass passt....grins.....
Das Outfit kam bei der ältesten Generation 50+ so gut an, das von überall nur Komplimente kamen, im Gegensatz zu ihnen war ich zum Event passend gekleidet .... grins .....


Der Rock ist echt klasse, schöner Stoff, nicht zu dick, mit petticoat einfach ein Traum! Auch wenn man mal gesessen hat verknittert er nicht,top....

Das Top ist schön fest vom Stoff, sitzt gut.

Der Cardigan rundet das Outfit ab. Schöne Länge ,ist mein erster kurzer und wird auch nicht mein letzter sein ;)


Nathalie
&nbsp|&nbsp
2019-04-15 15:15:23
---
Helemaal blij met mijn aanwinsten kleding van King Louie is alweer een mooie aanwinst. En het valt altijd op maat.
Ik ben trouwens erg blij dat jullie xs vin jullie collectie hebben.

De pumps zijn trouwens ook echt geweldig. Ze vallen op maat, de hak is echt hoog, maar met lopen merk je het eigenlijk niet dat ze zo hoog zijn.

En de vestjes zitten erg fijn.

Mascha
&nbsp|&nbsp
2023-03-25 23:15:58
---