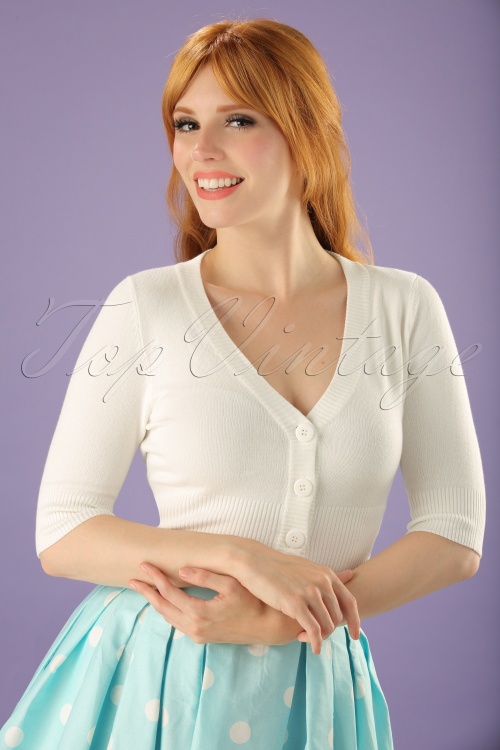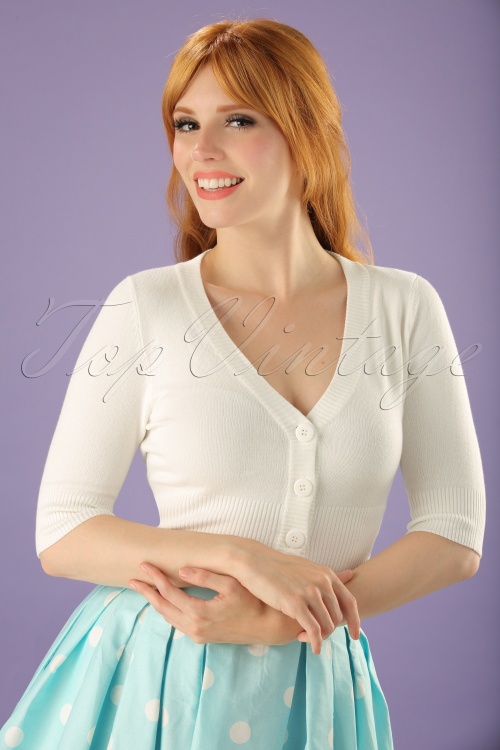 50s Overload Cardigan in Ivory White
The 50s Overload Cardigan is an all-time classic! Classy in all its simplicity and therefore THE perfect match with all your vintage items! This short cardi features an elegant V-neckline, 1/2 sleeves and shiny buttons. Made from a fine knitted, ivory white viscose blend with a lovely stretch for a perfect fit. The combination possibilities are endless!
V-neckline
1/2 sleeves
Row of buttons
Stretchy rib board along the neckline, sleeves and bottom
Shorter style
Article nr.
20907
60% Rayon
20% Elastane
20% Polyamid
Handwash inside out (don't leave it in the water)
Wash dark colors separately
Machine wash 30c delicates cycle
Do not dry clean
Do not tumble dry
Iron inside out on low temperature setting
Top vintage heeft heerlijke collectie vestjes in allerlei kleuren, zacht materiaal, dit vestje heeft grote knopen. Mooi! Weer helemaal een must have op al die mooie jurkjes
wicky
&nbsp|&nbsp
2017-06-07 13:19:17
---
Bin sehr zufrieden mit dem Jäckchen die Qualität passt und der stoff ist nicht zu dünn das was durch scheinen kann
Sabrina
&nbsp|&nbsp
2017-06-02 15:57:06
---
Helaas komt het veel voor bij witte kleding dat het doorschijnend is. Omdat het vestje verder simpel in design is oogt het goedkoop. Helaas retour!
Nadia
&nbsp|&nbsp
2017-05-31 08:39:40
---
Einfach wunderschön. Passt zu allem und kann prima kombiniert weden! Wird gleich in anderen Farben nachbestellt! :)
Heike
&nbsp|&nbsp
2017-05-24 10:09:30
---
Des coupes sublimes et beaucoup de compliments, que demander de plus ?
Eva Mac Leod
&nbsp|&nbsp
2018-06-11 10:28:26
---
Heel leuk maar maatje te groot!
Net ontvangen en al weer retour afgegeven .
Kleinere maat al besteld.
Ik wil toch even kwijt dat ik €6.95 heb moeten betalen voor de retourzending!!!
Terwijl het van Heerlen naar Kerkrade verzonden wordt .
Dat vind ik echt teveel!
Dat houd mij tegen om nog verder iets te bestellen.
Spijtig!!
Het jurkje paste perfect en is heel mooi!!
Marie-Anne Dutry
&nbsp|&nbsp
2018-05-26 14:35:05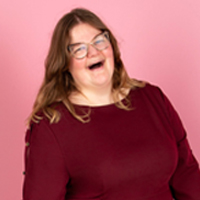 Response from Nicole

Beste Marie-Anne, wat jammer dat het item niet paste! Voor klanten die in de buurt wonen maken we altijd graag een uitzondering! Ik zal je even in een e-mailtje toelichten hoe dit precies werkt! 
Groetjes,
Nicole
Klantenservice
---
Es ist ein ganz tolles sexy Kleid in leichtem Shirtstoff. Für üppiger Grössen rate ich zu einem Mieder. Es zeigt Rundungen...
Ansonsten Daumen hoch! Hab auch noch die kleine Weste, die Sonnenbrille und den Gürtel bestellt.
Ich liebe dieses Kleid! In Kombination mit den anderen Artikeln ist mein Auftritt perfekt!
Danke Top Vintage!
christine godau
&nbsp|&nbsp
2018-05-05 04:46:23
---
de
Ein Kleiderschrank voller Schätze!
Die Kleider sind NIE eine Enttäuschung! Ich kann nicht sagen, welches mein Lieblingsstück ist, weil alle einfach großartig sitzen.

Kristiane Jüstel
&nbsp|&nbsp
2018-05-02 14:10:52
---
De vestjes zitten heel comfortabel. Ze zijn ideaal om over de mouwloze jurken te dragen, zodat het niet de warmste temperaturen moeten zijn om die mooie stuks te dragen. Gezien de prijs en de kwaliteit van het merk had ik wel verwacht dat het rode vestje niet zou afgeven in de was, maar dat doet het dus wel. De witte bloemetjes op een donder kleedje dat erbij zat zijn nu roze. Dus dit vestje toch eventjes met azijn voorwassen om de kleur te fixeren.
Marijke Vanhoebroek
&nbsp|&nbsp
2018-04-25 07:56:32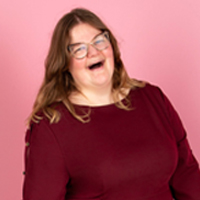 Response from Nicole

Beste Marijke, wat vervelend dat het vestje heeft afgegeven! Ik stuur je meteen even een berichtje! 
Groetjes,
Nicole
Klantenservice
---
Ik ben helemaal verliefd op de Overload vestjes, heb ze ondertussen in vijf kleuren. Fijn zacht materiaal, draagt erg prettig en ze zijn door de vrolijke kleurtjes overal mee te combineren. De taille loopt wel een beetje uit tijdens het dragen, dus je silhouet blijft niet zo mooi als het 's ochtends is, haha, maar ze zitten echt HEERLIJK.
Ook het roze Raven vestje zit lekker. De stof is iets dunner dan ik verwacht had, maar dat is geen probleem. Overigens heb ik normaal maat 38 dus ik had vanwege mijn D-cup voor de zekerheid zowel M als L besteld; M zat toch beter, het vestje valt ruim genoeg en de knoopjes blijven mooi zitten zonder dat de stof trekt.
Erika
&nbsp|&nbsp
2018-03-07 09:08:59
---
de
Wie immer alles wunderschön !
Die Geldbörse ist sehr schön, aussergewöhnlich, leider ist das Fach fürs Kleingeld sehr eng.
Das Jäckchen ist sehr gut verarbeitet, sitzt sehr gut.
Das T-Shirt ist auch sehr hübsch und betont die richtigen Stellen
Ralf Schäfer
&nbsp|&nbsp
2017-12-02 21:39:59
---
fr
Ma boutique fétiche ❤️❤️❤️
Ma boutique fétiche !!!
J'achète régulièrement dans cette boutique les vêtements sont de qualité classe élégant très féminin !!!
Berengere Lecoq
&nbsp|&nbsp
2017-10-19 20:09:22
---
Jolis petits gilets très bien taillés les couleurs sont belles j'ai bien fait d'en prendre trois d'un coup !!!
Berengere Lecoq
&nbsp|&nbsp
2017-09-21 12:21:41
---
Nice cardigan but just a bit short for me... I'll keep it but it's true I'd like it to be a little longer, so that it goes over my belly (with my breasts it goes up a bit too much..) Don't know if the material will cope well with the washing machine, we'll see !:)
caroline
&nbsp|&nbsp
2017-08-08 17:55:43
---
nl
Het ideale basic vestje
Heerlijk vestje. De kortere lengte zorgt voor een mooie aansluiting op bijvoorbeeld een rok en zorgt zo voor een mooi silhouet. Durf het alleen niet in de wasmachine te wassen, ik denk dat de stof daar niet goed tegen kan.
Nikka
&nbsp|&nbsp
2017-08-07 19:08:37
---
De strapless blijft heel goed zitten.
Het zit allemaal heerlijk
Esther Zaaijer
&nbsp|&nbsp
2017-08-04 11:55:17
---
Raffiné
DENIS Murielle
&nbsp|&nbsp
2017-07-29 12:13:26
---
nl
TOPVINTAGE MAKE MY DAY
JA HOOR IK HEB ER AL VERSCHILLENDE ! IK HOU VAN DEZE CARDIGANS MET KORTE MOUWTJES DRIE KWART MOUWTJES
christine
&nbsp|&nbsp
2017-07-17 19:40:44
---
Mooie kwaliteit en zit heerlijk!
Ik begon met de blauwe, daarna snel de witte (off white) en zwarte besteld. En nu in afwachting van de rode, zojuist besteld :)
Monique
&nbsp|&nbsp
2017-06-25 22:28:15
---
Gewoon geweldig. Beide vestjes zitten heerlijk en zijn prachtig. Door het korte model ideaal voor op mijn taillebroeken.
Rosalie
&nbsp|&nbsp
2017-06-23 14:56:15
---
Erg leuke site met prachtige artikelen en zeer klantgericht! Ik heb mijn bikini echter twee keer gedragen en nu al steken beide beugels van het bovenstukje door de stof heen en dat zit niet lekker.
Laura
&nbsp|&nbsp
2017-06-23 08:02:14
---
Das schwarze und grüne Kleid passt sehr gut und ist anschmiegsam.
Die beiden Strickjacken sind auch nett bis auf dass bei der schwarzen wegen der Sicherheitsnadel der dünne Stoff leicht aufgerissen wurde aber habs schon genäht ;) passen ja auch gut =)
Die weiße Strickjacke und das weiße Kleid sind perfekt.
Das Navy Papageien Kleid passt aber ist wie geschrieben nicht dehnbar, ist ein fester Stoff und gefällt mir gut nur der Preis is find ich bisschen zu hoch ;)
Barbara
&nbsp|&nbsp
2019-06-07 10:43:06
---
De jurk is werkelijk prachtig. Ik heb hem gekocht als tweede jurkje voor op m'n bruiloft. De kleur is een hele mooie zachte kleur en voelt heerlijk zomers. Verder voelt de jurk heel licht aan en zit er comfortabel. Absoluut een aanrader!

De rok is echt perfect! Zit gemakkelijk en valt ook erg mooi. De kleur is opvallend maar goed te combineren. Het elastiek blijft ook goed, valt niet na een dag dragen opeen ruimer. Zou er graag meer van aanschaffen in verschillende kleuren.

Het vestje is in het echt nog vele malen mooier. De stof is ontzettend zacht en valt netjes. Ik kijk er naar uit om het te dragen en zal er in de toekomst zeker meer aanschaffen!
Marlinka
&nbsp|&nbsp
2019-05-25 17:23:08
---
Dieser süße weiße Bolero passt perfekt in meine Frühjahrsgarderobe. Der Stoff ist herrlich weich und anschmiegsam, die Länge und Breite ebenfalls sehr gut dank der Größentabelle!
Leider gehen bei mir ständig die oberen 3 Knöpfe auf, obwohl der Stoff weder zu stark gespannt noch zu locker sitzt. Der Stoff ist so weich und dehnbar das die Knöpfe ständig rausrutschen. Das lässt sich leicht mit Nadel und Faden beheben, deshalb behalte ich ihn auch.
Patricia Rutkowski
&nbsp|&nbsp
2019-02-27 16:09:45
Response from Customer service

Hallo Patricia, es freut uns dass Ihnen der Cardigan so gut gefällt aber es ist natürlich schade dass die Knöpfe immer aufgehen. Das darf nicht passieren, bitte entschuldigen Sie uns! Ich werde mich dazu schnellstmöglich bei Ihnen melden.

Liebe Grüße,
Alexandra
Kundenservice
---
Das Jäckchen ist ein Dauerbrenner bei mir. weich und super bequem. Passt zu allem, ob Pencilskirt, Tellerrock oder Hotpants. Ich werde wohl noch eins davon bestellen!

Monika Weilenmann
&nbsp|&nbsp
2019-02-20 13:13:39
---
de
Jäckchen ... weich und anschmiegsam
Trage dieses wunderschöne Jäckchen in Ivorie zu meinen beiden Kleidern (TopVintage und Hearts & Roses). Sie passt von Stil, Länge und Farbe hervorragend. Habe das Jäckchen gleich auch in blau und schwarz gekauft, weil sie so toll zu meinen anderen Kleidern passen und eine super Qualität haben.
Betti-Bine
&nbsp|&nbsp
2018-09-11 05:38:55
---
Cardigan- beautiful. happy with everything. Thanks Topvintage.will continue ordering.
Love from Sweden
Marlin Assi
&nbsp|&nbsp
2018-08-08 08:58:05
---
Nette basic voor op je iets hoger getailleerde kleding. Benadrukt je taille wanneer je dit vest op je jurk of rok draagt. Ik heb het vestje inmiddels al in drie kleuren gekocht bij TopVintage, zo fijn dragen ze.
Glow
&nbsp|&nbsp
2018-07-12 20:20:48
---
Die Jäcklein passen immer und überall dazu. Ob lange oder kurze Ärmel. Ob 3 oder 4 Knopfreihen. Wer möchte, näht andere (Vintage-)Knöpfe dran und hat wunderhübsche Einzelstücke. ;-)
SaRa
&nbsp|&nbsp
2018-06-12 06:36:26
---
de
Super looks for work and leisure!
The wide-leg jeans fit at the waist, create a great silhouette, and are sooo comfortable - however the zipper is low quality ( Only 4 hearts because of the zipper.)
The white wrap top is so cute, the fabric feels nice, and it fits perfectly even with a large bust. (5 hearts!)
The sweaters all look great. I have only worn the green one so far, which unfortunately already has a little pilling on the front, but the fit is excellent.
Denise
&nbsp|&nbsp
2021-03-19 14:45:25
---
Wat een feestje is het toch iedere x als ik een bestelling binnen krijg.
De jurk is echt super en het vestje is heerlijk zacht.
Laat de zomer maar komen
Andrea
&nbsp|&nbsp
2020-06-04 11:16:12
---