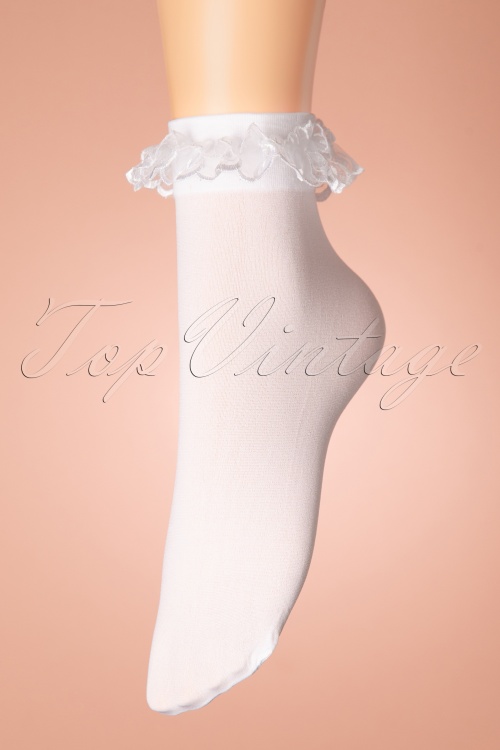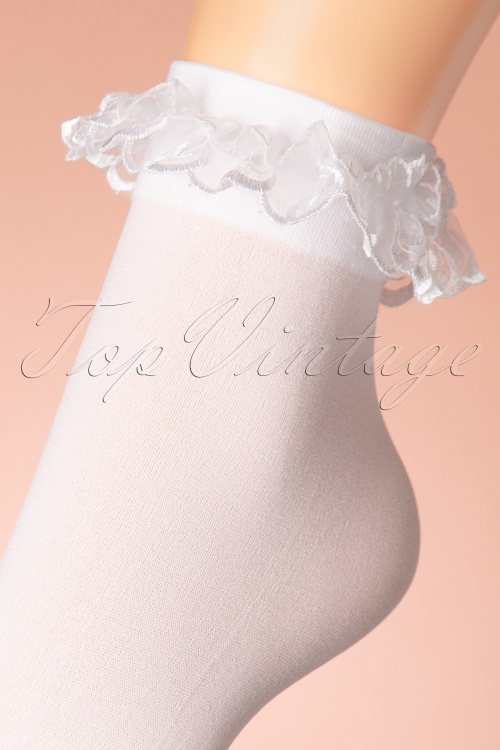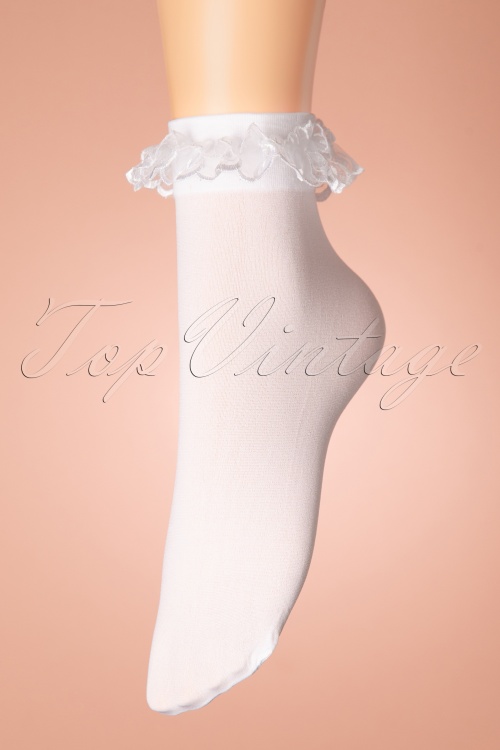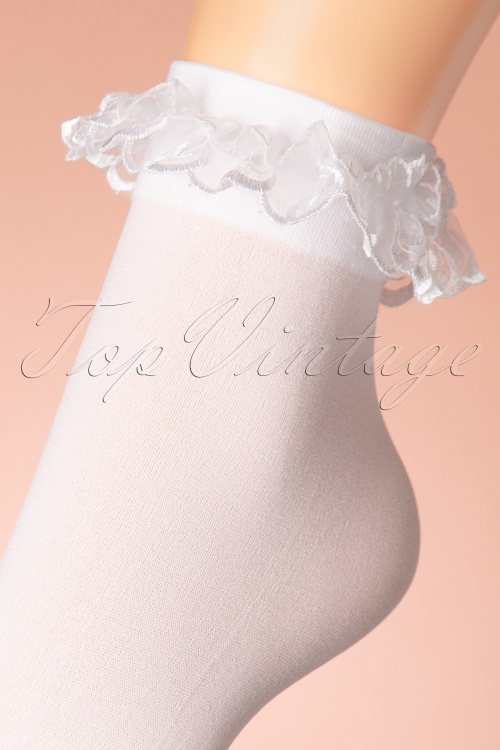 Cute Ruffle Lace Bobby Socks
Nobody will even notice pink bunnies or Carebears when you pass by wearing these 50s Cute Ruffle Lace Bobby Socks! These white ankle socks with a wide ruffled lace top are simply too cute and look adorable paired with pumps or sneakers. Made of high quality, white fabric, so you'll be able to wear them all the time. It just doesn't get any cuter than this! 
Ruffled lace top
Ankle height
Article nr.
11599
Heigth (cm): 152 - 177 cm
Weight (kg): 45 - 80 cm
Handwash cold (don't leave it in the water)
Do not tumble dry
No ironing
Super toll.super süß. Total praktisch durch den eingearbeiteten Draht.
Marén
&nbsp|&nbsp
2015-06-14 09:36:31
---
Wat een fantastische jurk! Ik ben trots op mijn rondingen en dankzij de fantastische maattabel gelijk de juiste maat! Thanks Angelique en team.
Tamara
&nbsp|&nbsp
2015-06-10 10:49:12
---
stuk voor stu zalig !! het witte kleedje is acht woow !!
els
&nbsp|&nbsp
2015-05-07 11:55:27
---
Alles sieht super aus und passt dank der Größentabellen perfekt!
Ich hatte zwar gehofft, dass der Stoff vom Rock ein wenig schwerer ist, er fällt aber trotzdem schön.
Freue mich schon, wenn weitere Stücke in meinen Schrank einziehen dürfen!
Teresa
&nbsp|&nbsp
2015-04-12 16:58:46
---
Top service!! Word er altijd zo blij van als ik de bestelling van jullie binnen krijg. Netjes ingepakt en een klein presentje en een super snelle levering.

Vandaag deze mooi rok binnen gekregen. Helemaal blij zeker met de witte petticoat en de sokjes. Klein nadeel zonder de petticoat schijnt de rok hij wel door maar dat mag zeker de pret niet drukken en daar is wel wat op te verzinnen.
Sandra
&nbsp|&nbsp
2015-03-07 12:01:10
---
Helemaal blij met mijn hoedje, Schattige sokjes en mooie panty's!! En bedankt voor de attenties! Fijne feestdagen en een heel goed 2014
Uella de Jonker
&nbsp|&nbsp
2013-12-15 08:58:48
---
nl
Super blij met alles !!!
Super blij met al mijn bestellingen , nog niks retour moeten doen want de maten staan er altijd mooi bij , je moet alleen juist meten ;) , dit zijn zeker niet mijn laatste bestellingen !!! Mijn verlanglijstje begint een beetj vol ge komen haha , hoe kan dat ook anders :) ik draag deze kledij dagelijks en ik trek het mij niet aan als de mensen raar kijken , in deze kledij voel ik mij goed , speciaal!!!!
Sarah
&nbsp|&nbsp
2016-11-23 16:05:22
---
De rok bestelde ik eigenlijk mee met de schoenen (ik wilde graag dansschoenen), maar wát een geweldig item is dat! De rok valt ontzettend mooi, de stof voelt heel fijn en hij zit gewoonweg heerlijk. Bij he rock&roll-dansen zwiert 'ie ook fantstisch, iedereen kijkt ernaar om :)

De schoenen zitten fijn en staan heel erg leuk. Ook met dansen zijn ze prettig, de zool is niet te glad of te stroef. Ik heb nu echter wel al mijn tweede paar, omdat bij het eerste paar bij de linkerschoen de lak al na 1x dragen afbrokkelde. Ook het tweede paar heeft daar (in mindere mate) last van, dat heb ik nu 1x aangehad ook. Vanavond gaan we weer dansen, daarna kijk i nog even hoe ze eraan toe zijn (de fantastische klantenservice van topvintage zal het probleem anders zéker fijn oplossen :)).

De sokjes maken de dansoutfit helemaal in stijl af, zijn superlief! Wel handig om te weten: het sokjezelf is van panty-stof, niet van katoen ofzo.

Al met al: zeer blij met mijn bestelling!
An
&nbsp|&nbsp
2016-10-29 15:00:33
---
de
Werten jedes Outfit auf
Am Anfang dachte ich immer "Wer zieht denn Socken dazu an?" - Aber es wertet jedes Outfit einfach auf - vor allem bei Röcken.
Franzi
&nbsp|&nbsp
2016-09-13 06:52:06
---
Wat kan je er nog meer over zeggen? Ze zitten heerlijk en zijn enorm zacht!
Marjolein
&nbsp|&nbsp
2016-08-26 19:05:35
---
Ich bin total begeistert,
Hinter dem ideal verpackten Päckchen und dem unerwarteten Geschenck steckt sehr viel Liebe zu Detail und vor allem Kundenfreundlichkeit.
Ich bin sehr begeistert und werde definitiv noch oft bei Top Vintage bestellen.
In die Schuhe habe ich mich verliebt und als ich diese ausgepackt habe,sahen sie noch besser aus. Top Qualität,super bequem und machen einen Eindruck,als wären diese Schuhe ein Einzelstück. Beeindruckt hat mich,dass sogar eine integrierte weiche Einlage vorhanden ist.
Die Söckchen und der Gürtel sind der Hit.

Bin sehr glücklich von Top Vintage bestellt zu haben.

Vielen herzlichen Dank an das Top Vintage Team
Maria
&nbsp|&nbsp
2016-06-30 15:51:59
---
Zeggen m'n zoons,
mam wat zie je er toch weer leuk uit,
Dat is toch t grootste compliment wat je kunt krijgen op mijn leeftijd..........(67).......
Riny
&nbsp|&nbsp
2016-06-13 21:57:30
---
Hélemaal verslaafd aan jullie webshop ! Alleen mijn bankrekening is er niet helemaal blij mee, maar hé, je leeft maar 1 keer toch? Dan zie je er beter goed uit! Ik verzeker jullie nog vele 'selfies' op instagram ;) want ik toon graag aan heel de wereld hoe geweldig ik eruit zie in jullie kledij !
Miss.kimberly_ @instagram
&nbsp|&nbsp
2016-04-19 20:27:59
---
kan niet echt blijer zijn met al mijn aankopen. Draag alles met plezier. Elke keer weer een kadotje als ik t binnen krijg. stoffen zijn mooi en van goede kwaliteit. Ook al is het zeer fout voor mijn (spaar)rekening kan ik geen genoeg krijgen en vind ik mezelf surfend op jullie site bij elke paar minuten dat ik kan. Vind het enorm fijn dat je dus ook n wishlist kan aanmaken...(of niet omdat t me zo meer kost...lol) Super site!!!!
JC
&nbsp|&nbsp
2016-04-15 09:02:09
---
de
Grundsätzlich zufrieden
Die Socks sind mir leider (mit einer 38) zu groß, da man sie nur in Einheitsgröße bestellen kann. Der Rüsch steht leider viel zu sehr ab, optisch ist es nicht mit dem angegebenen Bild zu vereinbaren. Der Stoff ist allerdings sehr angenehm zu tragen.

Das Kleid und den Schal für die Haare finde ich allerdings super toll. Guter Stoff, der leicht dehnbar ist und toller Schnitt. Die angegebene Größe passt perfekt und es sitzt alles so, wie es sein sollte.
Das Preis - Leistungsverhältnis finde ich auch sehr gut, sowie den schnellen Versand.
Die Ware ist super schön eingepackt und zusätzlich gibt es ein kleines Present, welches ich echt niedlich finde. Insgesamt ist der Shop echt zu empfehlen und die Ware ist meistens wie beschrieben.
Jessica
&nbsp|&nbsp
2016-04-05 19:43:39
---
de
Man kommt nicht nach...
Liebes TopVintage-Team,
wie soll man als Kunde bei euch nur jemals zufrieden sein? Ich meine, klar, die Bestellungen sind immer ruck-zuck da, alles ist liebevoll verpackt, man bekommt kleine Aufmerksamkeiten mitgeschickt und eure Mitarbeiterinnen sind IMMER sowas von freundlich und kundenorientiert

ABER

jedes Mal wenn ich bestellt habe und einen Tag später auf eure Seite schaue, habt ihr schon wieder neue MustHaves, in die man sich verliebt., sodass man am liebsten direkt nochmal bestellen möchte!

Eure Sachen sind einfach ein Traum! Bin bei jeder Bestellung glücklich :)
Melanie
&nbsp|&nbsp
2016-04-04 09:34:21
---
nl
SCHOEN GUMMEN!!! IK BEN ZO GELUKKIG!!! <3 <3
Wauw wat een super site!! Er zat een zwarte streep op de rode lak pump en belde voor advies, met geweldige assistentie heb ik allerlei tips geprobeerd om het er af te halen ( werkte jammer genoeg niet ) Na een uur werd ik terug gebeld, omdat ze advies had gevraagd en vertelde mij dat ik de streep moest gummen,,, EN HET WERKTE!!!!! een schoen gummen, wie had dat gedacht,,, haha
Verder heb ik een aantal dingentjes moeten ruilen, maar dat was verder geen probleem, nu nog wachten op het geld retour.

TOP SERVICE EN TOP kwaliteit kleding!! i'm totaly in loooveee
Belinda
&nbsp|&nbsp
2015-10-06 18:33:15
---
Mooie details die het geheel afwerken en die ervoor zorgen dat het net dat ietsje meer is
Alleen jammer dat de kousjes niet in het zwart te krijgen zijn
Onlangs moeten gaan zoeken in een sex -shop voor een retro party
mieke
&nbsp|&nbsp
2015-09-15 16:11:56
---
Diese Söckchen sind echt supersüss... aber beachtet die Pflegeanleitung, habe meine in die Waschmaschine gesteckt und musste danach mit Nadel und Faden den Schaden wieder richten. War mein Fehler ..
Anne
&nbsp|&nbsp
2015-09-15 09:33:04
---
Enige sokjes...
michelle
&nbsp|&nbsp
2015-07-19 00:34:31
---
nl
Vintage is the new hip!
You are awesome! Everything I ordered is amazingly beautiful. The cardigans, Ahoy and the Cadillac Cherries, are so sweet and soft. The Bunny top is a bit short, but still very very nice!
And to tell you the truth, I can't wait to receive a package from you to check out what little gifts you put in! I don't have to wait long anyway, cause you're so fast in delivering!
Adriana
&nbsp|&nbsp
2015-06-24 17:27:21
---
Super praktisch durch den eingearbeiteten Draht. Sehr gute Verarbeitung. Das war nicht das letzte Teil :-)
Marén
&nbsp|&nbsp
2015-06-14 09:43:50
---
Super toffe shirts en ze zitten heel lekker. Ze staan ontzettend leuk en zijn te combineren met eigenlijk alles
Maria
&nbsp|&nbsp
2021-04-24 13:18:16
---
Super lieve sokjes voor een heel klein prijsje.
Anja Mulder
&nbsp|&nbsp
2018-06-03 06:50:07
---
Ich warte nun sehnlichst auf den Frühling!! Ich liebe Lackschuhe und hab ähnliche in dunkelblau, rot,...da pink nicht so unbedingt zu meiner Lieblingsfarbe gehört, war ich zunächst etwas unsicher. Ist aber ein wunderbarer Schuh! Ich habe einen breiten Fuss mit Ballen und Grösse 40 passt perfekt, ist superbequem .Es gibt sogar ein zweites paar Schnürsenkel und ein Schuhstoffbeutel. Was mich
etwas stört:sie riechen sehr stark nach Kleber, was bei dem hohen Preis nicht sein sollte.

Die Socken passen toll.

Hallo Marina, entschuldigen Sie uns bitte dass die Brogues so stark nach Kleber stinken. Das hätte nicht passieren dürfen. Ich werde mich heute noch bei Ihnen melden und dann werden wir das Problem lösen. 

Liebe Grüße,
Alexandra
Kundenservice

Marina Lichtwald
&nbsp|&nbsp
2018-03-07 09:16:58
---
Eindelijk 'n rok die leuk past op figuur, fijne zachte toch stevige stof met mooi patroontje, vele seizoenen te dragen.
De sokjes zeer mooie kwaliteit en zitten fijn bij maat 38 schoen niet te strak.Ondanks de stevige nylon stof toch luchtig ademend aan de voet, fijn spul. Leuk en vlot voor bij de zomer swing jurken met witte sneakers draag ik deze, het prachtige kantje maakt het net zo leuk.
De oor roosjes ook voor de zomer aangeschaft en mooi wit met glans van parel erop. Helemaal tevreden weer
Jeanet
&nbsp|&nbsp
2018-02-23 18:09:40
---
Habe dieses Kleid vor 2 Tagen bestellt und ich bin begeistert, es passt super und ist schön leicht ! Mit dem Bolero und den Söckchen ein super Start in den Sommer . Freue mich schon es endlich zu tragen. Sehr schön, nur leider hab ich gedacht der Gürtel ist dabei ! Muss ich noch nachbestellen, sieht aber auch ohne schon schick aus . Vielen Dank für die schnelle Lieferung
Nicole Beuermann
&nbsp|&nbsp
2018-02-22 18:30:56
---
De schoenen pasten direct perfect. De 1ste keer direct een hele dag mee gewerkt, dus dan kan ik zeggen dat het goede schoenen zijn. Ze staan ook prachtig met de kanten kousjes. Schoenen om zeer zeker mee te dansen.
Tessa Strubbe
&nbsp|&nbsp
2018-02-20 12:50:26
---
Süße Socken :)
Nathalie
&nbsp|&nbsp
2017-08-16 10:58:15
---
Net even anders dan sneakersokjes in mijn zilveren schoenen.
Nella
&nbsp|&nbsp
2017-07-05 17:15:04
---
Totalement satisfaite par les articles qui sont très beau
Mélina Gobert
&nbsp|&nbsp
2022-03-07 17:09:35
---
Die Söckchen sind super süß. Das Kleid sitzt in XS. Bin 1.67 m groß und es endet kurz unterm Knie.
Die Schuhe sind auch sehr bequem.
Ich freu mich jetzt schon auf die nächste Bestellung.
Melanie
&nbsp|&nbsp
2021-05-05 11:21:40
---