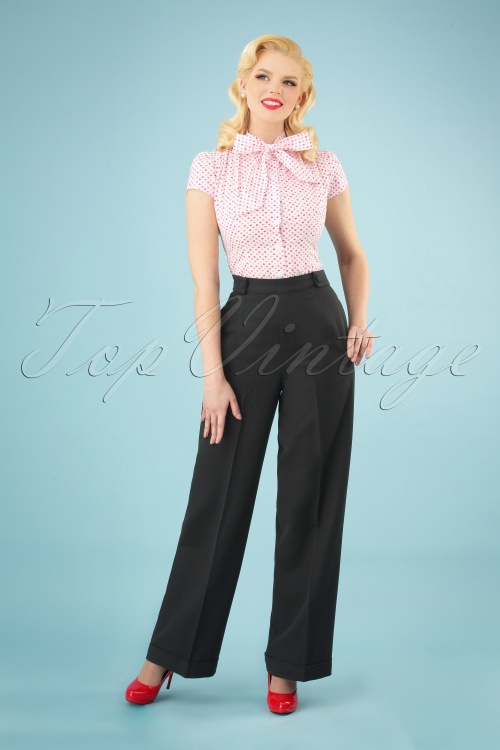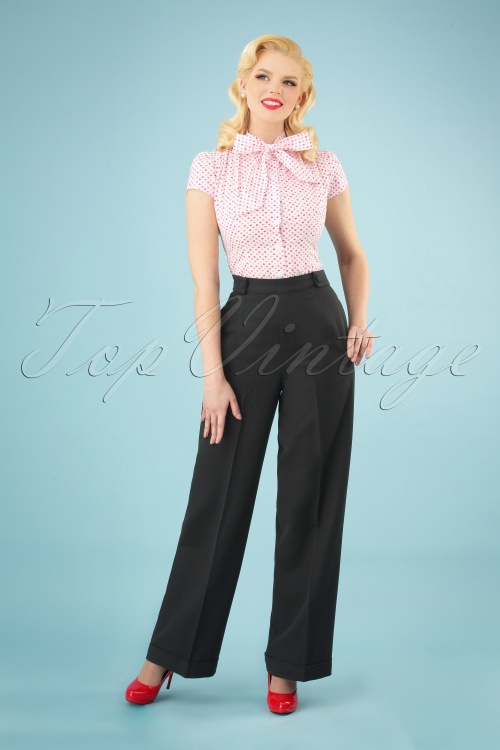 40s Party On Classy Trousers in Black
The 40s Party On Classy Trousers in Black are inspired by the trousers that progressive women wore in the 1940s & 1950s! The feminine high waist contrasts beautifully with the wide leg and is very flattering, especially with fuller hips/buttocks. The button detailing at the side adds the perfect finishing touch. Made of a supple, black fabric with a light stretch and finished with classy cuffed legs. Pair with a white blouse and pumps for a perfect business look in retro style!
Wide legs
Hidden zipper and hook closure at the side 
The legs can easily be shortened
The featured blouse is no longer available in our shop
Article nr.
16371
65% Polyester
32% Viscose
3% Elastane
Handwash inside out
Do not dry clean
Do not tumble dry
Natural drying flat
Ironing reverse cold
In mijn zoektocht naar de perfecte zwarte broek is het deze geworden! Prachtig model, mooie wijde pijpen met een omslag (maar niet te wijd, je ziet je schoenen nog). Zit ook erg mooi in de taille. Blij mee!!
Anja Mulder
&nbsp|&nbsp
2018-03-03 06:16:48
---
Diese Hose sitzt perfekt!!!
Renate Schweizer
&nbsp|&nbsp
2018-03-02 06:51:42
---
Snelle bezorging en wat een mooie broek en mooie stof! Het is de 1ste keer dat ik hier iets heb besteld en ben heel tevreden...dank jullie wel...
Esther de Weger
&nbsp|&nbsp
2018-03-01 22:25:33
---
J'étais entre deux tailles et il ne restait que la plus petite des deux. J'ai finalement tenté le coup et je suis RAVIE. Il est très bien coupé (ce qui est rare avec ma morphologie : taille fine et hanches larges) et très agréable à porter. Si vous hésitez, foncez !
Elodie Jahn
&nbsp|&nbsp
2018-02-22 13:45:36
---
Ik heb deze broek in een 2xl en een XL (streef broek, ben er bijna!). De broek zit geweldig, alles is er op te combineren. Echte aanrader!!
Kim Brink
&nbsp|&nbsp
2018-02-20 21:44:46
---
Love these trousers, they fit lovely and are very flattering. You can easily dress these for a daytime or evening look. The fabric and fit look expensive.
Stephanie Waters
&nbsp|&nbsp
2018-02-18 23:19:40
---
Heerlijk lichte, beetje rekbare stof. De recensies indachtig, bestelde ik een maat kleiner dan gewoonlijk. Deze XL tekent mijn rondingen perfect af, spant nergens en pakt dankzij de hoge taille, mijn buikje lekker in. Voor mijn 1.70 cm is de lengte prima, zelfs met platte schoenen. Ik zou hem heel graag in jeans/chambray uitvoering zien ;)
isabelle
&nbsp|&nbsp
2018-01-30 08:35:16
---
de
toller Rock, passt perfekt
die Hose ist ein Traum
Wolfgang Gooßes
&nbsp|&nbsp
2018-01-09 13:57:09
---
en
Mooie broek, maar dunne stof?
Deze broek zit heerlijk, maar na 1 dag dragen en 2 uurtjes wat meer gelopen te hebben merkte ik helaas dat er 'savonds in de ' binnenkant dij/ kruis zone ' de stof aan het pillen was. Dit vind ik erg jammer, aangezien ik de broek graag voor mijn werk wou gebruiken.
Beste Rochelle, wat ontzettend jammer dat je nieuwe broek al gaat pillen, mijn excuses hiervoor! Ik zal zo spoedig mogelijk contact met je opnemen om dit samen op te lossen.

Groetjes,
Auke
Klantenservice
Rochelle Gerrits
&nbsp|&nbsp
2017-12-20 12:38:07
---
Ik vond de broek heel mooi van stof, maar de pijpen zijn toch te groot voor mij waardoor ik toch de broek moet retourneren. Misschien ligt dit model mij minder..
sarah
&nbsp|&nbsp
2017-12-05 13:41:53
---
en
Klaar voor een feestje <3
Wat is het toch heerlijk shoppen bij Top Vintage!

Fly away blouse van Banned: redelijk doorzichtige stof, maar een topje er onder misstaat niet. Als je het model leuk vind maar een dikkere stof wilt, raad ik de Tura blouse van Collectif aan, echt een staple voor een vintage garderobe.
Voor de Banned blouse zou ik volgens de maattabel maat M moeten hebben, maar daar kan ik in zwemmen, dus fingers crossed dat ik 'm kan ruilen voor maat S.

Rode Collectif jurk: fantastisch! Goed voor een feestje, maar kan ook zeker naar werk gedragen worden. Mooie neckline, niet te bloot.

Vixen zwarte top: wat een heerlijk shirt, fijne gladde, dikke stof, voel me er geweldig in.

Vintage Chique Brianna jurk: zat ik al maanden op te wachten! Maar wat viel het tegen... Aan de hand van een andere Vintage Chique jurk had ik de stof dikker verwacht, en de pasvorm valt me erg tegen. Door de zakken is er te veel ruimte bij mijn buik, lijken mijn heupen hoger te zitten dan ze zijn, en krijg ik een hangkont. Wat jammer...

Party on trousers van Banned: wat een fantastische broek! Helaas te groot: S nodig volgens de maattabel maar XS staat gewoon mooier. Ook deze ruilen dus, als je het mij vraagt onmisbaar in je garderobe!

Bunny Paula rok: mooie kleur en mooie pasvorm. Dunne stof, maar zowel in de winter als zomer te dragen. Dit kan zo maar eens mijn nieuwe favoriet worden!

Bedankt weer!
Kim Vijfhuizen-Vermeer
&nbsp|&nbsp
2017-11-25 14:06:45
---
Zu allerst muss ich mich bedanken bei den fleißigen Bienen im Hintergrund und bei Mandy vom Telefonsupport. Danke!
Danke dass ihr mir das Wochenende und damit meinen Geburtstag gerettet habt!

Die Booties sind ein Traum, bequem und haben eine angenehme Höhe und diese Farbe! Toll!
Die Hose ist schön weit und bequem geschnitten. Ein kleiner Figurenschmeichler, den ich noch etwas kürzen muss. Bin etwas zu kurz geraten *lach*

Nochmals vielen, vielen Dank!
Anna-Katharina Garcés Lorenc
&nbsp|&nbsp
2017-11-10 13:06:41
---
de
Dancing Days by Banned 40s Party On Classy Trousers in Black
Ich habe zur Auswahl Gr M und Gr L bestellt und keine hat mir zu 100% gepasst. Gr M habe ich behalten, da sie in der Taille gut passt, aber bei den Hüften etwas spannt. Gr L war mir in der Taille viel zu weit, dafür wäre sie um die Hüften perfekt gewesen. Das Material ist für den Preis in Ordnung.
Christine
&nbsp|&nbsp
2017-11-05 10:20:17
---
en
Lovely store and products
I ordered Dancing Days by Banned - 40s Party On Classy Trousers in size M and Bunny - 40s Jackson Houndstooth Dress in Black and White in size S.

The dress was very nice and pretty but still good quality and comfortable, I'm really happy with it.

The pants will have to go back unfortunately, they were too big. This was surprising, as I usually have to buy size M or even bigger when buying pants, but on these M was definitely too big of a size for me. It could be because I have wide hips and small waist, and normal clothing stores have made me think I need a bigger size even though it's just my body shape, and my hips that need a bit of space :)

Size S pants would have probably been fine, as they seem to be a bit of a curvy shape so ideal for me. I didn't want to risk it though, as I found out that you have to pay for returns yourself. This was a bit of a disappointment, but luckily they have a return point in France, too, so I payed only 7 euros for return (so I didn't have to pay for the package being sent back to Germany, as I first feared).

All in all a good experience, I'd recommend this store! :)
Elina
&nbsp|&nbsp
2017-10-04 19:34:23
---
The order arrived really quickly, wrapped in a super cute packaging, and the products are just as i imagined. The pants i ordered are what i really need for my figure (wide hips but small waist). I've tried to buy pants from "regular" stores and it was not a success. But these are really great, i ordered a size 40, my size in general, and it fits really well. It could be tighter at the waist, but it's nothing i can't fix.The fit on the hips/butt is great. It's a light material, so i think i would recommend to wear tights underneath them in the winter. I'm really happy with my first order from this site, i will be back for more :)
Corinne
&nbsp|&nbsp
2017-10-02 22:15:02
---
Heerlijke broek, goeie stof en pasvorm...ben er erg blij mee!
Cecile Truyens
&nbsp|&nbsp
2017-10-02 08:17:47
---
de
Der Herbst kann kommen!
So, endlich habe ich mich auch mal an Hosen gewagt und wurde positiv überrascht! Eure Größentabelle ist optimal und die Hosen passen mir wie angegossen!!! Dazu passend die tollen Blusen... I love it!!!
Maria Linzmajer
&nbsp|&nbsp
2017-09-01 07:41:29
---
Leuk jurkje,wel dikke pech met die extra korting 'n paar uurtjes later. Broek is prima als hij ingekort is.

Beste Mila, wat goed om te horen dat je zo tevreden bent met je nieuwe aanwinsten! Ik zal direct contact met je opnemen om je nog gelukkiger te maken in verband met de extra korting... tot zo!

Groetjes,
Auke
Klantenservice
Mila
&nbsp|&nbsp
2017-08-18 19:26:31
---
Voor ik iets koop lees ik de reacties en ik moet eerlijk toegeven ik hou er rekening mee. Ikzelf heb brede heupen, een buikje en ben niet de grootste maar deze stukken zijn 1 voor 1 mooi. De broeken zijn mits corrigerend ondergoed heel afslankend bij mij. Het jurkje staat heel flatterend. De cardigan is heel leuk omdat die in de taille valt, gaat enkel in ruil omdat de kleur me niet staat en dan de rode rok... (diepe zucht) is echt, echt maar dan ook echt heel erg mooi van stof, kleur en motief maar staat me niet, heel jammer maar persoonlijk ben ik beter met rokken die hoger in de taille passen.
Natalie
&nbsp|&nbsp
2017-06-13 13:50:16
---
Blij met ieder stuk, kwaliteit, maat en draagcomfort zijn top! De complimenten over mijn kleding zijn ook mooi meegenomen
Ada b.
&nbsp|&nbsp
2017-06-09 11:19:50
---
de
Almost everything fits - that has never happened before :-)
The bird pattern top is soooo cute - great fabric, quite sturdy, very nice! The zipper up the side is great.
The belt is really soft and supple leather and I have lots of jersey maxi dresses I can pair it with. Very versatile...
What can I say about the bird dress - it's so adorable and makes me happy even when I just see it hanging in my wardrobe. It's a tiny bit on the tight side, but as it's out of stock now I'll keep it anyway.
The trousers will have to go back, sadly. They are made from a really elegant fabric, unfortunately the fit just wasn't quite right. While the fit across the hips and thighs was fine, the waist was too big and kept slipping down which gives it an awkward fit. But with a small waist and wide hips and thighs I rarely find a pair of trousers that fit.
Huge compliments to your size chart and the little tips about sizing up or down, I found it incredibly helpful and the packaging with each piece wrapped paper is a really sweet touch. A truly wonderful shopping experience, I will be ordering again soon...! :-)
Susanna
&nbsp|&nbsp
2017-03-17 09:34:41
---
nl
Thinner fabric than expected, but wearable during winter with stockings.
Awesome style, but if you wanna wear them in the waist, you should go a size smaller.
Anaïs
&nbsp|&nbsp
2017-03-09 21:05:18
---
Heute kam der Badeanzug und das Kleid an und was soll ich sagen, beide sind einfach traumhaft schön. Durch die Falten wird mein Bäuchlein gut kaschiert.
Das helle Shirt trägt sich wunderbar und sieht sowohl zum Rock, als auch zur Hose toll aus. Die schwarze Hose ist etwas lang, lässt sich aber problemlos kürzen. Im dritten Anlauf eine Hose die toll sitzt.
Topvintage, ihr macht mich arm, aber glücklich.
Kathrin Grundmann
&nbsp|&nbsp
2019-04-24 18:14:46
---
L'ensemble est top, rien à redire ! Photos fidèles et tailles impeccables. Je fais un 36 en haut et n'en voyant pas dans le guide des tailles j'ai eu peur qu'il soit trop grand mais en fait c'est parfait.
Mathilde AUBRIOT
&nbsp|&nbsp
2019-03-20 17:29:14
---
juste parfait .taille mis en valeur et élégant pour une tenue de tout les jours
vinciane wiame
&nbsp|&nbsp
2019-02-19 18:20:15
---
Ik heb een maat S besteld en die valt precies goed qua lengte en taille. Mooie broek, staat heel stijlvol.
Mlies
&nbsp|&nbsp
2019-02-09 15:00:15
---
Für diese Hose braucht man Po und Hüfte. Außerdem hatte sie viele Glanzstellen und eine dünne Stoffqualität. War sehr zerknittert angekommen. Für Frauen mit schmaler Hüfte und breiterer Taille nicht geeignet und daher leider zurück.
Liebe Martina, es tut uns leid dass die Party On Trousers leider nicht Ihre Erwartungen entsprach. Bitte entschuldigen Sie uns dafür! Sobald wir Ihre Rücksendung erhalten haben, bekommen Sie selbstverständlich Ihr Geld zurück. Wir wünschen Ihnen viel Spaß am behaltenem Kleid :-)
Liebe Grüße,
Sylvia
Kundenservice
Martina
&nbsp|&nbsp
2019-01-05 22:46:35
---
en
Where have you been all my life?
This have become my favorite trousers!
The fabric is soft, yet sturdy and i love the high waist; specially for us gals with a full figure!
I had to get them shorten, because i'm short, but they go with everything!
I want them in every single color!
Diana Ortiz
&nbsp|&nbsp
2018-10-30 14:15:08
---
fr
Très Très déçue de ma dernière commande !
Je suis tombée sous le charme de votre site, et je l'apprécie à sa juste valeur. je l'ai découvert par hasard au mois de mars et depuis je suis une cliente très fidèle. Jusqu'à ce jour j'ai toujours été pleinement satisfaite de mes trésors. Toujours bien emballés et le petit plus LE cadeau c'était un vrai bonheur pour moi d'ouvrir la fameuse boite tant attendu !... Et aujourd'hui quelle déception par le pantalon qui a déjà été porté marque de repassage tissu lustré, Les deux pattes de boutonnages de chaque côtés sont décousus, elles ont été bricolées avec du thermocollant blanc qui dépasse. Et la jolie veste il lui manque un bouton au col ( une chance des boutons de rechange sont fournis ) . La veste reste très jolie, j'ai un véritable coup de coeur elle mérite largement ses 5 étoiles, Je garde mes articles et je n'ai pas envie de me prendre la tête avec un éventuel retour ! Sinon j'aime beaucoup votre site " c'est bonheur pour la Femme"
Bonjour Brigitte, je peux bien m'imaginer votre mécontement quand vous avez constaté que le pantalon a été porté et repassé en plus. Veuillez nous excuser pour cette erreur! Je vais vous contacter pour que je puisse vous offrir une solution car nous voudrions pas que vous n'êtes pas complètement satisfait de votre achat et notre service.
Cordialement,
Sylvia
Service Clientele
Brigitte Mellot
&nbsp|&nbsp
2018-09-28 10:22:22
---
Mooie kwaliteit maar valt erg royaal. Dus toch terug en voor andere broek gekozen
Nicole
&nbsp|&nbsp
2018-09-20 14:28:25
---
de
In M perfekt - toller Kundenservice!
Hatte diese Hose zuerst in L bestellt, mich aber scheinbar bei den Maßen vertan. Der Umtausch in Größe M war schnell und unkompliziert und nun sitzt die Hose perfekt.
Gerne wieder!
Miriam Höcke
&nbsp|&nbsp
2018-08-16 16:42:04
---
nl
Fantastische broek en tops

Eindelijk de broek gevonden die ik zocht, wow! En mooie pasvorm van de tops.
Ben er erg blij mee
Marleen Dijkema
&nbsp|&nbsp
2018-06-28 14:30:54
---
Eine tolle Hose, die mir leider zu groß war. Ich warte nun darauf, dass sie eine Größe kleiner wieder zu haben ist. Könnte ein Lieblingsteil von mir werden.
Sandra
&nbsp|&nbsp
2018-05-23 13:48:25
---
Nog nooit zo'n mooie jurk gehad! Zit als gegoten, alles klopt aan deze jurk voor mij.
Heerlijk luchtig stofje, maar wel stevig, waardoor de rok een beetje uitstaat, wat juist erg mooi is.
Andere twee jurkjes en rok ook helemaal top.
Ja, het wordt bijna saai, maar ook de tas, de capri en de lange broek, alles past perfect en draagt en zit heerlijk.


Annelies Ekeler
&nbsp|&nbsp
2018-05-09 07:33:35
---
Habe ewig nach so einer Hose gesucht, sitzt perfekt. Weiblich und schön!
Ann
&nbsp|&nbsp
2018-04-08 12:27:51
---
nl
Hoe kunnen deze broeken te kort zijn?
Veel van deze prachtige broeken verwacht, maar helaas moeten ze weer retour. Onbegrijpelijk dat beide broeken te kort zijn. Met mijn 1.78m ben ik net zo lang als de modellen, maar bij mij staan de broeken 'op hoog water'. Aan de bovenkant koop ik echt de goede maat. Die van Banned is zelfs te groot, dus die kan ik laten zakken zodat 'ie mooi op de wreef valt, maar dan hangt het kruis dus bouwvakker-laag. Erg teleurgesteld...
Beste Marieke, het spijt ons dat de maten van de Trousers afwijken van de modellen die je van ons gewend bent te dragen. Ik zal je zometeen een mailtje sturen om met je te overleggen hoe dit kan en vooral hoe we het voor je op kunnen lossen!

Groetjes,
Sylvia
Klantenservice
Marieke Kurvers-Kiers
&nbsp|&nbsp
2018-04-05 20:32:05
---
Heute kam meine Großbestellung!
und es ist alles soooooooo schön und passt!
jetzt habe ich ein Problem: ich MUSS jetzt alles behalten :-)
(Eine Naht am Mantelfutter war nicht richtig gefasst, es gab eine
ca 10 cm lange offene Naht. Ich hab es nicht zurück geschickt, ich hab zu Nadel gegriffen und schon fertig! Kann passieren!)
Schon das Auspacken ist eine Freude, vielen Dank.
Gerne immer wieder.


Hallo Konny, es freut uns dass Ihnen die Bestellung so gut gefällt aber es ist natürlich schade dass der Mantel nicht in Ordnung war. Das darf nicht passieren, bitte entschuldigen Sie uns! Ich werde mich dazu schnellstmöglich bei Ihnen melden.

Liebe Grüße,
Alexandra
Kundenservice
konny
&nbsp|&nbsp
2018-04-04 22:07:26
---
Met mijn grote maat (4xl) is het maar weer afwachten hoe het zit, maaarrrr....wat geweldig. De top en de broek zitten fantastisch, als gegoten. Heeeeel fijn. Ik wil veel meer van dit soort broeken en tops! Kan dat? De schoenen zijn helaas te klein, die gaan terug, maar van de sokjes heb ik alweer een paar bijbesteld, evenals een andere top.
Irma
&nbsp|&nbsp
2018-04-04 15:24:19
---
C'est ce qu'une inconnue m'à dit dans un magasin. Le petit haut vert sapin est adorable. Il aurait toutefois mérité d'être un tout petit peu plus long pour mon 1,72m. Le pantalon tombe formidablement bien. Je fais une taille 44 française, le XL était trop grand, mais le L est impeccable. Les chaussures étaient aussi un peu trop grandes, mais ça s'est arrangé avec les demi-semelles et les protège-talons. Le sac est ravissant, quoiqu'il soit difficile d'y glisser la main car il est très rigide. Le haut marin va très bien avec le pantalon noir. Je mets 5 coeurs, car l'ensemble est magnifique et je peux le porter au bureau. Ravie de vous avoir trouvé Top Vintage !
Agnès Meurée
&nbsp|&nbsp
2018-03-30 14:27:34
---
Heb deze broek besteld en waaaaaw ! Ik kan niets anders zeggen ! De verpakking alleen al zo mooi en als extra een mooi zakje met thee erin ! De broek zit super en is zo mooi ze past perfect ! Wat een fantastisch bedrijf heeft u opgericht , ik ben een fan !
WH
&nbsp|&nbsp
2018-03-12 18:04:01
---
Ich liebe ja allein immer schon die Verpackung... also die Hose ist einfach perfekt, sie sitzt super, ist angenehm zu tragen und ich mag den Stoff. Bei meiner Körpergröße von 1,64 m musste ich sie zwar kürzen lassen, aber das muß ich fast immer. Werde sie noch in einer anderen Farbe bestellen
Claudia
&nbsp|&nbsp
2021-10-28 23:15:23
---
nl
geen pakje onder kerstboom
met veel spijt moet ik alle 5 terug sturen en keek zo naar uit ..echt veel te breed aan de benen..siert me niet ..en de eerste drie veeeeeeeeel te breed in taille terwijl de maattabel volgde ..de kleinere maat nog steeds niet flaterend bij me door veeeeel te wijde pijpen...jammer ...dus allemaal moeten ze retour
anja
&nbsp|&nbsp
2020-12-11 18:11:20
---
nl
Geweldige broeken, en heerlijke schoenen
Al heel veel keer bij jullie besteld. Vrijwel altijd erg blij met de items. De schoenen zitten fantastisch. De broeken zijn lekker lang. Met mijn 1.83 is dat niet altijd het geval. Het broekpak zit heerlijk, ik krijg daar veel complimenten over. Laarsjes en kaplaarzen zitten ook goed en lopen lekker. Wat ik jammer vind is dat jullie shirtjes en bloesjes bij mij vaak aan de korte kant zijn. Voor de rest word ik zo gelukkig van jullie kleding.
Hanneke
&nbsp|&nbsp
2020-11-07 15:14:10
---
Les pantalons ont une coupe flatteuse mais j'ai dû les raccourcir car ils étaient trop longs. Par contre, à force de les porter, je constate qu'ils font des bouloches. C'est dommage...
Les pulls sont supers.j'ai renvoyé les chaussures car elles étaient trop larges à la cheville. Le chemisier est parfait.
La pince à épiler était un cadeau pour une amie, elle a beaucoup apprécié.
Sandy
&nbsp|&nbsp
2020-11-01 05:08:45
---
gewoon een leuke broek


Carla
&nbsp|&nbsp
2020-06-07 11:25:56
---
Ich hoffe, dass diese Hose bald in der Farbe Blau noch mal in den Shop zurückkehrt, ich bestelle sie sofort. Schöner weicher Stoff, passende Länge. Statt in XL hätte ich sie auch gut u gerne in L bestellen können, so habe ich an den seitlichen Knopfleisten einfach Knöpfe dazu genäht, damit die Hose passt. Sie ist im Alltag als auch zu Anlässen sehr gut zu tragen.
Susanne Hamann
&nbsp|&nbsp
2020-05-05 07:19:47
---
Gewoon lekker truitje voor erbij (voor weinig I/d uitverkoop). Val beslist niet klein!!!
En de broek, na lengte laten innemen, helemaal blij mee. Dus top vintage team, bedank weer voor mijn geslaagde aankoop
Inge Dekker
&nbsp|&nbsp
2020-01-22 14:44:19
---
de
Leider nicht ganz optimal
Die Hosen sind einfach toll - passen zu meiner Figur perfekt und sehr schöne Qualität.

Von der Bluse bin ich leider nicht so ganz begeistert. Der Stoff ist extrem dünn und somit komplett durchsichtig, und die Verarbeitung ist schlecht - an Ärmeln unten (da wo Rüschen sind) hängen überall die lose Faden. Und obwohl die Größe sonst überall stimmt (eine L), die Ärmel sind oben viel zu eng. Ich habe mit dieser Marke bis jetzt nicht so viel Erfahrung gemacht und kann nicht einschätzen, ob es bei denen so eine schlechte Qualität üblich ist oder ob ich hier einfach Pech gehabt habe. Jedenfalls ist es sehr ärgerlich, da es macht nicht so viel Sinn diese Bluse alleine zurück zu schicken wegen den Versandkosten.
Maria Demina
&nbsp|&nbsp
2019-12-10 18:14:22
---
I am not a trousers person, as they always tend to fit funny, but I love these ! They are perfect if you have an hourglass or pear shaped body :)
Agathe Fommarty
&nbsp|&nbsp
2019-11-08 12:40:22
---
nl
Jurken fantastisch broeken te groot.
De broeken waren helaas veel te groot hoewel ik goed gemeten had. De jurken zijn fantastisch maar bij de king louis jurk sprongen steeds de knoopjes los, allemaal! Ik heb uiteindelijk de bovenkant maar dichtgenaaid. 10 minuten werk!
De Lange jurk sleept over de grond , die ga ik eerst wassen (hopelijk krimpt hij) en daarna 10 cm eraf halen. Jammer van de broeken, ik had graag een keer een broek in mijn maat. Ik ben 1.60m 96kilo
Dat mis ik vaak in de reviews . Als mensen zeggen dat het fantastisch is zoals bij de reviews van de broeken, dan kan het zijn dat ze lang en slank zijn? Bij kledingstukken met dikkere modellen kan ik vaak beter een oordeel vellen. Mij stond het helaas niet. Ook wel leuk als een keertje iets te wijd is. Dat heb ik niet vaak! Broeken zijn retour!
Emmy
&nbsp|&nbsp
2022-07-05 18:46:34
---