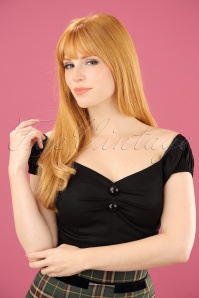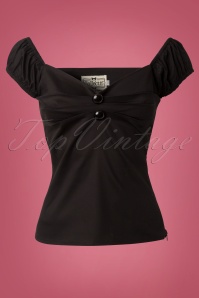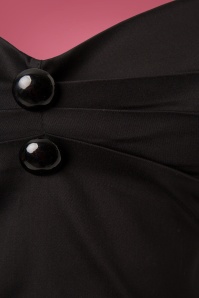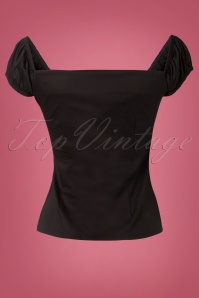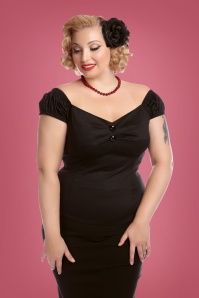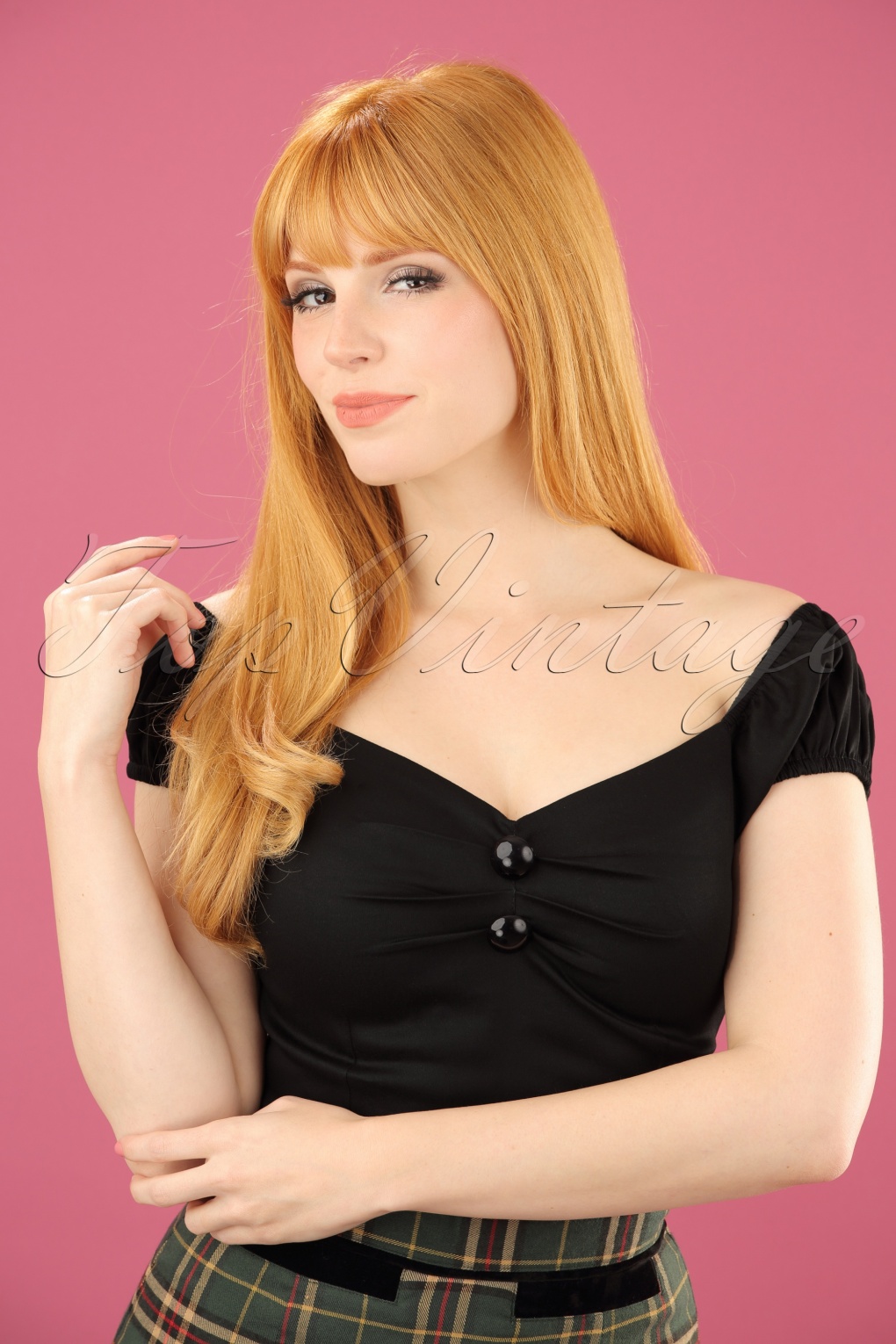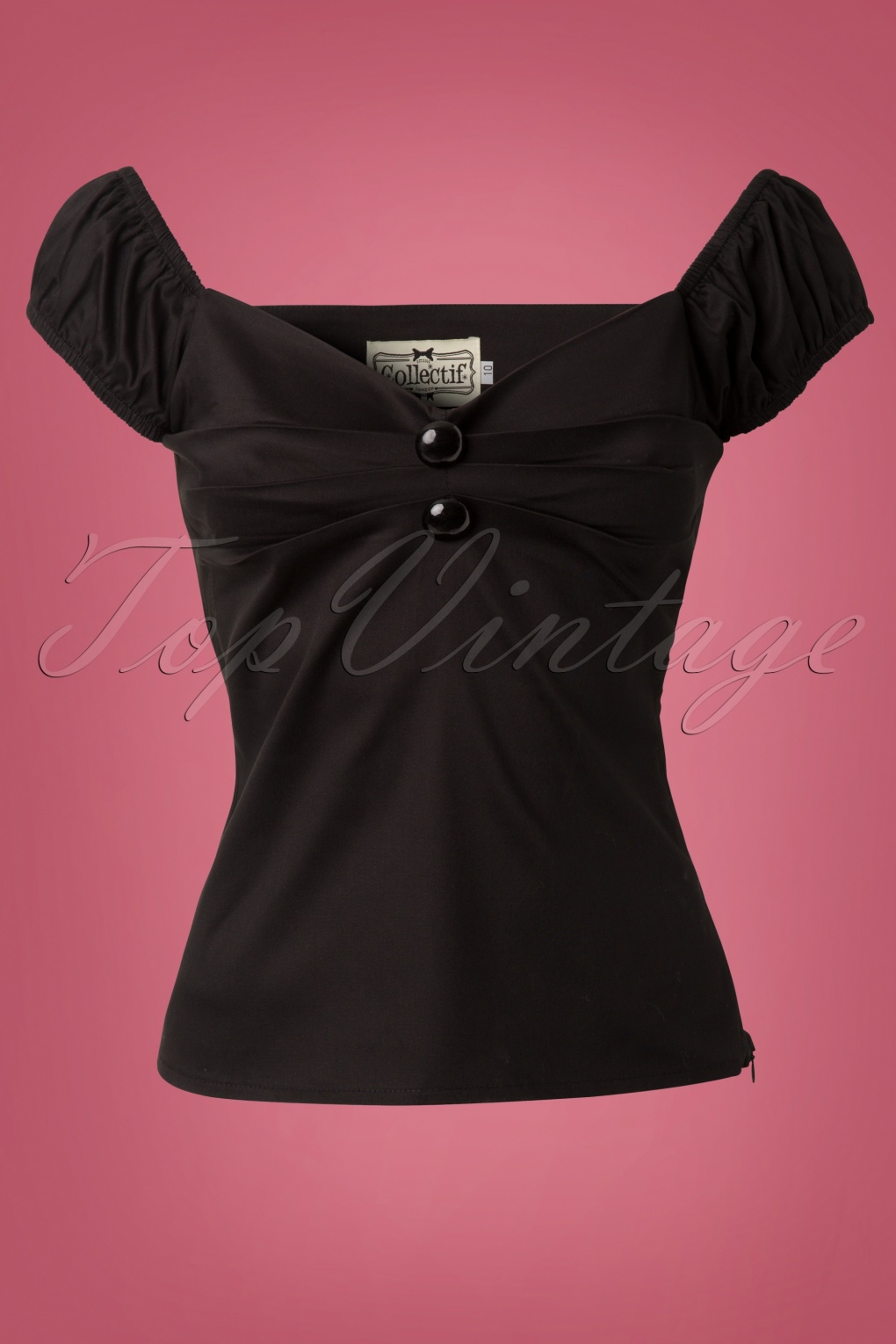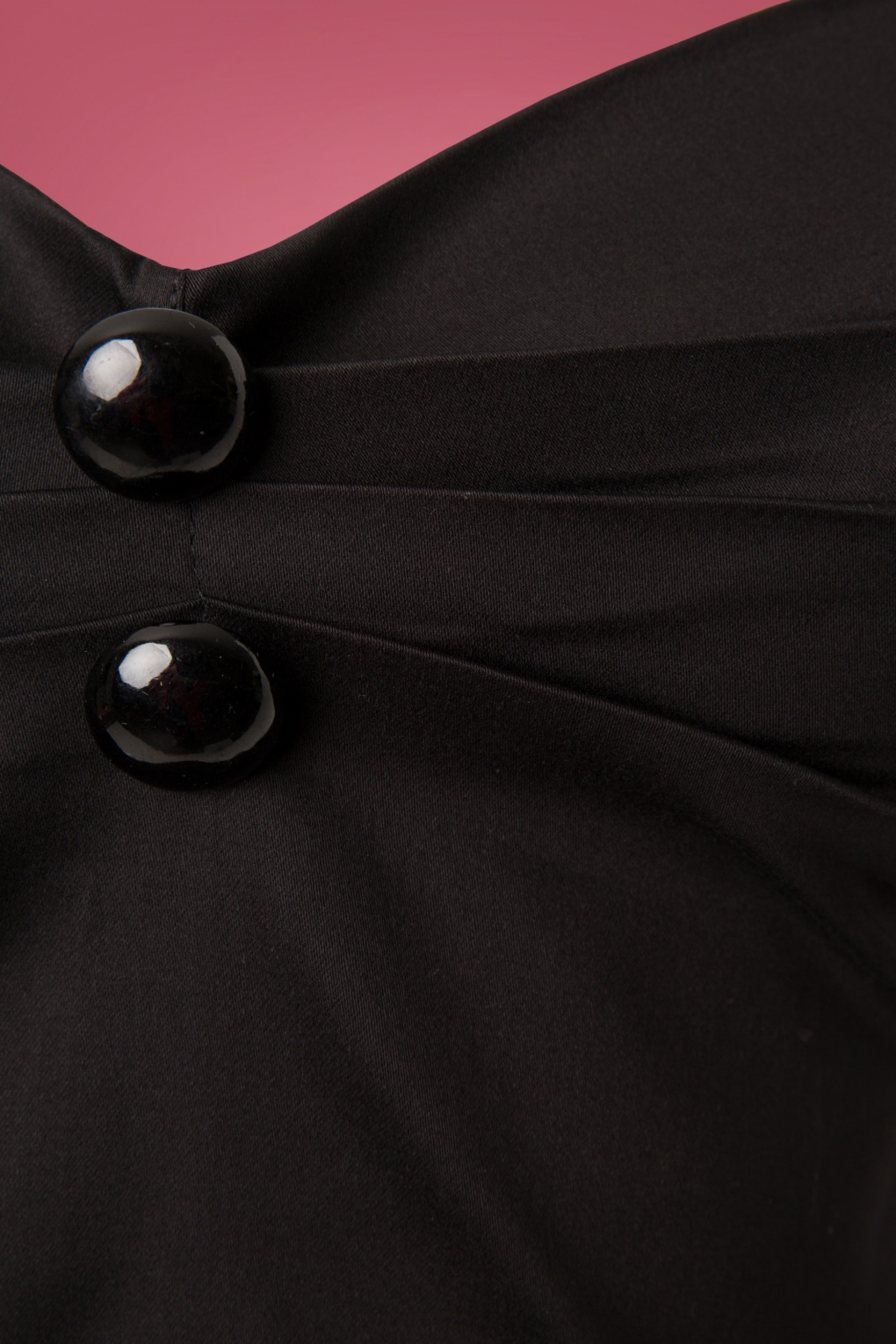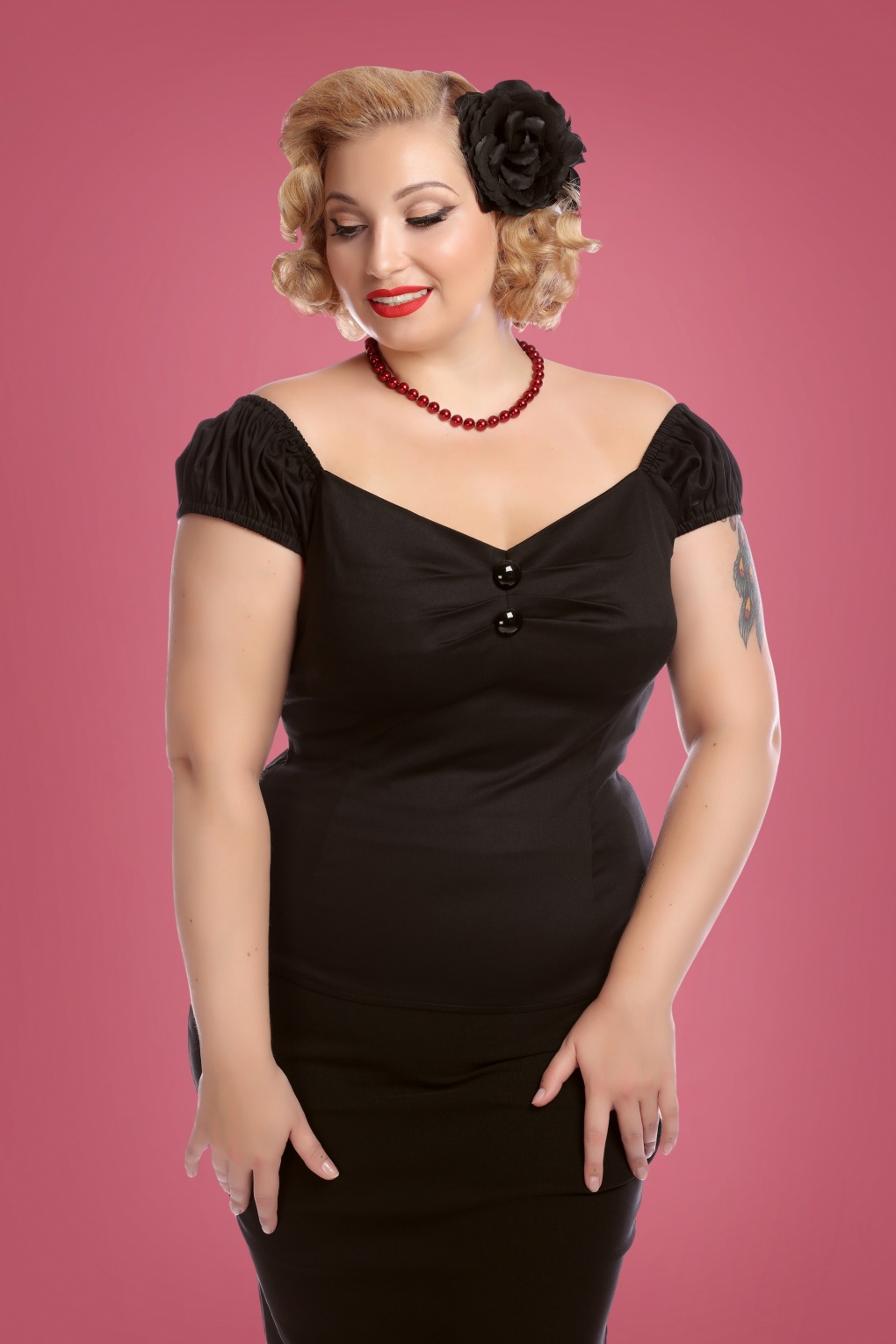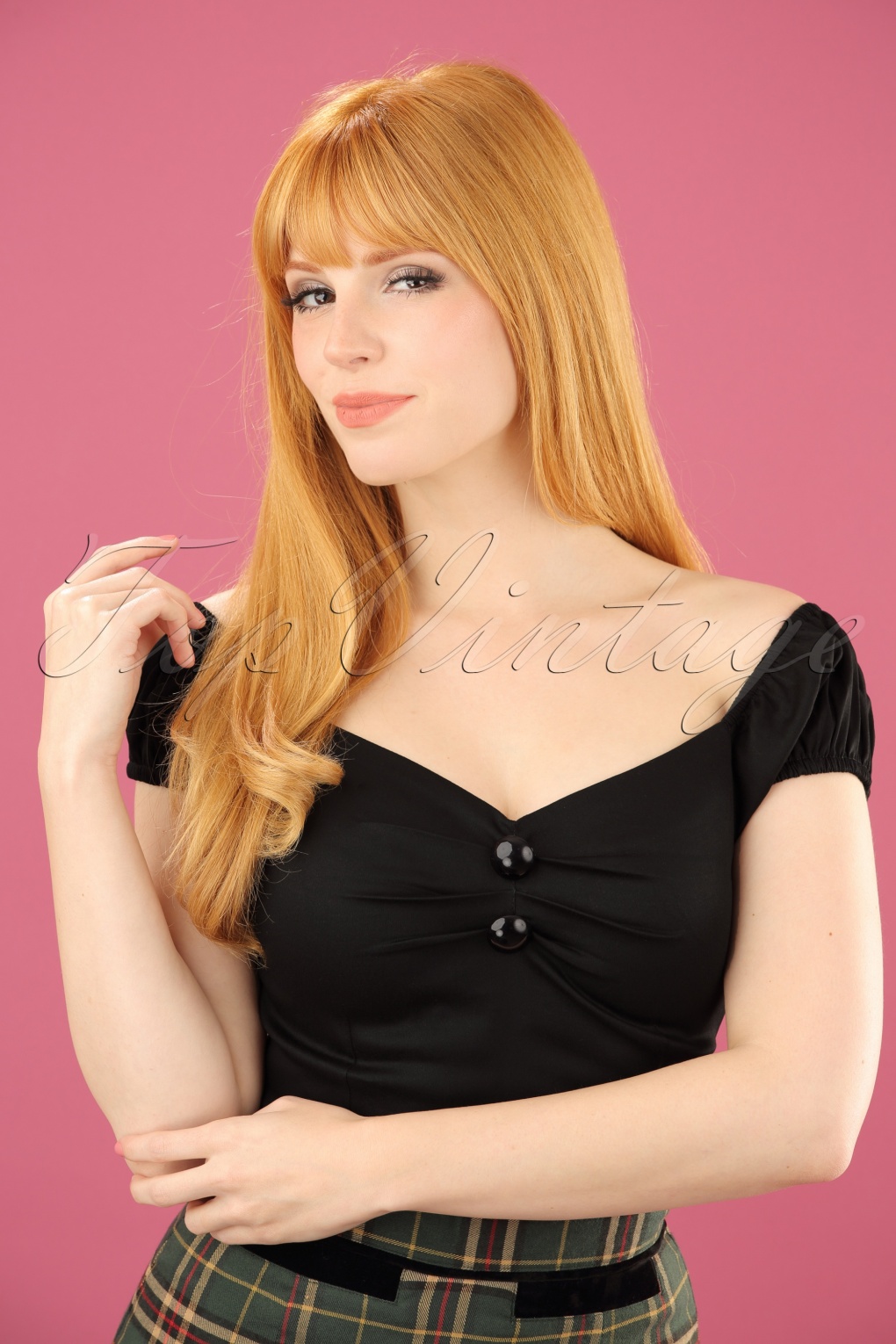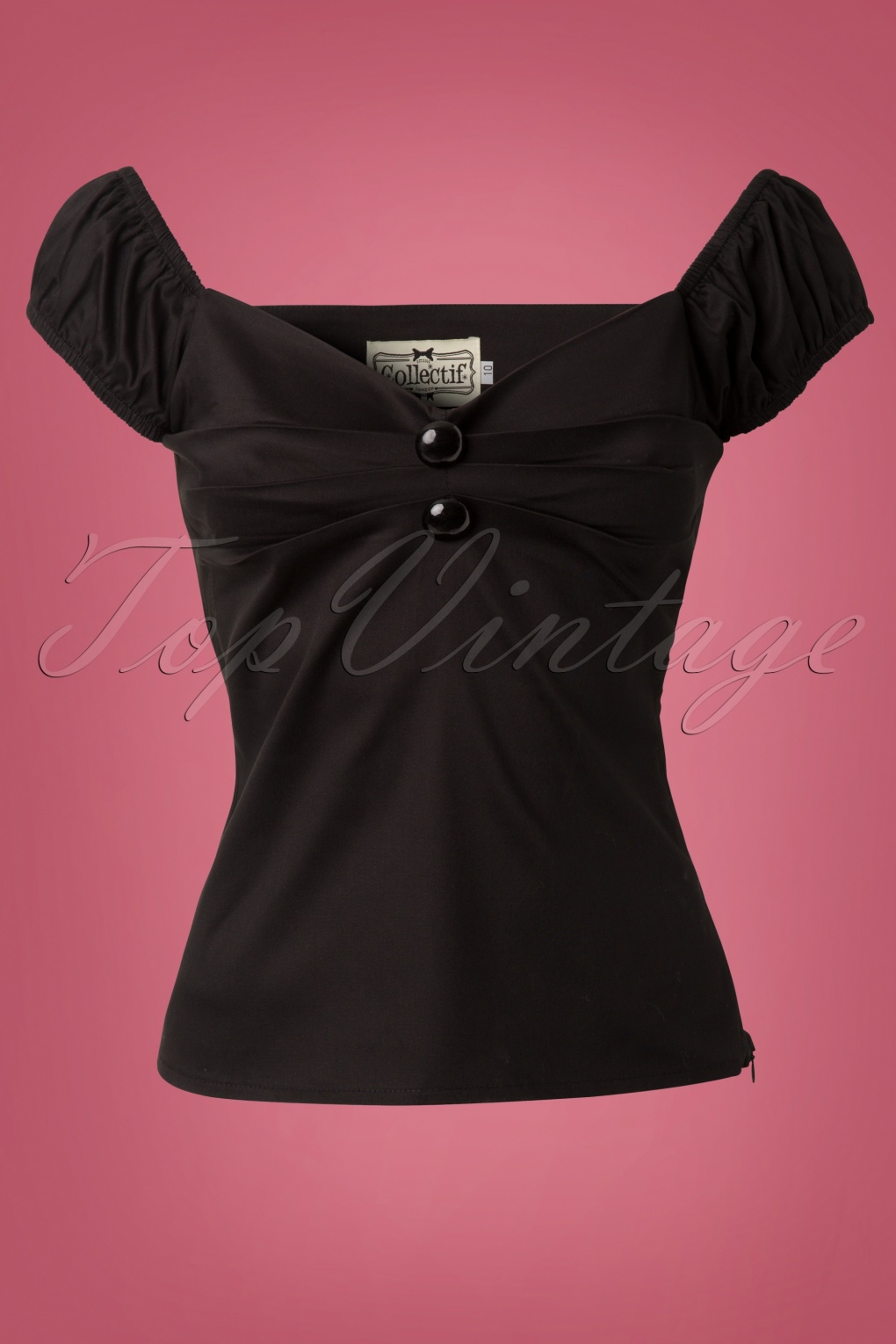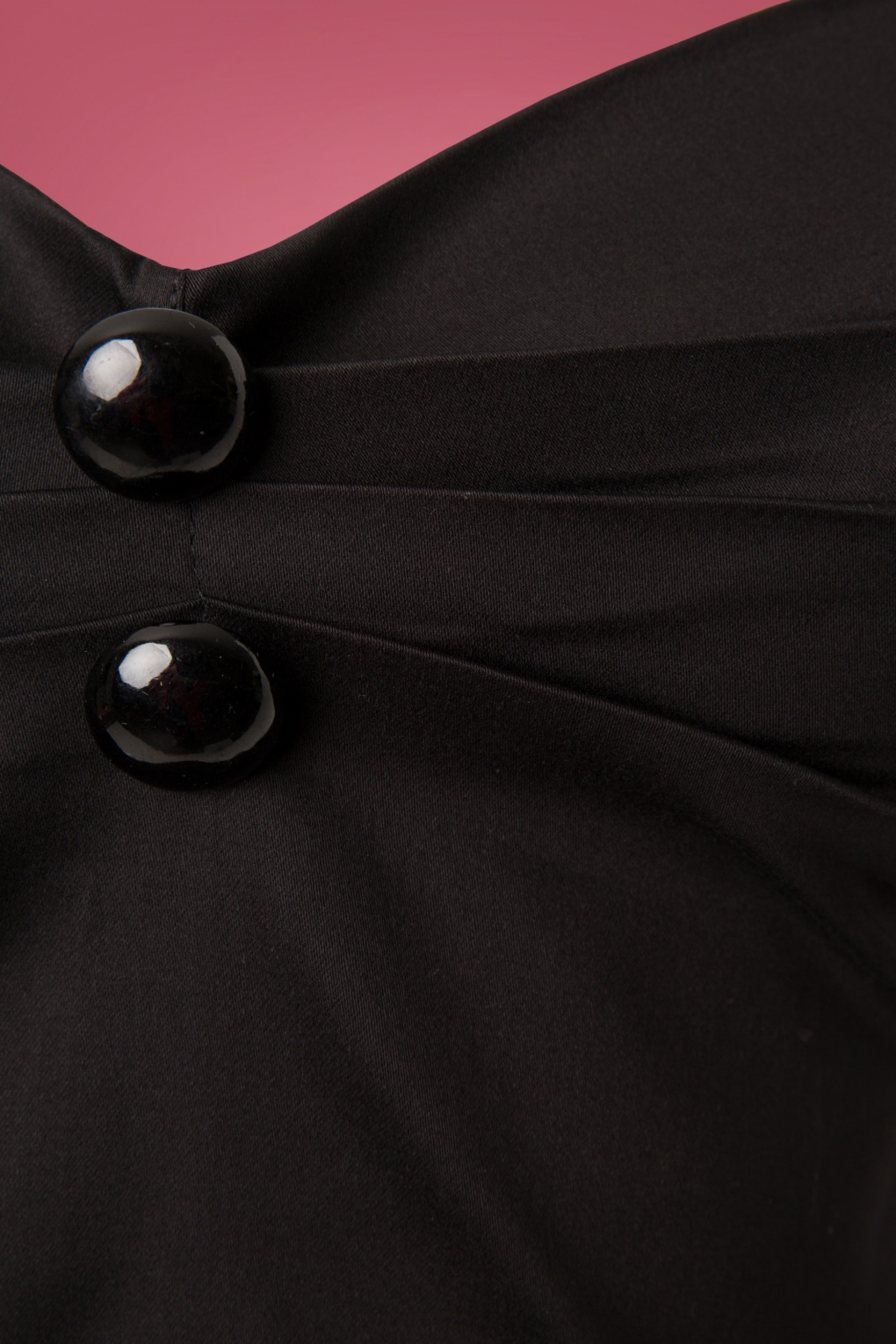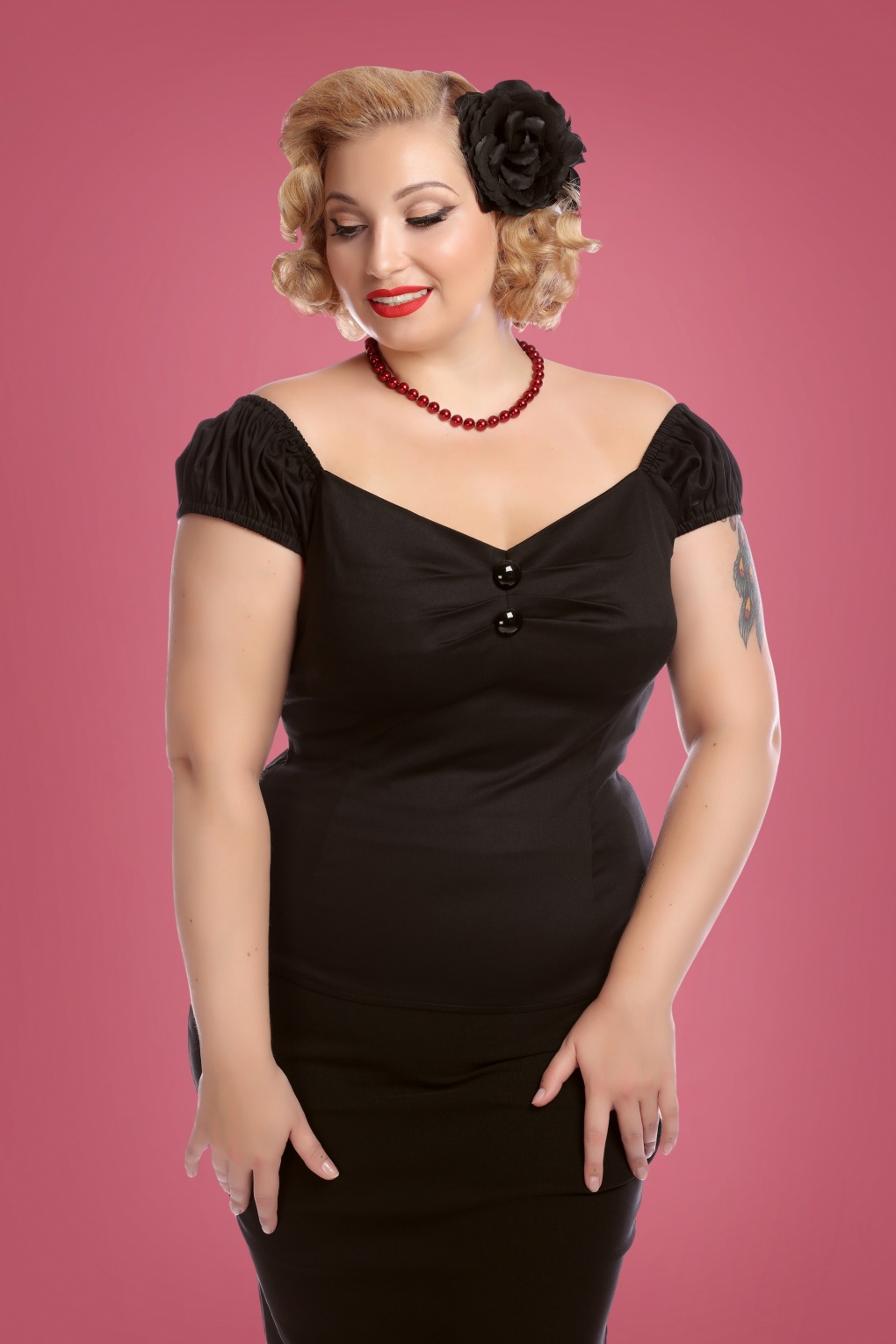 Hola señorita! The 50s Dolores Top in Black is truly a must-have!Top in carmen style, cute puffy sleeves which can be worn off-shoulder and pleats at the bust for a beautiful cleavage. Made from a black cotton blend with a light stretch for a lovely fit. The always oh so pretty Dolores!
Short sleeves with elastic trim
2 faux buttons at the bust
Hidden zipper at the side
Article nr.
10342
Handwash cold (don't leave it in the water)
Machine wash 30c delicate
Do not tumble dry
Ironing reverse cold
Voor mij een bekend soort topje. Het zit fantastisch en is mooi afgewerkt. Erg blij met deze aankoop.
Sandra | 2016-08-04 06:52:30
---
en
Very class and feminine !
I bought a size S which suits me perfectly. This top let show the shoulders witch is very sexy and elegant. Thank you !
Catherine | 2016-07-28 12:05:44
---
Ik wilde deze jurk al heel erg lang en ik heb hem na besteld. Ik ben er zo blij mee! Hij geeft me een mooi zandloperfiguur en ik voel me er fantastisch in!
Marjolein | 2016-07-19 11:47:57
---
de
Einen sehr sehr tollen Schnitt...
... hat dieses süsse Oberteil. Es macht eine tolle Figur, da es sich nicht dehnt, und sieht sehr sexy aus, zum Beispiel mit dem roten Rock ....
Anita | 2016-06-23 20:25:26
---
Gewoon een leuk mooi topje!
Edith | 2016-06-08 19:59:30
---
Zitten heerlijk en eindelijk weer eens iets waar niet iedereen in loopt:)!

Voor dames met een stevige buik HET juiste model!

De tops van Colective heb ik inmiddels retour gedaan omdat deze in de grootste maat helaas te klein waren voor mij. Erg spijtig want ze zijn superleuk!

De tops van Hell bunny zijn ook retour. Deze paste me prima, maar de hals valt laag, wat ansich niet storend is, maar je als gevolg daarvan iets of wat knullig je bh door het gluurgaatje ziet en dat staat simpelweg niet super.

Super service, super snelle levering en prachtig verpakt.
En mijn koelkast is inmiddels helemaal opgefleurd met de leuke magneetjes! En mijn kinderen smullen van de kersjes:).

Ga zo door!
Iris | 2016-05-31 18:28:45
---
tolles Oberteil perfekt zum Rock oder Hose - macht ein wunderschönes Dekollete und der Stoff ist angenehm leicht auch für heiße Sommertage
Manuela | 2016-05-26 09:15:55
---
Dit zijn echt mooie topjes, ze sluiten mooi om het lijf en tekenen niet af. Helaas wel altijd die te strakke elastiekjes in de mouwtjes... Gelukkig ben ik wel handig genoeg om het te vermaken, ik vindt het wel de moeite waard! :D
Anneke | 2016-05-20 14:59:43
---
de
Super Design, aber leider Probleme mit Reißverschluss...
Vorteile:
- Klassisch und sehr feminin, passt zu fast allem
- Betont Taille und Dekolleté
- Kaschiert Bäuchlein
Nachteile:
- Reißverschluss klemmt
- Falten am Rücken
Hallo Tatjana, schade dass der Reißverschluss von dem Top klemmte, bitte entschuldigen Sie uns. Da Sie da Top schon zurück schickten ist das Problem schon gelöst.
Liebe Grüße
Marie-Louise
Kundenservice
Tatjana | 2016-04-22 17:22:13
---
Dit topje valt klein: De mouwtjes zitten wat strak en de lengte is kort. Ik draag hem met een taillerok dus ik ga hem niet terug sturen, hij is namelijk superschattig!
Nina | 2016-02-25 12:23:54
---
Ein sehr schönes Oberteil, das wirklich zu allem passt. Größenangaben sind perfekt und das Material ist soooo angenehm zu tragen.
Bestellt und am nächsten Tag war die Lieferung schon da. Was will man mehr :o)
Birgit | 2015-11-19 06:01:04
---
Wat.is.dit.lekker!! Eerste bestelling; de polka dot, bloemen jurk en zwarte top. Manlief: WoW effect in het topje en polkadot (trust me, 15 jr relatie en 2 kids is dat "heul" bijzonder) In de polkadot wil ik wonen. Gewoon, omdat het kan! De bloemenjurk helaas niet mijn model (ook niet met een maatje kleiner) maar hé, geen probleem joh. Bestel ik toch een andere...of twee...
Want man-o-man wat is jullie kleding verslavend! Prachtige stoffen, heerlijke pasvorm, beste service (ruilen? retour? no worries!) en supersnel geleverd! Ik kijk uit naar de twee nieuwe jurkjes. O ja, ook gelijk maar de rode versie van het topje besteld. Gewoon. Omdat het kan.

...zucht...
For ever yours...<3
Elsa | 2015-08-13 18:34:15
---
En hij zit ook zo heerlijk soepel! Ben super blij met mijn rode jasje. Gisteren meteen aan naar het werk met een zwart zomerjurkje en knal rode pumps! Wat had ik een bekijks en wat kreeg ik een complimenten! Echt een aanrader! De zwarte rok en de leuke zwarte top die ik onlangs kocht zijn ook helemaal naar het zin!
Jeanette | 2015-08-13 11:41:30
---
Prachtig, vrouwelijk shirt, zowel op als off shoulder te dragen. Heel erg mooi op de rode kokkerrok!
M.T.G | 2015-07-01 08:38:04
---
Très sympa ce top noir, il se porte épaules nues ou pas en fonction des circonstances.
Arme secrète des poitrines généreuses, il fait un décolleté magnifique et le tissu a beaucoup de tenue.
Je l'ai acheté en noir et en rouge à pois blanc et je suis enchantée.
La robe est sympa aussi mais elle taille un peu plus grand. Mieux vaut vérifier les mensurations précisément.
Nahoé | 2015-06-17 13:01:31
---
Hallo Ihr Lieben ,
Ich bin mit meiner ersten Bestellung restlos begeistert...alles sitzt wie angegossen....tolle Materialien! Selbst meine 15 jährige Tochter machte die Modenschau sprachlos....so muss es sein. Vielen Dank.
Beate | 2015-05-08 08:45:57
---
de
Super schneller Service
Vielen Dank für die superschnelle Lieferung

Leider haben beide Oberteile garnicht gepasst. Ich trage normalerweise Größe 38.
Musste beide zuücksenden.

Aber ich habe noch einmal 2 Kleider bestellt in Größe 40.

Ich hoffe diesmal habe ich Glück. Denn die Sachen sind wirklich sehr schön.

Vielen Dank
Petra | 2015-05-06 09:53:46
---
habe es in der gleichen Größe bestellt wie das Kleid und die Bluse ist reichlich knapp im Gegensatz zum Kleid. Sieht aber total schick aus
Claudia | 2015-04-01 16:33:06
---
Leuke topjes. Mooie comfortabele pasvorm. Passen perfect aan. Mooie kwaliteitsstof. Rits aan zijkant is top! Mouwtjes spannen niet en zakken niet af als je ze op de schouders draagt. Klein buikje wordt ook perfect gecamoufleerd. Ook geschikt voor vrouwen met een grotere cupmaat. ;-)
Opgelet: De zwarte heeft wel heel andere maten! Voor mij viel deze groter dan de andere, alhoewel het dezelfde maat was ... Deze heb ik dus teruggestuurd. Retour is ook zeer vlot afgehandeld. Superservice!
Elke | 2015-02-27 17:33:20
---
Vandaag de rok en top binnen gekregen. Direct gepast, alles zit als gegoten.
Mooie kwaliteit stoffen, elegante snit. Voelde me echt sexy ; )
Kelly | 2015-02-24 16:55:30
---
nl
How can you not love these items!!!
Wat een fijne kleding is dit! Chique met een mooie knipoog....nèt even anders! Ik ben Fan, met een hoofdletter 'F'!
De zwarte jurken en de navy dress zitten erg comfortabel, maar dat weerhoudt niet dat het chique blijft. De stijl wordt zelfs herkend door mede-topvintage fans. ;)
De shirts hebben allen een fijn draagcomfort en zijn door de extra details ook weer net even anders. Prijs-, kwaliteit- en originaliteit's-verhouding kloppen precies! Ik raad elke zelf-respecterende vrouw het aan in ieder geval één keer een kadootje aan jezelf te geven als dat kan. Je wordt er echt blij van! Ik wel in ieder geval. :)
Franka | 2015-01-14 16:01:13
---
de
Anders als erwartet, aber trotzdem toll
Ich hab mir den Stoff sehr weich, und angenehm, wie bei Baumwolle üblich vorgestellt, dagegen ist er etwas steif. Dachte zuerst, dass der Oberteil etwas legerer in natura wirkt, aber es wirkt sehr edel und mit schwarzem Rock geradzu festlich!
Nadine | 2015-01-08 18:21:55
---
nl
Een feestje voor mezelf!
Wat een heerlijke webshop! De kwaliteit is altijd goed en de maattabellen zijn ideaal!!

De tops zijn fantastisch en super flatterend! Ik voel mij er heel mooi in. En wanneer ik de jas draag kan ik rekenen op complimentjes van zelfs vreemden op straat!
Melanie | 2015-01-04 09:44:36
---
Deze week weer een leuk pakketje ontvangen, altijd weer een klein feestje :-)
Vintage shirt van Rock Steady MOEST ik gewoon hebben, echt super leuk. Als het aan mij ligt, vaker dit soort shirts in de shop!
De Dolores top was ook weer prima, had al een andere variant. Vind alleen wel dat de stof bij het decolleté de neiging heeft om iets naar voren te gaan staan. Maar dat valt zelf wel te fixen.
Alianne | 2014-12-13 17:12:59
---
de
Oberteile super, Rock leider nicht so toll
- Das rote und türkise Oberteil sind klasse!
Passen perfekt und sehen sehr schön aus.

- Der schwarze Pulli passt auch sehr gut, er ist bei mir etwas weiter,
was mich aber nicht stört.

- Der Rock sieht super aus, ich habe mich sofort in ihn verliebt.
Der Stoff ist ok, wobei ich ihn als etwas grob / derb empfinde.
Auch könnte er etwas kürzer sein, aber OK.
Leider ist er qualitativ absolut nicht zu empfehlen.
Nach dem ersten Waschen total verblichen, obwohl ich ihn nach Anleitung gewaschen habe!
Schwarz ist jetzt mehr grau, Grau noch grauer und weiß hat einen graustich.
Ich bin hier total enttäuscht. Preis / Leistung stimmt leider nicht.
Anziehen werde ich ihn wohl nicht mehr :-(

- Die Regenschirme sind klasse, leider hat es bisher noch nicht geregnet,
aber ich freue mich schon, die spazieren zu führen :-)

- Das Dolores-Shirt ist super, macht eine bomben Figur!


Hallo Melanie, es tut uns sehr Leid dass Sie so enttäuscht sind dass der Rock so schnell gräulich geworden ist. Ich werde Sie noch kontaktieren sodass wir Ihnen sofort eine passende Lösung anbieten können.

Liebe Grüße, 
Alexandra
Kundenservice
Melanie Mohr | 2019-02-26 12:21:01
---
de
Ich hab`s schon wieder getan....;O)
Spieglein, Spieglein an der Wand...wir TopVintage Mädchen sind die schönsten im Land...,

ja was soll ich mal wieder sagen...TOP TOP TOP...ich liebe Euch
der Rock mit den Kirschen hab ich in S gewählt..passt wie eine 1..und ein Traum von Form hab ich darin..
dazu passend habe ich das grüne Blüschen von Collectif gewählt.. war erst skeptisch aber dann..eine Wucht diese Zusammenstellung ..
gleich noch die Bluse in schwarz dabei ..perfekt und geht immer...
Das rote Blüschen...muss man haben.. passt zu allem..
Leider die Schuhe...die sind ja wunderbar...ABER..sie fallen weit aus und ich musste erst mal jeder Menge Fäden abschneiden und hoffe sie laufen nicht weiter...die Nähte sind nicht besonders gekettelt... nun ja hab sie behalten weil sie super zu meinen Maritimen Kleider passen..

aber sonst stimmt wie immer alles ... vielen Dank für das SCHÖN machen..

Herzliche Grüße Anja

Hallo Anja, es freut uns das Ihnen die bestellten Sachen so gut gefallen aber es ist schade, dass die Schuhe nicht so schön verarbeitet wurden. Da Sie die Schuhe gerne behalten möchten, möchte ich Sie bitte Kontakt zu den Kundenservice aufzunehmen falls es da Probleme mit dem weiterlaufen der Fäden, etc. geben sollte. Wir werden Ihnen dann eine passende Lösung bieten. Bitte entschuldigen Sie die Umstände!

Liebe Grüße,
Desiree
Kundenservice
Anja Inderbiethen | 2018-06-15 18:58:11
---
Je suis ravie de cet ensemble super style et excellente qualité....mom mari adore aussi
Corinne | 2018-06-15 18:15:14
---
Ich habe schon wieder hier eingekauft.
Das grüne Shirt sieht einfach zuckersüß aus.
Die schwarze Handtasche aus Lack super elegant.
Das rot Strickjäckchen mit Puffärmeln trägt sich super auf der Haut. Tolles Material. Sieht sehr schön aus.
Das Strickjäckchen in pink gefällt mir auch sehr gut. Es passt zu vielem. Röcke, Kleider, Hosen. Ein Allrounder.
Das schwarze Top ist umwerfend. Es passt super und macht eine super Figur.
Das wunderschöne Kleid muss ich leider retournieren. Der Reißverschluss im Rücken schlägt bei meinem Hohlkreuz Falten. Es stehen richtige Beulen ab. Ich könnte heulen, aber da lässt sich leider nichts machen. Deshalb retourniere ich auch den dazu passenden Cardigan in gelb, obwohl er sehr schön aussieht und auch sehr kuschelig ist. Ich habe bloß nichts Passendes dazu.
Die Hose mit Ananasprint passt mir leider gar nicht. Sie ist mir an Hüfte und Beinen viel zu weit. In der kleineren Größe wäre das Problem auch nicht behoben. Mir fehlen da wohl einfach die entsprechenden Rundungen. Der Schnitt scheint nicht für sehr schlanke Personen zu sein. Schade.
Vielen vielen Dank für die schönen kleinen Geschenke. Eure Pakete sind immer so liebevoll gepackt und ich freue mich jedes Mal sehr darüber.
Laura | 2018-04-07 19:46:13
---
de
Wie immer eine Freude!!!
Nachdem der Benachritigungsservice für das Top ganz wunderbar funktioniert hat, wurden auch noch die Schuhe geordert. Wie immer eine Blitzlieferung inkl. schöner Verpackung und Beilage. So macht shoppen Spaß.
Die Schuhe sind wirklich chic und obendrein auch noch bequem. Ich bin total begeistert. Ich freue mich, dass das Top auch eine gute Stoffqualität aus Baumwolle hat und sich angenehm anfühlt. Bitte mehr davon!!! Die synthetischen Stoffe vertrage ich nicht so gut bzw. sie sind mitunter unangenehm auf der Haut, obwohl das Design des Kleides o.ä. wirklich großartig ist. Ich bin immer wieder auf's Neue verzückt. VIELEN DANK

Anita Küper | 2018-01-19 20:55:27
---
Iedere rok krijgt een upgrade met deze megafijne Dolores topjes. Heel erg blij mee!
Lisa Korevaar | 2017-12-19 11:25:26
---
Das Kirschentop und Kirschenkleid sind traumhaft schön und sitzen perfekt.
Der Hosenanzug ist auch klasse. Hier ist der Tailleinbund tatsächlich sehr fest, daher gut auf die Größentabelle schauen, damit er da nicht zu doll kneift.
Das schwarze Kleid saß leider nicht schön, es war viel zu weit in der Taille und kracheeng an Busen und Hüfte.
Das schwarze Top war zu groß und musste daher auch zurück.
Vielen Dank für die schönen Geschenke! :)
Maren-Rebecca | 2017-08-19 22:31:51
---
Sexy and fits ok, nice top with a zip on the side. Not too tight, strechy enough even if you're curvy. Nice for an evening :)
caroline | 2017-08-08 17:58:53
---
Het jurkje is echt GEWELDIG!!!! Zit perfect en heb veel complimenten gekregen!!! Voel me er echt super in!!!!
De bloesjes en tops zijn ook super!!!! Ik heb wel lichte twijfel bij de collectif top, de mouwtjes zitten wat strak en ik twijfel over de stof (katoen)... maar ga het toch houden.
als ik mijn items zo op een rijtje zie is het wel wat eenzijdig qua kleur... dus, de magenta jurk gaat op mijn wishlist!!!
Kijk al weer uit naar mijn volgende bestelling!!!!
Bea | 2017-05-02 18:46:19
---
Artikelnr. 12761, 10348, 10342, 14835 usw.
Ich liebe diese Blusen! Sie sitzen top. Gummilitzen in den Ärmeln verlängern und dann ist das auch dort angenehmer. Wer Probleme hat, mit über Kopf anziehen... ich schlüpfe mit den Füßen durch und zuppel's hoch... Make-up und Frisur bleiben am Platz...
Susebilly | 2017-01-23 16:07:24
---
nl
Absolutely adorable!!!!
Ik heb intussen al redelijk vaak bij topvintage kledij en accessoires besteld en ik ben nog nooit teleurgesteld geweest!
Kathy | 2016-11-30 20:19:29
---
Super comfortabel om te dragen
melissa | 2016-10-12 11:46:06
---
Keer op keer sta ik versteld van de snelle levering. Had deze topjes dinsdagavond besteld, vandaag zijn ze aangekomen.
Heel erg blij met deze aankoop!
Het rode topje had ik wat schrik voor, deze ziet er op mijn beeldscherm redelijk fel/lichtrood uit. Tot mijn opluchting is deze dieprood, erg mooi!
De topjes zijn heel vrouwelijk, wel even wennen aan de mouwen sinds ik mijn armen altijd graag verstopte.
Jullie hebben van mij weer een heel gelukkige vrouw gemaakt!
Doe zo verder!
Lynn | 2016-09-29 11:27:33
---
nl
Laat die koudere dagen maar komen.
De cherrytop voelt warm aan voor de zomer, ik laat hem dan ook hangen tot in de herfst/winter. Met mijn zwaardere bovenarmen zal ik hem dan ook met alle plezier dragen onder het zwarte vestje. Dit vestje valt perfect in de taille waardoor mijn smalste lichaamsdeel in de kijker word gezet. De jurk heeft een dunner stofje maar ziet er ooohzo lief uit, het slankt bovendien heel erg af! Opnieuw zeer tevreden met de matentabel en de service! Nu sparen voor schoenen en een jas en ik ben helemaal winterproof! :-)
Nathalie | 2016-08-20 15:36:23
---
Ik kreeg vandaag deze top binnen en ik ben verliefd! Hij zit super mooi en slankt heel erg af. Ik denk dat ik hem niet meer uit doe.
Leonie | 2016-08-18 11:48:41
---
Vor über einem Jahr habe ich Topvintage für mich entdeckt und bisher liebe ich jedes einzelne Teil, was ich hier gekauft habe
Daniela | 2016-08-06 10:27:35
---
This dress is so beautiful, very feminine and elegant, fits perfectly. All this line of Collectif dresses/tops must be great, I don't think there's a woman that doesn't look good in this dress. The tops are also beautiful, colors as the pictures, slightly stretchy fabric (the red and the black). It took me one week to decide color so I bought them both
Giorgia | 2022-03-10 15:21:10
---
Beautiful and stylish!
Aleks | 2021-02-16 14:51:43
---
nl
Leuke rok die heerlijk zit
Alleen heb ik meestal maat L en / of M . Maar deze rok valt klein uit en toch maar een maatje groter genomen. Ik ben er heel blij mee
Helma | 2020-08-22 13:05:21
---
Met dit topje is het net of ik met een hengel de complimenten binnen halen. Iedereen vind het prachtig, en het is zo lekker simpel. Voor mij eerste off shoulder topje waar mezelf echt goed in voel!
Linda | 2020-06-06 16:47:16
---
Je possède plusieurs de ces petits hauts Dolores. Ils sont juste parfaits! Coupe idéale, agréable à porter. Ils vont aussi bien avec un pantalon qu'avec une jupe et surtout ils dégagent les épaules ce qui fait un joli port de tête
Julie Monflier | 2020-01-14 08:36:42
---
Past allemaal perfect! Goede kwaliteit ook.
Heb een hele wishlist nu. Binnenkort weer bestellen!
Danielle van der Veeken | 2019-09-22 15:30:55
---
de
Fallen größer aus als früher
Hallo Ladies,

da ich schon einige Dolores Tops habe, kann ich nur sagen, immernoch bezaubernd aber sie fallen größer aus. Damals passte xs perfekt ( 163, 64 Kilo, schmale Taille B Körbchen, kein Bauch) jetzt wirft es am Rücken und am Bauch falten. Am Busen sitzt es noch wie früher, aber irgendwas würde an der Passform geändert. Die alten passen alle noch perfekt. Die 2 neuen die ich habe, werde ich versuchen ab der Taille etwas enger zu machen. Habt das auf dem Schirm, wenn ihr ähnlich gebaut seit
Lena Sonnabend | 2019-07-31 11:18:10
---
LOVE everything! De hakken zitten als gegoten & zooo comfortabel! Voor een keer zie ik er niet uit als een giraf met gebroken poten haha! Alles zit zo lekker, heel veel gehad aan de maten tabellen. Altijd snelle levering & prachtig ingepakt!

Dankjewel
Demi Gezels | 2019-07-29 18:23:34
---
leuke set. Mooie rok zit goed .Het lijkt wel of er een petticoat onder zit zo wijd valt de rok. En natuurlijk met een geweldige zwarte top met aan de zijkant een rits . En om het af te maken een paar pink T-Strap Pums .Een hele mooie zachte kleur. En ze zitten heerlijk . Laat het mooie Weer maar komen.
Chantal van Schooten | 2019-03-19 11:27:15
---
This dress is so beautiful, very feminine and elegant, fits perfectly. All this line of Collectif dresses/tops must be great, I don't think there's a woman that doesn't look good in this dress. The tops are also beautiful, colors as the pictures, slightly stretchy fabric (the red and the black). It took me one week to decide color so I bought them both
Giorgia | 2022-03-11 05:46:36
---