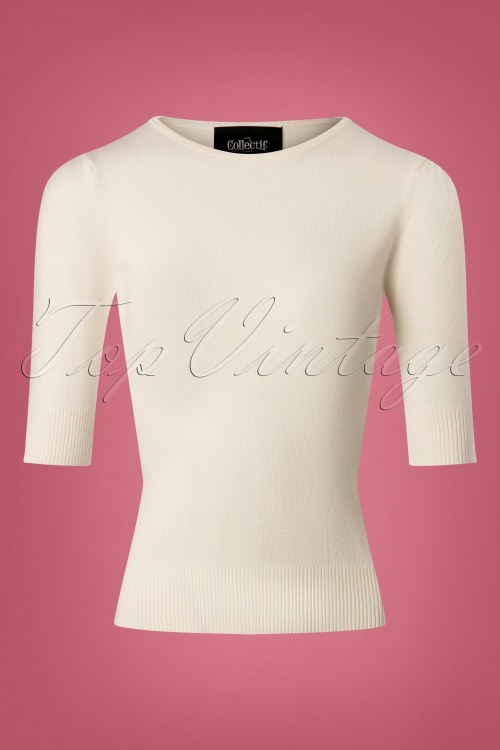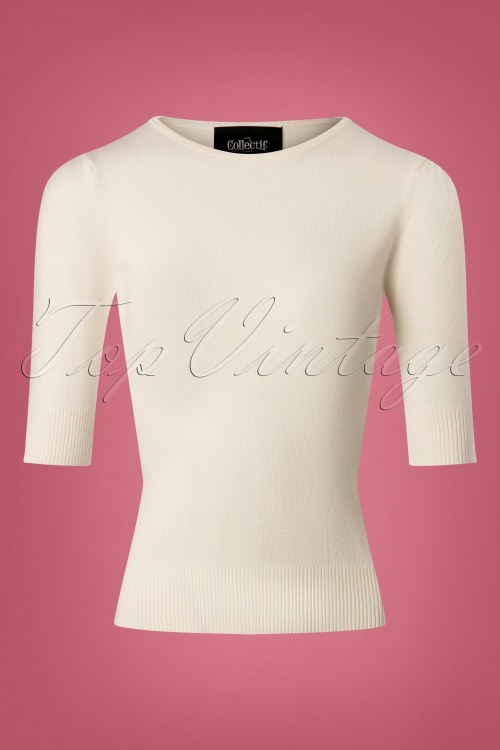 50s Chrissie Knitted Top in Ivory
The combination possibilities are endless with this 50s Chrissie Knitted Top in Ivory! Chrissie comes in a timeless ivory colour and features a round neckline and elbow-length puff sleeves. Made of a thicker yet soft and stretchy, fine knit fabric that's a joy to wear. Fashion dilemmas will be a thing of the past with this beauty in your wardrobe! 
High round neckline
Elbow-length puff sleeves
Stretchy ribbed trim along the sleeves and bottom
The featured skirt will soon be available in our shop
Article nr.
24785
Handwash inside out (don't leave it in the water)
Wash inside out
Machine wash 30c delicates cycle
Do not dry clean
Do not tumble dry
Iron inside out on low temperature setting
Der Pullover sitzt einfach wunderbar und ist durch die neutrale Farbe vielseitig kombinierbar. Ein tolles Teil für den Herbst.
Nadine Werlich
&nbsp|&nbsp
2018-08-25 18:32:17
---
I just love this top! The ivory is thick enough to not be see through, which wonderful. The fit is classy and very versatile. My only complaint is that you have to be careful with the knit. My green and orange Chrissy tops had little loose threads that have turned into runs. I loved the tops so much, that I was able to order a 2nd in orange and will be more careful with hugging my clawed cats and will wash only in dedicates bags. I have been updating my aging and falling apart wardrobe this year and Collectif's tops are top notch for classy timeless looks and versatility.
Linda
&nbsp|&nbsp
2019-11-08 02:31:07
---
Love this top so much! The fit and quality re excellent. I plan on buying more colors to wear work skirts.
inna reus
&nbsp|&nbsp
2019-11-07 22:41:56
---
de
Der Herbst und Winter darf kommen !
Der karierte 40s Rock von Banned ist herrlich dick und kuschelig, genau das richtige für die kommenden kälteren Tage! Und kein bisschen kratzig da er gefüttert ist ! Der grüne Cordrock von Hell Bunny ist ebenfalls sehr tauglich für die kommenden kälteren Tage. Angenehm zu tragen,mit Gürtelschlaufen und in schöner fester Qualität. In meinen Augen kein bisschen 70 s, von der Machart her,da Tellerrock. Der Pulli ist von Collectif und hat die typische gute Qualität. Ich habe Größe 3 XL / 4 XL, je nach Marke, und die Größen fallen wie immer passend aus. Eure Maßtabellen sind wie immer gold wert. Hell Bunny ist meist größer geschnitten deshalb wie immer 3 XL, passt ! Ebenso der karierte Rock von Banned. Bei deren Oberteilen brauche ich 4 XL, wohin gegen deren Röcke in 3 XL immer passender sind da sie am Bund immer weiter ausfallen. So auch dieses mal. Und Collectif wie immer 4 XL. Passt ! Die Kälte darf Einzug halten ;)
Sonja Desens
&nbsp|&nbsp
2019-09-13 15:57:42
---
Die Pullover sind unfassbar weich und wahnsinnig angenehm zu tragen. Ich liebe sie einfach und sie sitzen toll. Bitte noch mehr Farben.
Andrea Kaminski
&nbsp|&nbsp
2019-02-08 17:18:05
---
Sehr schöner Pullover, angenehm zu tragen, perfekte Größenangabe.
Christin
&nbsp|&nbsp
2019-01-13 10:17:08
---
Schöne Pullover aber sie weiten sich sehr stark, beim anprobieren haben beide perfekt gepasst.
Nach 2 mal waschen nach Anleitung sind beide mind 5 cm breiter geworden, lieber eine Nummer kleiner bestellen
Olivia Helmuth
&nbsp|&nbsp
2019-01-08 01:03:05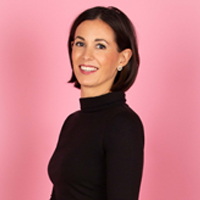 Response from Sylvia

 
Liebe Olivia, wie schade dass sich die Tops breiter geworden sind nach dem waschen. Bitte entschuldigen Sie und dafür!  Wie Ich feststellen konnte wurden die Tops bereits für eine kleinere Größe umgetauscht. Wir wünschen Ihnen viel Freude an Ihrer Bestellung. 
Liebe Grüße,
Sylvia
Kundenservice
---
Die Hose fällt in der gleichen Größe unterschiedlich aus,
Das Kleid hat für meinen Geschmack einen zu großen Ausschnitt,
die Farbe beim grünen und roten Pulli standen mir nicht jedoch sind die anderen sehr schön,
die Pullover sind mir am Hals zu hoch geschnitten,
die Röcke sind sehr schön
Sabine
&nbsp|&nbsp
2018-11-28 11:04:23
---
en
I'm so happy #regretnothing
I ordered two sizes of the tartan dress to see which one would fit me better. To my surprise, the smaller size fit me much better than the larger one, even though I was certain that my waist measurements would fit the other size better. The dress has adjustable straps held by buttons and even pockets hidden in the skirt of the dress! The dress is so lovely with all of its details and looks so good with a top under!

The tops I ordered are a big yes! True to size! The material is so comfortable. You won't regret buying these clothes! Great customer service!
Olga
&nbsp|&nbsp
2018-10-24 08:31:31
---
Dit is een prachtig basic shirt die erg mooi zit. Fijne stof. Hij schijnt wel iets door maar met juist ondergoed zie je daar niks van. Let op, als je een wat grotere boezem hebt is hij wel erg kort. Hij is net lang genoeg om geen blote buik te hebben op een high waist broek. Als hij niet krimpt koop ik zeker nog zo'n top. Hopelijk komen er meer kleuren!
Monika van Tienhoven
&nbsp|&nbsp
2018-10-21 10:36:39
---
de
Suchtgefahr hat wieder zugeschlagen :-)
Einmal infiziert - immer infiziert :-) Diesmal war es eine Großbestellung. Oui oui oui
Das grün karierte Kleid - ein Traum und wie erwartet Liebe auf den ersten Blick -habe dieses bereits als Pencilkleid. Schöner als in diesem Kleid kann Frau nicht aussehen.
Das gelb karierte Top - so süß - ; der blaue Top Langarm - schlicht,schön und gut kombinierbar; weißes Chrissie Top - einfach toll und super bequem; Vive Marie - ein schickes, elegantes und bequemes Alltagskleid, das der Figur schmeichelt; Bunny Karierte Cigarette Hose - könnt ich Herzchen hier rein malen, dann täte ich das jetzt :-) - muss man einfach lieben; der Hair Tool - super Hairstyling Helfer für schnelle Pinup Frisuren.
Der Rest der Großbestellung ging leider zurück.
Collectiv Hose war viel viel viel zu groß; Flamingo Swing Dress ganz süß, hat aber nicht den wow Effekt bei mir ausgelöst, Bunny Swing Kitt rot kariert - so garnicht meins ; Closet London Pencil Dress - super schick, aber leider steht es mir nicht :-(
Liebes TopVintage Team - Ihr habt mich wie immer begeistert, meine Geldbörse schmaler gemacht, meinen Kleiderschrank mit neuen super schönen Kleidungsstücken gefüllt, die gerne ausgeführt werden und mich wie immer toll verwöhnt.

Bianca Kiel
&nbsp|&nbsp
2018-10-08 09:06:32
---
The skirt is absolutely amazing, fits perfectly and the fabric feels like high quality. The colors are beautiful too - and: it has pockets!
The top is so soft and from a stretchy material, so it's really a joy to wear. plus it's warm for winter. I'm so happy!
Natalia Liossi Esbensen
&nbsp|&nbsp
2018-10-07 20:31:54
---
nl
Vrolijk vestje en heerlijk truitje!
Het witte truitje zit erg lekker. Het heeft kleine pofmouwtjes en is makkelijk te combineren. Fijn dat het een hoge halslijn heeft. Het gele vestje heeft een mooie heldere kleur. Door de korte lengte heel mooi te combineren met swingjurken en rokken en een donkere outfit fleurt er helemaal van op!
Over de broek ben ik niet zo zeker. Wel heel mooi en apart maar ik vind hem net iets te kort bij 1,84 m. Ik zou hem nog een beetje kunnen uitleggen maar ik denk dat hij retour gaat.
Anne
&nbsp|&nbsp
2018-09-28 11:41:21
---
Prachtige tops en schoenen. Ze zitten heerlijk. Ik ben er heel erg blij mee. behalve het zwarte bloesje. Deze staat geweldig, echter hier zit spandex in verwerkt. Dit begon meteen te kriebelen in mijn nek, alsof er wol in zit. Deze heb ik terug gestuurd. Hier zit mijn nadeel. De verzendkosten zijn bijzonder hoog! €6,99 om terug te zenden. Dat maakt het totaal op 12 euro verzendkosten. Dat vind ik veel geld. Is het niet mogelijk om een antwoordnummer te gaan gebruiken zoals vrijwel de meeste (web)winkels? Dat maakt het aantrekkelijker om online te bestellen. Ik hoop dat jullie hier wat mee kunnen doen.


Janine
&nbsp|&nbsp
2018-09-26 18:17:20
Response from Customer service

Beste Janine, wat fijn dat je zo blij bent met de meeste nieuwe items! Maar ik begrijp heel goed dat je ervan baalt dat je €12 aan verzendkosten hebt moeten betalen... Gelukkig zijn we achter de schermen heel hard aan het werk om dit in de toekomst anders te kunnen gaan vormgeven... dus houd onze nieuwskanalen goed in de gaten :-)

Groetjes,
Auke
Klantenservice
---
Super schöner Pulli. Trägt sich sehr angenehm und ist super zu kombinieren.
Christine Engelbrecht
&nbsp|&nbsp
2018-09-19 11:23:49
---
Heb de witte besteld en net gepast. Blij dat ik de kleinere heb genomen, past precies. Stof is duurzaam en mooi. Staat gewoon geweldig vrouwelijk en kan altijd. Leuk ook met mooie pareloorbellen. Blij mee!!!
Lidwien
&nbsp|&nbsp
2018-09-11 15:53:05
---
Truitje,lekker zacht simpel maar leuk:) Rokje.... die moest ik hebben. Stof, kleur echt mooi,perfect voor herfst/winter. Helaas met mijn 164 cm vind ik die aan de lange kant:(( Dus twijfel ik over terug sturen of korter laten maken.
A.
&nbsp|&nbsp
2018-09-08 14:01:26
---
Er trägt sich echt angenehm und sitzt gut :)
Dankeschön :)
Nanny Sauer
&nbsp|&nbsp
2018-09-06 15:57:11
---
nl
Heel leuk truitje maar...
Na één zeer voorzichtige wasbeurt heeft het zwarte etiket vieze vlekken nagelaten op het truitje. Heel jammer, want ook al heb ik een vollere boezem, dit truitje zat heel leuk.
Cindy
&nbsp|&nbsp
2021-02-08 21:55:52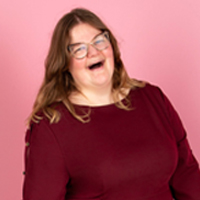 Response from Nicole

Beste Cindy, wat vervelend dat er vlekken in het topje zijn gekomen! Ik heb je even gemaild voor wat meer informatie, dan weet ik zeker dat we samen tot een goede oplossing kunnen komen. Ik kijk uit naar je reactie :-)
Groetjes,
Nicole
Klantenservice
---
nl
Match made from heaven
De reacties van mijn 'dreamteam' waren lovend. Zelfs mijn ukkepuk paste de jurken.... na wat missers (te groot te klein of niet om aan te zien) zulke juweeltjes gevonden. Word na zoveel mooie dingen wel hebberig. 1 nadeel van de ceinturen die bij de jurken zaten (of veel te kort of een bungeejump formaat) Voor die prijs verwacht je wel wat beters. De polka dot en de rood geruite swingdress zijn favoriet. Ook heerlijk om aan te hebben. De zakken in de jurk zijn ook ideaal
Aux
&nbsp|&nbsp
2020-10-29 20:29:01
---
nl
Wat een heerlijke combi!
De rok is van een hele fijne stof en mooie kleur. Zoals iemand anders al opmerkt: wel iets aan de dunne kant en niet gevoerd, maar hij draagt wel heerlijk. LET WEL OP DE MAAT: ik was van de "cm" tabel uitgegaan (taille=94cm) en had dus 2XL gekozen maar daar *zwom* ik letterlijk in terwijl die via de tabel nooit zou passen. Geretourneerd en mijn confectiemaat gevolgd (42, dus XL besteld) en die past prima.
Het truitje is heerlijk zacht, heeft een heel mooie kleur en valt prima op maat (ook hier mijn confectiemaat gevolgd).
Al met al een heerlijke combi!
Marjolein
&nbsp|&nbsp
2020-10-27 08:57:21
---
Deze tops zijn allemaal super! Voor allemaal de eventuele tip en maattabel gevolgd en zit als gegoten.
Francis Rietjens
&nbsp|&nbsp
2020-02-26 21:28:28
---
Der Stoff der Hose ist sehr dünn und wirkt leider auch nicht sehr hochwertig. Aber das Muster!!! Zuckersüß. Trägt meiner Meinung nach auch in einer 44 nicht auf. Für mich ist die Länge perfekt (1,64). Der Schnitt ist etwas komisch, der Bund sitzt sehr hoch. Ich habe mich aber sofort verliebt. Das Top in orange passt perfekt dazu. Habe ich behalten, obwohl ich keine China-Ware mehr kaufen wollte... Dafür musste Ivory zurück.
Frau P.
&nbsp|&nbsp
2020-01-03 19:06:25
---
de
Ich könnte immer weiter shoppen...
...doch irgendwann ist das Geld alle :D
Ich bin wieder absolut begeistert und glücklich über so wundervolle Teile!

Die beiden weinroten Röcke sind aus dem gleichen Material und tragen sich wunderbar! (Den längeren hab ich in der Taille enger machen lassen, da es die kleinere Größe nicht mehr gab und ich wollte diesen nicht zurück schicken!)

Das Top von Collectif Clothing ist wunderbar weich und angenehm zu tragen, nur kann es passieren, dass man den BH durchsieht ;)

Der Pullover von Yèyè ist mein Winter-Musthave! Weich, warm und wunderbar!

Die Strumpfhose von WhatKatiedit Sitz wie eine zweite Haut und ich würde sie immer wieder kaufen!

Das Tuch ist seidig weich und ich hoffe sehr, dass es die andere Farbe nochmal zu kaufen gibt!
Der Pin ist auch super und auf Bluse/Pullover ein absoluter Hingucker!

Danke für diese wunderschönen Sachen Topvintage ♡♡♡
Jennifer Böttcher
&nbsp|&nbsp
2019-12-02 09:00:42
---
Helaas tekende dit truitje teveel bij mij; misschien ook door de kleur?
Retour gedaan
Els Kennis
&nbsp|&nbsp
2019-11-30 19:26:01
---
Deze site is niet goed voor mij. Ik ga hier failliet aan...
De jas zit als gegoten en de sjaal past er mooi bij. Mouwen zitten wat strak. Een dikke trui moet je er niet onder aan doen, maar dat is altijd met mantels.
Het vestje is precies goed.
De rok en truitjes zitten als gegoten en mooie kwaliteit weer.
Alles in de maten die ik inmiddels weet per merk. Maattabel klopt voor alles. Jas wel een maat groter moeten nemen, maar dat doe je al snel bij een jas.
Kortom, ik ben weer super blij! Dank jullie wel weer!

Debbie Bakkum
&nbsp|&nbsp
2019-11-29 19:11:28
---
Wat wordt ik blij van een pakketje van Topvintage!!
De broek is heel leuk en draagt fijn, ik heb hem ook in een blauwe tartan en die draag ik ook in de zomer. Ik heb hem in M gekocht terwijl ik een S ook paste, maar ik heb wat minder heupen/billen en wat meer taille (buikje).
Het truitjes en het vestje zijn van echt mooie kwaliteit en goed te combineren ook met andere outfits.
De oorbellen...daar ben ik al heel lang naar op zoek, ik heb geen gaatjes maar wilde wel een keer clips proberen. Ze zijn prachtig!
Annabelle
&nbsp|&nbsp
2019-11-29 17:02:58
---
nl
De perfecte zwarte top voor alles
Deze top staat werkelijk prachtig op alles en elke gelegenheid. Classy, elegant, precies mooi geplooit op de juiste plekken. En gemaakt van een heerlijk soepel en zachte stof die snel droogt na het wassen en niet gestreken hoeft te worden. Ik ben verliefd! ?
Melania
&nbsp|&nbsp
2021-11-21 16:04:01
---