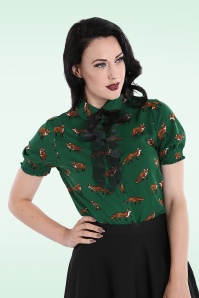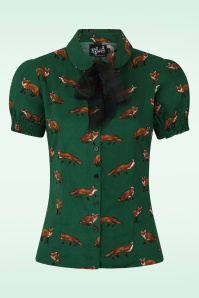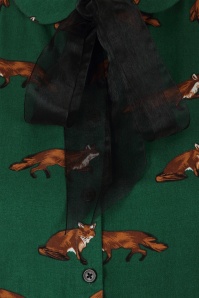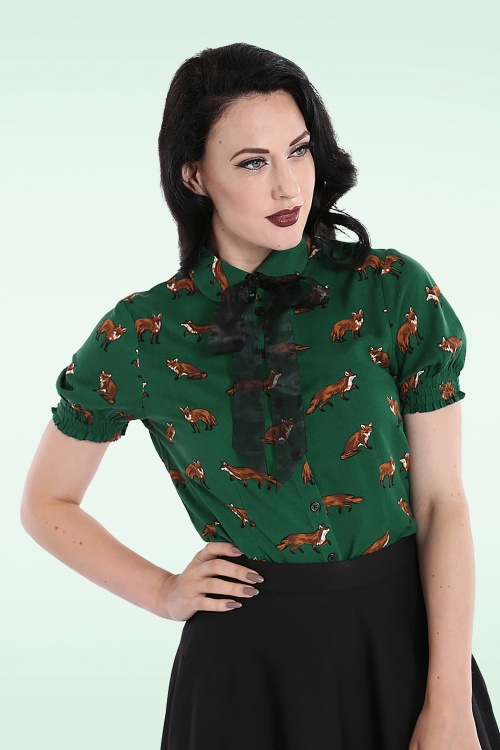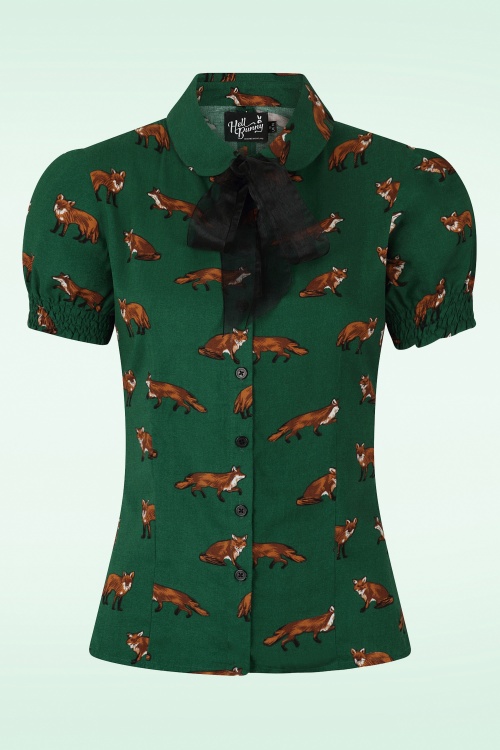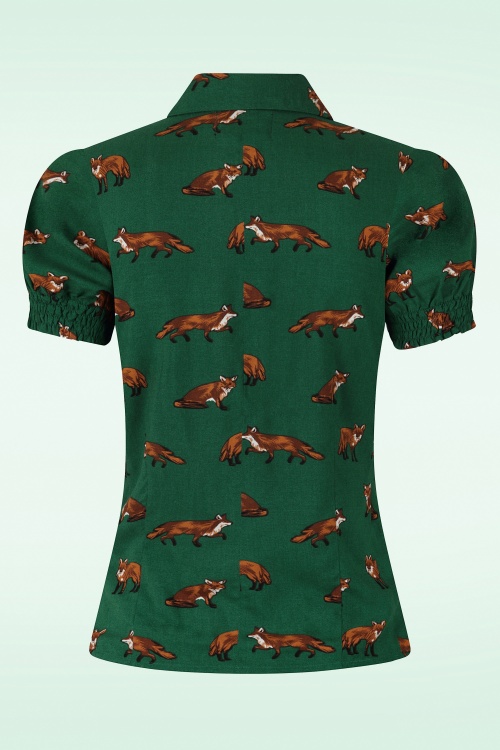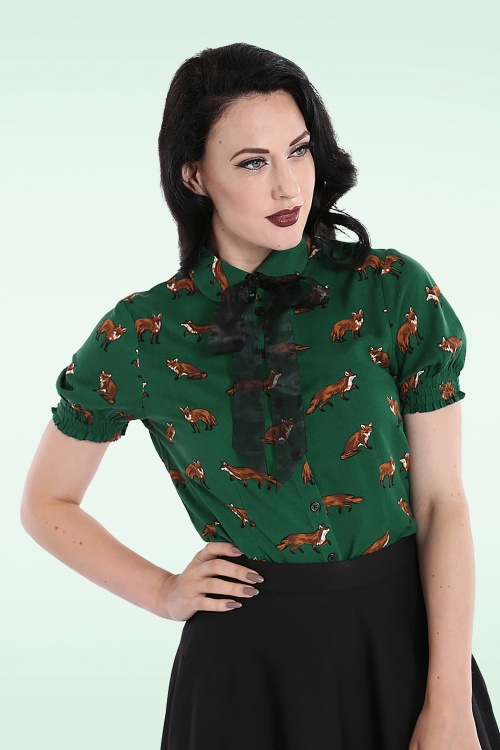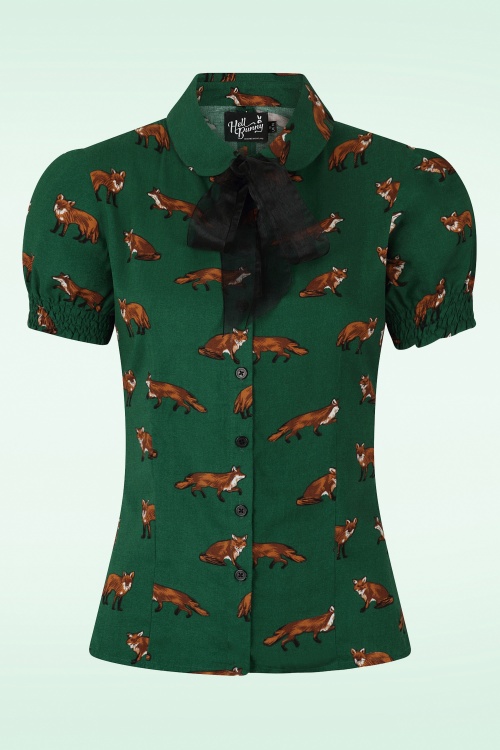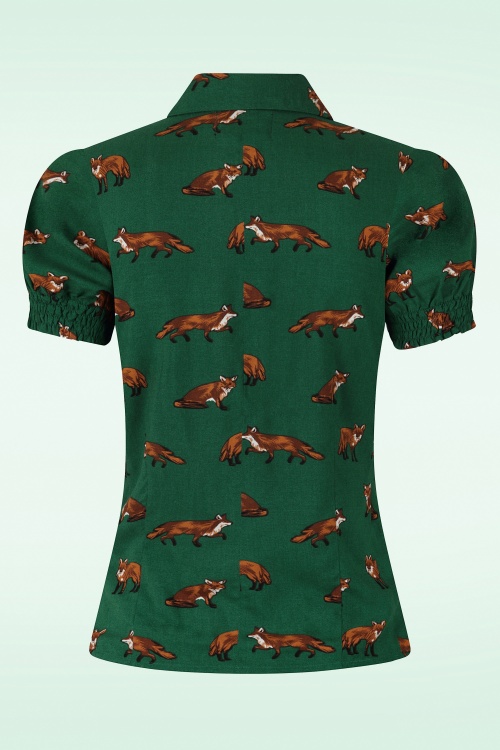 50s Vixey Blouse in Dark Green
Looking foxy has never been easier, thanks to this 50s Vixey Blouse in Dark Green! If her cute short puff sleeves and her playful chiffon bow haven't won you over yet, the adorable foxes will convince you to add her to your shopping bag! Made of a supple, viscose (doesn't stretch!) in dark green and finished off with small black buttons at the front. Vixey, get in my shopping bag! 
Peter Pan collar
Detachable chiffon tie straps
Short puff sleeves
Row of buttons down the front 
Long enough to pair with regular trousers
Article nr.
34268
Handwash inside out (don't leave it in the water)
Wash inside out
Machine wash 30c delicates cycle
Do not dry clean
Do not tumble dry
Iron inside out on low temperature setting
Do not bleach
Received the blouse and coudroy pinafore dress today, even together they look cute. The dress is somewhat short so I recommend wearing it with some panties or bikershorts. I ordered the dress and blouse a size up because it fits better around the bustarea in that way you avoid wardrobe malfunction. Overall really pretty and good quality items.
Astrid
&nbsp|&nbsp
2020-10-05 11:05:49
---
Great fit, lovely foxy print and a quick delivery.
Jo
&nbsp|&nbsp
2022-10-14 18:57:30
---
Der Mantel ist einfach HAMMER :). Die Bluse mit Füchsen lovely. Die Größe M scheint etwa zu größer als gedacht (wie bei dem roten Rock mit Igeln -aber das kriege ich schon hin).
Ich freue mich immer über die Bestellungen, nur finde ich Schade, dass ich bei den letzten Bestellungen keine kleinen Überraschungen mehr in dem Paket hatte :(.


Kundenservice 
Martina Dvorakova
&nbsp|&nbsp
2021-10-12 16:27:42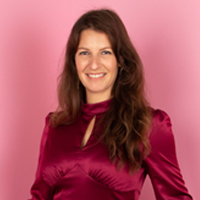 Response from Alexandra

Hallo Martina, wir verschicken leider keine Überraschungen mehr. 2021 wollen wir noch nachhaltiger vorgehen. Eine der Entscheidungen, die wir deshalb getroffen haben, ist, keine TopVintage-Goodies mehr in den Paketen zu versenden. Trotz der Tatsache, dass dies bei deinem Einkauf immer ein schönes Extra war, verursachen die Produktion und das Material (wie z. B. Kunststoff) unter anderem eine unnötige Belastung für die Umwelt. Wir hoffen, dass wir dich trotzdem immer noch mit unseren Kollektionen glücklich machen können. Zu besonderen Anlässen werden wir dich gelegentlich noch mit einem süßen Goodie überraschen. Aber also nicht bei jeder Bestellung. Das macht das Ganze auch viel spezieller! 

Liebe Grüße,
Alexandra
---
Super schönes Motiv in wunderbaren Herbstfarben. Zwar sind die Ärmel kurz und die Bluse dünn für den Herbst, aber man kann wunderbar eine Strickjacke drüber ziehen. Was die Schleife angeht bin ich etwas unsicher. Aber auch ohne sieht die Bluse toll aus und sie sitzt gerade am Hals sehr gut. Für die Schleife gibt es hinten, unter dem Kragen, eine kleine Schlaufe. So kann man auch anderen Tüchern mehr Halt geben. Die Größe entspricht dem size guide und ich empfehle dort vor Kauf einen Blick rein zu werden. XS passt mir sehr gut. In Oberteilen habe ich meist eine XS oder S.
Jana
&nbsp|&nbsp
2021-10-09 21:02:00
---
Ich liebe diese Bluse❤️❤️❤️
Der Rock passt ausgezeichnet dazu❤️❤️❤️
Die rote Jacke ist sehr gut und warm leider geht zurück weil ich zu dem Weihnachtskleid bestellt hatte, der leider an den Schulter irgendwie defekt war. Das blaue Kleid ist super bequem und wunderschön, hätte ich mir nichts schöneres bestellen können ❤️❤️❤️
Olimpia
&nbsp|&nbsp
2020-12-04 16:53:10
---
de
Chic durch die kalte Jahreszeit
Ich bin verliebt in meine Shoppingerrungenschaften und freue mich diese weiterhin ausführen zu dürfen, egal ob auf Arbeit oder in der Freizeit.

Die Röcke habe ich mir gleich in mehreren Farben bestellt, weil sie super fließend fallen und spitze sitzen - ein Lob wiedermal an die Größentabelle.
Die für mich passenden Oberteile dazu sind ein Traum. Vom Tragekomfort wie auch von der Qualität.

Ich kann all diese Stücke nur weiterempfehlen!
Maria
&nbsp|&nbsp
2020-11-25 08:16:26
---
J'ai craqué pour le tissu de ce chemisier.
Je l'ai râté la première fois qu'il est arrivé sur le site, il est devenu vite hors stock. Puis dès sa remise en stock, je l'ai commandé et j'en suis contente car il est vraiment très joli. Petite déception (mais je m'en doutais...) pour la qualité du tissu, assez fin et basique (style coton de t-shirt). Un peu cher pour un manque de qualité, mais j'espère qu'il durera dans le temps... (PS: on peut ôter le ruban noir)
J'adore énormement d'articles sur ce site, dommage qu'il n'y ait pas de codes promo ou d'opérations promo régulièrement car beaucoup d'articles, bien que magnifiques, sont hors de portée pour moi financièrement.
Irina
&nbsp|&nbsp
2020-10-17 22:30:40
---
Deze blouse is zowel in roest als in donkergroen erg mooi. Hij wijkt wel wat bij de boezem, maar ik ga een breed zwart lint halen ipv het lint dat er bij zit, zodat ik dan met een goed geplaatste strik het wijkende stukje kan maskeren. Ze zijn namelijk te leuk om terug te sturen!
Miranda
&nbsp|&nbsp
2020-10-06 20:20:03
---
I combined the blouse with the coudroy dress I ordered here as well. It looks amazing, although I recommend to order 1 size up, I did anyway, for a better fit around the bustarea.
Astrid
&nbsp|&nbsp
2020-10-05 11:09:18
---
So I bought a dress AND a top! They are both gorgeous, and I cannot have enough of them.
Valeria
&nbsp|&nbsp
2023-02-07 14:43:10
---
Die Bluse ist ein Traum! Besonders gefällt mir das Grün, im Kontrast zu den kleinen Rotbraunen Füchsen. Die Schleife kann abgenommen werden, aber gerade sie macht die Bluse komplett und ist sehr hübsch. Die Cardigans sind sehr hübsch und angenehm zu tragen; alle sind klasse mit Blusen zu kombinieren.
Miri
&nbsp|&nbsp
2022-12-09 19:48:32
---