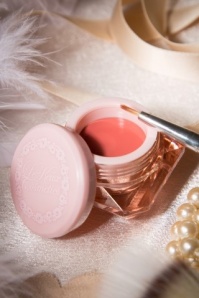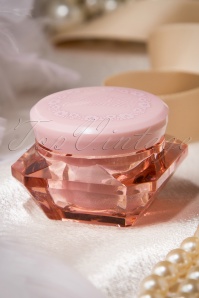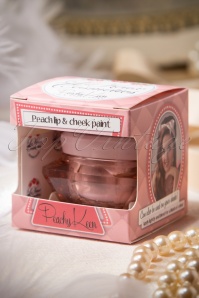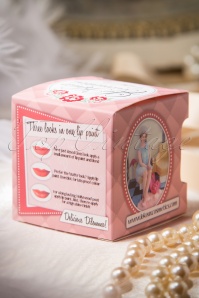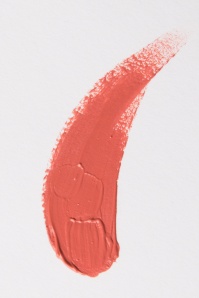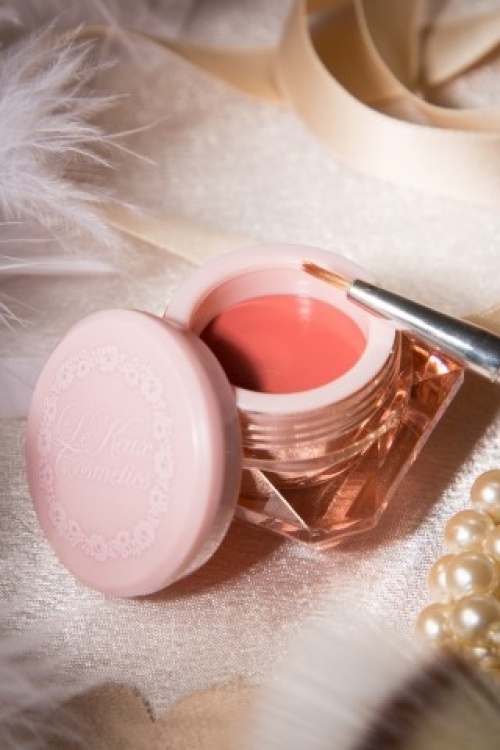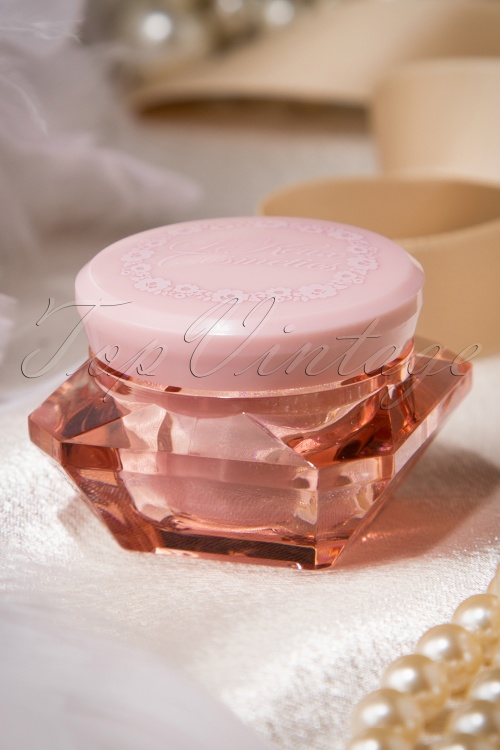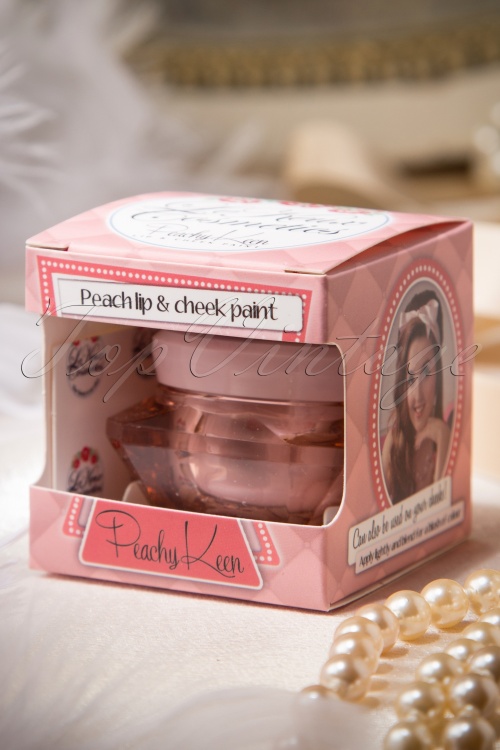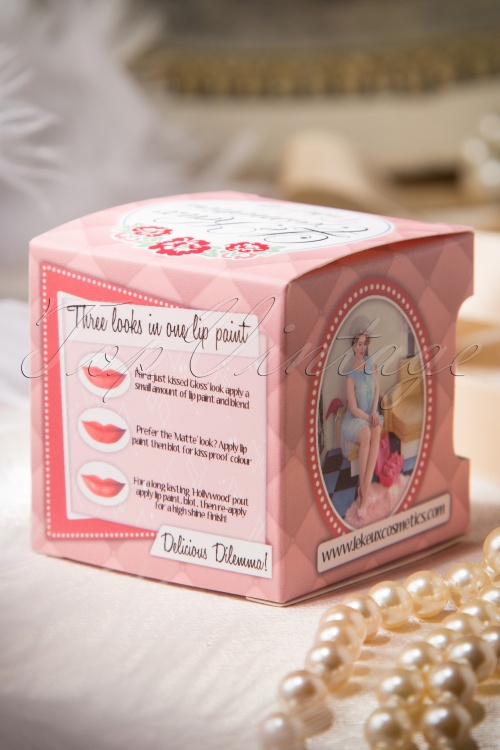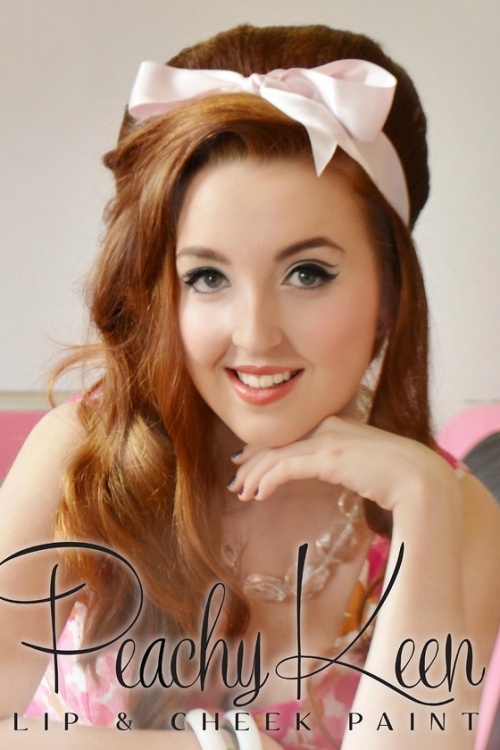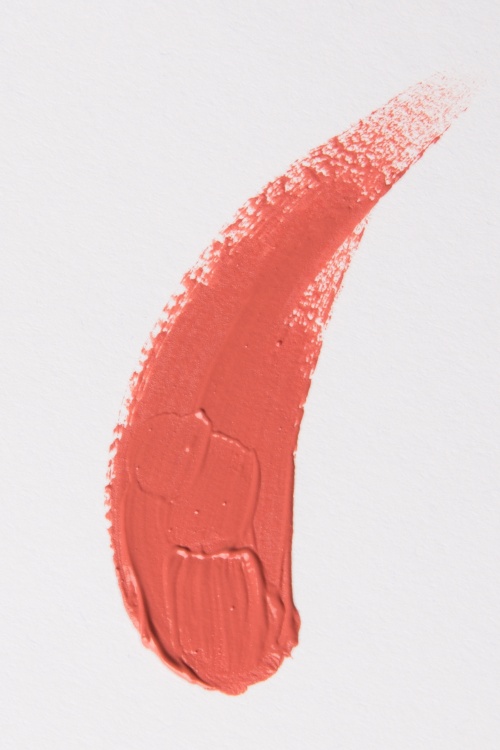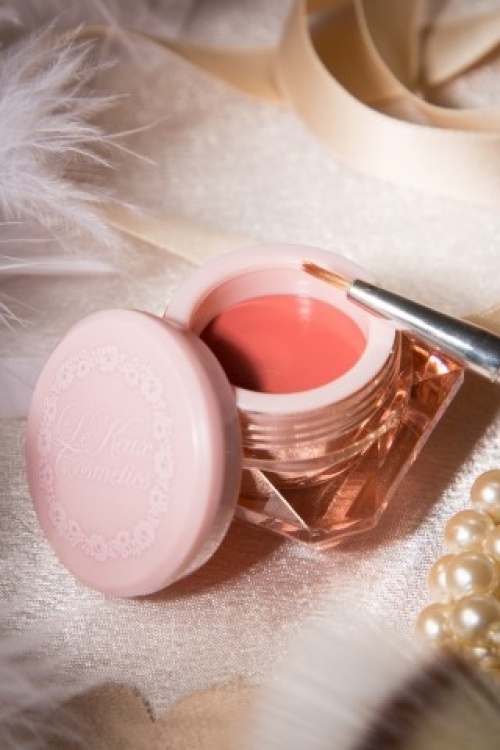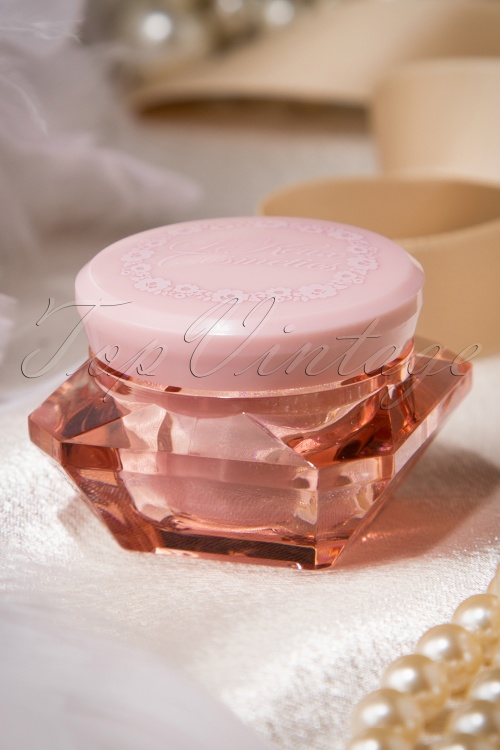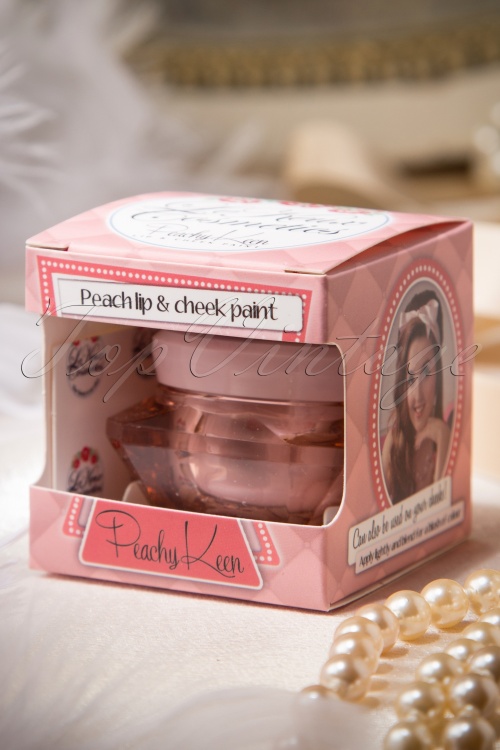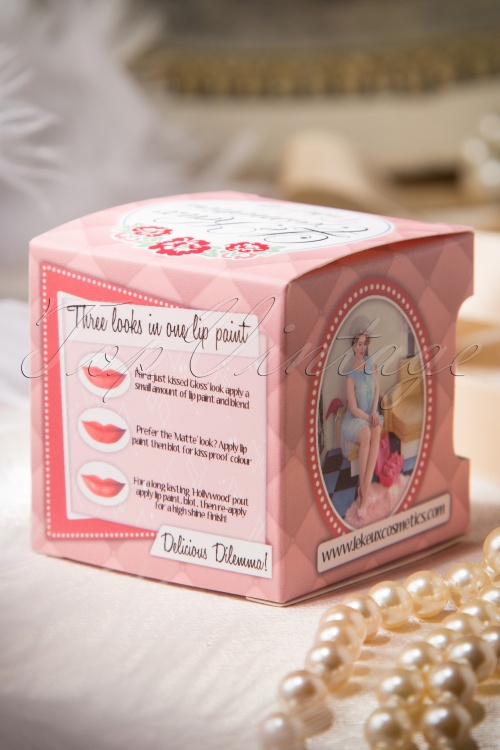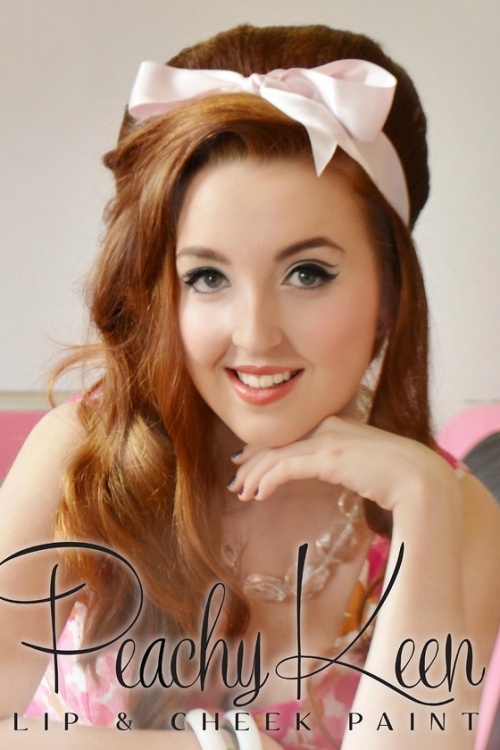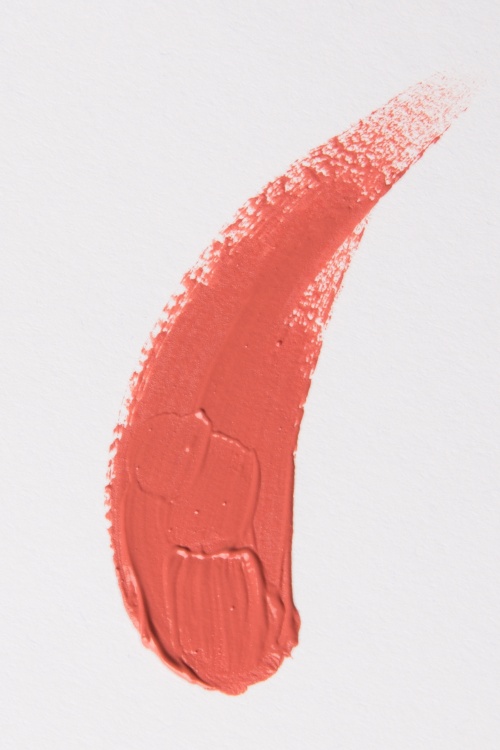 Peachy Keen Opaque Lip and Cheek Paint
You can create the exact vintage look you want with this Peachy Keen Opaque Lip and Cheek Paint by Le Keux Cosmetics! Peachy Keen is the perfect rich, lovely scented, peach-coloured lip and cheek paint for a glamorous look! You can create three key vintage looks from just one product: from just kissed gloss lips, matte all day stay or Hollywood lips, everything is possible! Its opaque formula applies beautifully for a truly peachy pout and can also be used as a cream blusher for a lovely fresh glow, vintage style ;-). Use with the Lip And Eyeliner Brush to create perfectly kissable lips in no time at all. Lovely lips and dewy cheeks… all you need!
For lips and cheeks
Rich formula
Lovely scented 
The featured dress and accessories are not available in our shop.
Article nr.
17376
Cruelty free and environmentally friendly! Content: 5 gr. Ingredients: Ricinus Communis Seed Oil, Tricaprylin, Dimethicone/Vinyl Dimethicone Crosspolymer, Bis-Diglyceryl Polyacyladipate-1, Methyl Methacrylate Crosspolymer, Butyl Acrylate/Hydroxypropyl Dimethicone Acrylate Copolymer, Aroma, Hydrogenated Castor Oil, Candelilla Cera, Silica Silylate, Cera Alba, Copernicia Cerifera Cera, Paraffin, Silica, Benzyl Alcohol, Tocopheryl Acetate, Aqua, Dehydroacetic Acid, Hexyl Cinnamal, Linalool [+/- CI 77491, CI 77891, CI 15850]
fr
J'adooore... être la plus belle !
Partout où je vais, je me fais remarquer pour mon élégance et mon style ! Même qu'une de mes collègues au bureau m'attend tous les matins pour "voir quelle jolie robe je porte aujourd'hui" !!!
Jamais de faux pas, les conseils et le service sont "topissimes" et malgré mes rondeurs je suis super sexy. Que du bonheur !
(J'ai trop d'articles, et je suis pleinement satisfaite de absolument tous ! j'ai mis un mini florilège).
Sophie GANDNER
&nbsp|&nbsp
2018-11-11 13:12:07
---
Super blij met alles en helemaal STAPEL verliefd!!
Alles zit heerlijk en staat prachtig!
De schoenen zijn super cute!!
De lipbalsem is prachtig van kleur en super mooi als rouge.
Ik ben weer super blij!! Dankjewel!!

Lieneke Primmer
&nbsp|&nbsp
2017-11-12 21:00:29
---
Ich liebe diesen Lippenstift.
Corinna Sommer
&nbsp|&nbsp
2017-10-26 13:57:43
---
Ik heb de rok een maat groter besteld en past perfect. Heel mooi!
Lisa Mortier
&nbsp|&nbsp
2017-09-21 16:56:07
---
nl
mooie kleur, maar geeft af
De kleuren zijn echt geweldig, helaas geeft hij wel heel erg af en blijft het niet zo lang zitten als dat ik gewend ben
anne sophie
&nbsp|&nbsp
2017-03-17 12:15:45
---
Der Rock ist wirklich wunderschön, aus einem etwas dünneren Stoff. Jetzt warte ich auf den Frühling!
Das Oberteil ist etwas dünner als erwartet, daher eher nicht für den Winter. Wird aber seine Verwendung im Frühling/Frühsommer finden!
Der Lippenstift ist wirklich klasse, da man ihn sowohl glänzend als auch matt auftragen kann. Wenn man es nicht so auffällig mag, ist er genau richtig, sonst nimmt man den Kirschton!

Danke für die schönen Sachen!
Ina
&nbsp|&nbsp
2017-02-26 20:04:55
---
Behalve de body (te klein, had een M besteld) en de broek (die was te breed qua model, leek een beetje een zak model, niet flaterend voor mijn reeds rode figuur) was alles perfect !!!! Love it, all of it !! zeker de korte rokjes, die maken me helemaal vrolijk, leuk met platte boots erop, of met een leuke pump...
Melissa
&nbsp|&nbsp
2016-01-14 10:50:42
---
Ich bin maßlos begeistert, nicht nur vom Angebot her oder der wunderschönen Aufmachung des wahrscheinlich besten Retro-Shops auf dem Markt, sowie auch vom Ablauf des Kundenservices...
Bezahlungsmöglichkeiten sind super in der Auswahl und das Paket ist total hübsch und liebevoll verpackt, beim Öffnen war es wie zu Weihnachten und Geburtstag gleichzeitig.

Es war meine erste Bestellung und alle Artikel sind wie beschrieben und total hochwertig. Passform entspricht auch genau den Angaben, auch das Material fühlt sich toll an. Der Rollkragen-Turtleneck Pullover ist super angenehm zum Tragen, sehr figurbetont und dehnbar - sehr besonders und echt typisch 60er, sehr besonders :). Die Strumpfhose hat eine tolle Farbe und 1A-Stoff-Qualität! Das Lippenbalsam ist schön dezent, perfekt für den Alltagslook.

Wirklich super ist, dass man sich bei Zweifeln neben der Artikelbeschreibung wunderbar orientieren und als Hilfe bei den Tipps zu Größe und Maß diese zu Rat ziehen kann. Einfach toll!

Das wird nicht meine letzte Bestellung sein, eher der Anfang von unzähligen Wunscherfüllungen :). Das wird definitiv meinen Kleiderschrank und Haushalt aufwerten! Nur schade, dass es in Deutschland keinen Boutique Shop in der Nähe gibt, das wäre ein tolles Erlebnis auch mal real dort shoppen gehen zu können. Aber wie gut, dass der Versand auch wirklich schnell ist, Sonntagnachmittag bestellt, Dienstagvormittag kam es schon an! ;)
Vielen lieben Dank und weiter so!
Denise
&nbsp|&nbsp
2021-08-25 15:43:31
---
Habe heute auch mein Paket erhalten ! Lieferung ging wahnsinnig schnell und alles war liebevoll eingepackt . Die Lippenfarbe ist wirklich wunderschön! Ich habe sie auch gleich als rouge ausprobiert was ausgezeichnet geklappt hat .Zudem kann man wirklich sparsam sein damit ,weil die Pigmentierung wirklich stark ist ! Die Schuhe haben eine weiche Sohle was das gehen wirklich sehr angenehm macht ! Das Kleid hat auch super gepasst und mit der Länge war ich trotz meiner 1,58m sehr zufrieden ,auch wenn man finde ich dann eher Höhe Schuhe anziehen muss um nicht zu klein zu wirken aber das ist eher Geschmackssache und zudem hat man ja auch eine wunderbare Auswahl an schönen Schuhen hier :)
Sylvia
&nbsp|&nbsp
2020-01-08 22:02:13
---