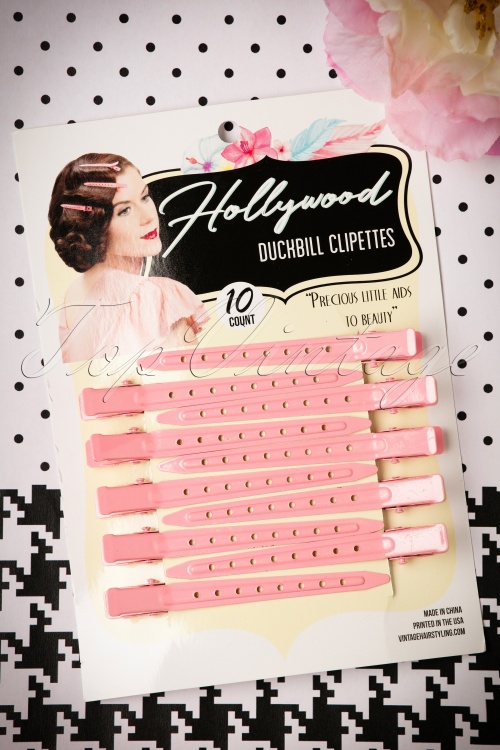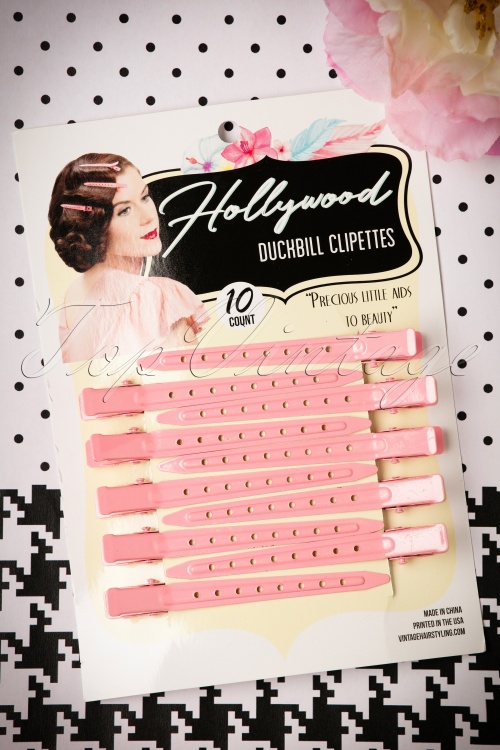 Vintage Hairstyling: Hollywood Duckbill Clipettes in Pink
These Hollywood Duckbill Clipettes in Pink by Lauren Rennells are super handy tools to easily create a vintage hairstyle!

Must-have tools for every vintage (party) hairstyle! This set includes 10 metal clipettes with a powder pink coating to help form your vintage waves! They will keep your locks in place temporarily so you can already start on your make-up ;-) But they also make a great gift for the lovers of all vintage beauty products!
Coated metal
Firm clips
10 pieces per card
Article nr.
24380
Length: 9 cm
Width: 0.7 cm
fr
Pinces mignonnes et pratiques
Les pinces sont solides et de bonnes qualités ! Je ne regrette pas de les avoir prises et surtout j'adore la couleur rose !
Virginie
&nbsp|&nbsp
2020-06-06 09:45:25
---
Je suis très contente des pinces à cheveux, elles sont d'une belle qualité et tiennent bien, même dans des cheveux épais.
La broche est très jolie, taille idéale pour porter sur un chemiser ou un manteau.

Sandra Stevens
&nbsp|&nbsp
2019-12-14 09:10:27
---
de
Sehr sehr schön !!! Und zwar alles !!!
Das Design und die Qualität des Spitzen Jäckchens sind sehr schön und es passt in Gr. S perfekt.
Das Nella Polka Top passt ebenfalls in Gr. S und gefällt mir sehr gut.
Die Spitzen Handschuhe , Daumen hoch !
Das Buch gehörte sofort zu meinen Lieblingsbüchern.
Nun kann ich meine Haare und das passende Make up nach Wunsch stylen,
denn ich bin Fan vergangener Jahrzehnte.
Die passenden Haarklammern hab ich auch gleich dazu bestellt.
Zur Info, ich bin 1,65 cm groß, wiege 52 kg und trage meistens Gr. 34
Was soll ich noch schreiben, es gibt nix zu meckern, 5 ***** Sterne !!!
Cornelia Scheidl
&nbsp|&nbsp
2019-11-20 16:15:58
---
de
Endlich krieg ich es hin
Lange habe ich überlegt ob sich das Teil echt lohnt.. und was soll ich sagen: Es lohnt sich definitiv.
Und (auch wenn das mit diesem Teil nichts zu tun hat): Ich liebe Eure Verpackungskartons :)). So sweet. Und danke für das Geschenk. Ich bestell nun öfter.
Simone Stulken
&nbsp|&nbsp
2019-09-27 10:05:53
---
en
Kimono dress with a sexy twist!
Lovely dress!! The colors of the pattern are so vibrant!! As always the size chart was spot on. Fabric is not stretchy at all so follow the chart carefully! In my case my hips are 2-3 cm wider than the measurements of the chart and I'll have to do with a girdle (for reference I am 82-64-97 and ordered size 8).
The slits on the sleeves are a great addition because that way your movements are not restricted. And if you don't want to show cleavage, you can just unfold the lapels! However, I think the dress would look best without pockets. You don't want any more bulk in the hips area.
As for the duckclip clips haven't used them yet but plan to do so for my next wet set.
Marina Alonso
&nbsp|&nbsp
2019-04-30 17:47:37
---
Ces pinces sont jolies et solides. Elles promettent de bonnes utilisations... que je n'ai pas encore effectuées !
Maëva Delattre
&nbsp|&nbsp
2019-04-11 17:07:40
---
les pinces tiennent bien et ne laisse pas trop de race un coup de brosse et le tour est joué!
clara slattery
&nbsp|&nbsp
2019-03-25 13:46:01
---
Man fühlt sich toll, wenn man die Clips trägt. Habe sie beim Theater verwendet und "Wasserwellen gelegt". Manchmal bleibt ein Abdruck des Clips auf den Haaren zurück. Sonst Top.
RK
&nbsp|&nbsp
2019-01-22 21:23:50
---
De clips werken, dus prima!

De Rockin' Rollers zijn best moeilijk te gebruiken met mijn korter haar in laagjes. Die zullen jammer genoeg moeten wachten tot mijn haar langer is..
Silke Huysmans
&nbsp|&nbsp
2018-12-05 19:40:12
---
de
Hm. Dieses Mal leider keine super Ausbeute... :-(
Fangen wir mit dem weniger Positiven an:
Der rote Pulli ist wirklich wunderschön - und obwohl ich normalerweise keine knallrote Kleidung trage, wollte ich diesem hier eine ehrliche Chance geben. Ich trage in Oberteilen normalerweise eine Größe M, maximal L, weil ich relativ breite Schultern, aber dafür eine sichtbare Taille habe. Ich habe diesen Pullover zur Auswahl in zwei Größen bestellt - in M/L und L/XL. Ich habe bei der Anprobe vorsichtshalber mit der größeren Größe begonnen und war fast entsetzt, dass selbst diese mir um die Taille herum viel zu eng war! An den Schultern und von der Länge saß er gut; sogar die Farbe hat mir an mir gefallen. Insgesamt würde ich daher der Größe L/XL allenfalls eine 'M' zuschreiben. Und ich fürchte, dass der Stoff beim Waschen noch zusammenschrumpft. Schade, zurück.
Der dunkelgraue Pulli war jedoch noch schlimmer! Auch diesen habe ich zur Auswahl in zwei Größen bestellt - L und XL. Wieder habe ich bei der Anprobe mit XL begonnen. Enttäuschend: Die Ärmel und auch die Gesamtlänge viiiel zu kurz! Und für eine Größe XL wieder viel zu klein. Meiner Meinung nach auch hier wieder nur eine 'M'. Wirklich schade, weil das Modell sehr schick ist und sich der Stoff toll anfühlt.
Die Jacke ist ziemlich toll, auch wenn sie auch bei mir sehr zerknittert ankam (was durch ein wenig Geschick im Umgang mit dem Bügeleisen aber auf jeden Fall zu beheben gewesen wäre). Ich schicke sie dennoch zurück, weil mir die Farbe und die Passform allgemein an mir selber nicht ganz so gut gefällt (und auch die Ärmel einen kleinen Tick länger hätten sein können). Größenmäßig würde ich dazu raten, eine Nummer größer als normal zu bestellen, wenn man einen (auch dünneren) Pulli darunter tragen möchte.
Was toll ist, sind die schwarzen Spitzenhandschuhe, passend zu einem edlen Abendoutfit; die Libellenbrosche und die rosa Haarklemmen, sehr wertig.
Die Schlafwickler sind wirklich weich, zum Testen werde ich jedoch erst später kommen.
Und superior class natürlich wieder einmal der Service und die Versandgeschwindigkeit von TopVintage - danke!!
Ich hoffe, kleidungstechnisch beim nächsten Mal wieder einen besseren Treffer landen zu können.
Mari M.
&nbsp|&nbsp
2018-11-24 20:57:06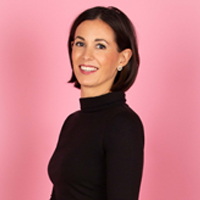 Response from Sylvia

Liebe Mari, es tut uns sehr leid dass es mit den Größen der Pullis es dieses mach nicht geklappt hat. Bitte entschuldigen Sie uns dafür! Ich werde Sie kontaktieren um Sie entsprechend zu beraten und vielleicht andere Größen für Sie zu reservieren. Wir wünschen Ihnen viel Spaß an die behaltene Sachen zu. 
Liebe Grüße, 
Sylvia 
Kundenservice 
---
Diese Clips eignen sich nicht nur hervorragend zum Legen von Wasserwellen, sondern auch um die Frisur nach dem Auskämmen zu Fixieren und die Locken in eine tolle Form zu legen. Dabei sehen Sie auch noch wunderbar aus.
Nadine Werlich
&nbsp|&nbsp
2018-08-17 11:04:23
---
Très contente de mes achats, très beaux accessoires, belle qualité et ces magnifiques pinces qui me rappellent mon enfance++++
Carine Mansari
&nbsp|&nbsp
2018-08-16 16:10:06
---
Endlich mal große Haarklammern die wirklich halten, ganz davon abgesehen dass sie auch noch wunderbar vintage-mäßig aussehen! Auch gut um ganz klassisch Wellen ins Haar zu bekommen. Top!
Eva
&nbsp|&nbsp
2018-06-01 19:31:20
---
de
Selbst als Deko grandios
Unschlagbar für diesen Preis und sehen auch noch toll aus!
Franzi
&nbsp|&nbsp
2018-04-10 09:55:23
---
Diese Haarklammern sind super süß und sehr nützlich. Man kann die Haare beim Schminken damit nach hinten klemmen oder aber Locken bzw Wasserwellen fixieren. Sie wirken auf jedenfall hochwertiger als die Plastikvariante aus der Drogerie die ich bisher hatte. Hier ist alles aus Metall und das rosa sieht sehr hübsch aus.
Nathalie
&nbsp|&nbsp
2017-12-28 18:07:45
---
Zo mooie stof en model. Ik heb ze nog een keer besteld. Kleur komt goed overeen met de foto. Zoals ik van Top vintage gewend ben.
Roos
&nbsp|&nbsp
2022-05-18 00:13:53
---
de
Kleine, nützliche Helferlein
Fehlt die dritte Hand beim Hairstyling? Da ist sie in Form dieser tollen kleinen Helferlein.
Schön verarbeitet und wirklich nützlich.
Sonja
&nbsp|&nbsp
2021-09-22 06:18:45
---
de
Must have für Vintagefrisuren
Zur wunderschönen Kleidung aus dem Shop, gehört auch ein passendes Styling. Und bei Vintagefrisuren kommt man einfach nicht um die Klammern herum. Und diese hier tun was sie sollen und sehen in rosa auch noch hübsch aus. Und mit 10 stück ist man gleich gut ausgestattet.
Trudi
&nbsp|&nbsp
2021-09-17 08:06:09
---
Every thing I buy from here I'm so happy with! I love each piece I buy, the quality is out standing. The jeans I just bought fit perfect and my husband said I look amazing in them
Dianne
&nbsp|&nbsp
2021-04-11 08:14:14
---
nl
handige én mooie haarclips
Stevige haarclips in een prachtige kleur roze. Handig voor delen van je haar opzij te houden. Golven maken heb ik nog niet geprobeerd.
Katrien
&nbsp|&nbsp
2021-03-14 10:58:25
---
de
I just can't stop shopping here Baby! :)
Since years my favourite shop! Good Quality, fast delivery, best Customer service ever!
I love it - a must for every Pin-up, Rockabella and Vintage Lady!
You will see it with your first order!
Miss Mary Rose Vintage
&nbsp|&nbsp
2021-01-28 09:36:04
---
Die Haarklemmen sind sehr praktisch und sehen offensichtlich auch noch sehr gut aus. Die Strümpfe sind ebenfalls sehr gut, sehr weich und robust, nur halten sie bei mir ohne Strumpfhalter nicht. Aber da ich eh immer einen trage ist das kein Problem
Shirley
&nbsp|&nbsp
2020-08-10 15:37:05
---
C'est tout simplement un régal de s'en servir pour se coiffer, c'est un article très utile au quotidien et pour créer les looks rétro.
Elise
&nbsp|&nbsp
2020-07-03 12:08:22
---
Magnifiques pinces de belle qualité qui tiennent bien dans les cheveux ❤️
emmanuelle
&nbsp|&nbsp
2020-06-22 13:26:13
---
Erg handige clips die goed blijven zitten en mijn haar vastpinnen. En ze zien er ook nog eens leuk roze uit. Erg tevreden mee.
Famke
&nbsp|&nbsp
2022-10-03 14:09:20
---