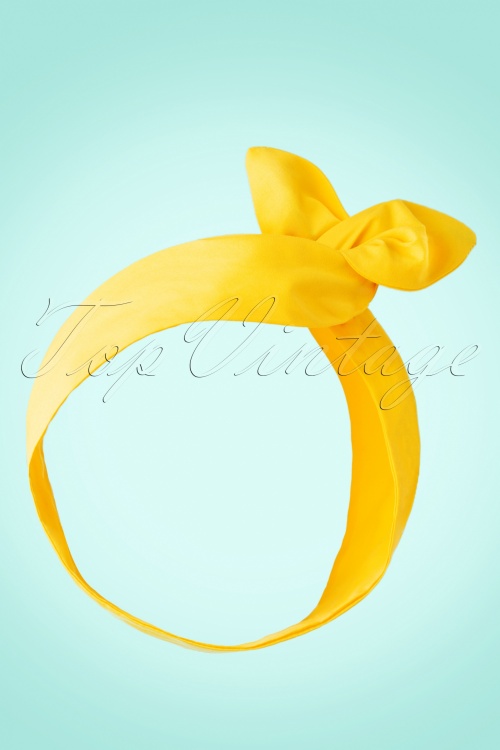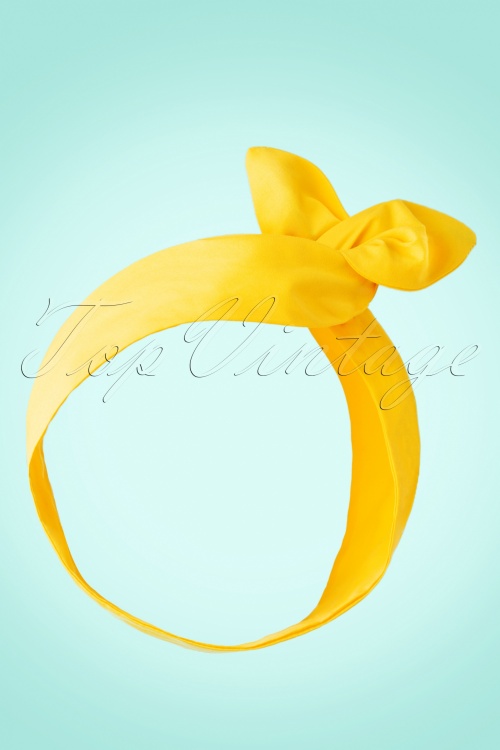 This 50s Hair Scarf in Yellow totally completes your vintage look! What would you like? A headband or a bow? You can have it all with this super fun hair scarf. Made of double faced lipstick yellow cotton. Thanks to the metal wire the hair scarf will always stay in place, just the way you want it to be. L-O-V-E!
Can be worn in different ways
With metal wire
Article nr.
30098
Length: 84 cm
Width: 13 cm
Handwash cold (don't leave it in the water)
Wash dark colors seperately
Do not tumble dry
Drie hartjes, gemiddeld voor de hele aankoop (in vier bestellingen van de afgelopen maanden)
De haarbloemen zijn iets kleiner dan ik gewend ben te dragen, maar de poederkleuren zijn erg mooi en passen goed bij verschillende outfits. Omdat ze wat kleiner zijn, kan ik er ook twee samen dragen in mijn haar (flinke bos donkerblonde krullen)

De vlinderjurk is geweldig, mooi donker zwart (hopelijk blijft dat) en met de zwarte riem staat het extra mooi. Feestelijk, mooi patroon en staat me heel goed.

Het zwarte shirt is gewoon geinig. Ik had al langer naar deze shirts zitten kijken, en liever die met het cocktailglas gekocht, maar deze was er nog in mijn maat en met de black friday korting het er toch op gewaagd. Staat goed, alleen jammer dat een deel van de opdruk onder de taille valt, zodat het iets minder mooi valt in een hoge broek of rok.

De poezenoorknopjes waren voor mijn nichtje, en gezien haar snoetje bij het uitpakken, vielen ze erg in de smaak. Zeker ook vanwege het schattige paarse zakje eromheen.

De spijkerbroek is spijtig genoeg een tikje te strak op de buik. Ik twijfel nog of ik gok op zelf afvallen of hopen dat de maat groter weer beschikbaar komt. Namelijk wel een fijn model, zonder "gaping" boven de billen. Dus taille sluit wel mooi aan, wat vaak niet zo is bij mijn figuur met ronde billen, dus bredere heupen en relatief smallere taille. Maar gezien de retourtermijn kan ik niet te lang twijfelen.

De gele haarstrik is breder dan ik dacht, maar ik houd hem wel, past namelijk wel bij mijn artiestenoutfit.

De shapebroek is gewoon prima.

Het groene jurkje glimt iets te veel naar mijn smaak, model valt verder wel prima. Geen topper. Gezien de kosten van retourzenden, toch wel gehouden. Al had ik er meer van verwacht.

Het rode topje is top, zit prima. Enkel nog gepast, dus nog geen idee hoe ik het in het dagelijks leven zal ervaren. Het is wel kort, maar zeker niet te. Bij een hoge broek of rok vind ik het juist wel mooier dan het net op de heup valt, zodat je het niet in de tailleband hoeft te stoppen.

De zwarte riem is iets smaller dan de andere twee die ik heb. Maar vergeleken met de riem die ik van banned heb, is deze duidelijk beter (bij die van banned is het elastiek te smal in het metaal, waardoor het schuift of vreemd scheef gaat zitten)

Het portemoneetje was een kadootje, heb nog niet gehoord of het bevalt. Het leek me prima voor muntjes, stevig en met wat ruimte.

Bij de petticoat heb ik me duidelijk in de lengtemaat vergist. Ik had alleen naar de taille gekeken, maar vergeten dat de rok dan ook een stuk langer kan zijn. De kleur is prachtig, maar door de lengte komt de onderkant overal onderuit, op de rok in deze bestelling na dan. Maar het idee was dat ik de petticoat bij meer rokken en jurken zou kunnen dragen.

De waszak is prima en functioneel, maar als ik de petticoat terugstuur, dan deze waarschijnlijk ook.

De rok is een beetje stijfjes, ik weet nog niet goed wat ik ervan vind. Waarschijnlijk gaat deze ook retour, want ik vrees dat ik hem weinig ga dragen. Hij staat me wat boersig. Op de foto hier ziet de rok er in ieder geval veel eleganter uit. Nog maar een paar keer passen en dan op tijd beslissen om retour te sturen.... of niet.
Marie-José Oomen
&nbsp|&nbsp
2019-12-08 11:54:37
---
ze zijn net zoals de foto, geweldig! ik ben er super blij mee.
nathalie mertens
&nbsp|&nbsp
2019-05-17 18:33:55
---