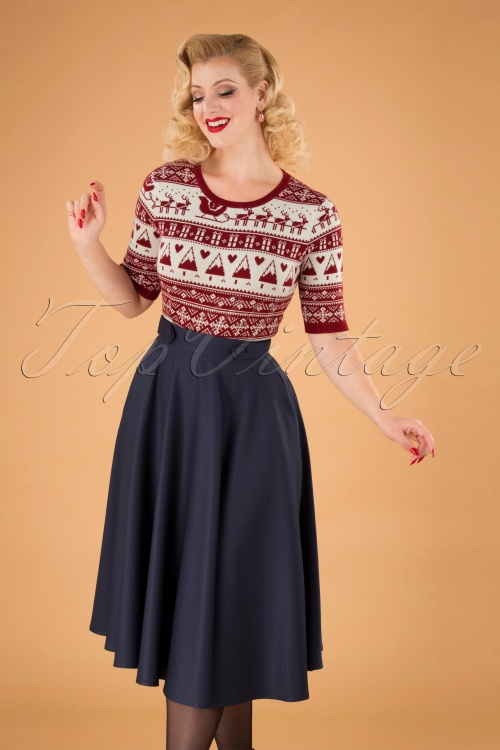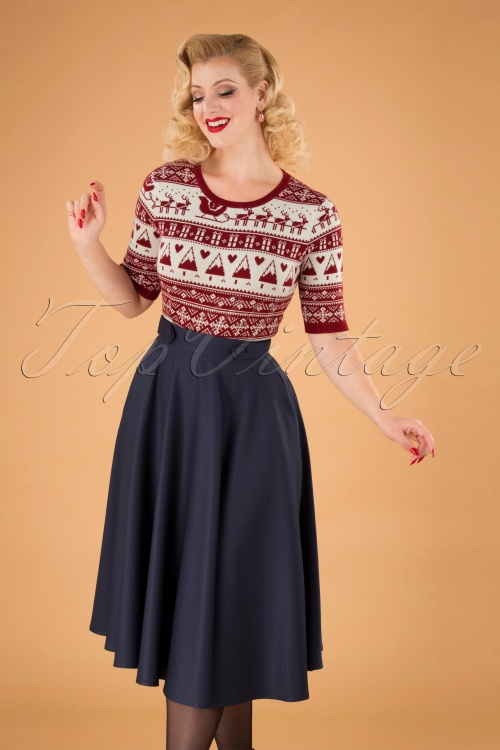 50s Di Di Swing Skirt in Night Blue
Swing your way into winter with this 50s Di Di Swing Skirt in Night Blue! This fifties gem sits high on your waist, from where she flows into a classic, elegant swing skirt. The faux button detailing at the waist adds a playful detail while accentuating your waist at the same time. Made of a firm, yet supple, dark blue fabric (doesn't stretch!) that moves wonderfully when you walk. Winter can be such a magical season, especially with Di Di in your wardrobe ;-) 
Swing skirt
Faux buttons detailing
Side pockets
Zipper and hook closure at the back

Stunning blonde Miss Victory Violet height: 1.70m / 5'7''
Article nr.
28173
65% Polyester
32% Viscose
3% Elastane
Handwash inside out (don't leave it in the water)
Wash inside out
Machine wash 30c delicates cycle
Do not dry clean
Do not tumble dry
Hang to dry
Iron inside out on low temperature setting
Both skirts are great. I can't wait to wear them! I need to have the blue one shortened first, though, but that's nothing new to me as I am 1,60 m.
Agata
&nbsp|&nbsp
2019-11-01 15:28:09
---
Heerlijke rok! Lekker lang en zwierig én met zakken!
Silke Huysmans
&nbsp|&nbsp
2019-09-06 21:51:07
---
Die Schuhe sind einfacht toll und die Kollegen bekommen auch gleich gute Laune, wenn sie diese Schuhe sehen. Trotz der Höhe bequem.
Die Jäckchen von Banned sind wunderbar und der Stoff ist herrlich weich.
Das rote Top passt von der Länge perfekt zum Bleistiftrock, so dass sich nichts abdrückt, wenn man das Top unter dem Rock trägt.
Der Rock ist wirklich schön. Leider hat sich beim ersten Waschen (trotz Feinwaschgang und Beutel) das Knopfdetail über der Kickfalte gelöst und ich muss es wieder annähen.
Daher dieses Mal ein Herz Abzug.


Ines Luckau
&nbsp|&nbsp
2019-02-20 12:27:18
Response from Customer service

Hallo Ines, vielen Dank für Ihr Feedback! Schade dass der Knopf sich gelöst hat. Ich habe Sie bereits kontaktiert und hoffe Sie schnell wieder glücklich machen zu können :) 

Liebe Grüße,
Alexandra
Kundenservice
---
nl
Op de rokkentoer dit keer!
Helemaal tevreden met deze mooie Vintage Rokken!
I love Vintage kleding
Helma Jeurissen
&nbsp|&nbsp
2018-12-18 18:24:10
---
Prachtige Retro Swing rok! Stof is van mooie kwaliteit en perfect om nu aan te hebben. Weer erg tevreden met deze koop❤️
Helma Jeurissen
&nbsp|&nbsp
2018-12-14 21:31:29
---
Leuke rok, kleed mooi af en past me perfect. Maat m genomen, ook al draag ik vaak s
De stof is ook heel fijn, niet te dik of te dun.
Roos
&nbsp|&nbsp
2022-01-23 12:47:32
---
Deze rok is echt fantastisch. Hij is heel comfortabel, mooie stof en perfecte fit. Heb de rok zelfs in twee kleuren gekocht nu. Bij Banned Retro heb ik wel altijd een maat groter dan ik normaal heb, dus dat is in dit geval ook.
Robin
&nbsp|&nbsp
2021-12-31 16:50:16
---
nl
Eindelijk een donkerbruine rok :D
Donkerbruin is zo'n goede basiskleur (om warme herfstkleuren op te dragen), maar je ziet het zo weinig in basis kledingstukken. Dus ik was heel blij toen ik deze rok voorbij zag komen. De perfecte kleur en nog met zakken ook. Twee maten geprobeerd, de juiste gehouden, en vervolgens de rok in de andere kleuren erbij besteld want het is gewoon een fijn model :)

De zwarte was niet in voorraad dus ik heb een ander model geprobeerd. Hij zat op zich fijn dankzij de elastische taille, maar de zakken bleven open staan wat er raar uitzag op mijn heupen. Een maat groter had te groot geweest, maar gelukkig kreeg ik daarna bericht dat de zwarte in het fijne model er weer was.
Petra
&nbsp|&nbsp
2021-11-17 12:46:10
---
Een heerlijke rok. Vrouwelijk en zwierig, en door de lengte ook heel bewegingsvrij. Ik heb hem nu in 3 kleuren, zo blij ben ik ermee!
Jay
&nbsp|&nbsp
2021-09-28 10:31:58
---
Mooi rok, fijne aanwinst voor de winter.
Valt erg soepel en laat zich gemakkelijk combineren met allerlei leuke truitjes en blouses. Daarom een echte 'staple piece' in mijn wintergarderobe.
Kwam wel behoorlijk gekreukt aan.

Bij mijn 170cm lengte valt de rok tot halverwege mijn onderbenen.
Iets te lang voor mijn smaak, dus ik ga hem waarschijnlijk nog inkorten tot knielengte.
Kirsten
&nbsp|&nbsp
2020-12-13 12:05:01
---
de
Super süß. super bequem
Der Cardigan ist traumhaft weich, schön warm und sitzt perfekt für hoch geschnittene Röcke und Hosen. Betont die Taille, ohne den größeren Busen "herausspringen" zu lassen.

Der schwarze Sheila Swing Skirt sitzt prima und schneidet trotz des Gummibundes nicht ein (nach 2 Kindern ist das Bäuchlein halt etwas weicher...). Ich fühle mich damit auch im Alltag wunderschön.

Der DiDi Swing Skirt war leider zu groß, da habe ich mich aber vermessen. Der wird definitiv nachbestellt, das Material ist schön schwer, aber auch nicht so dass es einen herunter zieht.

P.S. Girls, es gibt Zeiten in denen Frau nicht ihre Maße nehmen sollte, sondern lieber eine Woche wartet, dann passiert sowas wie bei meinem DiDi nicht ;)
Kim
&nbsp|&nbsp
2020-10-10 09:24:25
---
de
Nicht mehr so gut wie früher
Ich habe dieses Modell schon in einigen Farben. Länge, Schnitt, Design und Sitz sind einfach super! Aber anscheinend wurde das Material verändert, ich war etwas enttäuscht :( Die "alte" Stoffqualität hat mir viel viel besser gefallen, sie wirkte hochwertiger. Der neue Stoff wirkt etwas billig. Dafür muss ich leider ein Herzchen abziehen. Schade. Sonst sind die Röcke aber nach wie vor toll!
Britta
&nbsp|&nbsp
2020-09-30 12:00:24
---
Hele fijne zwierige rok. Soepele stof. Valt ook bij mijn lengte van 1.82 nog ruim over de knie.
Anke
&nbsp|&nbsp
2020-08-30 08:39:31
---
Jupe sublime qui tombe magnifiquement et descend sous le genou. Avec un jupon le rendu est encore plus beau.
Anne Granet
&nbsp|&nbsp
2020-01-13 18:46:24
---
Ik vind de kleding mooi, maar de maten waren allemaal te groot ondanks dat ik van te voren de matentabel had geraadpleegd.

E.
&nbsp|&nbsp
2022-12-07 10:04:33
---