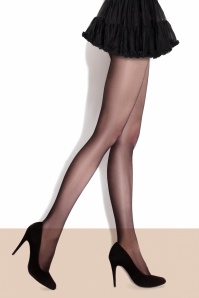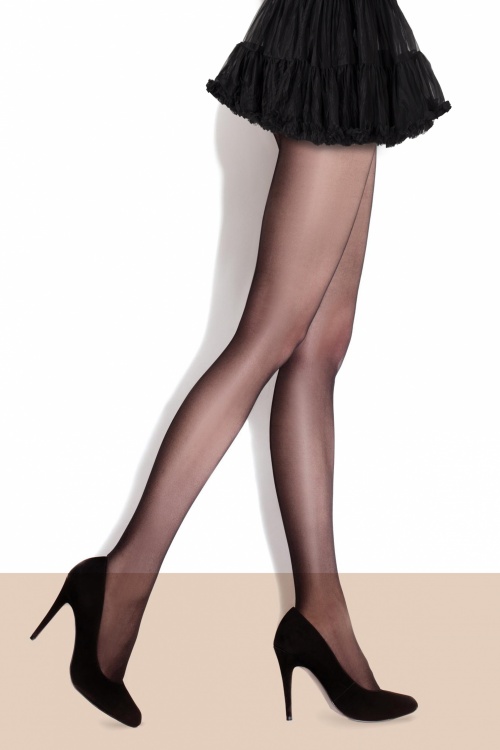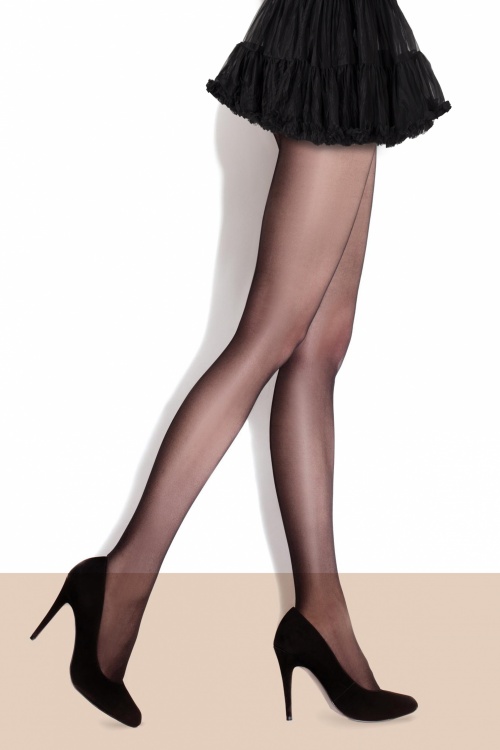 Ada Classic Tights in Black
These Ada Classic Tights in Black by Fiorella are the ultimate black tights to go with that beautiful dress! Forget about ribbons, back seams and faux suspenders... These classic black 15 denier tights with a soft sheen do exactly what they are supposed to do; show off your legs as elegantly as possible! Finished off with a reinforced toe and gusset for a comfy fit. Whether you go for an everyday look, a business look or a chic evening look; these tights are always the perfect choice! ;-)
15 denier
Soft sheen 
Reinforced toe and gusset 
The featured shoes and skirt are not available in our shop
Article nr.
17451
87% Polyamid
13% Elastane
OEKO-TEX® Certificate We are happy to inform that our tights have obtained an OEKO-TEX® Standard 100 Certificate. The certificate guarantees that the tights are free from any potentially harmful substances.
Handwash cold (don't leave it in the water)
Do not tumble dry
Perfect! Danke! xxx
Ilse
&nbsp|&nbsp
2016-11-26 19:58:34
---
Heb alle panty's nu zo'n 10 keer gedragen, ze blijven in model en op een klein haaltje na zijn ze allemaal nog heel. Echte aanraders!
Esther
&nbsp|&nbsp
2019-01-31 14:55:05
---
Super chic .In jedes dieser Kleider werde ich bewundert.Alle Traumhaft
christel weißig
&nbsp|&nbsp
2018-01-29 16:32:02
---
C'est toujours un plaisir de recevoir les colis. Tous les articles correspondent aux descriptions et à mes attentes
Charlotte Gillardeau
&nbsp|&nbsp
2018-01-03 15:57:08
---
Donderdagavond verschillende panty's besteld en vrijdagmorgen werd het al bezorgd
Chantal van Tilburg
&nbsp|&nbsp
2017-10-01 16:43:10
---
Ik vind de panties van Topvintage gewoon te gek. Krijg je nog mooiere benen van. en de kwaliteit: zijn sterke panties en ze zitten goed.
Johannah
&nbsp|&nbsp
2017-05-18 13:16:48
---
Ik ben dol op jullie panties. Ze zitten altijd goed en maken mooie benen nög mooier. Krijg er geen genoeg van
Johannah
&nbsp|&nbsp
2017-04-01 14:33:21
---
Super super. I love it!!!
Ciolos
&nbsp|&nbsp
2016-11-30 12:50:23
---
Top webshop!
Keep up the good work ;)
xxx
Ilse
&nbsp|&nbsp
2016-11-28 12:32:12
---
De Navy jumpsuit en rode jurk zijn super! Van hetzelfde soepele sterke stof gemaakt, zo vrouwelijk. Ik ben 1.78 en de lengte van de jumpsuit is perfect.
De zwarte ribtop is heerlijk lang en zit heel comfortabel. De cherry top met lange mouw valt ook lang genoeg en van hele prettige stof. De rode top is zo mooi van kleur, is lang genoeg maar valt tegen. De stof is dunner dan ik voor ogen had en tekent hierdoor.
Het cherry witte vestje gaat helaas ook retour, die valt bij mij te kort en bij mijn schouders niet zo mooi.
De zeep ruikt zooooo lekker. Het is kleiner dan ik dacht, maar ik had zelf niet goed gekeken.
De paraplu stond al een tijdje op mijn wishlist, zo leuk!
De panty's heb ik nog niet geprobeerd, maar dat zal ook wel goed zijn.
Ik ben blij met al mijn mooie items.
Nancy
&nbsp|&nbsp
2022-04-03 18:38:53
---
Hele mooi pasvorm heeft deze jurk zat als gegoten, ook blij met de panty's mooi en stevig. Het unboxen was echt een cadeautje alles was mooi verpakt zat zelf een kleinigheidje bij! Dit was mijn 1ste kennismaking met Topvintage maar nav van de sale email heb ik mijn volgende bestelling reeds klaarstaan in de winkelmand :-).
Carien Bakker
&nbsp|&nbsp
2020-03-01 11:52:16
---