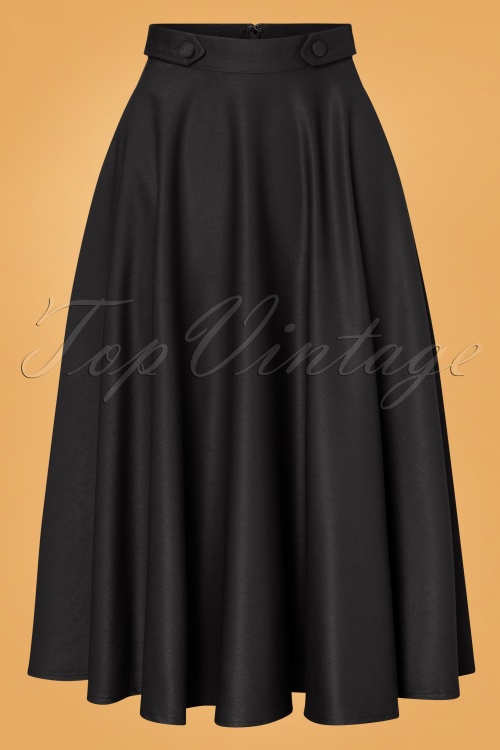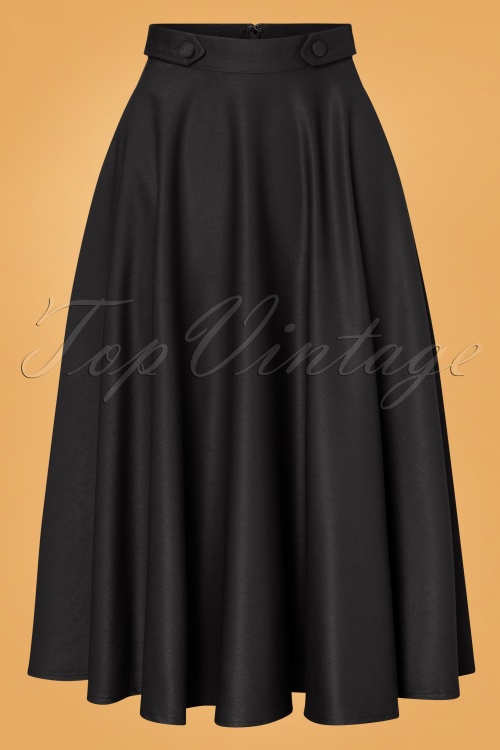 50s Di Di Swing Skirt in Black
Swing your way into winter with this 50s Di Di Swing Skirt in Black! This fifties gem sits high on your waist and from there she flows into a classic, elegant swing skirt. The faux button detailing at the waist adds a playful touch while accentuating your waist at the same time. Made of a firm, yet supple, black fabric (barely stretches!) that sways beautifully with every step you take. Winter can be such a magical season, especially with Di Di in your wardrobe ;-) 
Full swing skirt
Faux button detailing
Side pockets
Zipper and hook closure at the back
Pair with one of our petticoats for an extra festive look
Hits below the knee at a height of 1.70m / 5'7"
Article nr.
28176
65% Polyester
32% Viscose
3% Elastane
Handwash inside out (don't leave it in the water)
Wash inside out
Wash dark colors separately
Machine wash 30c delicates cycle
Dry clean
Do not tumble dry
Hang to dry
Iron inside out on low temperature setting
Do not bleach
Een hele lijst!

Vintage Chic cinnamon top: de kleur is mooi, de vorm is prima, maar door de 95% polyester vond ik het niet prettig dragen. Helaas retour.

Banned zwarte rok: fijn zwaar en maat valt goed. Kwam wel flink gekreukt binnen. Goed met tig topjes en vestjes te combineren.

Banned zwart gestreepte top: prima truitje, heb em ook in het rood. Lekker luchtig, kort maar niet te kort en fijne prijs!

Vixen rood vest: valt goed op maat en is fijn warm. Lengte ook prima, blij mee.

Banned lemon vest: superlief! Voelt lekker aan, mouwen zijn lang genoeg en de hals zit precies goed.

Banned coral vestje: ontzettend mooie kleur. Knalt, maar is niet schreeuwerig en superzacht. Groot fan van deze vestjes!

Vintage Chic pencil dress: door de polyester niet de meest handige jurk om met warm weer te dragen, maar oef, tis wel een plaatje. Manlief was erg onder de indruk, al had ik wel z'n hulp nodig om de rits dicht te krijgen. Classy and sexy.

Steady Clothing top: even getwijfeld vanwege de prijs, maar wat een fijne top, complimenten over gekregen. De rayon maakt em zacht en hij zit als gegoten. Gekocht voor boven een rok, maar staat ook superleuk met de Vixen Nona Nancy culotte broek.

Banned bordeaux broek: kwam ook flink gekreukt tevoorschijn, maar zit superrelaxed. Niet te wijd, goed qua lengte en weer eens een andere kleur dan gewend.
Manol
&nbsp|&nbsp
2020-08-11 21:08:11
---
Deze keer voor alleen zwart gegaan en ben er blij mee
Manol Dijkhuizen-van Schaik
&nbsp|&nbsp
2020-07-28 13:18:58
---
Je suis toujours aussi heureuse de mes achats chez top vintage ! La qualité est là et ils arrivent toujours rapidement. Je suis devenu accro à ce site! Il y a toujours quelques chose qui me donne envie ! Merci encore top vintage et la livraison gratuite c'est vraiment un plus.
Clem
&nbsp|&nbsp
2022-01-27 16:24:18
---
Deze rok is echt fantastisch. Hij is heel comfortabel, mooie stof en perfecte fit. Heb de rok zelfs in twee kleuren gekocht nu. Bij Banned Retro heb ik wel altijd een maat groter dan ik normaal heb, dus dat is in dit geval ook.
Robin
&nbsp|&nbsp
2021-12-31 16:50:16
---
nl
Eindelijk een donkerbruine rok :D
Donkerbruin is zo'n goede basiskleur (om warme herfstkleuren op te dragen), maar je ziet het zo weinig in basis kledingstukken. Dus ik was heel blij toen ik deze rok voorbij zag komen. De perfecte kleur en nog met zakken ook. Twee maten geprobeerd, de juiste gehouden, en vervolgens de rok in de andere kleuren erbij besteld want het is gewoon een fijn model :)

De zwarte was niet in voorraad dus ik heb een ander model geprobeerd. Hij zat op zich fijn dankzij de elastische taille, maar de zakken bleven open staan wat er raar uitzag op mijn heupen. Een maat groter had te groot geweest, maar gelukkig kreeg ik daarna bericht dat de zwarte in het fijne model er weer was.
Petra
&nbsp|&nbsp
2021-11-17 12:46:10
---
de
Traumhaft schön in jeder Farbe
Dieser Rock sitzt einfach toll. Und das Material ist auch großartig. In Kombination mit dem schönen Muster des Pullis einfach schön.
Andrrea
&nbsp|&nbsp
2021-11-16 18:29:51
---
nl
Sprookjes vestje, slanke mooie rok, leuk sjaaltje.
Vestje: Zó mooi van kleur super kwaliteit en in mijn normale maat perfect aansluitend in taille.
Lieflijke borduursels, is het geld dubbel waard.
Komen binnen en meteen weer verkocht...dus:.....snel zijn dames!
Afslankende zwarte rok die ik zelf korter maak, staat mij leuker bij zwart.
Sjaaltje: wel leuk en beschaafd, met onzichtbaar doorschuif gaatje 'n apart dingetje.
Rode band voor sjaal om hals of haar, maak m smal of breed, alleskunner, handig voor erbij felle frisse kleur en stevig stof.
Dank aan T.V.
J.S.
&nbsp|&nbsp
2020-11-05 17:25:19
---
fr
Le top de la féminité !
Un look qui ne laisse pas indifférent.e ! Très féminin, original et ... intemporel ! J'adore !
Camille
&nbsp|&nbsp
2020-10-20 06:17:43
---
Helemaal blij met deze items ,ga ze met een blij gezicht dragen ,iedere keer weer .
Patricia Mesch
&nbsp|&nbsp
2020-10-18 08:49:46
---
en
A fabulous & elegant skirt!
Ohh this skirt is so fabulous and perfect for twirling!! I truly hope there will be more colours, like autumn shades or a nice off-white one. xx
TJ Lubrano
&nbsp|&nbsp
2020-08-17 16:38:42
---
Hele mooie rok, iets zwaardere stof en valt heel soepel.
Helaas was maat M niet meer in voorraad, heb dus een maat L besteld en de taille ingenomen. Perfect!
Een minpuntje is dat de rok heel erg verkreukeld uit de verpakking kwam.
Wederom weer even staan strijken.
Maar ben erg blij met deze mooie aanwinst!

Marja
&nbsp|&nbsp
2022-12-09 16:47:51
---
Jupe très agréable à porter, beaucoup d'allure. Le tissu est souple et agréable au toucher. Les finitions sont soignées. Taille correspondant à celle indiquée sur le site.
Dora henin
&nbsp|&nbsp
2022-10-22 16:01:02
---