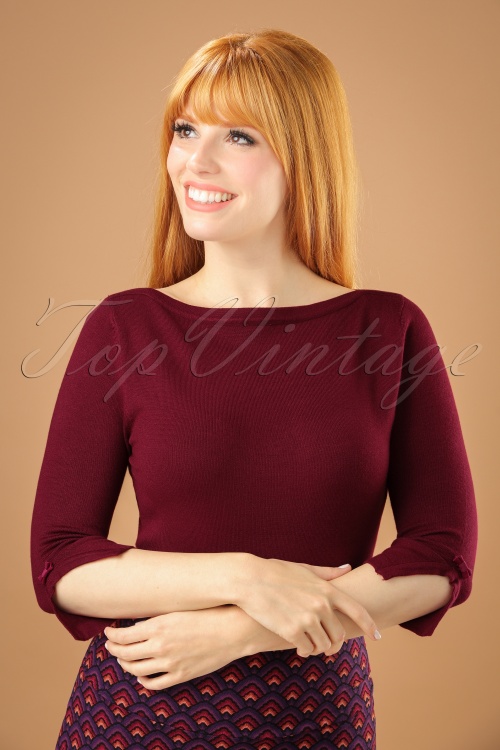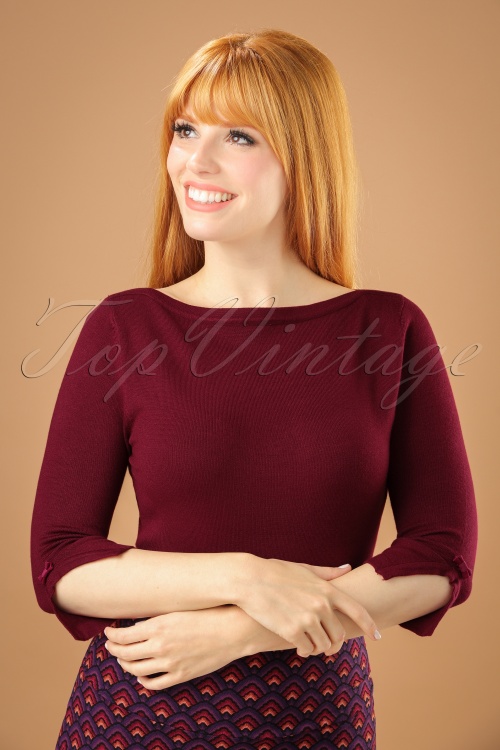 50s Addicted Sweater in Burgundy
Elegant and cute this 50s Addicted Sweater in Burgundy! Simple and yet so elegant due to the adorable detailing! The top features a beautiful slash neckline and flattering 3/4 sleeves finished off with slits and little fixed bows, só cute! Made from a lovely supple, stretchy burgundy red viscose blend that will keep its shape, even after a few washes. A versatile classy top which can't be missed in every vintage lady's wardrobe, the name says it all; we're addicted!
Slash neck
3/4 sleeves with bows
Long enough to pair with regular trousers
Article nr.
22285
Handwash inside out (don't leave it in the water)
Wash dark colors separately
Machine wash 30c delicates cycle
Do not dry clean
Do not tumble dry
Iron inside out on low temperature setting
nl
Prachtig setje voor de herfst!
Wat een mooie combi, alles zit perfect! Blij dat ik de schouderbandjes nog kon verlengen met de knopen, anders had de taille te hoog gezeten.
De schoenen zitten heerlijk en zijn echt prachtig. Het truitje is wat dikker, wat ik erg fijn vind.
De reactie van mijn man sprak boekdelen - dit is een geweldige look! Laat de herfst maar komen!
Christa Winkelhorst
&nbsp|&nbsp
2018-09-08 22:03:29
---
nl
Heerlijk truitje in de herfst
Heerlijk truitje, zeker niet dik, maar warmer dan een longsleeve, waardoor prima voor tussendoor!
Valt zelfs wat ruim, iik zit doorgaans tussen M en L in, hierbij was de M prima en de L echt te groot.
Dywen
&nbsp|&nbsp
2018-09-01 08:46:32
---
Einfach ein Traum! Die Hose ist sowas von bequem und angenehm zu tragen- unglaublich!Ich bin ganz hin und weg!
Die Farbe des Oberteils ist fantastisch, der Stoff weich und anschmiegsam!Der Herbst kann kommen!
Susanne Hofmann
&nbsp|&nbsp
2018-08-25 11:10:24
---
Wat heb ik weer prachtige kleding bij jullie gekocht. Heb haast geen andere kleding dan topvintage! Alles is prachtig en past perfect op maat.groetjes Roos
Roza
&nbsp|&nbsp
2018-01-06 18:02:02
---
Die Kleider passen wie angegossen und haben genau die richtige Länge bei einer Körpergröße von 1,71m.
Die Pullover sind herrlich anschmiegsam und passen perfekt.
Wie immer eine super schnelle Lieferung. Der mit Abstand beste Onlineshop, den ich kenne!
Ines Luckau
&nbsp|&nbsp
2017-12-28 13:37:15
---
This top is very soft and comfy to wear, and it is also very pretty.
Jennie Andersson
&nbsp|&nbsp
2017-12-19 20:59:16
---
de
Wunderschön - alles passt
Die Katzensachen sind alle total süß und toll verarbeitet. Die werden zu Weihnachten verschenkt.
Der Gürtel sieht toll zu einem schlichten schwarzen Kleid aus. Genau was ich gesucht habe.

Der Hosenanzug sitzt fantastisch und ist perfekt zum Tango tanzen.
Das kleine Schwarze ebenso. Es sitzt sehr eng, aber ich fühle mich trotzdem großartig darin. Sehr sexy, aber nicht aufdringlich oder billig.

Das Pfauenkleid erntet haufenweise Komplimente. ;)
Der rote und schwarze Pulli passen perfekt zum roten Rock, aber auch zu Jeans.
Ich bin mal wieder begeistert!!!
Vielen Dank :* auch für die süße Überraschung
Maren
&nbsp|&nbsp
2017-12-06 22:24:04
---
nl
Mooi maar andere kwaliteit/stof dikte dan de Black & white uit dezelfde serie......
Mooi truitje, staat fantastisch vrouwelijk. Ik kocht deze omdat ik al zo tevreden was over de Dancing Days by Banned 50s Izzy Top in Black and White maar ik vind het wel jammer dat deze veel dunner is. Dat had ik niet verwacht omdat ze worden verkocht als dezelfde truitjes enkel andere kleur.
Marloes Kort
&nbsp|&nbsp
2017-12-05 21:05:05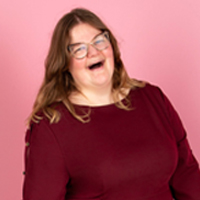 Response from Nicole

Beste Marloes, het spijt me dat er een verschil in stof zit tussen de twee tops. Ik kan me voorstellen dat dit niet prettig is. Ik stuur je een e-mailtje om er samen naar te kijken!
Groetjes,
Nicole
Klantenservice
---
Altijd goed zittende truien! Mooie rechte hals en kleur. Zelfs na vaker wassen! Spaar ze allemaal!
Natalie
&nbsp|&nbsp
2017-11-02 19:28:15
---
Prachtig truitje (warm bordeaux rood), kwam alleen erg gekreukt uit de verpakking en de afdrukken van het kaartje en beide strikjes op de mouwen stonden duidelijk in de stof.. Helaas dus teruggestuurd.






Mirjam
&nbsp|&nbsp
2017-09-22 09:45:33
Response from Mandy

Beste Mirjam, onze excuses dat je de top zo gekreukt hebt ontvangen! Dit is niet netjes en mag zeker niet gebeuren! We zullen je vandaag nog contacteren en natuurlijk ervoor zorgen dat we het probleem netjes voor je oplossen!
Groetjes,
Mandy
Klantenservice
---
Farbe wie abgebildet. Weicher warmer Stoff und eine tolle Passform, die sich sehr schön dem Körper anpasst. Ich habe es in vielen Farben. Dabei ist mir aufgefallen, dass die Shirts unterschiedlich ausfallen (habe alle in S). Manche sind länger und weiter als andere, aber das stört mich nicht weiter, insgesamt sitzt dennoch jedes gut.
Christina
&nbsp|&nbsp
2017-09-16 09:54:26
---
Ik heb inmiddels al meerdere leuke opmerkingen gekregen over deze broche. Het geeft een rustige outfit net even dat beetje extra. Wederom super blij mee
Tineke
&nbsp|&nbsp
2017-09-04 11:25:11
---
nl
Heerlijk zittend met goede pasvorm
Wat een heerlijke truitjes. Mooi diep van kleur, lekker warm en een prettig aanvoelende stof. De andere kleuren gaan ook nog wel in mijn winkelmandje belanden. En zoals altijd weer supersnel bezorgd.
Nikka
&nbsp|&nbsp
2017-08-08 15:42:49
---
Schattige truitjes! Zitten heerlijk en mooi model.
Ilse
&nbsp|&nbsp
2017-08-06 08:54:00
---
Der Collectif Mantel ist wunderschön anzusehen, aus schwerem, angenehmen Material und der Kunstpelz wirkt hochwertig, nicht so plüschtierhaft wie es einem manchmal begegnet. Dank des breiten Kragens (den man auch wunderbar hochschlagen kann, wenn der Wind pfeift) zaubert der Mantel eine Traumsilhouette mit schmaler Taille. Ich bin sehr zufrieden und freue mich schon auf den Winter.

Kleine Bemerkungen: der Ausschnitt ist sehr tief und der oberste Knopf des Mantels sitzt auf der Taille. Vielleicht ist der Sitz bei größeren Frauen ein bisschen anders (ich bin 1,58m), aber auf jeden Fall ist viel "Druck" auf diesem Knopf, den auch der Gürtel nicht nimmt.
Und natürlich liegt viel vom Oberkörper "frei", was ich jetzt nicht so schlimm finde, aber wenn man schnell friert ist der Mantel vielleicht nicht die beste Idee.

Auf dem Bild wirkt der Mantel eher mittellang, an mir ist er aber fast knöchellang und auch die Kunstpelzdetails an den Ärmeln sind sehr lang, gehen mir fast bis zum Ellenbogen. Also da wirklich die Maße beachten und wie man eben möchte, dass der Mantel sitzt.

Insgesamt bin ich aber sehr happy mit diesem kuscheligen Blickfang :)
Jasmin
&nbsp|&nbsp
2020-11-25 08:55:21
---
Altijd een feest als er een pakket van TopVintage binnen komt.
Het groene truitje, net als de zwarte vielen erg kort. Als je dan al een buikje hebt, wil je niet dat die eronder vandaan komt haha dus helaas retour.

De bordeaux trui met strikjes op de mouwen zit ontzettend heerlijk. Zeker een van mijn favorieten. De oorbelletjes staan erg classy, heel blij mee. De rode riem met strik is fantastisch! Fleurt heel je outfit op. De blauwe daarentegen viel erg tegen. Deze schuift makkelijk weer open.
Ik ga weer even verder online shoppen, want de keuze is reuze en zo mooi!
carla jasper
&nbsp|&nbsp
2020-10-31 13:56:10
---
Tartan-Rock: Tolles Muster, und passt super in Größe S (bei Konfektionsgröße 36).

Sweater: Wunderschöne Farbe, und die Schleifchen sind ein tolles Detail. Der Stoff ist nicht so dick, für den Herbst geht es. Angenehme Länge, so dass ich den Sweater auch zur Jeans tragen kann.

Habe für die Kombi schon viele Komplimente bekommen. Top.
Gaby
&nbsp|&nbsp
2020-09-09 14:38:22
---
de
Ich bin richtig begeistert
Eigentlich hatte ich den Pulli quasi nur gekauft, um ein Kleid zu ergänzen.
Ich hatte ihn also eher ein bisschen "stiefmütterlich" ausgesucht und ich war absolut begeistert von der Passform und dem weichen Material.
Das ist bestimmt nicht der letzte, den ich mir davon hole.
Achso und zur Größe, bei 40 passt mir L wie angegossen.
Kea-Christin Krüger
&nbsp|&nbsp
2019-10-15 19:41:34
---
Das Kleid hatte ich schon lange im Auge. Trage Größe 40 und habe es in L bestellt.
Ich bin super zufrieden. Zudem habe ich noch einige dunkelrote Accessoires und einen Pulli zum drunter ziehen dazu geholt und es sieht zusammen richtig klasse aus :)
Und natürlich sind die Pakete immer superschnell da, liebevoll gepackt - einfach toll :)
Kea-Christin Krüger
&nbsp|&nbsp
2019-10-15 19:34:26
---
en
I'm so happy #regretnothing
I ordered two sizes of the tartan dress to see which one would fit me better. To my surprise, the smaller size fit me much better than the larger one, even though I was certain that my waist measurements would fit the other size better. The dress has adjustable straps held by buttons and even pockets hidden in the skirt of the dress! The dress is so lovely with all of its details and looks so good with a top under!

The tops I ordered are a big yes! True to size! The material is so comfortable. You won't regret buying these clothes! Great customer service!
Olga
&nbsp|&nbsp
2018-10-24 08:31:31
---
Het rode truitje is geweldig. Ik heb al eerder een donkerblauwe, zwarte en witte besteld. Het viel mij op de rode langer is dan de anderen en ook iets langere mouwen heeft. De andere shirtjes heb ik ruim anderhalf jaar geleden gekocht. De witte heb ik nauwelijks gedragen, dus daar heb ik hem ook mee vergeleken. Ik vind de extra lengte van dit truitje wel heel fijn.

Het zwarte vestje is leuk om over een jurkje te doen wanneer het wat kouder is. De stof is fijn om te dragen.

De rok is helemaal geweldig en hij heeft behoorlijk diepe zakken. Mijn telefoon kan er helemaal in zonder dat ik bang hoef te zijn dat hij uitsteekt of eruit kan vallen. Fantastisch!

De panty's zitten heerlijk en staan mooi. Ik vermoed dat ze best wel een tijd mee zullen gaan.

Astrid Lippolt
&nbsp|&nbsp
2018-09-14 12:53:56
---
Heerlijke winkel, prachtige kleding en superleuk al die extra bijpassende accessoires!
Mijn kast hangt vol met mooie jurkjes broeken truitjes en meer. En met bijpassende schoenen tasjes en sieraden ben je helemaal klaar.
Zelfs de kerstboom hangt vol met topvintage
Joyce Laurens
&nbsp|&nbsp
2023-01-08 20:39:32
---
nl
Heerlijk draagcomfort.
De jurk zit super. Ben voor de taile maat gegaan. Daar door zou de bovenkant te groot moeten zijn maar het zit erg mooi. Er zit ook een kleine omslag in de halslijn. Stof voelt heerlijk. Armen sluiten aan maar zeker niet te strak.
Hele mooie rok. Rode kleur prachtig. Lengte ook heel fijn. Ben 1.62 en komt tot mooi over de knie maar niet tot aan de grond. Leuk met enkel laarsje. Hou centimeter taile aan. Ik heb normaal 44 en had daar ook voor gekozen maar taile maat valt in maat 42. Rok is dus in de taille wat los. Stof rekt niet.
Truitje heeft andere kleur maar past prima bij de rok. Al veel complimenten gekregen.
Weer heel erg bedankt topvintage. Jullie zorgen ervoor dat ik me als vrouw van bijna 50 nog prachtig kan voelen.
Florica
&nbsp|&nbsp
2022-12-10 08:18:45
---
Toen ik de foto zag, dacht ik YESSS die zoek ik al heel lang, maar toen kwam de broek binnen. Ik heb de maten aangehouden die bij de maattabel staan, maar hij was in de taille echt veel te groot. De broekspijpen waren in het echt ook veel wijder dan op de foto deed lijken. Echt heel erg jammer! Ik heb de broek teruggestuurd.
Libby
&nbsp|&nbsp
2020-12-02 17:35:27
---