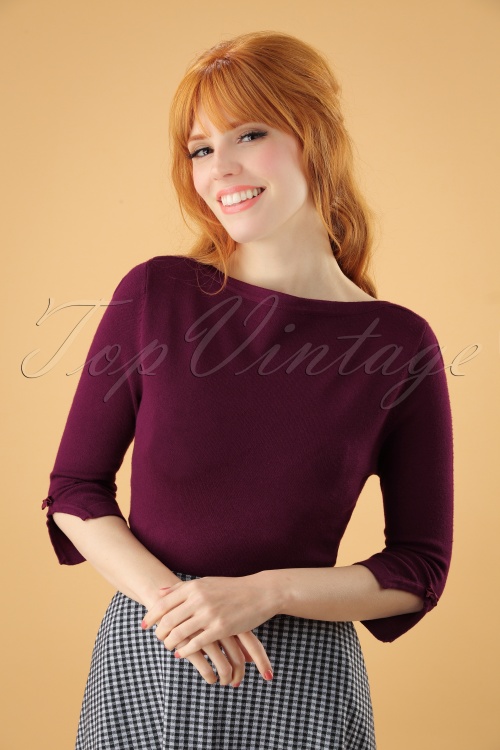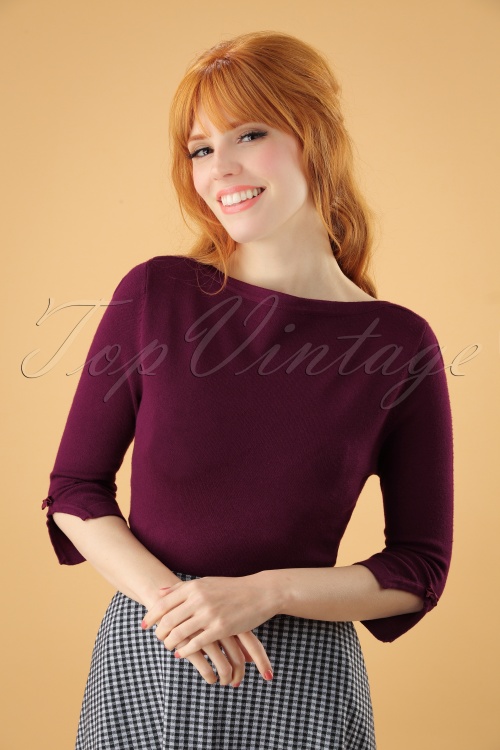 50s Addicted Sweater in Aubergine
Elegant and cute this 50s Addicted Sweater in Aubergine! Simple and yet so elegant due to the adorable detailing. The top features a beautiful slash neckline and flattering 3/4 sleeves finished off with slits and little fixed bows, só cute! Made from a lovely supple, stretchy aubergine purple viscose blend that will keep its shape, even after a few washes. A versatile classy top which can't be missed in every vintage lady's wardrobe, the name says it all; we're addicted!
Slash neck
3/4 sleeves with bows
Long enough to pair with regular trousers
Article nr.
26247
Handwash inside out (don't leave it in the water)
Wash inside out
Wash dark colors separately
Machine wash 30c delicates cycle
Do not dry clean
Do not tumble dry
Iron inside out on low temperature setting
De stofjes van beide shirtjes zijn heerlijk. Ze zijn iets dikker, dis ideaal als her wat frisée is. De paarse en blauwe kleur zijn super en de strikjes zijn 'te leuk'!
Anke van der Wielen
&nbsp|&nbsp
2019-07-16 16:38:50
---
de
nicht das was ich erwartet habe
Das Oberteil fällt mir leider deutlich zu kurz aus, dazu kommt das mir der SToff überhaupt nicht gefällt.
Florence Kreutz
&nbsp|&nbsp
2018-12-06 13:55:36
---
Unglaublich weich dank Viskose, schöne Farbe.
Adelheid Hann
&nbsp|&nbsp
2018-10-16 07:42:30
---
Onlangs heb ik deze prachtige top besteld, en ik ben er zo blij mee! De kleur is zelfs nog mooier dan op de foto en de pasvorm is perfect. Hij laat mijn rondingen optimaal uitkomen! Leuk detail is het kleine splitje en het strikje aan de mouw. Niet over twijfelen, maar gelijk doen!!
Kim Maas-Kurvers
&nbsp|&nbsp
2018-10-11 15:36:20
---
nl
Very addictive sweater!
Heel blij met deze aankoop!
Prachtige kleur (paars met een zachte rode "gloed") en de stof voelt heerlijk zacht. Pasvorm is simpel, maar de mouwtjes met de kleine strikjes geven het net dat beetje extra. Wel jammer dat vrijwel alle andere beschikbare kleurtjes gelijk 10 euro duurder zijn...
Amy
&nbsp|&nbsp
2018-09-07 19:30:57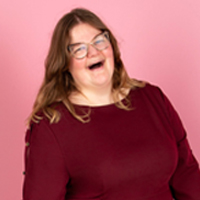 Response from Nicole

Beste Amy, wat super om te horen dat je zo blij bent met je aankoop, ik weet zeker dat deze top je prachtig staat ;-)
Het klopt inderdaad dat de andere kleuren iets duurder. Helaas heeft dit te maken met verschil in leveringen en zijn de prijzen vastgesteld door de leverancier. Hier hebben wij jammer genoeg geen invloed op. Onze excuses! Hopelijk kun je toch nog shinen in je prachtige top!
Groetjes,
Nicole
Klantenservice
---
Toller Schnitt und schöne Qualität. Werde mehr von diesem Exemplar besorgen.
Sarah Jenny
&nbsp|&nbsp
2018-08-24 06:41:46
---
Heerlijke winkel, prachtige kleding en superleuk al die extra bijpassende accessoires!
Mijn kast hangt vol met mooie jurkjes broeken truitjes en meer. En met bijpassende schoenen tasjes en sieraden ben je helemaal klaar.
Zelfs de kerstboom hangt vol met topvintage
Joyce Laurens
&nbsp|&nbsp
2023-01-08 20:39:32
---
nl
Top truitjes en comfy schoenen
Ik heb twee keer hetzelfde model besteld vanwege de positieve reacties en het basic model dat makkelijk te combineren is. De truitjes zitten top en de stof is lekker zacht.

De aubergine oorbellen passen perfect bij de aubergine trui.

De schoenen zitten ook heel comfortabel ondanks dat ik brede voeten met een hoge wreef heb. Toen ik ze de eerste keer aantrok leken ze heel krakerig, maar dat was de nieuwigheid.
Mer
&nbsp|&nbsp
2022-11-01 19:10:12
---
De addicted sweater heb ik nu in 3 kleurtjes. Lekker zacht en so cute! Aanrader.
De groene met lange mouwen is ook heerlijk zacht. Leuk met de knoopjes op de mouwen.
Weer blij!

Nancy
&nbsp|&nbsp
2022-10-30 12:57:25
---
Zeer fijne trui. Vrouwelijke vorm met lichtglanzende strikjes. De boothals zit nogal hoog, maar ik vindt het niet zo erg. Ik ben 160, 68 bij de taille, 74B bh-maat. Er was geen maat XS voor deze model, vindt ik jammer, want ik draag graag aansluitende kleren, deze zit iets losjes, maar het valt toch mee. De kleur is in het echt iets lichter, feller, wat ik juist mooier vindt.
Kortom, een leuke aankoop!
Jeanne
&nbsp|&nbsp
2021-12-01 10:49:18
---
Prachtige aanwinsten! De laarsjes zijn kwalitatief heel goed, zitten heerlijk en staan zo elegant, daar ga ik deze winter veel plezier aan hebben. Het groene truitje is heel schattig, mooi afgewerkt en stevige stof, past makkelijk in de (heup)broek. Het aubergine truitje en zwarte vestje had ik al in andere kleuren en zijn heel fijn om als basis te hebben, zitten goed en blijven lang mooi. Topvintage dankjewel weer!
Wineke
&nbsp|&nbsp
2021-10-01 16:31:00
---
Ik heb de blouse in maat XS genomen en deze zit bij mij precies goed. Ik vind de combinatie donkerblauw en rood prachtig! De kraag kun je, naar je smaak, strak of wat losser strikken. De stof is behoorlijk doorzichtig maar afhangend van de gelegenheid kun je er een body of mooie bh onder dragen. Rode laarsjes bij gezocht en heb 'm al vaak aangehad!
De broek zit ook mooi. Kleur is oudroze. Heb maat 36 gekocht en in het begin zat ie wat strak om mijn middel, maar corduroy gaat altijd wat 'lubberen' dus uiteindelijk zit ie behoorlijk goed. Ik ben 1.70 en bij mij komt ie precies tot de grond als je geen schoenen aan hebt.
Het truitje heb ik geretourneerd vanwege de kleur. Die heet aubergine maar ik vind het veel feller en lichter dan dat. Leuk model, allen maat S is de kleinste die je kunt bestellen en van mij had er best nog een XS mogen zijn.
Christèl Dingemanse
&nbsp|&nbsp
2019-12-12 00:26:44
---
Alle kledingstukken waren stuk voor stuk perfect. Dit was de eerste keer als ik iets bestel dat het allemaal direct goed zat en ik mezelf goed voelde in de kleren. Jullie hebben er nu een zeer tevreden klant bij! En ik ga zeker nog bestellen. Dank jullie wel allemaal.
Radharani Buggenhout
&nbsp|&nbsp
2019-12-02 19:49:59
---
Het zijn heerlijke truitjes met een super schattig strikje. De kleur van de groene is echt geweldig!
Anke van der Wielen
&nbsp|&nbsp
2019-09-21 18:34:12
---
passt, sieht gut aus, trägt sich angenehm :)
anonymous
&nbsp|&nbsp
2019-08-27 19:24:19
---
Ce pull est un classique qui se porte avec une jupe ou un pantalon, seul ou sous une veste, il est polyvalent. Je le rachèterai dans d'autres coloris.
Carole
&nbsp|&nbsp
2023-02-21 05:22:42
---