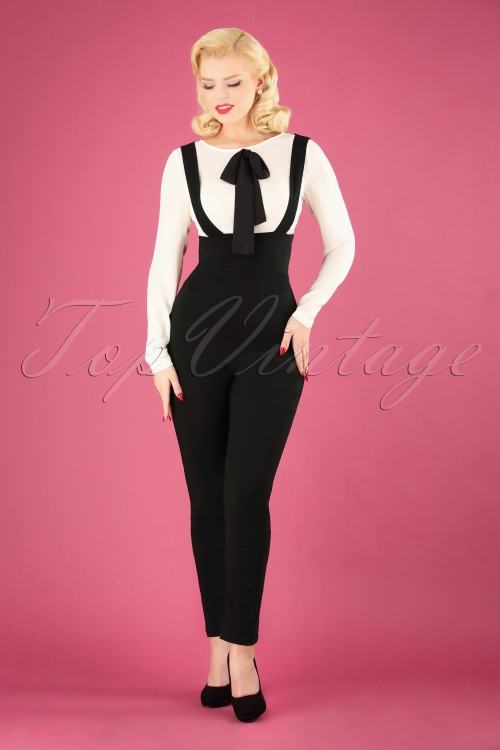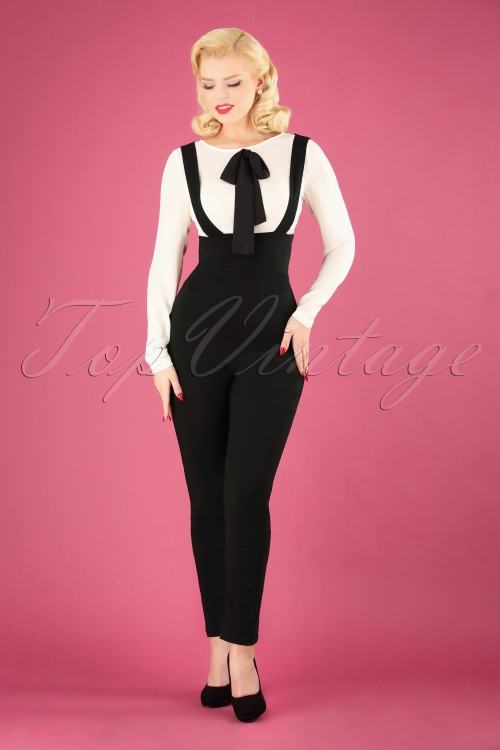 50s Karen Suspender Trousers in Black
Keep it classy with this 50s Karen Suspender Trousers in Black! She is worn high at the waist, creating a super feminine silhouette and made of a stretchy, black bengaline fabric for a lovely fit. The braces add the perfect finishing touch to your look ;-) Business or pleasure, these versatile trousers are always a great choice! 
High waist style
Slim fit
Fixed, adjustable braces
Hidden zipper and hook closure at the back
Our gorgeous blonde Rachel is 1.72m / 5'8''

Article nr.
24872
50% Polyester
30% Nylon
17% Cotton
3% Elastane
Handwash inside out (don't leave it in the water)
Wash inside out
Machine wash 30c delicates cycle
Do not dry clean
Do not tumble dry
Iron inside out on low temperature setting
Niet twijfelen, gewoon doen. Ik twijfelde vanwege de prijs maar deze jumpsuit is z'n geld méér dan waard. 1 dag aan en overstelpt met complimenten. Pasvorm klopt precies, maakt slankt, sexy silhouette. Mooie kwaliteit stof en hele mooie kleur. Niet te fel en toch indringend. Zit ook nog eens superlekker... ik kan wel door blijven ratelen zo enthousiast ben ik over deze jumpsuit... oftewel: gewoon doen!!
Nicole
&nbsp|&nbsp
2018-09-27 19:50:05
---
de
Wunderschöne Hose, aber leider...
Ich habe mir die Hose bestellt, weil ich schon lange nach so einer Hose gesucht habe. Und sie ist wirklich wunderschön. Leider ist beim ersten Tragen eine ganze Naht im Schritt aufgegangen. Leider sind die ganzen elastischen Fäden an den Beinen herausgekommen. Weiß und gut sichtbar. Das sieht leider unmöglich aus. Jetzt kann ich die schöne Hose nicht mehr tragen und bin ziemlich enttäuscht...





Janne Mischke-Heinrich
&nbsp|&nbsp
2020-11-16 17:21:00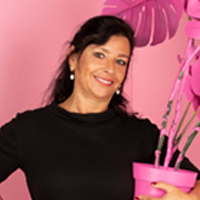 Response from Karin

Hallo Janne,
Es tut uns sehr leid zu lesen das die Hose schon Mägel aufweist. Selbstverständlich kümmern wir uns um eine passende Lösung!
Ich habe Ihnen gerade eine E-Mail geschickt ;-)

Liebe Grüße,
Karin
---
nl
Match made from heaven
De reacties van mijn 'dreamteam' waren lovend. Zelfs mijn ukkepuk paste de jurken.... na wat missers (te groot te klein of niet om aan te zien) zulke juweeltjes gevonden. Word na zoveel mooie dingen wel hebberig. 1 nadeel van de ceinturen die bij de jurken zaten (of veel te kort of een bungeejump formaat) Voor die prijs verwacht je wel wat beters. De polka dot en de rood geruite swingdress zijn favoriet. Ook heerlijk om aan te hebben. De zakken in de jurk zijn ook ideaal
Aux
&nbsp|&nbsp
2020-10-29 20:29:01
---
I love these pants! They fit really nice and does wonders for the female curves. But I'm a little annoyed that the zipper is already working poorly. I haven't worn them out yet, only tried them on a couple of times, and just below the waist the zipper is sewn too close to the fabric, so it gets stuck and pulls on the fabric. I don't want to send them back, but might need to get the zipper changed at a tailor pretty soon, which I don't think is a good sign of quality.
Lærke
&nbsp|&nbsp
2020-10-09 15:44:15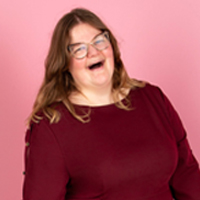 Response from Nicole

Dear Laerke, I'm sorry the zipper doesn't work properly. I see you've already e-mailed us so I will reply to this. I'm sure we can find a solution together ;-)
Kind regards,
Nicole
Customer Support
---
De zwarte jumpsuit is echt wauw. De maat is perfect. Alleen de rits... Ben bang dat die niet lang mee gaat gaan. Ook snap ik niet waarom die vanachter zit en niet opzij. Zou veel gemakkelijker zijn om aan te doen. Voor de rest heel tevreden. Zeker in combinatie met het witte truitje.
Ellen
&nbsp|&nbsp
2020-09-08 18:09:47
---
De gele broek zat niet zo mooi. Zat bij de bovenbenen te strak en had verwacht dat hij aan de onderkant smaller was.

De zwarte broek is fantastisch. Even wennen omdat het geen standaard broek is maar hij slankt heel mooi af. Accentueert je taille. Ben er echt heel blij mee!
Joanne Welleweerd
&nbsp|&nbsp
2020-02-25 10:01:48
---
Staat heel mooi strak aan je lichaam!
Leuk met een strak truitje of bloesje er onder!
Ik heb mt s laten komen zot precies goed
T is inderdaad een stretchy stofje
Ik moet er wel een andere rits in laten zetten helaas, want de orginele rits is heel zwak
Claudia Legierse
&nbsp|&nbsp
2019-12-12 16:42:35
---
Het stofje is super mooi! Lekker stretchy en zit heerlijk! Niet echt een stevige stof dus rondom de buik tekent het wel wat.

Pascalle Heine
&nbsp|&nbsp
2019-10-30 06:19:16
---
fr
Reçu tout mes articles
Les articles sont très bien la matière parfaite. Juste quelque petit détail à règle les ceinture ne tienne pas tjr sa se dessere, pour la combinaison rouge et noir prévoir à retoucher l'ourlet si vous faite moin de 1m80 lol. La salopette noir les bretelles descende sans arrêt. Dommage vraiment. Car pour le prix des articles faite un pti effort pour tout se qui est bretelle et ceinture. Mais sa me pêcher à pas de continuer à acheter quand même car la livraison mais moin de 10 jours.
Abakzer Virginie
&nbsp|&nbsp
2019-10-10 05:13:19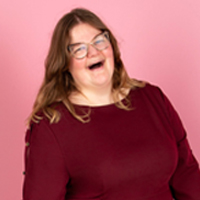 Response from Nicole

Bonjour Virginie, je suis heureuse que vous adorez vos achats, mais je regrette d'entendre que la ceinture et les bretelles ne fonctionnent pas comme il faut. Je vous contacterai aujourd'hui encore !
Cordialement,
Nicole
Service Clientèle
---
de
Leider am Oberkörper zu lang
Diese Hose finde ich vom Schnitt her sehr schön, aber leider ist sie für mich am Oberkörper zu lang, so dass der Schritt zu weit unten ist. Sehr schade!
Carola Martin
&nbsp|&nbsp
2019-09-25 07:46:40
---
passt, sieht gut aus, trägt sich angenehm :)
anonymous
&nbsp|&nbsp
2019-08-27 19:24:19
---
de
Ich werde sie behalten,...
Wenn ich ehrlich bin, zeichnet sich bei der Hose alles ab. Das Shirt/ die Bluse darunter muss kurz sein, auch deren Saum zeichnet sich bei dem Stoff ab. Am Bein entstehen gern "Röllchen" und der hohe Bund könnte 1cm kürzer sein. Schade, dass der Reißverschluss wieder alles andere als robust ist- ich werde immer etwas langes darüber tragen oder mitnehmen, aus Angst er geht wie bei meiner letzten Hose schnell kaputt . So ein schöner Schnitt...


Inke Hoffmann
&nbsp|&nbsp
2019-08-18 15:39:30
Response from Customer service

Hallo Inke, es tut uns sehr Leid dass Sie so enttäuscht sind. Wir nehmen die Hose selbstverständlich zurück und sorgen dafür dass der Kaufbetrag schnellstens wieder auf Ihr Konto überwiesen wird.

Liebe Grüße,
Alexandra
Kundenservice
---
en
Beautiful but not for everyday
4.5
Alena Hampel
&nbsp|&nbsp
2019-08-07 13:59:51
---
de
Spezieller Schuh/Stiefel
Banned Schnür-Schuh/Stiefel: Vom Model her ist dies ein sehr schöner Schuh/Stiefel und speziell. Leider habe ich zu "schmale" Waden.... die Laschen überlappen und dies sieht nicht schön aus. Ich finde, es ist eher was für Frauen mit etwas mehr Waden... das kommt das mit den schönen Laschen viel besser zur Geltung. Geht deshalb retour. Vom Material her habe ich es anders erwartet, aber für den Preis finde ich es ok.

Collectif Trägerhose: ein WAHNSINNSMODEL!! Bin den Angaben der Grössentabelle gefolgt und habe die Grösse XS bestellt (Taille: 68cm, Hüfte 96cm) und dort passt die Hose PERFEKT! Was jedoch ein wichtiges Mass wäre ist, dort wo die Hose "oben endet".. ist ja eigentlich unter der Brust.... und da.. da ist die XS seeehr eng (habe BH Grösse 80C/80D). Behalte sie aber trotzdem da es einfach ein suuuuper-tolles Model ist... und ich werde den Reissverschluss etwas versetzen.

Vixen Pencil Skirt: Auch hier kann ich nur loben! Ein wunderschönes Model! Passt perfekt (Grössentabelle ist top!) und der Rock ist sehr angenehm zu tragen.

Danke an das ganze TopVintage-Team für die stets liebevolle Verpackung und das rasche Handling.


Alexandra
&nbsp|&nbsp
2018-11-13 16:41:52
---
Ce pantalon me fait une taille de guêpe! Il s'accorde avec tout et vous permet de resté classe au quotidien. Très simple et confortable. Autrement dit Parfait!
clara slattery
&nbsp|&nbsp
2018-11-12 12:26:14
---
Ik had een cadeaubon gekregen, dus ik naar de site opzoek naar een vintage item ( volgens mij is dit allemaal nieuw gemaakt dus niet echt vintage) uiteindelijk zag ik deze jumpsuit en bestelde ik hem (maat 36) de stof oogt wel een beetje goedkoop en de stof sluit niet mooi aan je lichaam, terwijl de rist best moeilijk dicht gaat. Best wel jammer, omdat het niet super goedkoop is.
Larissa
&nbsp|&nbsp
2018-10-31 11:06:53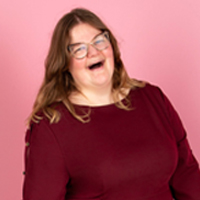 Response from Nicole

Beste Larissa, bedankt voor je review. We verkopen inderdaad nieuw geproduceerde items in vintage stijlen. Wat jammer dat je aankoop zo tegenviel! Ik heb je zojuist een e-mail gestuurd, dan kijk ik graag even mee!
Groetjes,
Nicole
Klantenservice
---
nl
Echt tolle Kleidung bei Euch!
Ich bin super zufrieden mit Eurer Kleidung und LIEBE sie!!!! Jeden tag ein Genuss und Hingucker!!! Danke
Aurelia Geppert
&nbsp|&nbsp
2018-10-29 12:24:08
---
Ik kreeg een beetje een 'Adriaan gevoel' toen ik deze broek uit de doos haalde, maar eenmaal aan moest ik daar op terug komen. Hij zit perfect en heel comfortabel door het stretch stofje en damn wat zie ik er goed in uit! Zeker voor dames die een goede taille hebben maar wellicht een beetje teveel spek op de buik is deze broek een aanrader- super flatterend en dat buikje is amper nog zichtbaar. En zolang je er geen blauwe blouse met ruches aan doet eronder zal niemand je Adriaantje noemen!
Inge Oomen
&nbsp|&nbsp
2018-10-17 18:54:49
---
This is one I HAD to have, and the price is 100% reasonable for what you get. I adore suspender ANYTHING, and I've never seen a playsuit like this.
There are no pockets - - good call--this keeps the silhouette smooth beside the hips (we don't need any extra there, do we Sisters?). The material has definite Stretch, so keep that in mind when sizing (I bought Medium and my measurements are: 37-28-39). The waist fits well, but the thighs are a bit bigger than I expected. You need the added room to sit down!!
There is ZERO Room to hide in this Playsuit, so if you're Shy, Squeamish, or Saddle-Baggy, you might want to re-think it.
I thought that the material would work kinda like a girdle/Spanx, pulling me in and keeping all my bits from heading south---and for the most part, it does.
Definitely for warmer weather---it can be a bit warm to wear.
If you're looking for the WOW Factor and want to show those curves with Style, THIS IS IT!
Monique Crother
&nbsp|&nbsp
2018-10-05 15:13:02
---
Carmen Bluse: leider zu groß, geht zurück
Rotes Shirt : leider auch viel zu groß, geht zurück
Jeanshose: super , ich mag die hohe Taille
Jeansrock: Sehr schön und bequem
Schwarze Hose mit Trägern: Hatte mich sehr gefreut, dass es sie in kurzer Größe gibt , allerdings ist sie für ne 30er Länge immer noch ziemlich lang ...Sie gefällt mir aber so gut , dass ich sie mir wohl kürzen werde

Nini
&nbsp|&nbsp
2022-07-26 21:42:33
---
Fantastische broek, dun soepel vormt zo naar je lichaam.
Enige minpuntje is dat met wat vollere borsten de bandjes niet op je schouders blijven. Maar verder is dit echt een topper
Roanda
&nbsp|&nbsp
2022-05-21 07:29:30
---
Gewoon té leuk!
Zag de korte playsuit en vond t direct wat voor mij! Past perfect, heerlijk stretch stofje. Weer eens wat anders dan gewone korte broek met shirtje. ?
De zwarte playsuit stond al even op het verlanglijstje, en nu eindelijk besteld. Getwijfeld wat voor shirt eronder past maar de gestreepte is erg leuk erbij. Playsuit is mooi strak maar genoeg stretch zodat hij comfortabel zit. Mijn bescheiden decolleté komt ineens erg uit de verf door het model? erg blij weer met mijn aankopen!
Erna
&nbsp|&nbsp
2022-05-12 10:06:39
---
Ik merkte al dat de rits stug ging, maar ik kreeg hem bij het passen maar tot halverwege. De maattabel klopt precies, er is ruimte voor stretch en de broek is qua lengte goed (1.70, s).
Fay
&nbsp|&nbsp
2022-05-03 20:37:22
---
Wat een mooie mooie broek / playsuit!!! 1x aangehad en overladen met complimenten!! Vind de rits alleen heel lastig, is nlk erg dicht op de stof genaaid, waardoor ff snel open/dicht doen voor toiletbezoek wel een dingetje wordt. Ook zakken de banden snel af, wat best irritant is. Maar het silhouet wat wordt gecreerd is absoluut Fab, aanrader!
Natasja
&nbsp|&nbsp
2022-02-28 15:33:10
---
Pantalon assez flatteur si tant est qu'on n'ait pas trop de poignées d'amour :)
Emilie
&nbsp|&nbsp
2020-12-27 11:58:55
---
die Hose ist echt toll. Das erste mal bestellt. Man muss schon sagen, das sich jedes Teil darunter abzeichnet, am besten sollte man keinen bauch haben, aber da trickse ich etwas. Das Material ist gewöhnungsbedürftig, dafür auch ein Herz Abzug, aber ansich echt schön und ich werde es behalten!
Jen-o-mite
&nbsp|&nbsp
2020-12-23 08:48:55
---
Ich habe mir zum ersten mal so eine Hose bestellt und ich muss sagen, mir gefällt es sehr! Der Stoff ist gewöhnungsbedürftig, macht aber eine schöne Figur. meine schicken Oberteile passen bestens dazu. bin zufrieden :)
Jen-o-mite
&nbsp|&nbsp
2020-12-23 08:24:30
---
Zo mooi en iedereen spreekt me erover aan als ik ze draag
Christel
&nbsp|&nbsp
2022-11-12 20:16:16
---
Hele mooie broek. Was er heel blij mee tot dat hij ook bij mij de rits kapot ging, dat ik hem wilde dragen. Jammer.. Wil ook graag vertrouwen hebben op een feestje, bijvoorbeeld. Niet dat je voor schut loopt.
Groetjes Soenita
Hallo Soenita,
Wat ontzettend vervelend dat dit gebeurd is! Ik heb je zojuist een mail gestuurd, wij zullen zeker tot een passende oplossing komen ;-)

Groetjes,
Karin
Klantenservice
Soenita
&nbsp|&nbsp
2022-10-30 10:52:34
---