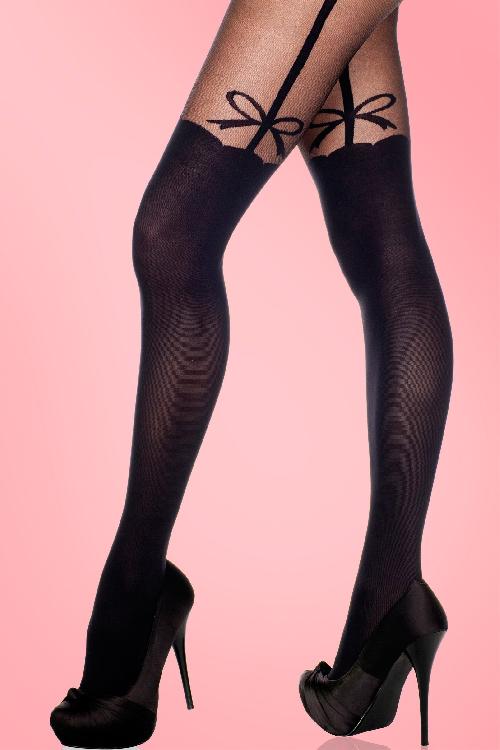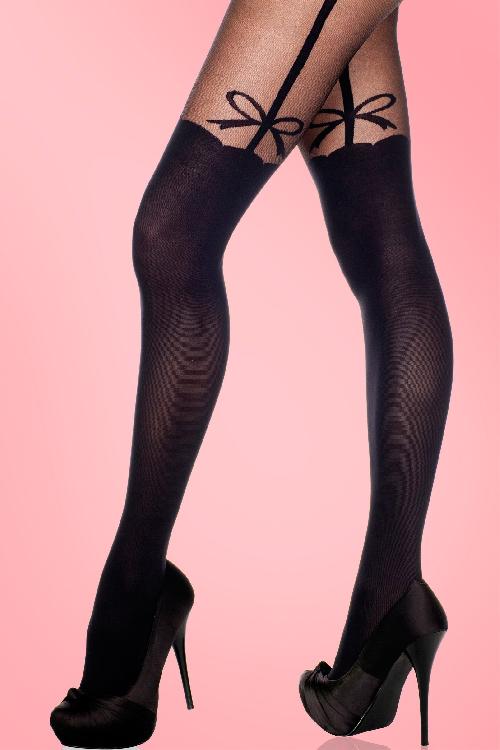 Sexy Faux Ribbon Suspender Tights
So, what are these? Stockings? Hold-ups? No, they are the Sexy Faux Ribbon Suspender Tights, ooh la la! Sagging stocking and cold thighs are a thing of the past thanks to these gorgeous tights that combine the sexy look of hold-ups with the comfort of tights. The print will have everybody thinking that you're wearing hold-ups with a ribboned suspender ;-) The tights are finished with a reinforced gusset and toe. Pair with our retro dresses for a fabulous pin-up look!
Tights
Soft and elastic 
Reinforced gusset
Reinforced toes
The featured pumps are not available in our shop
Article nr.
11583
Heigth (cm): 152 - 177 cm/5' - 5'10 cm
Weight (kg): 45 - 80 cm
Handwash cold (don't leave it in the water)
Do not tumble dry
No ironing
nl
Super blij met alles !!!
Super blij met al mijn bestellingen , nog niks retour moeten doen want de maten staan er altijd mooi bij , je moet alleen juist meten ;) , dit zijn zeker niet mijn laatste bestellingen !!! Mijn verlanglijstje begint een beetj vol ge komen haha , hoe kan dat ook anders :) ik draag deze kledij dagelijks en ik trek het mij niet aan als de mensen raar kijken , in deze kledij voel ik mij goed , speciaal!!!!
Sarah
&nbsp|&nbsp
2016-11-23 16:05:22
---
Helaas ging de panty al kapot door er alleen naar te wijzen, jammer, want hij zat perfect en ook erg mooi. Het bleef niet alleen bij ladders of kleine scheurtjes, zoals soms dan nog wel gebeurt, maar echt flinke gaten, al aan het begin van een lange, actieve dag, waardoor ik helaas mijn bovenbenen kapot schuurde. Ik draag vaak panties, maar zo fragiel heb ik ze nog niet eerder gezien

Beste Boukje, wat vervelend dat je panty al kapot is gegaan. Onze excuses voor het ongemak! Dit mag niet gebeuren. Ik zal nog contact met je opnemen om het probleem op te lossen. Nogmaals excuses.

Groetjes,
Alexandra
Klantenservice
Boukje
&nbsp|&nbsp
2016-07-12 18:03:56
---
Ik ben 1.70 en heb gemiddelde lengte slanke benen.
Toch zakt hij helaas uit lijkt het, de stof verzameld zich bij mijn enkels en de zwarte rand zit na een half uurtje lopen bijna op mijn knie wat niet heel flatteus staat.
Heel jammer want het is een super leuke print!

Beste Yaela, wat jammer dat je niet helemaal tevreden bent met de pasvorm! Onze excuses hiervoor! We krijgen dagelijks nieuwe artikelen binnen, ik weet zeker dat er in de toekomst iets passends voor je bij zal zijn!

Groetjes,
Mandy
Klantenservice
Yaela
&nbsp|&nbsp
2015-10-30 09:41:44
---
de
Schöne Strumpfhose, aber ein großes ABER...
Der Artikel kam wie immer blitzschnell geliefert und sehr liebevoll verpackt, er gefällt mir auch wirklich gut und ich hatte mich sehr auf die tollen Hingucker Strümpfe gefreut, das große aber kam aber leider beim auspacken, denn in der Strumpfhose haben sich bereits vorm anziehen zwei Fäden gezogen, sodass ich befürchte, dass sie nur einmal halten wird, bevor eine Laufmasche entsteht, das ist bei dem Preis wirklich schade :(

Hallo Barbara, es tut uns wirklich sehr Leid dass sich jetzt schon zwei Fäden gezogen haben. Entschuldigen Sie uns bitte! Wir werden Sie heute noch kontaktieren und eine Lösung finden!

Mit freundlichen Grüßen,
Mandy
Kundenservice
Barbara
&nbsp|&nbsp
2015-08-14 19:50:07
---
Suppppper blij met men eerste bestelling. En zo snel. Alles past perfect. Me happy :-)
romina
&nbsp|&nbsp
2014-02-11 09:55:00
---
Vandaag heb ik mijn 6de bestelling ontvangen van Top Vintage en het is wederom weer een fantastisch gevoel als je dan, je kleding die je besteld hebt, aan doet. I feel like a Vintage Woman ;-)
Susan Leenders
&nbsp|&nbsp
2014-02-05 15:02:08
---
Deze jas is echt prachtig! De hoody is lekker ruim waardoor hij helemaal over je hoofd valt en niet naar achter trekt. De stof is mooi afgewerkt, de maten zijn perfect! Alleen inderdaad lastige knoopjes waardoor je hem niet snel aan/uit kan doen. Maar dat maakt niet uit omdat de jas verder helemaal geweldig is.
Tine Peeters
&nbsp|&nbsp
2013-12-14 14:08:57
---
Die Strümpfe haben keine schöne Passform und sind beim anziehen direkt kaputt gegangen. Ich trage ausnahmslos Strumpfhosen und habe soetwas noch nicht erlebt. Schade für das Geld!
Hallo Ella, es tut mir leid, dass die Strümpfe direkt beim ersten Tragen kaputt gegangen sind. Ich werde Sie sofort kontaktieren, damit dies für Sie lösen können.
Liebe Grüße,
Bernice
Kundenservice
Ella
&nbsp|&nbsp
2021-03-20 07:43:59
---
Déçue car pas très solide, porté deux fois et puis poubelle :(
Bonjour Sabine, je suis désolée que vous êtes déçu ! Je vou contacterai aujourd'hui encore pour le résoudre !
Cordialement,
Nicole
Service Clientèle
Sabine Quinet
&nbsp|&nbsp
2017-11-10 08:30:44
---