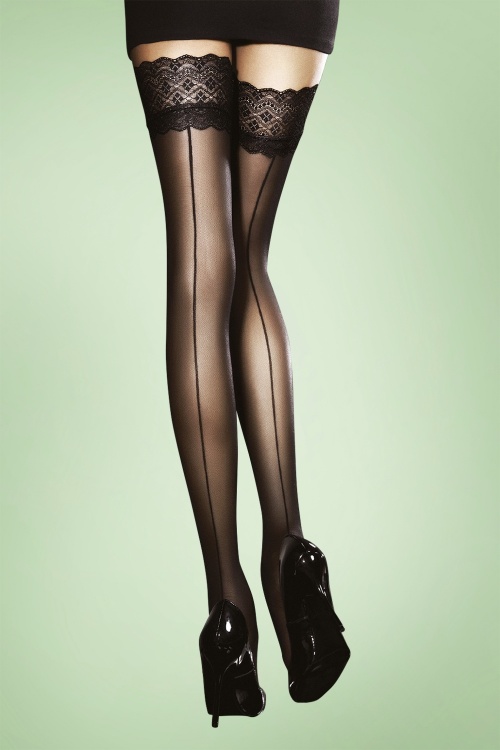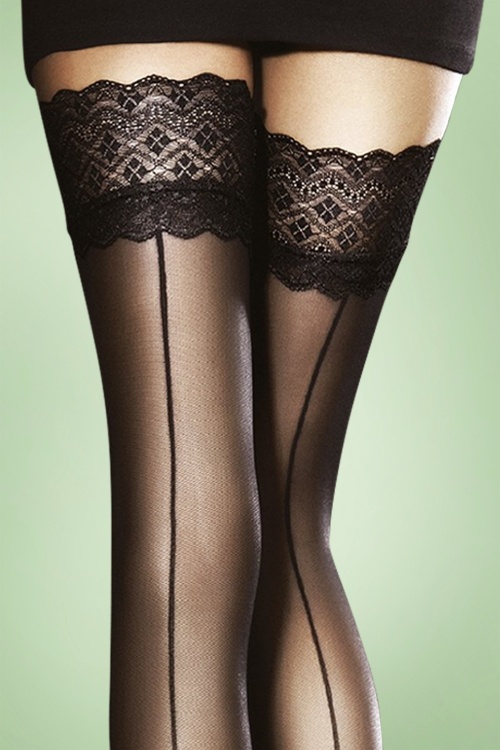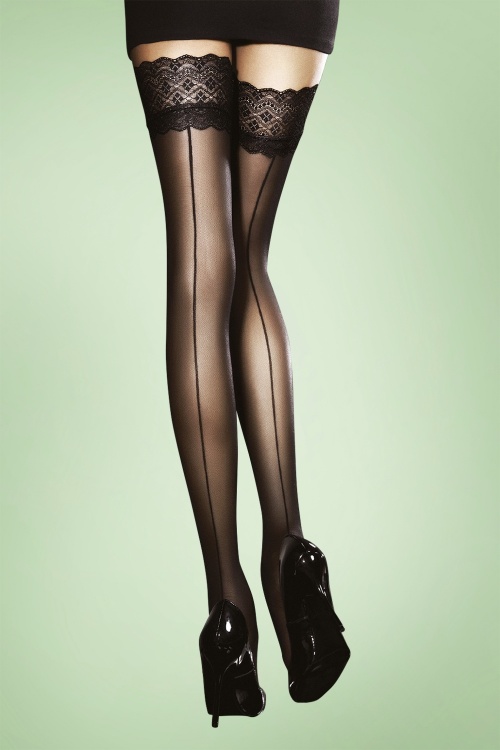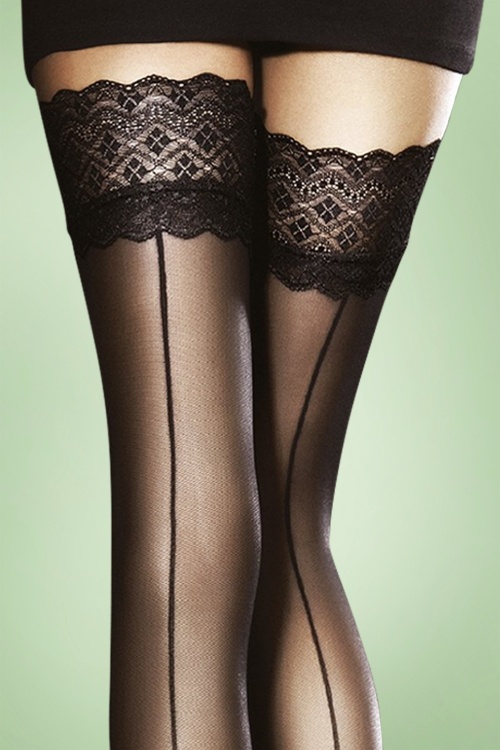 Celia Seamed Hold Ups in Black
These Celia Seamed Hold Ups are irresistible! These stunning black 30 denier stockings are made of a soft fabric and have wide lace boards and a black back seam, we love it! The only thing we can say about it is... oh la la! 
Sheer reinforced toes
Silicon bands for a perfect fit

The featured dress is not available in our shop
Article nr.
19029
87% Polyamid
13% Elastane
Handwash in lukewarm water (don't leave it in the water)
Do not dry clean
Do not tumble dry
Air-dry flat
Do not iron
Ein herrlicher Stoff. Das Kleid ist ein Traum. Auch an kühleren Tagen.
Ich fühlte mich himmlisch weiblich und bekam viele Komplimente beim ersten Tragen.
Danke Topvintage für: ❤perfekte Passformangaben, ❤super schnelle Lieferung und ❤ eine liebevolle Verpackung!
Katja
&nbsp|&nbsp
2016-12-11 12:27:20
---
Deze kousen en sokjes zijn heel mooi, maar na één keer passen zitten er hier en daar al haaltjes in, ook al ben ik erg voorzichtig geweest bij het aantrekken. Ik ga er dus van genieten zolang ik ze nog kan dragen (wat naar mijn gevoel niet heel lang zal zijn), maar ik denk niet dat ik ze opnieuw zal bestellen.
Silke
&nbsp|&nbsp
2016-12-06 14:24:11
---
An diesem Pulli konnte ich nicht vorbei! Auch wenn der Bauch schon nicht mehr wirklich reinpasst - die Schleifchen haben es mir angetan. Dieses Mal habe ich eine Nummer größer bestellt, damit es auch nach der Schwangerschaft auf jeden Fall passt!
Stümpfe und Strumpfhose braucht man immer, und das süße Portemonnaie und der Schal waren ein Geschenk für eine liebe Freund, die sich sehr darüber gefreut hat. Auch wenn mir das Verschenken schwer fiel :))
Top!Vintage!
Caroline
&nbsp|&nbsp
2016-11-21 09:44:27
---
nl
Ik word zo blij van jullie <3
Superleuk telefoonvestje, de kleur is heel mooi en het model staat prachtig. De knoopjes hadden wat mij betreft iets dichter op elkaar gekund maar het wijkt gelukkig niet zoveel dat het een probleem is. De kousen zijn prachtig voor een hele goede prijs. Heb ze nog niet gedragen maar kijk ernaar uit ;)

Helaas is de Ella jurk niet helemaal mijn model; te strak bij de buste en een grotere maat te wijd bij de taille. Erg jammer, want de stof is heel prettig en de kleuren fantastisch. Met pijn in mijn hart teruggestuurd... Volgende keer beter.
Erika
&nbsp|&nbsp
2016-10-11 12:41:29
---
Het was weer een feestje om de met liefde ingepakte artikelen uit te pakken.
Het jasje is helaas niet voor mij. Bij de borsten te krap en verder veel te wijd.
De bijpassende rok hou ik want die stast wel mooi. De stof is exhter wel veel dunner dan ik had verwacht. Het poezenblousje is zoooo leuk! De rode jurk is een hit! Die maakt zelfs jinge meiden jaloers op je rondingen! Ik ben 53 jaar en kreeg namelijk in de bios een lelijk woord toegebeten. Ik moest daar zo om lachen. Verder alleen maar hele leuke reacties. Ik heb maat 34/ xs zat perfect. Het sjaaltje maakt het helemaal af.
Het zomer jurkje is perfect voor mijn werk.
Dank ook weer voor het lieve cadeautje
Willeke Severijns
&nbsp|&nbsp
2019-01-23 07:02:59
---
Das war es dann leider auch schon! Diese Strümpfe bleiben leider nicht da wo sie sein sollen, sondern rollen sich das Bein entlang ab.
Wirklich sehr schade, da die Strümpfe optisch nicht nur schön sind, sondern sich auch toll anfühlen. Naja, bis sie anfangen sich zu verselbstständigen :-) Beim versuch sie aufzuhalten und wieder an Ihren Platz zu befördern ist der Bund auch noch direkt gerissen.
Meine persönliche Empfehlung hier: Lieber ein paar Euro mehr in die Hand nehmen und zu den Strümpfen 40s Salzburg von Cette greifen!


Julia Kramer
&nbsp|&nbsp
2018-11-14 11:28:09
Response from Bernice

Hallo Julia, es tut mir sehr Leid, dass diese Strümpe Ihr Versprechen gar nicht hielten. Ich werde Sie sofort eine E-Mail schreiben um es für Sie zu lösen. 


Liebe Grüße,
Bernice
Kundenservice
---
Die Strümpfe haben eine schlechte Qualität. Sie haben schon vom Anprobieren mit Handschuhen (!) gezogene Querfäden und kleine Löcher bekommen. Sie sind frisch gekauft schon unbrauchbar.





Katrin
&nbsp|&nbsp
2018-11-08 19:05:07
Response from Bernice

Hallo Katrin, es tut mir Leid zu hören, dass die Strümpfe schon vom Anprobieren Querfäden und Löcher bekommen haben. Ich habe Sie schon eine E-mail geschrieben damit wir das Problem für Sie lösen können.

Liebe Grüße,
Bernice
Kundenservice
---
Neben der schönen Optik glänzen diese halterlosen Strümpfe mit angenehmen Tragekomfort.
Vanessa Förschler
&nbsp|&nbsp
2018-07-12 18:42:04
---
de
Das war ein absoluter Glückskauf! <3
Meine Tochter war verzweifelt, denn es fand sich kein Abiballkleid, das ihr wirklich gefiel und passte. Durch Zufall fanden wir diesen Versand, der so viele schöne freche und besondere Kleider verlockend präsentierte. Und erst die Accessoires! Die Schuhe! Unterwäsche! Dieses Team hat wirklich an alles gedacht, um ein Outfit komplett und perfekt zu machen. Die Sendung war wie versprochen zwei Tage später bei uns. Alles war liebevoll in lila Seidenpapier verpackt und dem kleinen Brief war Süßkram beigelegt, ein Gefühl wie Weihnachten! Die Verarbeitung, die Farbe und Stoffqualität hat uns überzeugt. Unsere Tochter sah einfach umwerfend aus und sie fühlte sich auch so. Wir sind restlos begeistert und können TopVintage uneingeschränkt empfehlen. Tausend Dank an das gesamte Team!
Hildegard Beyer
&nbsp|&nbsp
2017-08-08 19:53:57
---
de
Traumkleider!!!!!Auch in kleinen Größen!
Ich bin so begeistert von Euch!!!Endlich Maßangaben, die stimmen!Da ich eine sehr schmale Taille habe und insgesamt eher zierlich bin, kommt es bei anderen Versandhäusern oft vor, dass ich Kleidungsstücke zurückschicken muss, weil sie mir zu groß sind!
Bitte, bitte weiter so! Besonders toll finde ich, dass ihr auch Kleider mit Taillenmaßen von 60- 62 cm habt!Die meisten fangen erst bei 66cm an und das ist mir zu weit!Bitte nehmt weiter so schöne Kleider auch in kleinen Größen in Euer Angebot auf- da seid ihr wirklich eine lohnenswerte Ausnahme!!!Ich habe jetzt fast alle Kleider, die ihr in meiner Größe angeboten habt und bin super zufrieden!Und dann immer die schöne Verpackung und die netten Geschenke!Der Kühlschrankmagnet mit Retro-Spruch hat mich besonders gefreut!Bis demnächst!Eure Isabel
Isabel
&nbsp|&nbsp
2017-03-14 15:19:55
---
Voor de eerste keer besteld, was een beetje angstig dat mijn maat niet zou kloppen. Had een mailtje gestuurd en al snel een antwoord met advies gekregen. Het kleedje paste daarom perfect! De kleur is ook heel mooi. Meteen veel complimentjes gekregen.
De hoed is van hoge kwaliteit en ziet er royaal uit. De hold-ups zijn ook prima.
Alles werd razendsnel geleverd.
Lindsay
&nbsp|&nbsp
2017-03-02 08:04:47
---
Wauw!!! Wat een waanzinnige producten! Ik had de maattabellen aangehouden, van schoenen heb ik vaak maat 38, maar ik weet dat ik bij pumps een maatje groter moet nemen, de pumps in maat 39 besteld, en zitten als gegoten! Erg aangename pasvorm! De jurk lijkt wel op maat gemaakt, zo precies zit het om m'n lichaam! Het riempje, tas en kousen zijn ontzettend mooi!!! Ook een erg snelle levering, heel mooi verpakt allemaal, jullie zijn top en ik ga zeker vaker iets bestellen!
Adriana
&nbsp|&nbsp
2017-02-28 12:24:49
---
Heerlijke kousen, erg mooi en zitten zalig, superzacht, ik wil niet anders meer?
Angelique
&nbsp|&nbsp
2022-02-07 05:49:31
---
Tiennent bien en place même après une journée...si ils ne sont pas déchirés avant... Alors que je n'avais jamais eu ce type de problème avec des produits similaires c'est la deuxième paire de cette marque sur laquelle je tombe qui est défectueuse.
Héloïse
&nbsp|&nbsp
2019-03-28 22:04:20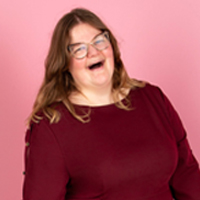 Response from Nicole

Bonjour Héloïse, je suis désolée que l'article est déchiré ! Je vous contacterai aujourd'hui encore afin de trouver une solution ensemble !
Cordialement,
Nicole
Service Clientèle
---