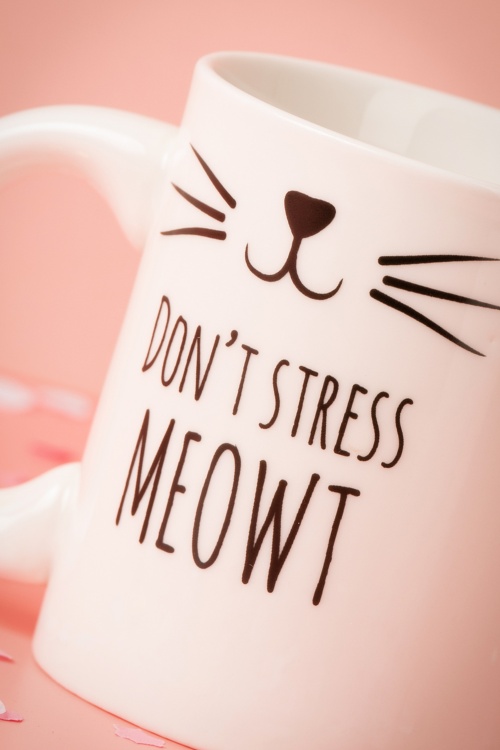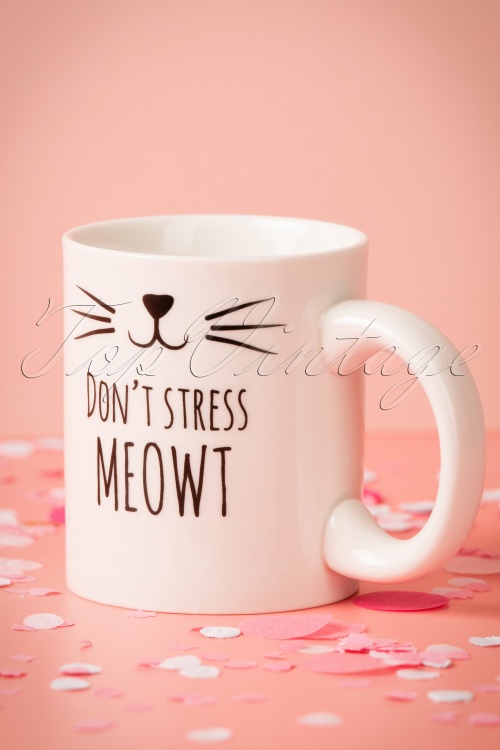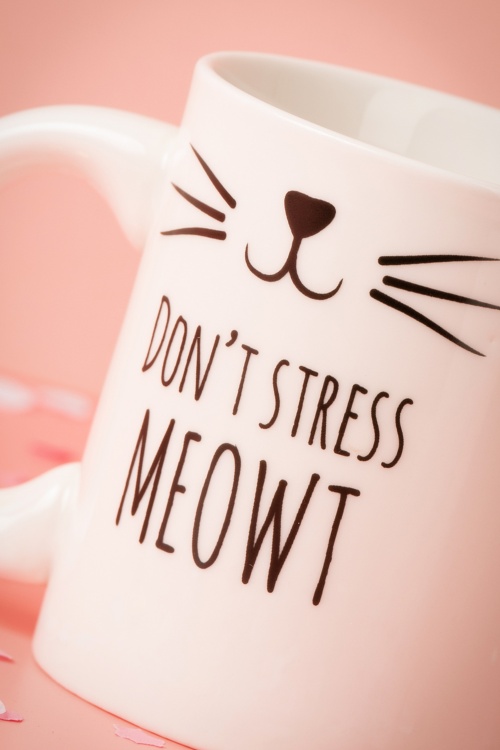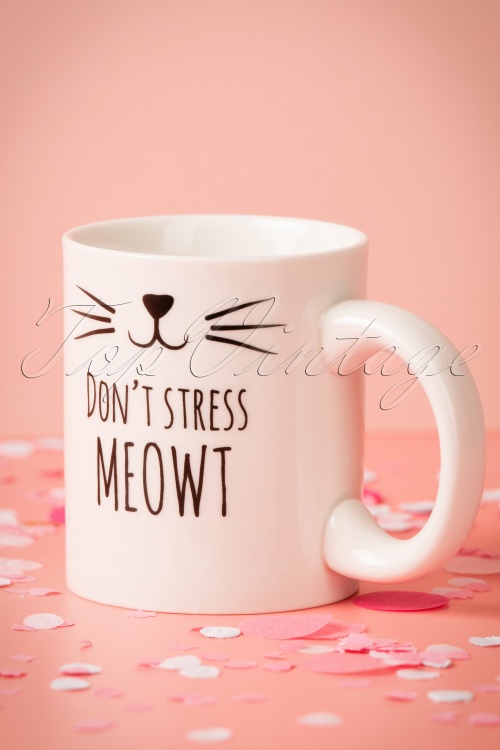 60s Don't Stress Meowt Mug
Send out a clear message with this 60s Don't Stress Meowt Mug! Nobody likes stress, especially before that first cup of coffee in the morning! And after a busy day at work, you might want to unwind while sitting on your couch with your cat and a cup of tea, making this a simply purrrfect mug! Made of cream coloured porcelain with the text 'don't stress meowt' and a little black cat nose on top. It's the perfect size mug to make your message clear; you're enjoying some well-deserved quality time ;-)
Medium size 
Dishwasher safe
Microwave safe
Article nr.
25204
Height: 9.5 cm
Width: 8 cm
Depth: 7.5 cm
Super leuke mok, goede , super goed verpakt. Heel blij mee
Mehrshid
&nbsp|&nbsp
2020-12-16 12:53:47
---
Als Diehard Harry Potter-fan en een fervente kattenliefhebber kon ik deze pin en mok niet laten liggen. De pin/broche is de ideale eyeCATer voor op een feestje (HP of cat gerelateerd bv) en de mug gebruik ik bij elk thee-drink-moment. Tip: de pin dragen op dikkere stok textiel en de mug heb ik enkel nog maar met de hand afgewassen, en blijft daardoor van goede kwaliteit :D
Eva Declerck
&nbsp|&nbsp
2020-04-14 20:12:35
---
I didn't expect the clothes nor the accessories to be such a high quality !! I'm very glad I bought them !!
The only problem is that I'm not very tall so, I have to use some tricks to wear the petticoat (which is really wonderful !) !
Karelle Beaujard
&nbsp|&nbsp
2019-07-25 03:44:10
---
In het topje voel ik me super vrouwelijk, het past mooi. ik heb er heel gelukkig mee, laat het mooie weer maar komen.

de tas is een super leuk cadeautje :)
Querensa Simons
&nbsp|&nbsp
2019-02-28 18:11:06
---
Ik heb deze beker cadeau gegeven. De ontvangster vond hem fantastisch en de spreuk is zeer passend.
Elsje
&nbsp|&nbsp
2022-02-15 19:25:15
---
High quality, super comfy and definitely vintage style shoes. True to size and fit perfectly. Truly worth every penny.

Cute meow mug packed in a box, great gift choice for cat lovers.

Trousers are way too long and big, so not a great choice for a petite person, thus we're returned. But lovely color and material for the green one. However, the grays tekstil seems a bit off quality wise.

Oven mitt is so cute and definitely high quality, wish they had them in squares.

Thank you Top Vintage for your lovely packing, quick delivery and amazing vintage items.

M.
&nbsp|&nbsp
2020-12-30 19:03:57
---