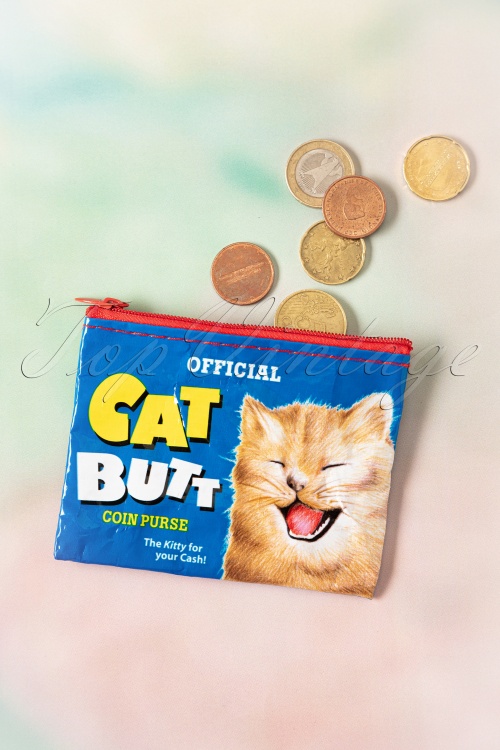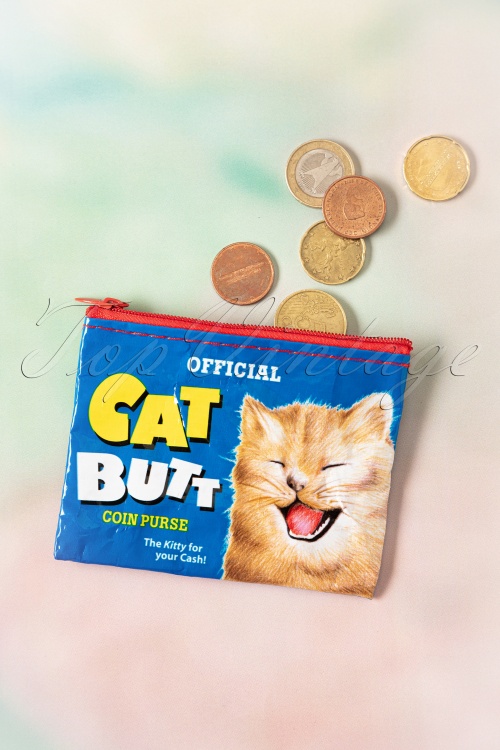 This 50s Cat Butts Coin Purse is the safest place to keep your loose change! Every cat lover knows that cats often like to display their backside and this conjures up a certain image ;-) This image was used as inspiration for the backside print on this funny wallet. Made of (95%) recycled material with a wrinkled look in blue and finished off with a red zipper. "We need this right meow!''
Small purse
Zip closure
Fits loose change or a few cards
Recycled material (95%) 
1% of the proceeds of this item will be donated to environmental organisations around the world
Article nr.
26015
Height: 8 cm
Width: 10.5 cm
Made of 95% recycled material.
Avoid contact with water/parfum/cleaning agent
de
SALE - Ausbeute, die glücklich macht!
Im Sale konnte ich einige Schätze abgreifen, auf die ich schon länger ein Auge geworfen habe! Kurz vor meinem Geburtstag hätte mir Top Vintage kein schöneres Geschenk machen können!
Kleider: Das orangfarbene Daisy Drapper Kleid sitzt perfekt und ist sehr hochwertig verarbeitet. Gerade mit dem grünen Schmuck (s.u.) und den orangenen Ohrringen sieht es unglaublich schön aus! Definitiv mein Lieblingsstück in dieser Bestellung! Das Miss Candyfloss Kleid sitzt ebenfalls dank Größenbeschreibung wie angegossen. Diese Kleid wollte ich schon seit Monaten! So happy damit! Die Qualität ist wie immer bei MC top! Das Banned Kleid hat einen relativ dünnen Stoff, der sehr hübsch fällt (mit Strumpfhose und Mantel wird es winterfest!). Es fällt etwas größer aus.

Pullover: Beide Pullover sind herrlich weich. Sie sind recht kurz (war aber so gewollt) und ihren Preis definitiv wert!

Schuhe: Charlie Stone, was soll ich mehr dazu sagen? ;) die Qualität ist unglaublich! Anzumerken ist, dass das Rot etwas dunkler ist als auf den Bildern

Tasche: Das einzige Teil, mit dem ich nicht 100% zufrieden ist. Nach dem Auspacken stieg mir ein ziemlich starker Chemiegeruch in die Nase. Auch sieht die Tasche nicht ganz so hochwertig aus, wie ich mir erhofft hatte (ich habe eine Charlie Stone Tasche aus unechtem Leder und die Qualität ist deutlich besser!). Da ich aber nicht den vollen Preis bezahlt habe und ich die Farbe sehr mag, werde ich die Tasche behalten

Schmuck: Die Ohrringe sind total niedlich! Schockverliebt! Die Armbänder und die Kette von Splendette hatte ich schon länger im Auge und im Sale musste ich einfach zuschlagen! Ich habe relativ große Hände und kriege die Reifen gerade so an. Sie sehen aber total klasse aus und fühlen sich auch angenehm an. Der Sommer kann kommen!

Diverses: Das Cat Butt Täschchen war für meinen Mann, er war sehr glücklich damit. Die Bürste ist perfekt für meine dicken Haare und sehr hilfreich bei Lockenfrisuren. Der Lippaint riecht sehr gut und fühlt sich toll auf den Lippen an. Wird er nicht sehr dick aufgetragen, wirkt er aber leicht Himbeerrot statt Kirschrot. Der Faultieranhänger war das Tüpfelchen auf dem I, der süße Kerl macht jetzt unser Schlafzimmer unsicher.

Wie immer alles wunderbar verpackt und soooo schnell geliefert! Ihr seid die Besten!
Vanessa Van Hoeck
&nbsp|&nbsp
2020-01-28 15:06:42
---
Skirt is gorgeous and perfect when it gets colder.

Brooche is cute. Going to use that a lot.

The rest were christmas presents and my friend loved them. Especially the scarf
Kirsten
&nbsp|&nbsp
2022-01-15 11:10:58
---