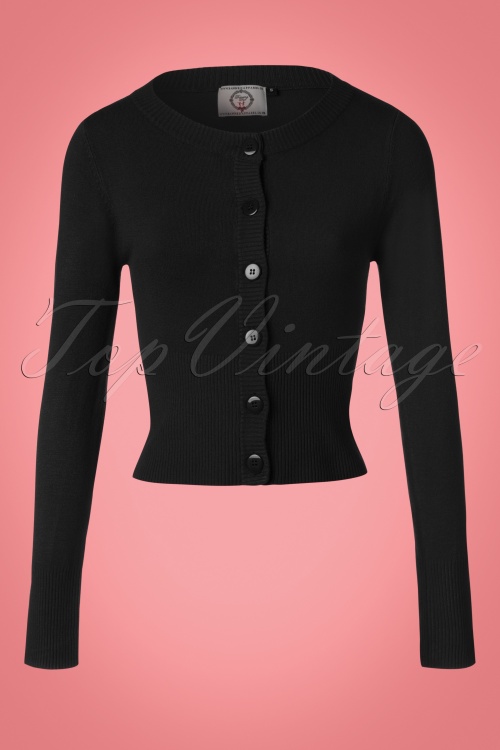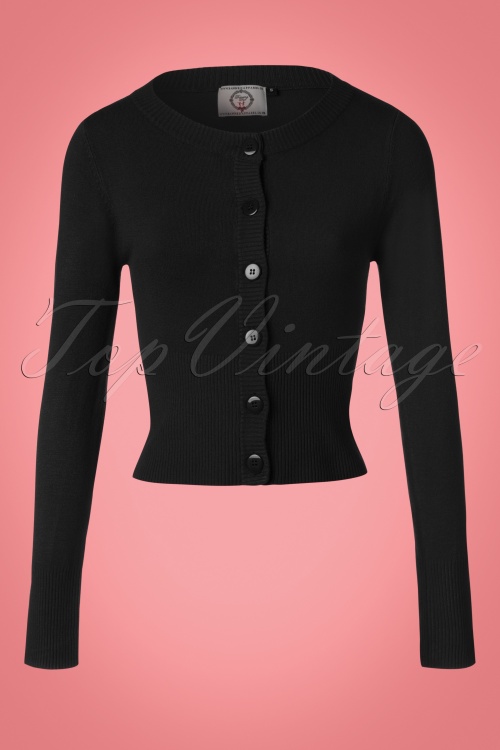 50s Dolly Cardigan in Black
This 50s Dolly Cardigan in Black makes with a perfect match with any outfit! Dolly is classic, comfortable ánd playful. This short cardi features an elegant round neckline, long sleeves and shiny buttons. Made from a fine knitted, black fabric with a lovely stretch for a perfect fit. The combination possibilities are endless!
Round neckline
Long sleeves
Row of buttons
Stretchy board along the neckline, sleeves and bottom
Long enough to pair with regular trousers
Article nr.
22385
60% Rayon
20% Elastane
20% Polyamid
Handwash inside out (don't leave it in the water)
Wash inside out
Wash dark colors separately
Machine wash 30c delicates cycle
Do not dry clean
Do not tumble dry
Iron inside out on low temperature setting
Deze rok vind ik echt prachtig:) Kleur,stoof,pasvorm... echt mooi. Ik hou van aansluitende pasvorm dus heb ik ook maat S gekozen en die zit echt lekker. Vestje had ik al in andere kleur, dus ik wist al dat goed zou zitten. Deze wel in maat M:) Jammer alleen,dat ik te laat was voor een broek van Miss Candyfloss en zo te zien komt die ook niet meer :((
A.
&nbsp|&nbsp
2018-08-21 14:30:23
---
Gürtel süß, Kleid toll, Cardigan perfekt. Die Maßtabellen sind Gold wert! Ich liebe Topvintage.
Nina
&nbsp|&nbsp
2018-08-01 18:57:40
---
Heb nu een groene, een zwarte en deze past weer bij mijn nieuwe kleur rok !!
Dragen heerlijk
Yvon de Vries
&nbsp|&nbsp
2018-02-18 18:11:40
---
nl
love from first sight !
Thank you TopVintage for these beautiful dresses!!! I am surprised I only discovered you now, but in these two weeks I already let all my friends know about your existence - you have a new ambassador ;-) All the dresses fit amazingly and make me feel so pretty :P Will be back for more very soon :)
Ania
&nbsp|&nbsp
2018-01-17 18:01:20
---
Gisteren besteld vandaag opgehaald, wat zijn ze toch super snel. Twijfelde over de maat maar ik heb best lange armen dus de L zit prima. een mooie aanvulling
Yvon de Vries
&nbsp|&nbsp
2018-01-12 15:57:30
---
C'est la troisième fois que je commande et tout est encore parfait ! De la qualité des vêtements à la qualité des services ! Je suis fan
Jessica Morreale
&nbsp|&nbsp
2017-12-20 11:57:11
---
Pretty and comfy cardigan.
Jennie Andersson
&nbsp|&nbsp
2017-12-19 21:13:26
---
Schöne Cardigans zum Drüberziehen, wenn es etwas kühler ist; für richtige Winterkälte ist der Stoff vielleicht etwas zu dünn. Fallen meiner Meinung nach ein wenig größer aus und sind von der Länge her perfekt zu Taillenröcken. Geschlossen übers Top getragen - super!
Silke
&nbsp|&nbsp
2017-11-04 12:05:41
---
Blij mee! Wel wat korter maar dat staat duidelijk in de omschrijving. De kwaliteit is ook mooi.
M.
&nbsp|&nbsp
2017-10-25 14:11:57
---
super weiches Material und sehr angenehm auf der Haut. Die Boleros werden oft zum Einsatz kommen. Für mich perfekt.
Cathrin Zonsius
&nbsp|&nbsp
2021-04-07 15:31:50
---
Ich liebe die Strickjacken von Banned ganz einfach, meine absoluten Lieblinge, die zu allem passen.
Susanne
&nbsp|&nbsp
2020-11-21 20:49:01
---
Heerlijk stofje, maar valt echt te groot uit. Ik verzoop in dit vestje, terwijl de S in een andere kleur wel prima paste.
Margo Visser
&nbsp|&nbsp
2020-11-11 17:53:19
---
Allereerst heel erg bedankt voor de grappige roze flamingo sleutelhanger Top Vintage. Jullie verstoppen altijd een leuk cadeautje bij iedere bestelling, geweldig!

De skater dress is echt een plaatje en zit als gegoten.

De twee zwarte vestjes zijn heerlijk zacht. Het vestje met korte mouwtjes valt iets ruimer dan ik had verwacht, maar hij staat verder netjes dus ik ben er blij mee.
Het witte vestje is echt prachtig om te zien en sluit goed aan. Een must-have voor mijn vestjes collectie.

De rode kersenrok is prachtig, zit lekker en staat goed. De ideale zomerrok van luchtig katoen.

Als laatst de Ruby Shoo schoenen. Wat zijn ze mooi! En helemaal vegan! Het is lastig om mooie vegan schoenen te vinden (al komen er gelukkig steeds meer bij) dus ik ben ontzettend blij met deze schoenen. Ze zitten lekker en staat erg leuk onder de jurk.

Al met al weer superblij met mijn bestelling. Dankjewel Top Vintage! Ook voor de snelle levering in deze vreemde tijden. Chapeau!
Anne
&nbsp|&nbsp
2020-04-03 16:45:34
---
Really loved this cardigan. Is well made, the price is according to the quality and the size (S as always) fits perfectly. Really nice purchase and recommend it!
Alicia Fernández
&nbsp|&nbsp
2020-02-21 17:46:15
---
Ik heb deze in het wit en zwart. Eindelijk vestjes gevonden die mijn jurkjes nog steeds mooi laten uitkomen. Perfecte lengte!
vicky stessens
&nbsp|&nbsp
2019-09-08 17:34:04
---
Kleedje is zoals verwacht, super blij, idem over het pulleke, de oorbellen zijn ook mooi, enkel zit bij 1 het sluitingsje niet goed vast, dus af en toe controleren of ik ze nog aanheb
Monika Calcoen
&nbsp|&nbsp
2018-11-21 13:45:10
---
nl
Weer zo een toppertjes!
Het oker en groene zitten goed aan het lichaam en passen zowel op kleedjes als op jeans. Het zit vrij aansluitend aan het lichaam (aan de rug) en dat heb ik graag. Het zwarte komt iets korter aan het middel maar zit even goed en is leuk om te dragen op kleedjes! Weer een top aankoop met een top service :)
Stien Heyvaert
&nbsp|&nbsp
2018-11-03 12:42:52
---
Genialer Cardigan! Sehr weich, passt in der üblichen Größe und schön geschnitten - etwas kürzer und tailliert, so dass er zu allen Kleidern und Röcken passt und immer eine gute Figur macht!

Dazu liebevoll verpackt, bei TopVintage wird Service groß geschrieben.
Melanie
&nbsp|&nbsp
2023-02-28 20:58:11
---
de
Tolle Cardigans mit völlig unzuverlässigen Größen
Die Strickjacken von Collectif zählen zu meiner Basis-Ausstattung, weil sie sich wunderbar tragen lassen und über jedes Kleid passen. Mittlerweile habe ich mehrere Farben davon. Leider sind die Größenangaben extrem unzuverlässig. Der blaue und grüne Cardigan mit Rundhals- sowie V-Ausschnitt sitzen perfekt in Größe L (ich trage sonst auch 40). Der schwarze mit Rundhalsausschnitt ist in derselben Größe ein wenig lockerer, aber noch in Ordnung. Der schwarze mit V-Ausschnitt hingegen passt in XL, also einer Größe mehr, gerade so. Letztes Jahr hatte ich dieses Größenchaos auch schon mal, dasselbe Modell in verschiedenen Farben war extrem unterschiedlich breit geschnitten, die Länge der Ärmel variierte um mehrere Zentimeter. Dann wird die Bestellung immer zu einem Glücksspiel.
Anja
&nbsp|&nbsp
2021-06-04 21:15:44
---