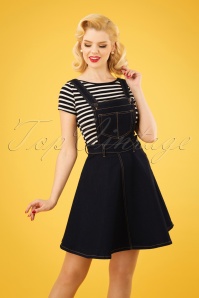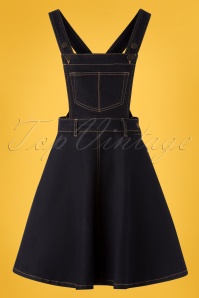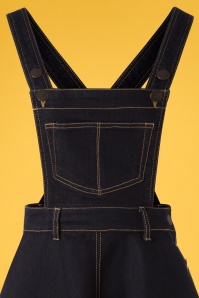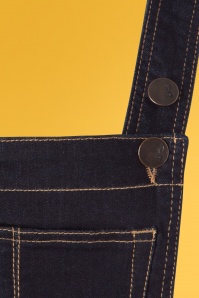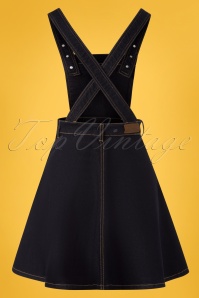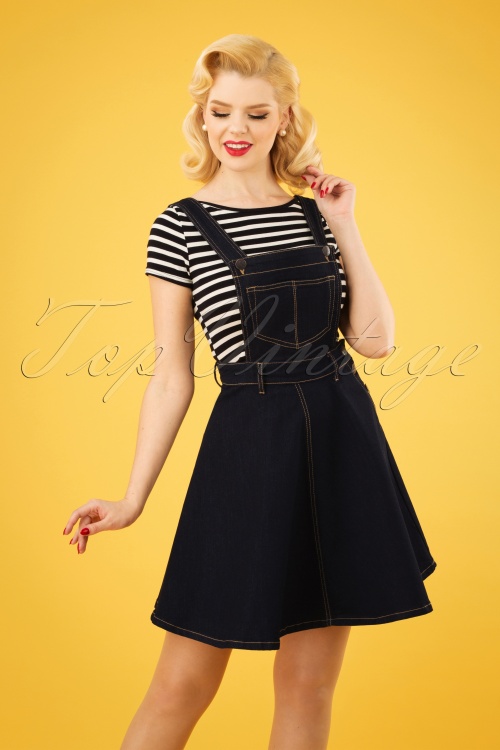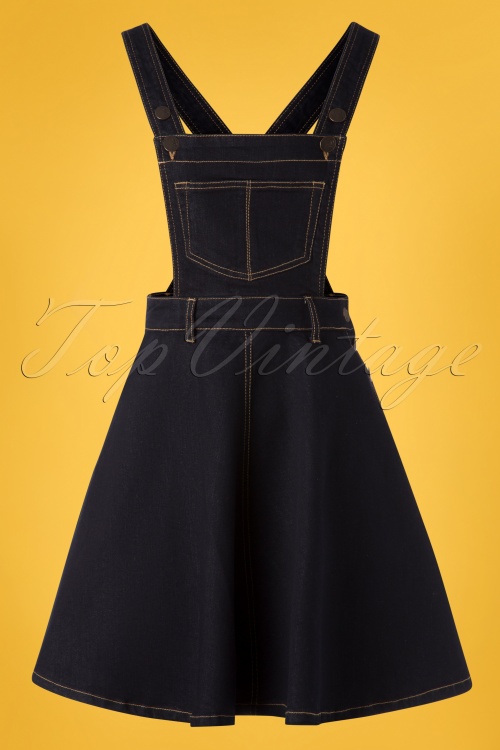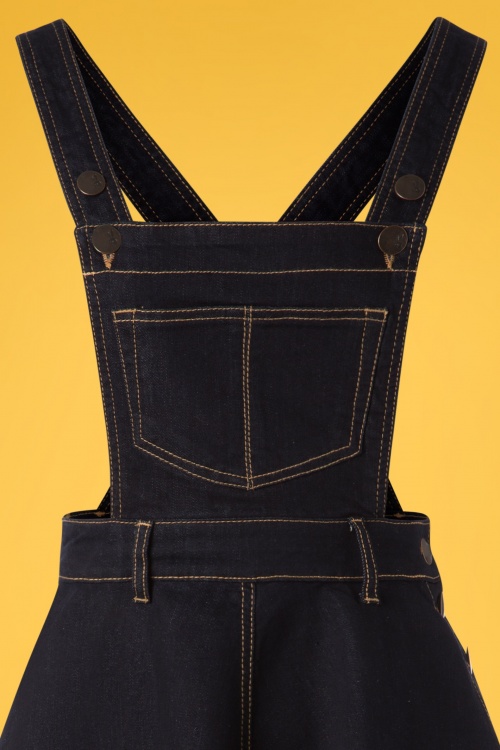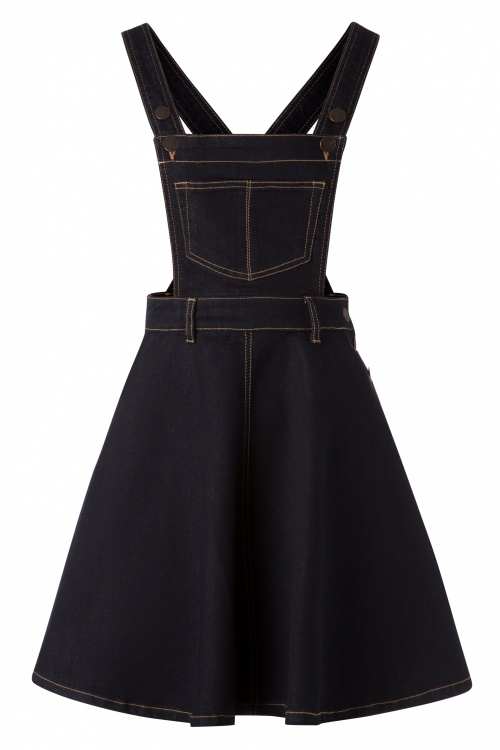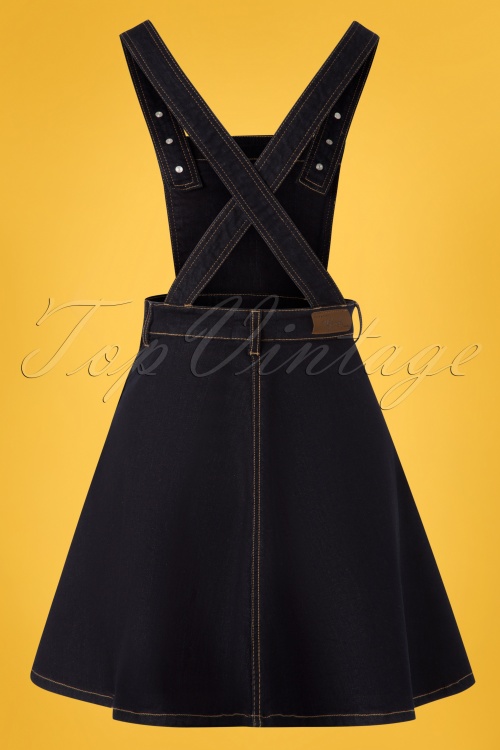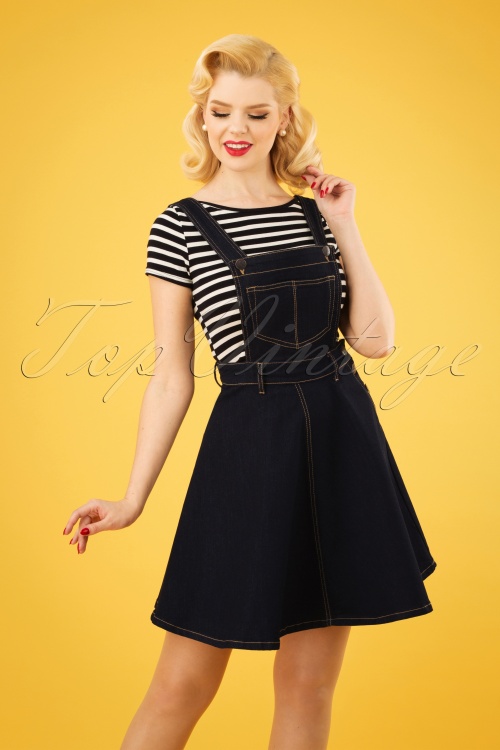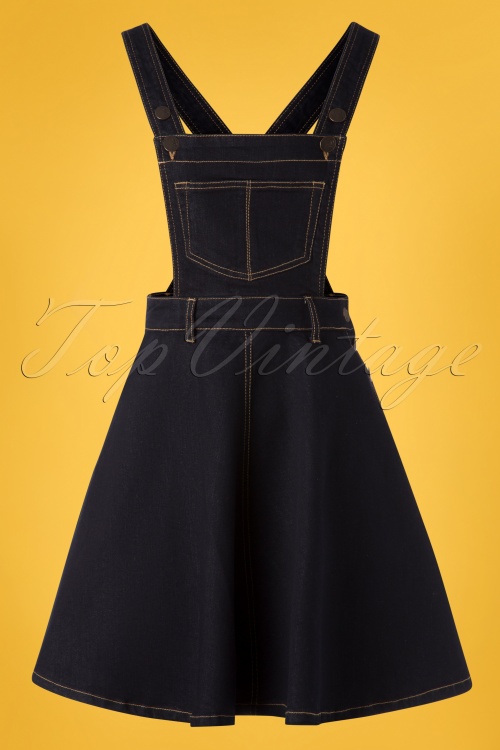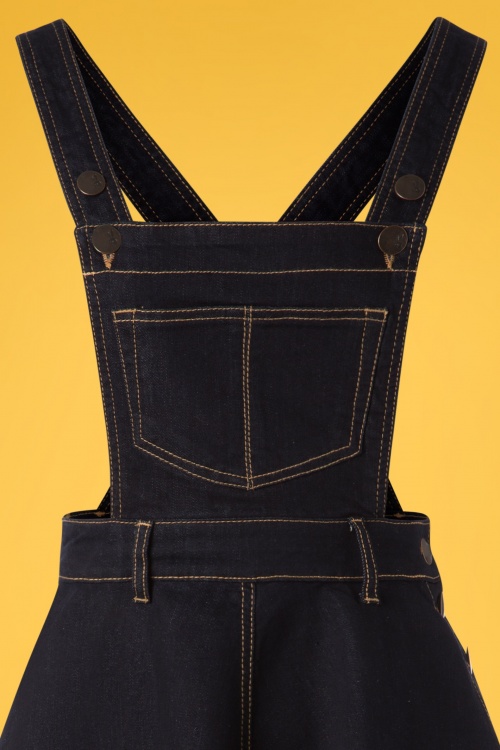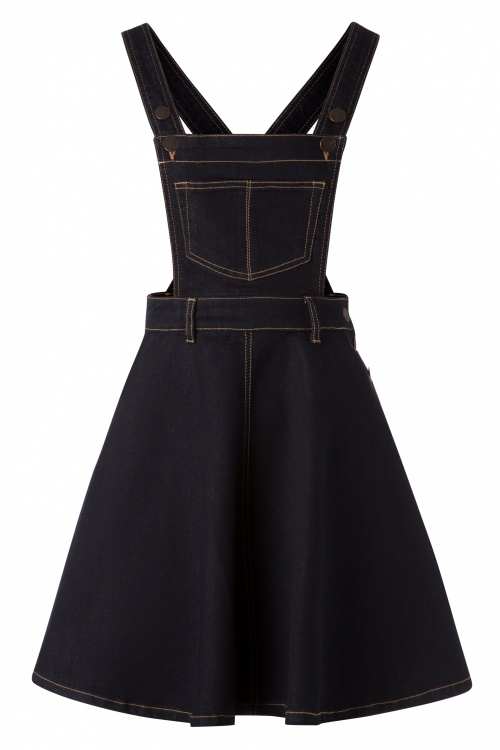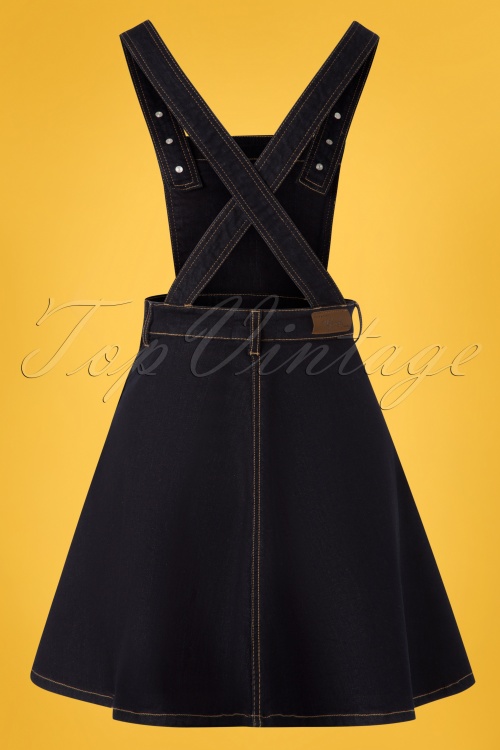 50s Dakota Pinafore Dress in Denim
We simply adore a nice pinafore!... this 50s Dakota Pinafore Dress in Denim is both playful and feisty! What used to be an apron for housewives, became a huge fashion trend; the pinafore! The fitted bodice features wide adjustable shoulder straps, which can be adjusted using the 3-button fastening for a perfect fit and from the waist she runs into a flowy swing skirt that sways along with every move you make for a flirty look ;-) She's made of firm, dark blue denim cotton with a very light stretch that is surprisingly supple and comfy to wear. Match with ballerina flats for a preppy look, or high heels for a fun party look! Pretty pinafore... now we love you even more!
Swing style
Patch pockets on the bodice
Wide cross over straps
Row of buttons at the side of the skirt
Our gorgeous blonde Rachel is 1.72m / 5'8''
Article nr.
28824
Handwash inside out (don't leave it in the water)
Wash inside out
Wash dark colors separately
Machine wash 30c delicates cycle
Do not dry clean
Do not tumble dry
Iron inside out on low temperature setting
de
Diesmal gemischte Gefühle
Dieses Mal war die Bestellung gemischt.
TopVintage war mal wieder super, schnelle Lieferung und ein leckeres kleines Geschenk :)

Bei der Bestellung war allerdings alles an Beurteilung dabei:

Der senffarbene Rock hat mich echt sauer gemacht. Über dem Reißverschlussende gibt es auf der Innenseite einen kleinen metallenen Hacken um den Reißverschluss zu unterstützen. Allerdings ist dieser so spitz, dass er zwei Löcher in meinen Pulli gerissen hat, den ich dazu getragen habe. Der Rock ist schön und wintertauglich, deshalb behalte ich ihn, aber unbedingt den Tipp beachten: schneitet vor dem Tragen den Hacken mit einer Nagelschere weg. Er ist unnötig und macht den Stoff eures Oberteils kaputt.

Der Mohnblumenschmuck ist ein Traum! Ich liebe ihn! Da er aus Porzelan ist habe ich etwas Angst, allerdings habe ich ihn schon dreimal getragen und bis jetzt ist noch alles heile. Nur die Kette des Anhängers ist billig und der Verschluss schließt nicht richtig. Habe sie durch eine eigene, echtsilberne Kette ersetzt.

Der Hosenträgerrock sitzt vom Schnitt leider gar nicht schön. Ging zurück.

Das Denimkleid ist zwar richtig schön und süß, aber sehr kurz. Das Tragen überlasse ich lieber den jungen Mädels ;) Ich bin da aus dem Alter raus. Wenn es länger gewesen wäre, hätte ich es behalten.

Die weiße Bluse ist leider gar nicht schön. Sitzt nicht gut, der Stoff ist durchsichtig und fühlt sich nicht gut an und war am Busen zu klein. Ging absolut zurück.

Mit der schwarzen Bluse habe ich gehadert. Sie sitzt gut und fühlt sich gut an. Hat mir einfach vom Geschmack her nicht so gut gefallen. Trotzdem schön.

Die Fantasy-Bluse ist der Hammer! Alles top! Ich kann es kaum erwarten bis endlich Frühling ist und ich sie tragen kann. Leider habe ich keinen roten Rock dazu gefunden, aber mit einem hellen Jeansrock sieht es auch super aus.

Ich habe noch nie einen Bodyformer benutzt und ihn aus einer Laune heraus gekauft. Bin begeistert und werde ihn definitiv bei enganliegender Kleidung verwenden.

Alles in allem waren ein paar Highlihts dabei, über die ich mich sehr freue. Danke TopVintage.
Mel Firu
&nbsp|&nbsp
2019-12-15 08:08:58
---
An sich sehr schön! Die Qualität wirkte gut und der Stoff angenehm. Bei dem Teil ist am wichtigsten der Taillenumfang, also den wirklich genau messen und an dem entscheidenden welche Größe man braucht. Leider stand mir das Kleid nicht so wie erhofft, darum ging es heute auf den Weg zurück. Aber dafür kann das Kleid ja nichts. Werde trotzdem gerne wieder hier bestellen.
Jana Sonnenberg
&nbsp|&nbsp
2019-12-12 12:24:35
---
habe mir diese zauberhaften Kleidungstücke ausgesucht und bin ganz verliebt!
Das Collectif Streifenkleid war mir bei der ersten anprobe in s etwas zu gross, aber meim waschen gehts etwas ein und nun sitzt es perfekt! Auch die Latzhose sitzt sehr gut und der Trägerrock ist ein echter Allrounder und zu jeder Jahreszeit zu tragen! Danke top Vintage für eure tolle Auswahl
sonja Donnenwirth
&nbsp|&nbsp
2019-07-18 10:10:11
---
Ik heb maat 40 met een klein buikje en heb hierom een L genomen, past perfect!
Als ik het bandjes gewoon laat zijn ze inderdaad wat lang, maar gekruist zelfs een knopje losser dus komt allemaal in orde.
Lisa Hostens
&nbsp|&nbsp
2019-07-01 14:19:25
---
Echt een heel leuk item weer. Mooie stof van mooie kwaliteit. Je kunt eindeloos mee variëren door er korte of lange mouwen onder aan te doen en eventueel een panty. Het enige nadeel vind ik dat als je de schouderbandjes op zijn kortst doet de flapjes soms onder de voorflap uit steken, zou mooi zijn geweest als je die daar bijv. aan een lusje zou vast kunnen maken zodat ze niet zichtbaar zijn.
Steffi van den Bergh
&nbsp|&nbsp
2019-04-25 08:12:16
---
Schouderbanden zijn erg lang, zeker te lang voor mijn 1.66m. Na wassen vouwt de rok vanaf de zoom naar binnen, wat na 100 keer strijken nog niet weggaat. Anders een geweldige jurk.
Froukje Berkouwer
&nbsp|&nbsp
2019-04-24 05:53:38
---
Angenehm leicht und optimale Länge!Lässt sich sowohl sportlich als auch etwas schicker mit einem entsprechenden Oberteil kombinieren.
Träger sind beliebig verstellbar.

Julia Glauber
&nbsp|&nbsp
2019-03-29 13:30:57
---
nl
Iets korter dan verwacht
Volgens de beschrijving valt deze boven de knie bij 1m70, maar bij mijn 1m69 valt hij al ruim boven de knie. Na een ongeval heb ik een litteken op mijn knie, dat ik meestal probeer te verbergen door iets langere rokken/jurken. Deze vond ik echter zo comfortabel dat hij toch mag blijven - nu moet ik nog wat topjes zoeken om eronder te dragen!
Kristel
&nbsp|&nbsp
2019-03-18 19:34:29
---
Wunderschöner Stoff, weich, bequem, hält warm, macht eine schöne Figur. Ich liebe dieses Kleid!
Steffie
&nbsp|&nbsp
2021-11-30 19:17:55
---
de
Ein sehr schönes Kleid
Anfangs war ich skeptisch, aber das Kleid hat mich überzeugt!
Der Stoff ist fest, wodurch der Rock etwas steifer fällt und somit wunderbar ausgestellt wirkt. Ich trage Größe 40, habe das Kleid in L und es sitzt perfekt :)
Leonie
&nbsp|&nbsp
2021-11-16 22:12:03
---
J'adore vos produit mais je me devait vous faire remarqué l'état du colis a sa réception énorme trou sur le côté abîmé de toute part heureusement mes 3 dernière produits achetés était dedans mais pas la petite surprise que j'aime bien avoir !!! Peut-être revoir la qualité des colis !!
Roger
&nbsp|&nbsp
2021-03-26 15:12:53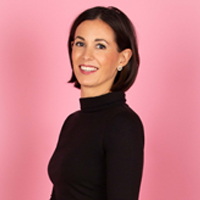 Response from Sylvia

Bonjour Siegried, je regrette d'entendre que le colis à été abîmé pendant son transport. Veuillez nous excuser! Nous vous contacterons pour éviter des telles problèmes dans l'avenir.
Cordialement,
Sylvia
Service Clientèle
---
Weer 2 nieuwe jurkjes toegevoegd aan mijn garderobe
Chaya
&nbsp|&nbsp
2021-02-11 17:25:41
---
Ohhh ben zo blij met jullie❤️
Voel me helemaal te gek in jullie kleding
Vrouwelijk en zelfverzekerd
Kom graag in de de winkel !
Maak er echt n mode middagje van
En shop graag online!!
Net wat meer keus in mijn smaak!!
Jullie kunnen niet meer ontbreken in mijn leven anders is t niet compleet!!
Blijf alsjeblieft altijd bestaan!!!
Veel liefs Kirsten

Kirsten
&nbsp|&nbsp
2020-10-14 16:24:29
---
Super leuk! Ideaal voor wat koudere dagen want het is een dikke stof. Het t-shirtje kan ik enkel daaronder dragen want op zich is hij te kort en verbergt NIETS! Alles strak! En ik vind de hals vrij vervelend. Plooit vaak om waardoor je het stiksel ziet. Maar onder dit kleedje is het top! Spijtig dat het geen zakken heeft. Ik had schrik dat het te wijd ging uitvallen maar dat was het niet. Valt wel vrij groot uit. Had gerust een maatje kleiner kunnen nemen.
Tineke Rodyns
&nbsp|&nbsp
2020-07-18 10:50:24
---
Cette robe est très belle et très bien finie. très bon rapport qualité-prix. La taille est parfaite, et cette robe est très agréable à porter. Couleur légèrement plus claire en vrai que sur la photo. Je recommande.
Clémence B
&nbsp|&nbsp
2020-05-26 12:31:29
---
Comme dans la photo!
Silvia
&nbsp|&nbsp
2020-05-25 12:01:21
---
Dit jurkje is buiten mijn comfortzone, maar wat ben ik blij dat ik de stap gewaagd heb! Net zoals op de foto draag ik er een zwartwit gestreept t-shirt onder, maar ik wacht nog tot een ander zigzag zwartwit t-shirt hier in mijn maat beschikbaar is :-) Vandaag ook de grasgroene gilet die ik bij jullie kocht erboven, en het ziet er super uit! Ik vind de lengte ideaal voor mij: tot op mijn knieën met mijn 1m64. Maat M klopte ook met mijn taille van 76 cm. De bandjes zijn idd wat lang: ik draag ze gekruist op z'n kortst. Vandaag ook mijn bril op, en mijn dochter van 15 vond dat ik zo uit een typische American high school kwam :-)
Els De Vogelaere
&nbsp|&nbsp
2020-05-02 14:43:38
---
Wow ❤️ Genau einen Tag nach der Bestellung, kam es an, und ich liebe es !!!
Verena
&nbsp|&nbsp
2023-01-03 13:43:58
---