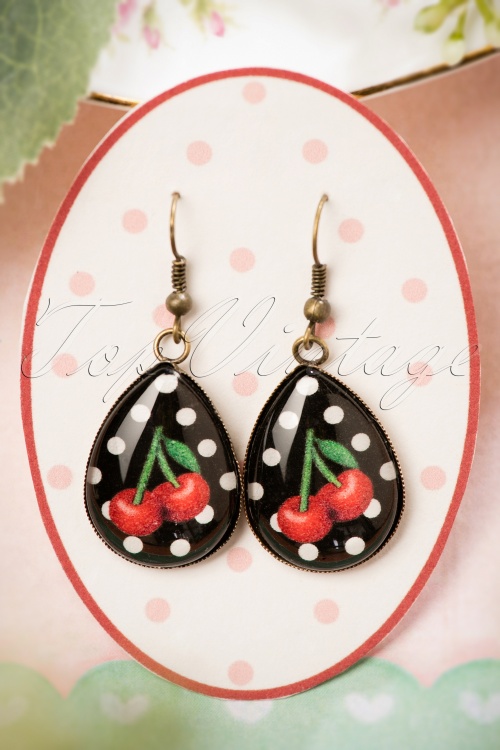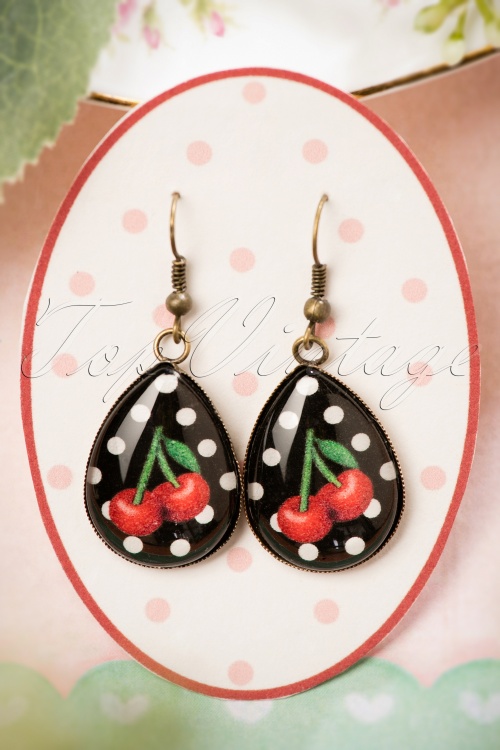 50s Cherry Drop Earrings in Black and Red
These 50s Cherry Drop Earrings in Black and Red are the cherry on the cake! Cherries provide the ultimate retro touch! So it's easy to see why we're head over heels with these cuties ;-) Made of antique gold toned metal with a drop shaped pendant with cherries and white polkadots, sweet! 
Handmade
Drop earrings
Antique gold toned metal
Nickel free
Article nr.
26985
Weight (g): 4 cm
Pendant length: 2.5 cm
Gold tone base metal
Plastic
Nickel free
Avoid contact with water/parfum/cleaning agent
Made in Belgium
en
Amazing quality & pure perfection! <3
I received them very fast. The quality of the items is perfect.
I had an issue with the dress as it was a bit tight but i was and still am on a diet so it will fit like a glove. Highly recommended site
Mina
&nbsp|&nbsp
2021-09-16 12:07:18
---
Wunderschön und ein Hingucker. Passt bestens zu meiner Schleifchenbrosche mit Kirschen.
Susanne Zander
&nbsp|&nbsp
2020-04-03 08:46:58
---
fr
enfin un look qui change!!!
Les deux tee-shirts sont très confortables avec des motifs sympas, je les ai pris en S (je mesure 1.65 m pour 57 kilos) ils tombent bien et sont assez près du corps pour être enfilés facilement dans un pantalon taille haute.
Le pantalon pris également en S va impeccable, il ne se déforme pas en cours de journée et reste bien près du corps ce qui est appréciable, il est très confortable.
Les boucles d'oreilles sont jolies et bien finies.
Je recommande ce site, la livraison pour la France est très rapide et les colis sont soignés.
ALICE challut
&nbsp|&nbsp
2019-05-22 11:33:12
---
fr
Quand nous chanterons le temps des cerises (et gai rossignol et merle moqueur)...
Dans mon petit colis : magnifique pull en coton pour que l'on me confonde avec mes (cinq) chats aimés, une paire de superbes boucles d'oreilles aux motifs cerises (un peu pesantes à la longue mais pour être belle on en fournit des efforts !) et deux paires d'étonnantes boucles d'oreilles en forme de cornets de glace qui seront du plus bel effet avec une tenue estivale.
ATTENTION : elles sont légères mais volumineuses (= 6,5 cm et demi de long x 3,7 à la largeur la plus importante, sans compter l'attache qui les rallonge de 2 cm) Toutefois elles sont jolies !
Je me suis trompée dans la commande voilà pourquoi j'en ai reçu deux paires. On ne peut pas renvoyer ce genre d'article.
En résumé : un jeudi joyeux !
Claude Ranc
&nbsp|&nbsp
2019-04-04 15:02:46
---
Wow ❤️ Genau einen Tag nach der Bestellung, kam es an, und ich liebe es !!!
Verena
&nbsp|&nbsp
2023-01-03 13:43:58
---