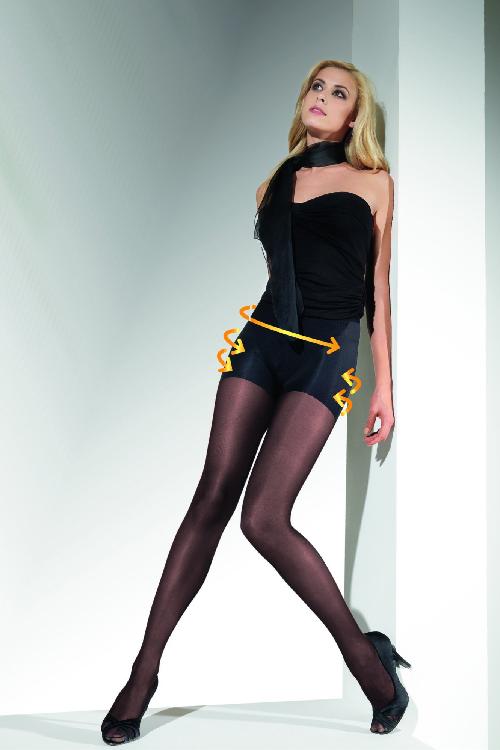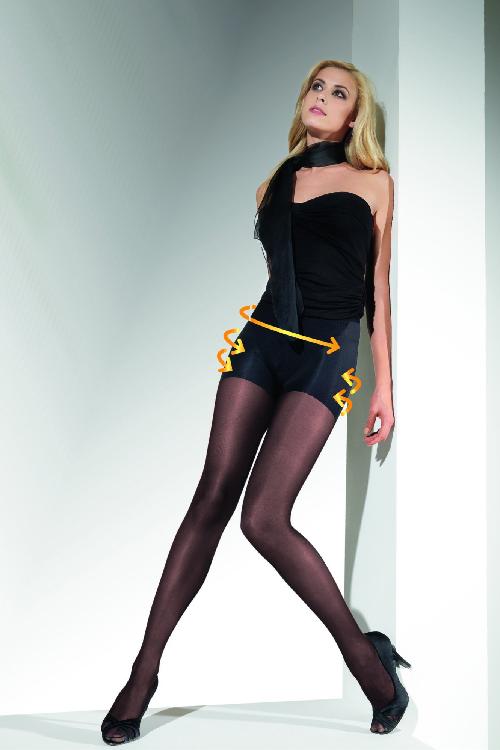 Seattle Classic Shaping Tights black 30 denier black
These Seattle Classic Shaping Tights in Black are absolutely perfect! These gorgeous semi-opaque (30 denier) tights smooth the tummy, thighs and rear for a figure-flattering effect. They are finished with a satin sheen, double covered Lycra®, a cotton gusset, reinforced toes and flat seams. A perfect match with all of your tight-fitting pin up style outfits!
30 denier
Satin sheen 
Cotton gusset
Reinforced toes 
Flat seams 
The featured pumps and top are no longer available in our shop 
Article nr.
10045
83% Polyamid
16% Elastane
1% Cotton
Wat een geweldig jurkje! Ik ben er erg blij mee! De sieraden en het lieve zeepje zijn ook echt super leuk! Bedankt!
Mette Maessen
&nbsp|&nbsp
2012-08-23 16:18:00
---
Twijfelde in eerste instantie of het model jurk wel iets voor mij is, toch besteld om eens te ondervinden. En blij dat ik ben! Jurk kleed mooi af. Kan niet wachten om 'm aan te doen!
Sally
&nbsp|&nbsp
2015-12-08 21:13:58
---
nl
I say yes to the dress
Snelle levering! Gisteren om 14u besteld, vandaag om 9u20 gekregen. Mooie doos, toffe attentie en goed ingepakte goederen. Alle kleedjes pasten me dankzij de handige maattabel alleen waren er sommige meer flatterend dan anderen. De jurk met pencilskirt was een gok maar gesterkt doordat een model van 1m55 er mooi in stond toch besteld en wat een onverwacht resultaat. Dankzij de shapewear, die alleen van boven een beetje omrolt/afzakt ziet alles er net dat ietsje strakker uit waardoor ik me enorm mooi en vrouwelijk voel. De schoenen, wat kan ik zeggen, ik ben verliefd! De juiste hakhoogte, enorm mooie afwerking en super vrouwelijk onder een kleedje. Jaja ik shop vanaf nu nergens anders nog dan hier, ik ben fan!
Annelies
&nbsp|&nbsp
2015-11-04 20:04:35
---
In deze jurk ben je helemaal vrouw - mijn man bleef me maar aankijken ;-) En de fantastische stof - soepel, aangenaam en kreukt niet. Jammer dat het groene uitverkocht was, dat had ik ook graag gehad. De panty had ik een maatje groter genomen naar aanleiding van telefonisch advies van de klantenservice en dat was perfect. Inderdaad perfecte service ook qua snelheid en een mooie verpakking. Top.
Anja
&nbsp|&nbsp
2015-08-16 16:01:06
---
nl
Vintage is the new hip!
You are awesome! Everything I ordered is amazingly beautiful. The cardigans, Ahoy and the Cadillac Cherries, are so sweet and soft. The Bunny top is a bit short, but still very very nice!
And to tell you the truth, I can't wait to receive a package from you to check out what little gifts you put in! I don't have to wait long anyway, cause you're so fast in delivering!
Adriana
&nbsp|&nbsp
2015-06-24 17:27:21
---
De rok zit super, maat klopt perfect, wel wat korter dan ik dacht; maar dat is omdat ik het niet gewoon ben, Geeft een mooi model weer.
De truitjes zitten ook heel goed, maar voor mij zijn het bijna driekwart mouwen, ben redelijk groot. Maar boven mn kleedjes zitten die super!!! Heel blij mee.
En de topjes, WAW!! Toon ik superslank mee, die zitten gewoonweg perfect!! Zeer tevreden mee!
Tatiana
&nbsp|&nbsp
2015-03-18 05:04:33
---
Habe mir das Kleid vor Kurzem gekauft. Ich bin wirklich begeistert. Es ist mein erster Kauf bei TopVintage. Schnelle Lieferung und liebevoll verpackt. Werde noch weitere Käufe hier tätigen.
Mandy
&nbsp|&nbsp
2014-12-13 18:41:15
---
Super mooie rok zit echt zalig en heel mooie kleur heel mooie juwelen echt Super blij het is niet mijn eerste keer dat ik hier iets koop en zeker niet mijn laatste keer echt mega content elke keer opnieuw
sanne
&nbsp|&nbsp
2014-11-28 16:58:16
---
Prachtige jurk! Ik ga hem wel iets moeten laten inkorten omdat ik maar een kleintje ben, maar zit echt als gegoten :)
En de jas is zo sprookjesachtig!
En voor het eerst een deftige, geklede winterjas waar de mouwen niet te breed van zijn :D
Ik weet wat ik aan de kerstman vraag, een bon om nog meer te kopen hier ;)
birgitte vercaigne
&nbsp|&nbsp
2013-12-04 11:35:24
---
Heb al heel wat panty's in mijn leven versleten, maar deze panty is echt 'my favorite'. Supergoede kwaliteit en stevig materiaal om dat buikje te verbloemen. Ik ben fan.
Esther Boersma
&nbsp|&nbsp
2020-08-28 14:50:10
---
De zwart witte maxi jurk is waanzinnig! Zit heerlijk, kleed mooi af en ondanks mijn 1,80 toch haast tot mn enkels!

De polkadot jurk is het niet voor mij. Door de dikke stof accentueert ze mn heupen nogal erg, die niet perse enorm zijn, maar het nu wel lijken. Zakken erin zijn wel heel makkelijk, maar helaas, deze komt terug!

Het shirtje van King Louis is heel schattig, gewoon leuk. Fijne stof om te dragen, dus die blijft!

Zwarte panty heb ik al meerdere keren gedragen en die blijft mooi. Sterk en niet al te snel vol met haaltjes. Aanrader, zn geld waard!
Silvia Van Muijlwijk
&nbsp|&nbsp
2019-04-15 06:50:33
---