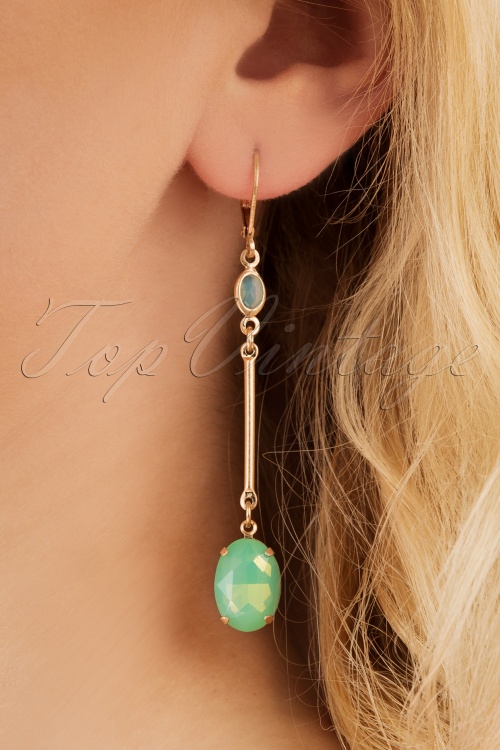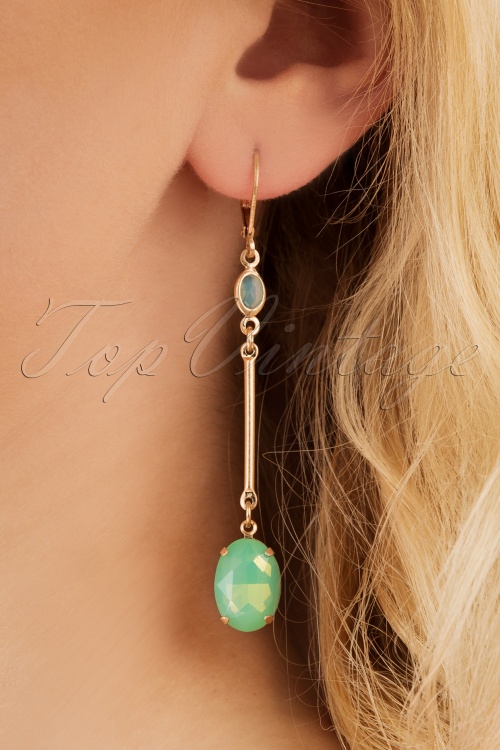 70s Christine Opal Drop Earrings in Seafoam Green
The 1920s art-deco style experienced a bit of a revival during the 1970s... inspiring earrings like these 70s Christine Opal Drop Earrings in Seafoam Green! Beautiful long drop earrings with a pretty faux opal detail. Perfect for sprucing up an everyday outfit, but also fit for a red carpet appearance! You can never go wrong with Christine! ;-)
Gold toned metal 
Faux opal detail
Leverback closure
Nickel free
Article nr.
28937
Weight (g): 2 cm
Length: 7 cm
Gold tone base metal
Nickel free
Avoid contact with water/parfum/cleaning agent
nl
Sieraden in al soorten en maten
Of het nu cadeaus zijn of voor eigen gebruik…, je wordt er hebberig van. Oorbellen, broches, armbanden of kettingen. Alles leuk van opvallende oorbellen tot minder opvallende. Passend bij de geweldige kleding van jullie uitgezocht.
GAPF Smit-Blok
&nbsp|&nbsp
2021-09-05 08:08:03
---
De schoentjes zijn heel mooi, prachtig afgewerkt. Ik heb vrij brede voeten maar deze zitten goed, met panty's zelfs een beetje ruim.
Het blousje heeft een mooi model en echt een prachtige kleur. Staat heel goed!
Verder zijn beide oorbellen heel mooi. Van te voren was ik bang dat de rode bloemen wat zwaar zouden zijn maar dat valt heel erg mee.
Anne
&nbsp|&nbsp
2021-02-19 13:56:35
---
Prachtige jurk! Staat geweldig. Goede pasvorm en stevige stof.
Oorbellen zijn leuk accessoire, mooie kleur groen.
Angelique Neut
&nbsp|&nbsp
2020-07-10 22:56:24
---
de
Tolle Farben, tolle Kombinationsmöglichkeiten
Ich habe mir diese Sachen bewusst gewählt, um sie miteinander kombinieren zu können. Ich bin von den Farben und Stoffen sehr begeistert. Passt alles perfekt. Ich liebe es!
Conny
&nbsp|&nbsp
2022-09-16 13:54:45
---
De smashed Lemon jurk zit als gegoten. Prachtige kleur, echt een eyecatcher! De oorbellen zijn ook erg mooi en combineren heel goed met allerlei groen en blauw tinten. Enige nadeel is dat mijn twee jonge kids ze ook heel mooi vinden en ik moet blijven staan als ik niet wil dat ze er de hele tijd aanzitten ;)
Marieke
&nbsp|&nbsp
2022-07-14 09:17:49
---