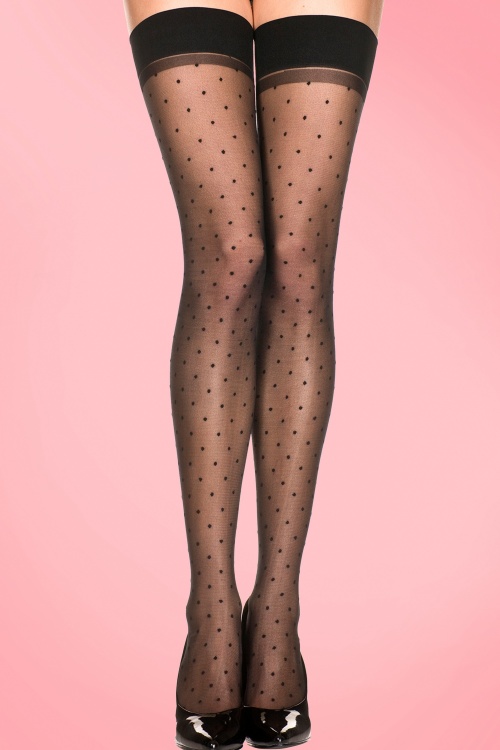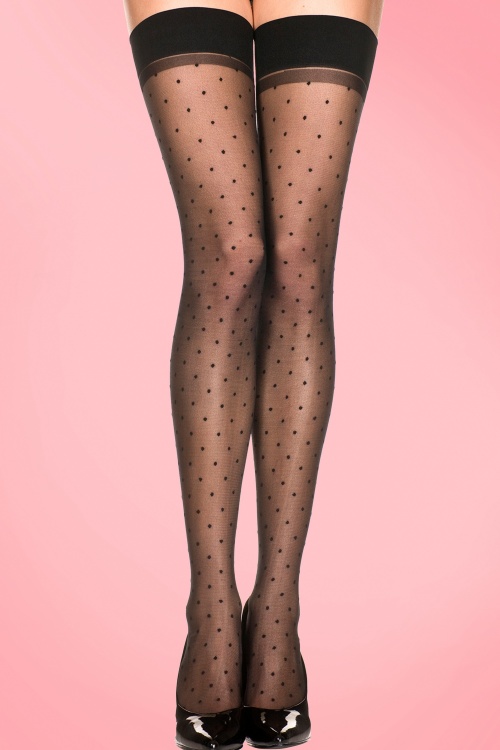 50s Polkadot Stockings in Black
You'll feel irresistible when wearing these 50s Polkadot Stockings! This playful take on classic stockings is made of a soft black 17 denier fabric peppered with polkadots and finished off with a wide band. We like! ;-)
17 denier
Can also be worn with a garter belt
The featured pumps are not available in our shop
Article nr.
20412
Height (cm): 152 - 177 cm
Weight (kg): 45 - 80 cm
Handwash in lukewarm water (don't leave it in the water)
Do not tumble dry
Do not iron
Je suis une fan de bas et de collants couture.
J'ai cherché pendants longtemps des collant couleur chaire avec la couture et jen ai enfin trouvé. Ils sont vraiment beau, facile a mettre et dessine vraiment bien le mollet, du coup j'en ai recommandé.
Et pour les bas que du bonheur!
Je recommande
marion missout
&nbsp|&nbsp
2017-11-30 12:44:15
---
en
Beautiful style, wee bit small in size.
I bought polka dotted socks from Top Vintage and adored them (even bought a second pair). I thought I'd try the polka dot stocking too but they were too tight around my thighs so I had to return them (Top Vintage makes returning very easy!). Just a heads up to anyone with slightly larger thighs (I'm a 12-14). Nevertheless, I'm sad to return them. Beautiful stocking.
Katie
&nbsp|&nbsp
2017-04-19 13:27:05
---
Das Paket kam innerhalb von drei Tagen trotz Überweisung also superschnell!! Das Kleid ist einfach wundervoll bin froh,dass ich es in xs bestellt habe obwohl ich eine s trage! Das top ist in s und passt mir leider nicht also lieber eine Nummer kleiner bestellen. Die Schuhe sind so schön aber leider stinken sie extrem nach Chemie und ich überlege, ob ich sie zurück schicke.. Aber ansonsten bin ich begeistert und werde sicher noch das ein oder andere Lieblingsteil bestellen
Jasmine
&nbsp|&nbsp
2017-03-15 18:43:01
---
deze bestelling was t kerstcadeau van mijn man :-) . Ik ben altijd super tevreden over topvintage. Alles zat weer fijn en voel me er super vrouwelijk in. Schoenen zitten ook fijn alleen een plastic geur en de kwastjes gaan steeds los. Ik zal ze niet vaak dragen dus dan is het niet zo erg.
Panties ben ik zeer ontevreden over. Volgens mij was t maar 1 maat. Ik heb maat 40 en niet overdreven dikke bovenbenen. De kousen komen net boven de knie. Er zit geen plakrand aan, dus ze rollen helaas meteen naar beneden. Ook toen ik de panties uit de verpakking haalde zaten er al van die "naadjes" in die je normaal pas ziet als je ze vaker gedragen hebt. Heel jammer want t stond super. Heb ze overigens wel gedragen want ik had haast en geen tijd meer om iets anders aan te trekken. Dus tijdens t kerst diner stiekum mijn kousen optrekken onder de tafel haha









vera
&nbsp|&nbsp
2016-12-26 17:56:25
Response from Customer service

Beste Vera, wat ontzettend vervelend dat de kousen niet naar wens zijn, mijn excuses hiervoor! Ik zal vandaag direct contact met je opnemen om dit samen met je op te lossen!
Groetjes,
Auke
Klantenservice
---
de
Einfach wunderbar, wie immer!
Das einzige Problem: Ihr macht mich irgendwann arm ... :-) Viele Artikel wandern mittlerweile auf die Wunschliste, damit ich sie bei der nächsten Bestellung schon im Auge habe.
Zu dieser Bestellung: Strümpfe, Strumpfhose und Stay-Ups sind einfach süß und passen perfekt.
Die Tamaris-Pumps fallen eher groß aus, aber das lässt sich bei mir mit einer halben Sohle ausgleichen. Habe allerdings die 40 bestellt und liege oft zwischen 39 und 40. Sind ansonsten super bequem und einfach hübsch. Die gelbe Bluse freut sich schon auf den Sommer ... ich liebe die Farbe und die süßen Schleifen- und Pünktchen-Details! Alles perfekt, wie immer! :)
Anna
&nbsp|&nbsp
2022-01-06 17:27:03
---