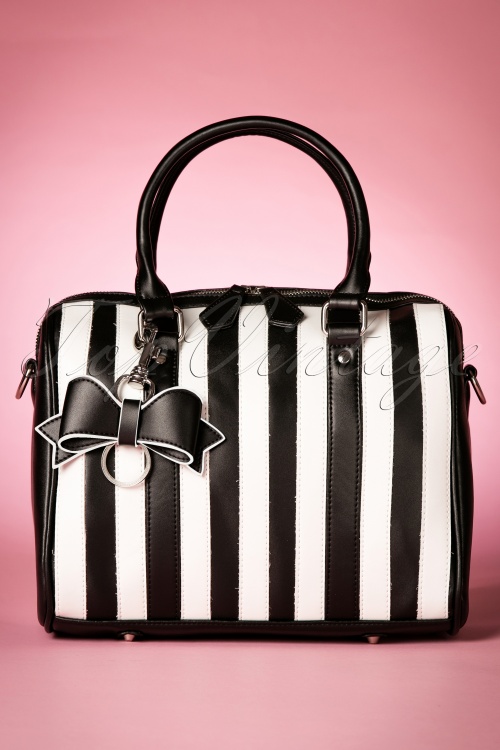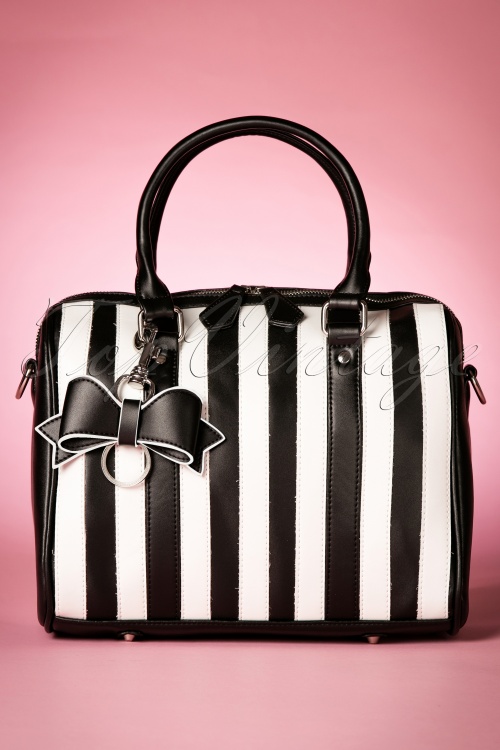 50s Lovely Viola Small Handbag in Black and White Stripes
Go back to the fifties with this cute 50s Lovely Viola Small Handbag!

Every day, all day, at work, at shopping... As soon as this medium sized bag is yours, you won't go anywhere without it! Made from a black and white striped ''faux'' leather and a cute detachable key ring with a big black ''faux'' leather bow. And you'll also take this beauty with you when you end your day with a tasty milkshake at ''the American diner''!
Medium sized bag
Silver toned zipper
3 extra pockets, one with zip
Silver toned feet on the bottom for protection
Fully lined with black/white fabric
Removable and adjustable strap
A4 and iPad fits easily
Article nr.
16859
Height: 25 cm
Width: 31 cm
Depth: 15.5 cm
Strap: 74 - 132 cm
This bag is measured without handle.
Vegan leather
Silver tone base metal
Avoid contact with water/parfum/cleaning agent
Die Tasche ist super! Sie ist ausreichend groß, besteht aus robustem Material, und sieht einfach klasse aus!
Der einzige kleine Minuspunkt ist das relativ hohe Eigengewicht. Dafür ist sie aber auch sehr stabil und hat einen hochwertigen look.
Lisa
&nbsp|&nbsp
2017-01-08 10:56:20
---
Wenn die Tasche online toll aussah, so ist sie im Original der Hammer. Saubere Verarbeitung, gute Qualität und sie bietet viel Platz für den üblichen Krimskrams, den frau so braucht. Allein schon durch die Streifen ist sie ein echter Hingucker, mit der Schleife wird das Ganze nochmal abgerundet.
Sarah
&nbsp|&nbsp
2016-08-10 09:59:48
---
Eine wirklich wunderbare Tasche in einer tollen Qualität!
Das einzige Manko der etwas hargängige Reßverschluß, ich hoffe das gibt sich noch ;-)
Ansonsten eoin TRAUMTEIL!
Monika
&nbsp|&nbsp
2016-03-14 11:57:59
---
nl
De mooiste, beste tas ever
Na twijfelen (deze, of toch die?) deze tas gekocht. Naast dat ik er nog steeds veel complimenten over krijg, ben ik nog dagelijks blij met deze tas. Nog nooit vond ik een tas zo lang leuk, ik was er altijd al eerder op uitgekeken. De tas heeft een goede kwaliteit. Is praktisch groot (naar het werk met lunch en fruit erin, met kind en luiers erbij, of gewoon), blijft mooi. Ik heb nog steeds geen leukere gevonden. Dus hij blijft nog even.
Sandra
&nbsp|&nbsp
2018-02-14 14:43:26
---
Dachte, die Tasche wäre größer. Musste mich dann wieder von ihr trennen.
Corinna Sommer
&nbsp|&nbsp
2017-10-26 13:55:44
---