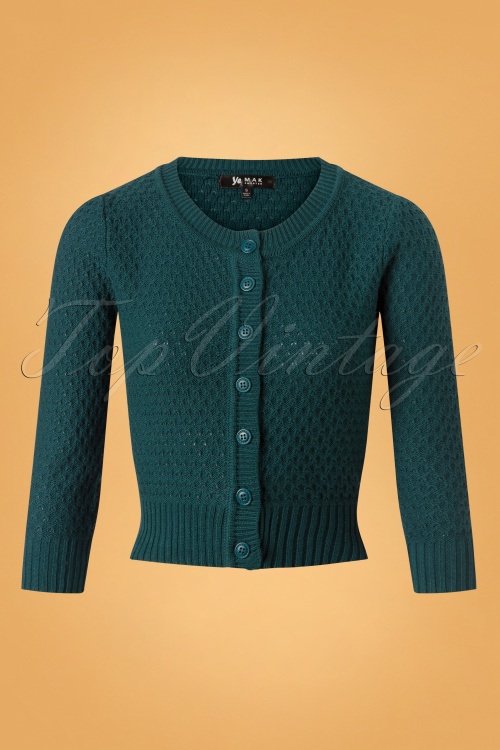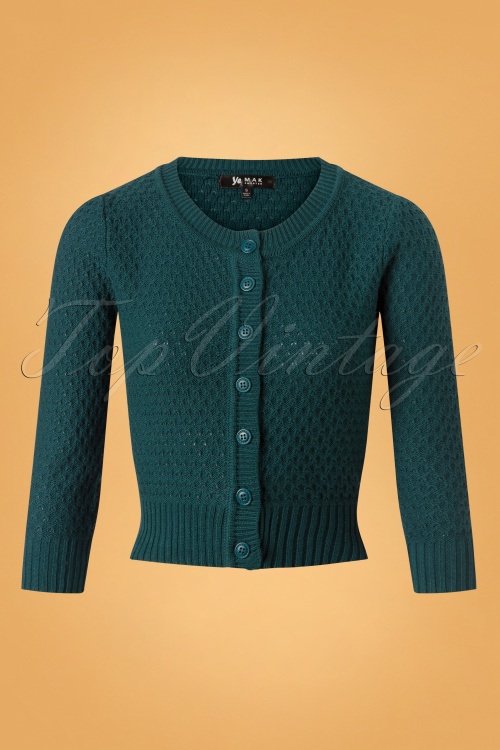 50s Jennie Cardigan in Peacock
The combination possibilities are endless with this 50s Jennie Cardigan in Peacock! Cardigans are often undervalued garments but let's change that. You can wear them open or closed and make it possible to enjoy your summery clothes on cold days as well. They do deserve some credit for that, don't they?! This versatile cardi features a classic cut with a round neckline, 3/4 sleeves and stretchy rib board for a beautiful fit. Made from a thicker yet lovely supple and stretchy, fine knitted petrol blue cotton featuring a subtle check pattern. Jennie simply deserves a spot in your wardrobe, doesn't she?
Round neckline
3/4 sleeves
Stretchy rib board
Slightly shorter and therefor a perfect match with high waist items
Article nr.
26694
Handwash cold (don't leave it in the water)
Wash inside out
Do not dry clean
Do not tumble dry
Air-dry flat
Iron inside out on low temperature setting
dit vestje wou ik al lang maar bleek dan helaas uitverkocht...gelukkig kon ik het verleden week terug bestellen ...het is mooi van kleur ..zit goed voor mij en past perfect bij een aantal kleedjes, ik ben er blij mee ..en bedankt voor het lekkere cadootje ❤
ann pannecoucke
&nbsp|&nbsp
2018-12-21 18:15:55
---
Gele jurk is erg mooi. De stof is lekker dik zodat deze nog de hele winter gedragen kan worden met een vestje erop.
Model valt goed. Ik ga echter nog wel de overslag met een steekje vastzetten. Niet iedereen hoeft daar naar de hele dag naar binnen te kijken. :) Het kraagje vereist wel een beetje strijkwerk na het wassen om het mooi te laten vallen.

Vest had ik erbij gekocht maar is niet model om op deze jurk te dragen. Het vest maakt als je het open draagt een beetje dik door de lengte en dikke stof. Gesloten gedragen op een rokje staat het vest wel goed. Vest is heerlijk warm en de kleur is mooi.
Anne van der Cruijsen
&nbsp|&nbsp
2018-09-18 14:19:45
---
Helaas, de kleuren zijn prachtig (had peacock en de mosterdgele besteld) maar de pasvorm is echt slecht. De mouwen hebben plooitjes bij de schouders die je niet ziet op de foto, het zijn pofmouwtjes. Verder vallen de mouwtjes gewoon mooi strak maar is het lijfje wijd en zelfs een beetje bloezend. De voorpanden hebben verschillende breedtes: van hals naar schouder gemeten mat ik aan de ene kant zes centimeter en aan de andere kant zeven. Heel jammer dat ik ze moest terugsturen.
Wineke de Boer
&nbsp|&nbsp
2018-09-01 12:13:31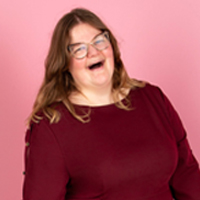 Response from Nicole

Beste Wineke, wat jammer dat de pasvorm zo tegenviel! We hebben inmiddels mailcontact gehad en hopelijk vind je gauw een mooie vervanging!
Groetjes,
Nicole
Klantenservice
---
De kleuren zijn in het echt valer dan op de website, ook het model valt tegen. Wellicht door mij verkeerd ingeschat, maar korter dan gedacht en veel breder dan gedacht. Hierdoor was zelfs de M aan de ruime kant en flateerde mij niet.
Dywen
&nbsp|&nbsp
2018-09-01 08:48:57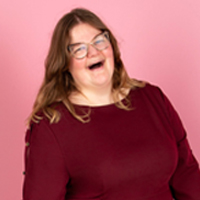 Response from Nicole

Beste Dywen, wat balen dat deze vestjes geen succes waren! We proberen de kleuren altijd zo realistisch mogelijk af te beelden, maar door verschil in pixels en/of beeldschermhelderheid kan de kleur in het echt soms toch afwijken. Onze excuses hiervoor! Mocht je de items willen retourneren, dan is dit uiteraard geen probleem en betalen we zo snel mogelijk het aankoopbedrag terug. Hopelijk vind je dan gauw een alternatief dat wél een perfecte match zal zijn ;-)
Groetjes,
Nicole
Klantenservice
---
Cardigan van prachtige kwaliteit ! Staat leuk bij alles. Kon niet kiezen que kleur, dus heb ze (bijna) allemaal gekocht ;)
Fabienne De Bie
&nbsp|&nbsp
2018-08-30 15:33:34
---
nl
'Lovely maar 'gelukkig' (voor de bankrekening) retour
De korte vestjes zijn heerlijk! Het roestbruine bleek me niet te staan maar is wel mooi herfstig, en de peacock is echt mooier dan ik had verwacht. Ik kon niet alles uit mijn bestelling houden dus 'gelukkig' bleek dat het korte model mij toch niet zo fantastisch staat, en ik momenteel ook geen jurkje in de juiste kleur heb.

Het glitterige truitje is ook prachtig, heel mooi van kleur, sluit goed aan (maakt slank!) en met een mooi subtiel gouddraadje.
Helaas heb ik de ervaring dat ik iets te 'lomp' ben om zulke truitjes lang mooi te houden en vind ik het te duur om na een paar keer dragen/wassen in de kast te laten hangen omdat het glitterdraadje overal uitsteekt.. Daarom mag die ook terug, voor de voorzichtigere dames ;).

De schoentjes zijn leuk! Eindelijk mooie groene pumps, en ze zitten prima!
Taya van Liempd
&nbsp|&nbsp
2018-08-13 16:57:08
---
Wat ben ik verliefd op deze prachtige vestjes!! Ik had ze al in bijna alle kleuren van de regenboog voor deze zomer en nu de mooi warme herfstkleuren. Passen op veel van mijn vintage jurken! Met de pofmouwtjes, heel tof! Was ze echt op handwas programma, zo blijven ze mooi zacht! In love!
Anneke
&nbsp|&nbsp
2021-09-11 08:00:03
---
Diese Strickjacke wird bestimmt schnell ein Lieblingsstück! Sitzt perfekt, fühlt sich angenehm weich an, sieht gut aus. Und von der Blitz-Lieferung war ich echt überrascht! Innerhalb Deutschlands schleicht die Schneckenpost, aber aus den Niederlanden war die Ware innerhalb von 48 Stunden bei mir. Großartig!
Sabine
&nbsp|&nbsp
2021-09-01 12:40:37
---
Merci top vintage !
Grâce à vous, et à vos magnifiques vêtements, je me sens plus confiante en moi !!
Tout est superbement bien taillé, ce qui permet de mettre l'accent sur les belles courbes plutôt que sur les petits défauts. Adieu les complexes, je suis simplement moi en mieux !

Julie Dordin
&nbsp|&nbsp
2021-08-03 11:52:35
---
Commandé en jaune moutard taille S, j'ai craqué pour le bleu taille M.. en effet, j'ai un long buste donc le M est un peu plus long, il va très bien! Il donne la petite touche en plus à un pantalon large ou une jupe rétro! j'adoore! Dommage que vous n'ayez pas plus de modèles de cette marque je suis fan :-)
AMELIE
&nbsp|&nbsp
2021-01-05 09:53:26
---
Prima vestjes in leuke kleuren. Heb al een aardige collectie ondertussen!


Natalie
&nbsp|&nbsp
2020-12-01 20:47:31
---
Für die kühleren Jahreszeiten ist dies eine herrliche Jacke, sie ging lediglich zurück, weil sie mir zu klein u zu eng war. Ich bestelle sie mir sicher noch einmal neu, aber vielleicht in einem anderen Farbton, Bronze gefiel mir auch sehr. Die 3/4 Arme mag ich, da ich Strickjacken u Pullover oftmals ohnehin hochziehe an den Armen.
Susanne
&nbsp|&nbsp
2020-09-09 13:09:51
---
Zeer mooi truitje, kleur is zoals op de foto en mooie pofmouwtjes. Maar moet helaas retour. Er zit een vlek boven op de mouw. Ik neem liever het zekere voor het onzekere en ga een propere versie vragen. Mvg
Laetitia Renguet
&nbsp|&nbsp
2020-07-30 11:36:46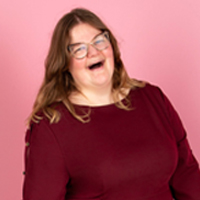 Response from Nicole

Beste Laetitia, het spijt me dat er een vlek op de mouw zit! Dit had natuurlijk niet mogen gebeuren. Ik heb zojuist al op je e-mail gereageerd, dus we kijken uit naar je reactie, dan gaan we het natuurlijk samen oplossen :-)
Groetjes,
Nicole
Klantenservice
---
Super leuk vestje.
De kleur komt overeen met de foto's.
Ik heb de maattabel aangehouden bij het bestellen en hij past prima. De knoopjes kunnen netjes dicht. Lengte is net over mijn natuurlijke taille, ik draag hem met een jurkje dus dat is precies hoe lang ik hem ook wil.
Ondertussen heb ik hem ook al gewassen, binnenstebuiten in een wasnetje en daarna liggend laten drogen. Kleur en materiaal is nog steeds mooi en hij is niet gekrompen.
Danielle
&nbsp|&nbsp
2019-11-13 09:51:01
---
fr
si tu ne sais pas choisir, prends les 2!
ces cardigans sont manches 3/4. c'est la touche rétro pour toutes les tenues: avec une robe, avec un top décolleté ou col roulé, ou fermé et porté comme un pull. ils sont aussi doux que leur prix!
Aurelie Wantier
&nbsp|&nbsp
2019-10-15 06:35:58
---
Perfekte Strickjacke. Schön kurz, wärmendes Material. Habe sie eine Grösse grösser bestellt als normal und sie passte damit perfekt.
Renate Tittl
&nbsp|&nbsp
2023-01-29 17:24:10
---