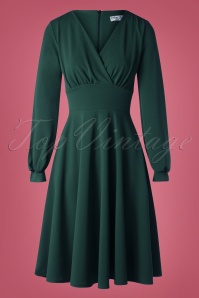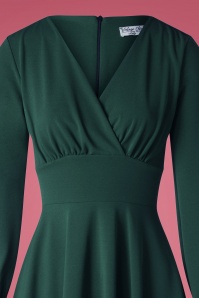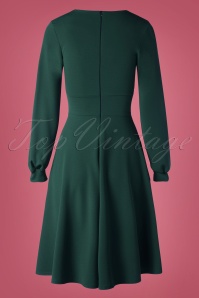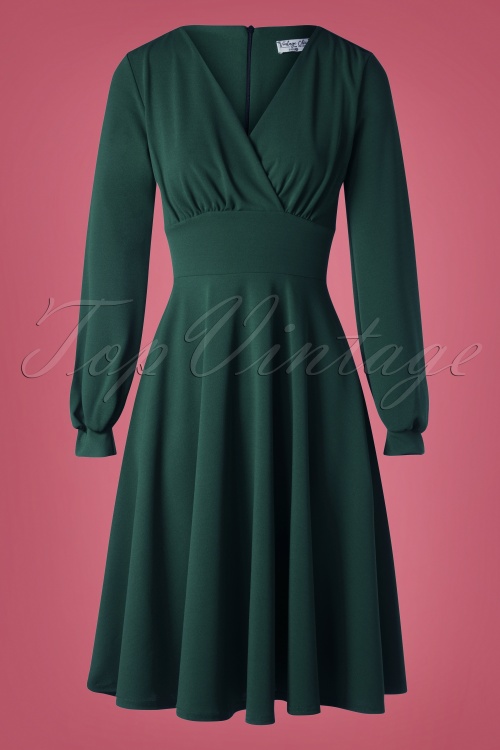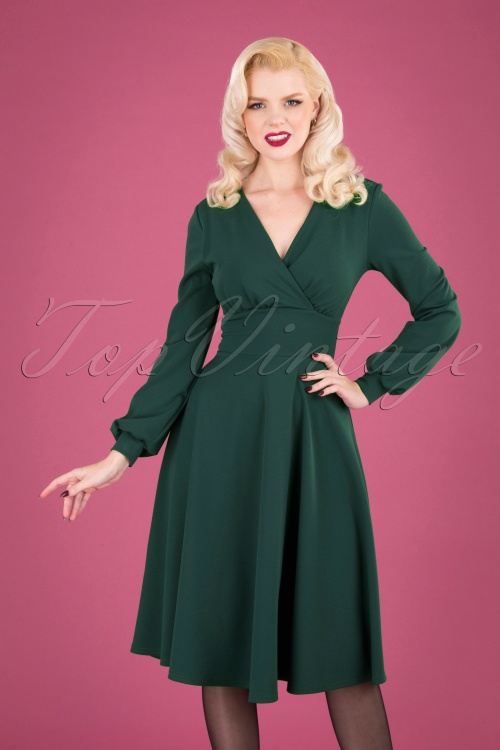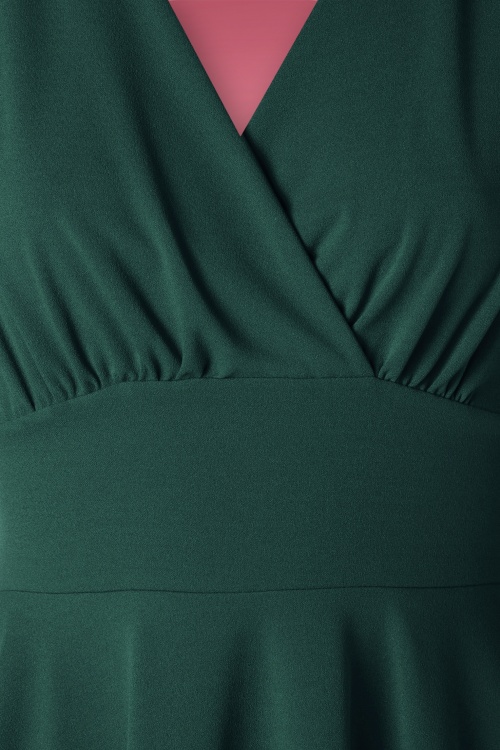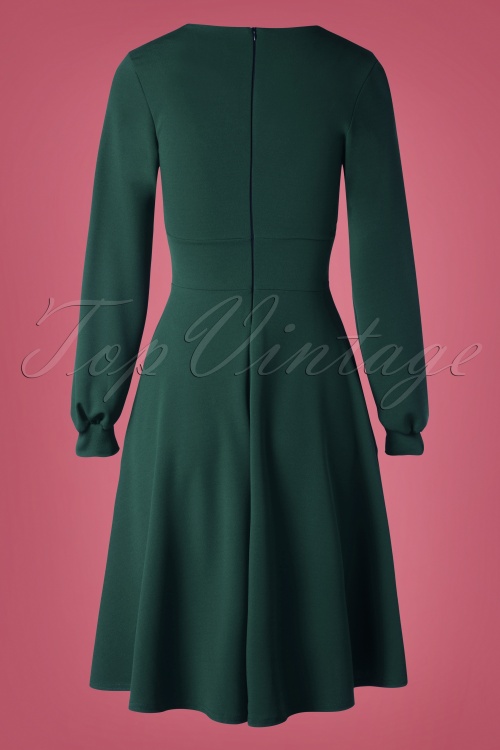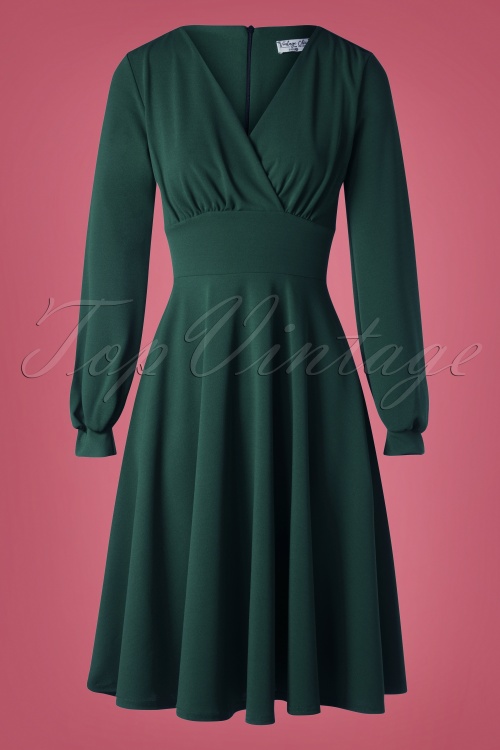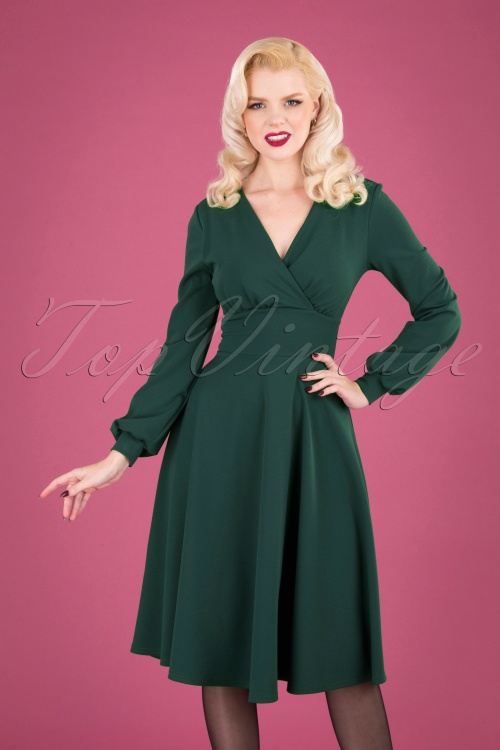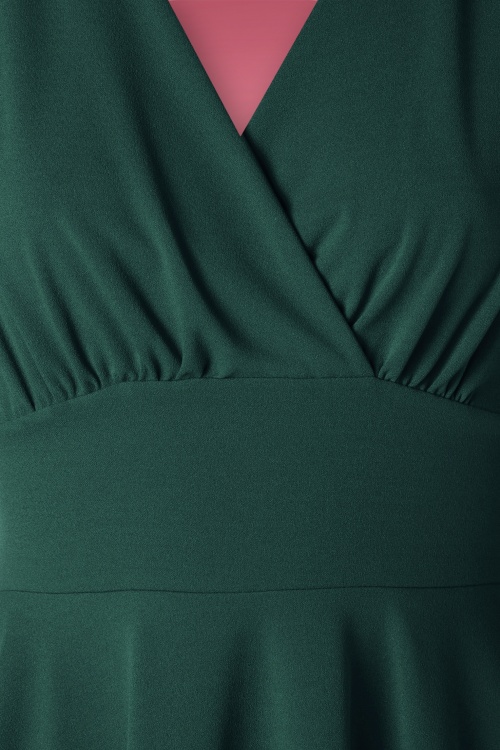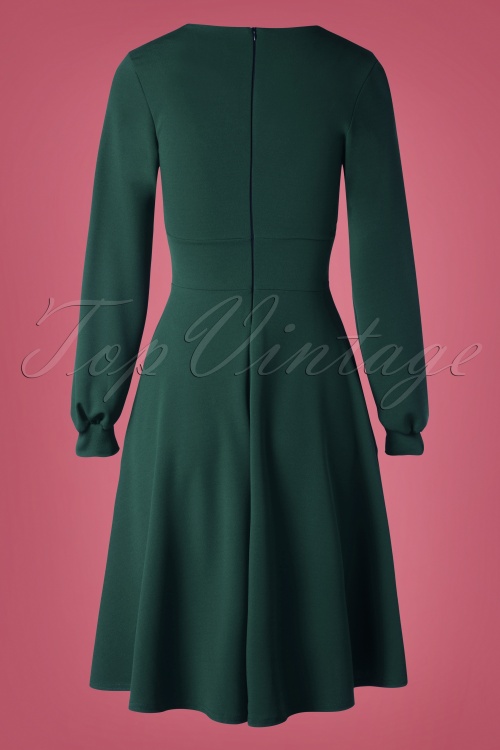 50s Helaine Swing Dress in Forest Green
Feminine and flirty best describe this 50s Helaine Swing Dress in Forest Green! She features a fixed wrap over, long puffy sleeves and from the waist down she runs into a flowy semi-swing skirt. Made of a supple and stretchy, dark-green fabric that is a joy to wear. Helaine is super versatile and a real wardrobe essential for every woman! 
Semi-swing style
Fixed wrap over
Lined, pleated cups 
Long puff sleeves
Hidden zipper at the back

Our gorgeous blonde Rachel is 1.72m / 5'8''
Article nr.
31813
95% Polyester
5% Elastane
Handwash inside out (don't leave it in the water)
Wash inside out
Do not dry clean
Do not tumble dry
Iron inside out on low temperature setting
Do not bleach
Made in the UK
Wat staat deze groene kleur prachtig!
Ook leuke poefmouwtjes!
Evelien
&nbsp|&nbsp
2019-12-30 19:48:22
---
Fijne jurkjes: ze vallen mooi en de stof is dik en van goede kwaliteit. Top!
J.
&nbsp|&nbsp
2019-12-25 17:15:35
---
Prachtige jurk van mooie kwaliteit! Erg blij met mn kerstoufit 2019!
Linda Camp
&nbsp|&nbsp
2019-12-17 19:48:01
---
De jurken zitten heerlijk! De groene is heerlijk warm en heeft een goede stretch. De zwarte valt erg sierlijk. De laarsjes zijn precies de goede maar en zitten goed stevig!
C.H. Lagendijk
&nbsp|&nbsp
2019-12-17 07:42:02
---
de
Wunderschöne feminine Form
Ich habe schon einige Kleider von Vintage chic und auch dieses betont wieder wunderbar die feminine Körperform. Es schmiegt sich richtiggehend an. Schade, dass es das in rot nicht mehr i meiner Größe gibt, sonst wäre das auch noch bei mir gelandet.
Henriette Fröhlich
&nbsp|&nbsp
2019-12-05 10:44:51
---
... maar deze jurk tekende toch iets teveel op mijn rug. Pasvorm was redelijk ok, bij de borsten zat het niet spectaculair mooi. Had de jurk kunnen houden, maar ga echt alleen nog maar voor een 10.
Cathelijne
&nbsp|&nbsp
2019-11-07 15:42:36
---
Ein wunderschönes dunkelgrünes Kleid, dass eine tolle Figur macht und sehr hochwertig gearbeitet ist. Ich freue mich schon drauf, es das erste Mal zu tragen!
Jaana Westmeier
&nbsp|&nbsp
2019-11-01 01:23:03
---
Wat een prachtige jurken. Ik heb ze nu in alle kleuren. Mooi voor de feestdagen. Maar ook om zo te dragen. Want elke dag is een mode show. Ik draag normaal maat 42 met een zandloper figuur. Maar ik heb een maat 18 besteld. Ik vindt ze klein vallen in de taille en bij de boezem. Normaal maat 16. Verder zeker een aanrader. Lekker dikkere stretch stof. En heerlijke lange mouwen. Maakt mooi vrouwelijk en slank.
LV
&nbsp|&nbsp
2021-12-03 12:30:03
---
de
Ein neues Lieblingsteil...
In meinem Schrank! Mit der Marke Vintage Chic hab ich bisher nur gute Erfahrungen gemacht und wurde auch dieses Mal nicht enttäuscht. Der Grünton ist super schön, und das Kleid sitzt Dank der Größentabelle perfekt.
Laura
&nbsp|&nbsp
2021-11-30 20:13:07
---
de
An und nie wieder Ausziehen!
Ich hab wochen damit gehadert, ob ich mir dieses Kleid und die Rote Version (was leider nicht mehr verkauft wird, sonst wär es defintiv auch im Warenkorb gelandet!) zulegen sollte und bereue es absolut nicht! Es ist ein schöner schwerer Stoff der den Körper schmeichelt und einen direkt Verzaubert! Ich wollte es nach der Anprobe gar nicht mehr ausziehen, weil ich mich so in den Schnitt verliebt habe! Die Kleider von Vintage Chic sind wirklich ein Traum an sich und selbst wenn es die rote Version nicht mehr gibt, ist die Blaue schon mal auf meiner Wishlist!!
Leslie
&nbsp|&nbsp
2020-12-14 10:30:09
---
nl
Prachtige jurk heerlijke mouwen
Helemaal blij met de rode jurk. Mijn man vind de groene kleur minder bij mij staan en riep wie betaald bepaald! Dus rood gehouden groen retour. De mouwen zijn zo fijn en vallen mooi. Jurk valt perfect bij een lengte van 181
Goitske Buurman
&nbsp|&nbsp
2020-12-01 19:34:59
---
Vandaag mijn jurk binnen gekregen. Wat is die mooi en hij zit als gegoten. Ik heb me al een paar jaar geen vrouw gevoelt en ben nu na mijn scheiding met een beetje aan dringen van mijn vriendinnen een jurk gaan kopen. En wat voel ik me toch weer een vrouw. Super bedankt top vintage

Marielle Koopman
&nbsp|&nbsp
2020-11-14 12:01:59
---
Deze jurk zit mooi, heeft prachtige stof en je voelt je echt super in deze jurk. De lengte over de knie is mooi en decolleté ook top. Kleur groen is erg mooi en ik krijg veel complimenten. Enige nadeel is dat je zweet of nat er goed op ziet, dus helaas geen dansjurk.
Karmijn
&nbsp|&nbsp
2020-10-23 12:34:31
---
de
Immer wieder ein Traum
Auspacken, freuen, anziehen, sich wie eine Lady fühlen!
Der Mantel hat ein wunderschönes dunkles Grün und passt perfekt. Die kühle Jahreszeit kann kommen.
Das Kleid, auch ein traumhaftes dunkles grün, sitzt perfekt an der Taille, fühlt sich wunderbar an und fällt sehr schön.
Komplimente gab es auch bereits.
Mareike
&nbsp|&nbsp
2020-10-16 07:49:19
---
de
Schöne Kleider, aber große Trauer um Verpackung
Das graue Kleid ist relativ lang (bin 1,67 und es endete Mitte der Wade bei Größe M), also evtl. drauf einstellen es kürzen lassen zu müssen. Wäre der Stoff etwas hochwertiger gewesen hätte ich das vielleicht sogar gemacht, aber er war schon sehr...polyesterartig-strechig. Daher leider zurück :(

Das gestreifte und das grüne Kleid sind herrlich und zaubern eine wirklich schöne Figur! Das grüne Kleid ist aus einem kreppartigen Stoff, den ich persönlich vom Gefühl her nicht so sehr mag, aber es sieht trotzdem toll aus und hat eine edle Farbe. Bei dem gestreiften stimmt einfach alles! Danke schön!

PS: Aaaaber ich vemisse die edle, liebevolle Verpackung mit Karton und Seidenpapier! Das zeremonielle, knisternde Auspacken war immer wichtiger Teil der exzeptionellen Top-Vintage-Erfahrung und hat das Bestellen hier auch mit so besonders gemacht, Die Verpackung in zig Plastiktüten wirkt (Recycling hin oder her) irgendwie lieblos und billig...ich würde mich über eine Rückkehr des Kartons + Seidenpapier riesig freuen!
Jutta
&nbsp|&nbsp
2020-08-26 20:39:06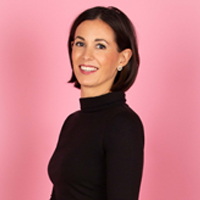 Response from Sylvia

Liebe Jutta, es tut uns leid dass Sie nicht über alle Teile aus Ihre Bestellung zufrieden sind. Bitte entschuldigen Sie uns dafür! Schicken Sie uns die Sachen einfach zurück. Das ist überhaupt kein Problem.
Neulich haben wir für kompaktere Bestellungen den Überstieg nach eine Umweltbewusstere Verpackung gemacht. Unsere neue Plastik Verpackungen sind umweltfreundlicher als die laminierten Kartons. Außerdem sind diese völlig biologisch abbaubar. Die Schicht auf unsere Kartons ist dies leider nicht. Es tut uns leid dass Sie hierüber enttauscht sind. Hoffentlich sind Sie weiterhin Zufrieden über Ihren Kauf bei TopVintage, wir wünschen Ihnen dennoch viel Spaß an den Sachen zu!
Liebe Grüße,
Sylvia
Kundenservice

---
Très contente de cette robe !
La couleur est profonde, le buste est flatteur, les manches très jolies et la jupe semi-évasée donne juste le volume qu'il faut!
Une belle petite robe facile à porter pour l'automne et l'hiver.
Roxane
&nbsp|&nbsp
2023-08-22 12:49:07
---
Hab's in grün zusammen mit einem anderen zur Auswahl bestellt. Leider ist es das andere grüne geworden, aber dieses kommt definitiv in rot in meinen Kleiderschrank. Ein schönes Tragegefühl und die Falten des rocken fallen super gut! Außerdem macht es einer schöne Tallie und somit einen Gürtel überflüssig.
Kelly
&nbsp|&nbsp
2021-12-17 12:10:08
---