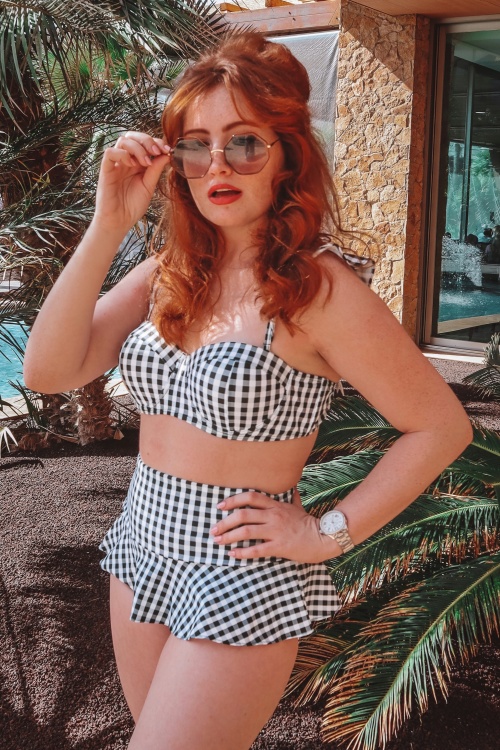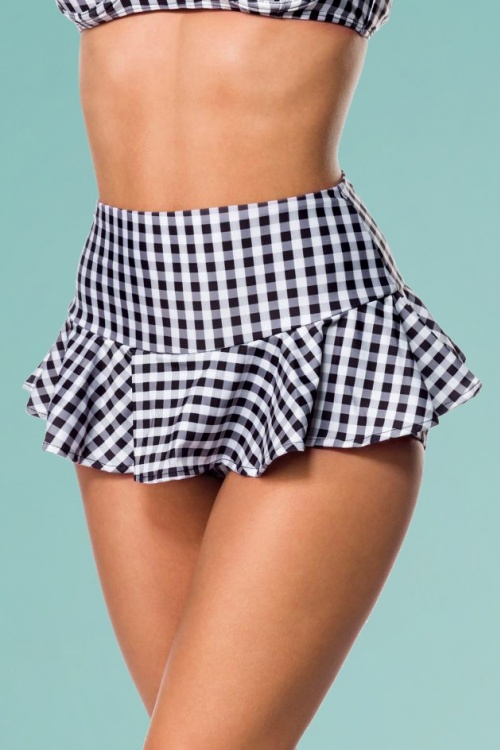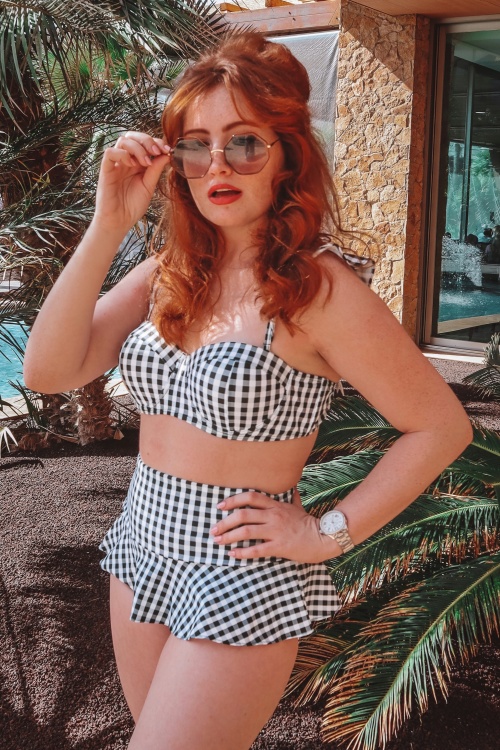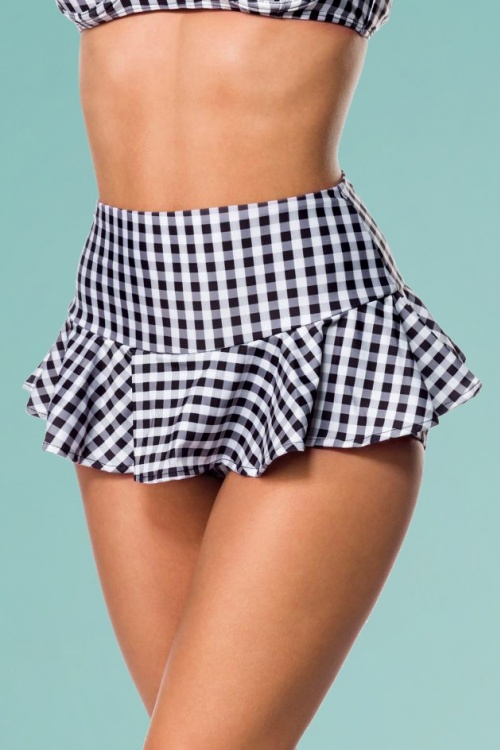 50s Gigi Gingham Bikini Pants in Black and White
Strut your stuff in style while swimming in the sea or relaxing at the beach in these 50s Gigi Gingham Bikini Pants in Black and White! You've never looked more stylish lounging by the poolside than in these high waist pants with playful ruching for a flattering fit and a cute gingham print that help you channel your inner BB. Made of a smooth and comfortable, stretchy, black and white fabric that is a joy to wear and fits perfectly. Will you be a gingham girl this summer? 
High waist style
Fixed ruching
Partially lined
The matching top is sold separately 
Article nr.
27855
80% Polyester
20% Elastane
Handwash inside out (don't leave it in the water)
Wash inside out
Machine wash 30c delicates cycle
Do not dry clean
Do not tumble dry
Air-dry flat
Do not iron
fr
Très joli maillot de bain, mais taille grand☹️
Super sympa et sexy, mais malheureusement la taille XS n'est pas proposé, le S est trop grand, mais je le garde malgré tout, un peu de patience du fil et une aiguille et me voilà à la couture ! Je trouve vos tailles de plus en plus grande étant devenu un petit gabarit pour raison de santé j'ai de plus en plus de mal à trouver des vêtements dans votre boutique près du corps. Sauf la collection Diva d'Angélique taille mieux pour ma morphologie. Lorsque j'ài un très gros de cœur pour un article et que je veux le porter sans retouche je fais tout pour me le procurer en taille 6 et non en 8 comme proposé sur votre site. Mais malgré tout je reste fidèle à votre site, c'est sur que celle freine mes envies et achats car la couture ce n'est pas vraiment ma tasse de thé.
Brigitte Mellot
&nbsp|&nbsp
2019-06-17 16:00:00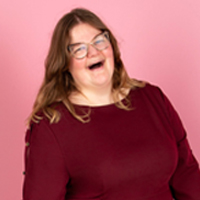 Response from Nicole

Bonjour Brigitte, quel dommage que votre achat est trop grand ! Nous sommes toujours prêt pour vous donner du conseil, donc n'hésitez pas à nous contacter si vous hésitez quelle taille vous auriez besoin pour un certain article. J'en suis sûre que la prochaine fois vous trouvez un article qui est parfait pour votre morphologie :-)
Cordialement,
Nicole
Service Clientèle
---
de
Beautiful but unfortunately not for small underband sizes
The Bikini is really lovely and comfortable but sadly even S is way too big for me as the underband is rather large but the cup size does fit nice(I'm a 70C). The straps are also rather large on me. So I wouldn't recommend buying it if your underbandsize is small, unless you can alter it.
So I'll try to alter it myself because the bikini is really lovely.
Yvonne
&nbsp|&nbsp
2019-06-07 13:09:49
---
Zal weer plaats moeten maken in mijn kast... of nog een kast bijmaken .

Had een grotere bestelling gemaakt om dan te kunnen selecteren en enkele stukken retourneren... maar ben weer verliefd op alle stukken.

Het blauwe kleedje met de kleine kersjes zit als gegoten en is zo licht dat k nie kan wachten op een "hete" zomer.

De schoentjes zijn super cute. De Coloko flats voelen zalig maar toch maar een maatje groter gevraagd.

Het kaki badpak is so classy modern en veelzijdig, ook de kwaliteit ziet er zeer goed uit.
De bikini top was niet voor mij spijtig genoeg, de cups zijn veel te klein.
Maar t bikini rokje is schitterend.

Xxx


quivy siska
&nbsp|&nbsp
2019-03-28 14:23:53
---
Echt een mooie bikini , die goed afkleed , en toch sexy is !Volgende week er van genieten in de zon.
Dank jullie wel ! Dat er nog meer van dit soort bikini`s op jullie site komen Groetjes Diana.

Diana van Gent
&nbsp|&nbsp
2019-03-20 20:06:45
---
Het broekje/rokje van deze bikini vind ik mooi, maar de ruches vallen bij mij helaas wat ongelukkig (laten me breder lijken dan ik ben). Het topje vind ik wél heel mooi, maar bij de kleinere maat is de cup voor mij te klein, en de grotere maat is te ruim onder de borst. Deze gaat dus terug, maar ik ben zeker dat ik hier (opnieuw) een bikini vind die mij wél staat!
Jammer dat veel merken nog steeds lijken uit te gaan van een gemiddelde B/C cup, terwijl dat zowel in Nederland als België al een tijd eerder C/D is (en nog steeds lijkt toe te nemen)
Kristel
&nbsp|&nbsp
2019-03-18 19:43:53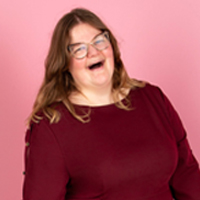 Response from Nicole

Beste Kristel, wat jammer dat je aankoop deze keer tegenviel! Ik zal je even een e-mail sturen, want we hebben een prachtig merk in de collectie dat zeer geschikt is voor grotere cups ;-) Tot zo! 
Groetjes,
Nicole
Klantenservice
---
The swimsuit is really cute on and fits comfortably, The fabric is thick and good quality. It comes with plain straps as well as straps with shoulder urfflesand can be worn straight or criss crossed depending on your size (plain can also be work halter).
Hadley Barth
&nbsp|&nbsp
2019-03-03 21:23:59
---
nl
Niet voor mij geschikt...
Prachtige bikini. Voor het eerst dat ik een vintage bikini heb gepast. Het broekje staat echt heel leuk, en zit ook goed. Door die roezel is het net even wat anders. Maar de top was me echt veel te groot qua bandwijdte. Ik had de kleinste maat besteld, want ik heb al jaren bandwijdte 70, maar ik kon hier bijna een vuist bij in steken. Helaas helaas veel te wijd onder de borst. Ik heb hier al contact over gehad met de Klantenservice, volgens mij klopt de maattabel van de top niet. Zo jammer, maar hij is weer retour.
Anja Mulder
&nbsp|&nbsp
2019-02-14 11:16:33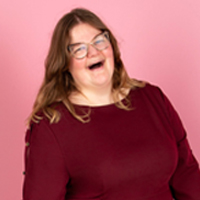 Response from Nicole

Beste Anja, wat jammer dat de pasvorm van de top zo tegenviel! We hebben hierover inderdaad al contact gehad en we houden je natuurlijk op de hoogte van onze bevindingen!
Groetjes,
Nicole
Klantenservice
---
Denn, dass ist ein schöner Bikini. Und ich habe ihn mir schon mal bestellt. Leider musste ich ihn zurück schicken weil er oben rum zu groß war und unten rum zu klein. Also habe ich gewartet bis meine Größe wieder verfügbar war. Neu bestellt, diesmal oben rum, war es meine Größe ( laut Etikett) aber es war trotzdem zu groß. Ich habenS für das Oberteil bestellt, zudem kam beim Oberteil seltsamerweise die falschen Träger. Ich hatte 2 Träger mit Rüschen für die linke Seite bekommen. Hätte ich einen Fon rechts getragen, so wäre er falsch herum gewesen. Dass musste hätte nach innen gezeigt. Somit, ein falscher Träger. Ich war anfänglich etwas verwirrt.
Zudem trotz dass der Umfang 70 besagte, war es noch immer zu groß. Wirklich komisch.
Dass Höschen passte endlich super. Aber ich trage eigentlich XS/S und musste für das Höschen M bestellen. Ja toll, aber es nützt mir das Höschen ohne Oberteil?
Also geht leider beides zurück. Dabei hatte ich mich so sehr gefreut auf den Bikini. Denn er sieht wirklich toll aus.
Leider schicke ich es heute zurück. Nützt nichts.
Georgina Goutzios
&nbsp|&nbsp
2019-12-16 10:06:14
---
de
Super schönes Triangle Oberteil
Ich habe mir das Bikinioberteil in 12 und 14 bestellt. Ich trage normalerweise Größe 42. 14 war viel zu groß, 12 passt ganz ok. Ich schätze, dass für A Körbchen auch 10 gepasst hätte, da das Oberteil am Rücken zusammengebunden wird. Leider ist 10 ausverkauft, ich behalte 12 trotzdem und nähe vielleicht noch Polster rein. Trotzdem bin ich insgesamt sehr zufrieden. Sieht super aus!
Sabrina Schubert
&nbsp|&nbsp
2019-08-01 10:19:08
---