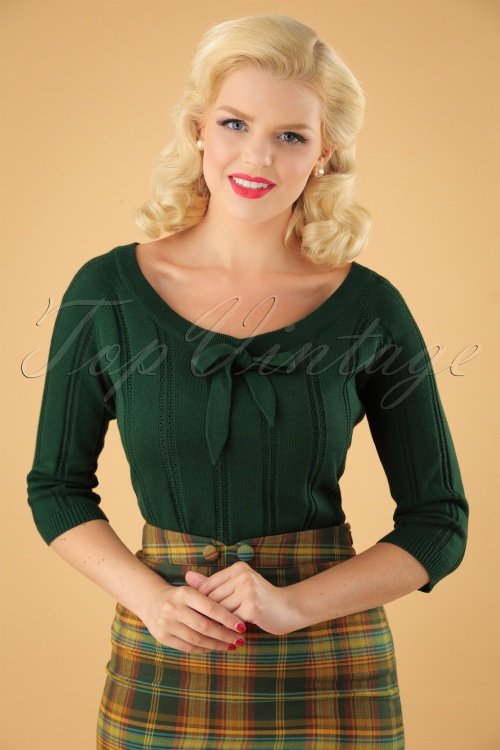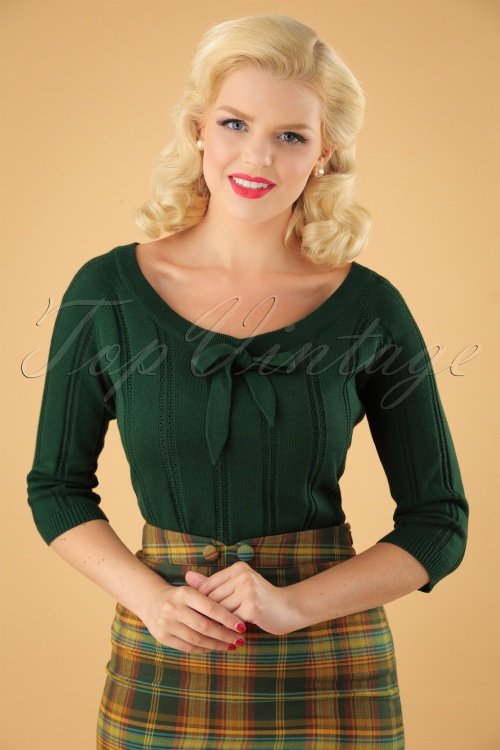 50s Belle Bow Pointelle Top in Forrest Green
It's easy to fall in love with this 50s Belle Bow Pointelle Top in Forrest Green! The top features a beautiful round neckline with a playful bow and 3/4 sleeves, cute! Made of a lovely supple, stretchy, fine knitted dark green viscose blend with a classic openwork pattern. A versatile top that every vintage lady should have in her wardrobe!
Round neckline
Fixed bow
3/4 sleeves
Stretchy ribbed trim
Long enough to pair with regular trousers
Article nr.
26190
Handwash inside out (don't leave it in the water)
Wash inside out
Machine wash 30c delicates cycle
Dry clean
Do not tumble dry
Iron inside out on low temperature setting
Sneeuwwitje,
Werkelijk prachtig de donker groene oorbellen had ik al .
E ADAMS Renes
&nbsp|&nbsp
2020-09-22 19:33:21
---
Helemaal top, ik heb ze inmiddels in drie kleuren. Mooie goed vallende stof
Linda
&nbsp|&nbsp
2020-09-20 06:59:21
---
nl
Toptruitje in natuurlijke materialen
Heerlijk kantoor- of tussenseizoentruitje dat ik voornamelijk voor het materiaal kocht (katoen-viscosemix) en de mooie donkergroene kleur. Ik zou 'm in iedere kleur wel willen hebben :-).
Janine
&nbsp|&nbsp
2020-09-11 17:31:58
---
Zwarte vestje met strikjes (L): Precies wat ik ervan gehoopt had. Mooi materiaal, lekker elastisch maar wel stevig en prachtige pasvorm. Cute en sexy tegelijk. Groene truitje (M) valt iets ruimer uit dan verwacht, maar zit ook erg mooi en past bij alles. Rode truitje (L) past perfect en ook mooi stevig materiaal. Alle bovenstukken staan zowel bij wijde rok, kokerrok als bij highwaisted broek erg mooi.. Groene jurk fantastisch model, stevig materiaal wat niet tekent en draagt fijn. Valt wel wat langer uit bij mij, maar ben 1,64 en heb normaliter confectiemaat 38. Per ongeluk 2x groene jurk besteld, dus er komt nog iets terug. Wat de levering betreft: helemaal happy!!!
Somrat Dijkstra
&nbsp|&nbsp
2018-11-02 08:20:22
---
De rok is echt prachtig, past me als gegoten. De achterkant is heel mooi met die strook onderaan, en dan die kleuren! Het groene truitje staat er echt heel mooi bij, lekker stofje ook en een mooi modelletje. Twijfelde of ik de S of de M zou bestellen van het shirt, want ik vind persoonlijk op een strakke rok een iets wijdere top wel mooi. Heb de S besteld en deze zit perfect! Heel blij mee.
Anja Mulder
&nbsp|&nbsp
2018-10-10 06:45:20
---
de
Schöner Pulli in tollem grün
Er ist schön zu tragen und hat eine angenehme, weiche Qualität. Passt super zu Hosen und Rock , trägt nicht auf und ist gut kombinierbar. Da ich die Kleidung eher locker mag, war die bestellte Größe perfekt. Super Basicteil.
Martina
&nbsp|&nbsp
2018-09-26 22:59:58
---
nl
Mooi donkergroen, perfecte kleur voor roodharigen.
Beide producten zijn van een zachte, soepele stof, de maat komt perfect overeen met de tabel.
Ik kan niet wachten totdat de overige kleuren weer in mijn maat te bestellen zijn.
Kim
&nbsp|&nbsp
2022-12-08 11:01:07
---
de
Schnitt+Idee toll, Qualität naja
Es ist halt Banned. Design, stoffmuster und Schnitt sind einfach mega. Steht auch kurvigen Frauen wie mir super. Aber die Qualität ist leider nur mittelmäßig. Viel Plastikanteil und gerade der Rock hat nach dem ersten Mal tragen schon Knödchen. Ich wüsste Banned würde mehr auf Qualität setzen, ich würde auch mehr bezahlen.
Der karorock steht perfekt und ist mit der schwarzen bluse einfach genial und retro. Ziehe ich so gerne an. Die anderen Röcke haben einen schmalen Bund, sah nicht ganz so gut aus, deshalb zurück. Der grüne Pulli ist sehr süß und mit dem Karorock auch eine super Kombi. So kann ich immer wechseln.
Der corgi-pulli ist einfach nur witzig, auf das verrückte Muster miss man erst mal kommen. Betont schmale Taillen hervorragend. Der Weihnachtscardigan ist auch sehr schön.
Alles angenehm auf der Haut.
Mel
&nbsp|&nbsp
2022-11-24 04:41:02
---
Dit is een super leuk truitje. De groene past goed in maat M maar de zwarte valt echt een maat te klein. Dus de zwarte gaat retour. De groene kleur is mooi donker groen en kwaliteit is ook mooi.

De jeans jurk heel leuk maar veels te klein.
Bij andere merken heb ik altijd een L maar dit jurkje is 1 a 2 maten te klein voor mij. Dus gaat retour. Heel jammer.

Claudine
&nbsp|&nbsp
2022-11-01 12:01:26
---
de
Sale-Das magische Wort :-)
Diese drei Banned Retro Teile im Sale mussten einfach in der Einkaufstasche landen und meine Frau hat es nicht bereut.

Das elfenbeinfarbene Top sitzt perfekt und lässt sich sehr gut kombinieren.
Der orange-blaue Karorock ist von ausgezeichneter Qualität und wird im nächsten Herbst ausgeführt.
Der grüne Jumper ist genauso wunderschön wie die zuvor erstandenen Pullis in den anderen Farben.

Rundum mal wieder ein perfekter Einkauf. Dankeschön :-)


Bernd
&nbsp|&nbsp
2022-03-11 16:39:55
---
nl
Prachtige fifties kleding ?
Alle 3 artikelen zitten als gegoten: gemaakt van stevige kwaliteit stoffen en een super goede pasvorm.
Heb eerst de maten goed bestudeerd in de tabel en dat heeft heel goed uitgepakt! Jullie hebben er een tevreden klant bij!!
Linda
&nbsp|&nbsp
2022-02-01 16:08:37
---
Leuke top! Draagt fijn op een rok, maar ook op een jeansbroek. De top heeft gaatjes, maar deze zijn klein genoeg zodat je er niet door kan kijken. De top valt ietwat losjes.



Ilke
&nbsp|&nbsp
2021-11-20 04:14:48
---
Der Mantel sitztperfekt und schmeichelt der Figur. Besonders praktisch sind die amnehmbaren Fellbesätze.
Sara
&nbsp|&nbsp
2021-02-23 09:25:54
---
de
Qualität wie immer gut
Hab mir zwei Pullis bestellt für den anstehenden Herbst/ Winter.
Wollte mich für einen entscheiden und ihn vor allem zu einem dunkelroten Trögerrock, einem rot karierten Rock oder dem grün karierten Latzrock von hell bunny tragen.
Sie sind beide wirklich toll.
Der kurzärmlige von Banned war mir fast ein bisschen zu locker. Ich Trage Größe 36, aber schönes weiches Material.
Das langärmlige von Hell Bunny ist dickerer Strick, die Schlaufe und die Perle ein Hingucker. Ich werde diesen behalten, weil es vom Material und den langen Ärmeln her auch einfach mehr Sinn macht für den Winter ;-)
Kea-Christin
&nbsp|&nbsp
2020-11-19 21:01:20
---
Deze truitjes vallen erg groot uit. De roestkleurige vond ik erg fel van kleur en de groene te donker. Beiden retour




marjon
&nbsp|&nbsp
2020-11-19 16:55:17
---
Een grote bestelling... Positief en helaas ook teleurstelling.
- De witte/mintgroene/roze/rode shirtjes zijn heerlijk zacht, zijn simpel maar toch staan ze leuk. Ze zitten lekker.
- De 2 wikkelrokken zijn goed! Vooral met de bloemen is echt fantastisch! De zwarte is basic en schijnt ietsje door (onderaan bij je benen) maar niet storend. Hij is wel heel strechy/flexibel.
- De zwierige rok: hier keek ik eigenlijk het meest naar uit en dit is het gewoon niet. Ik vond de stof ook wat tegenvallen; had het dikker verwacht. Is echt een dunne stof. Wel mooie print, precies als op de afbeelding. Deze was wat te groot voor mij, een maat kleiner zou te strak zijn. Dus retour.
- Beide groene shirts gaan retour; beiden zijn ze korter dan ik dacht dat ze zouden vallen, waardoor het model bij mij niet mooi is. Die met de gaatjes erin is wel echt een prachtshirt, dus als je het figuur ervoor hebt: zeker nemen!
- Zwartwitte top: heel mooi! Maakt ook echt heel slank, blij mee!
- Zwarte gedraaide top: prima basic, zit mooi. Had voor mij ietsje langer gemogen, want ik ben wel bang dat hij wat gaat krimpen in de was.
- Korte broek: paste niet helaas. Wel erg mooi model. Bij de taille precies goed, maar ik heb ronde naar achterstekende billen, waardoor de achterzijde niet passend was.
- pump: prachtige schoen, goed op maat. Helaas 'floept' mijn hiel eruit, dus ook retour.
Naomi
&nbsp|&nbsp
2023-03-08 12:36:17
---