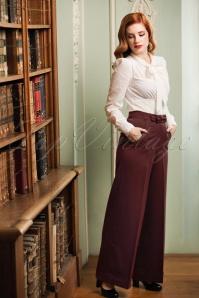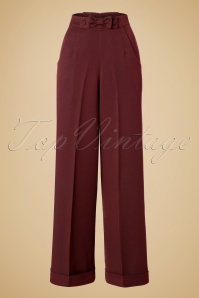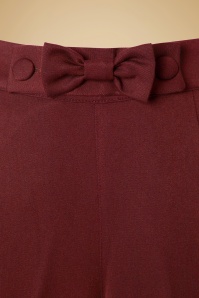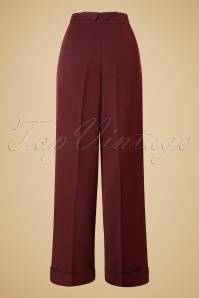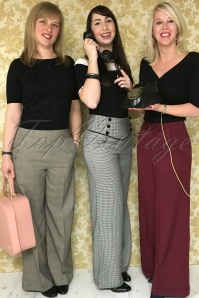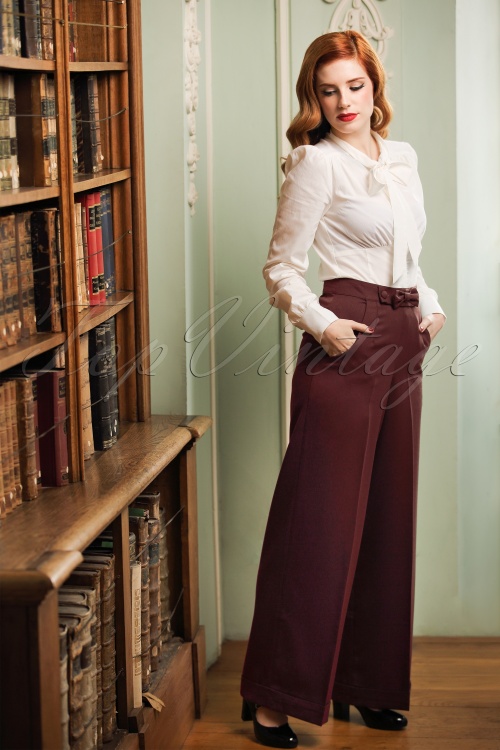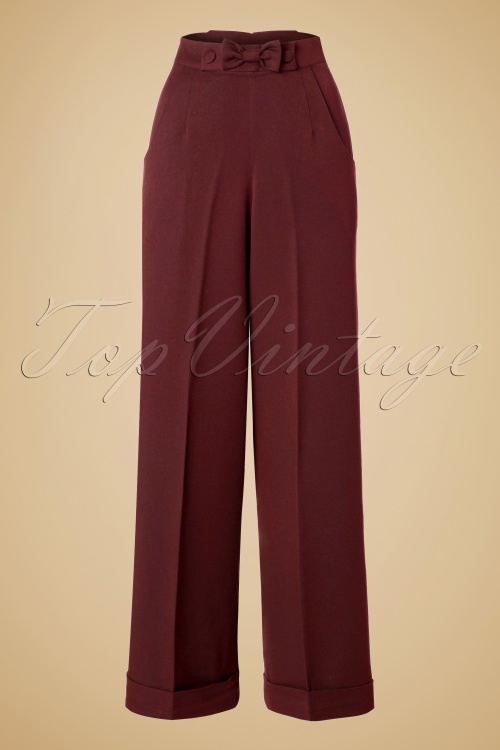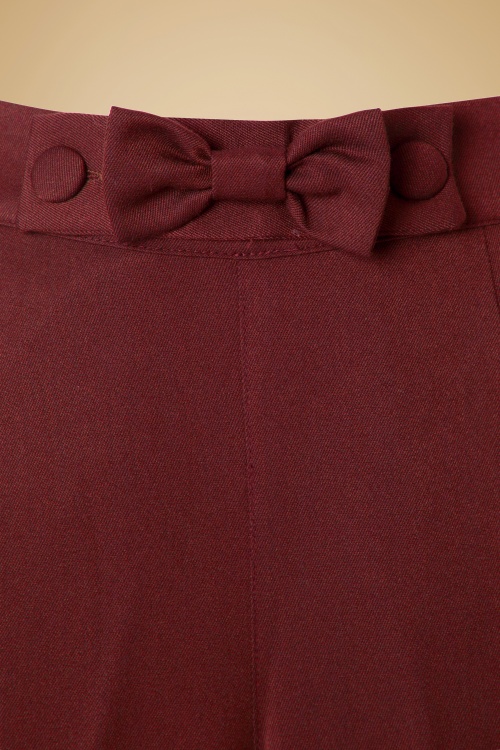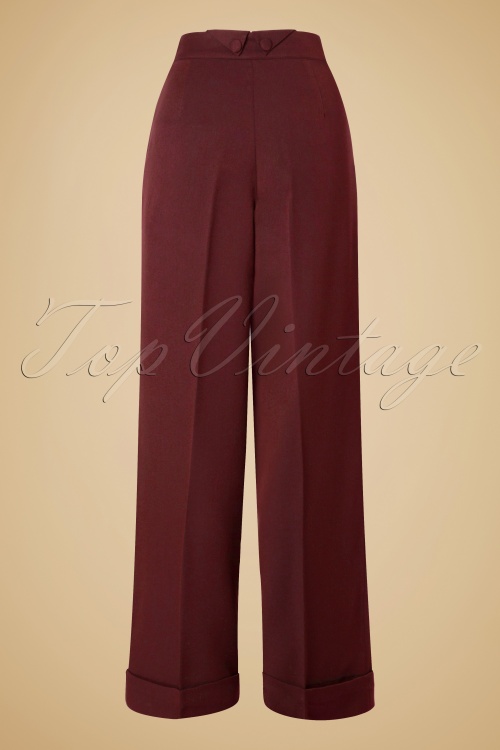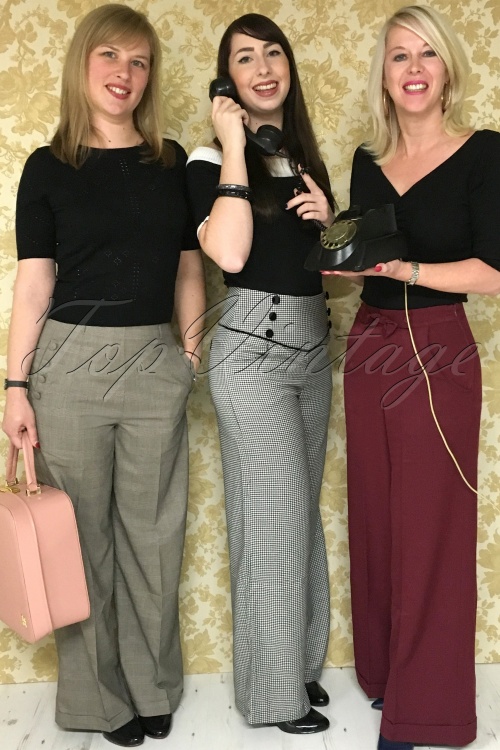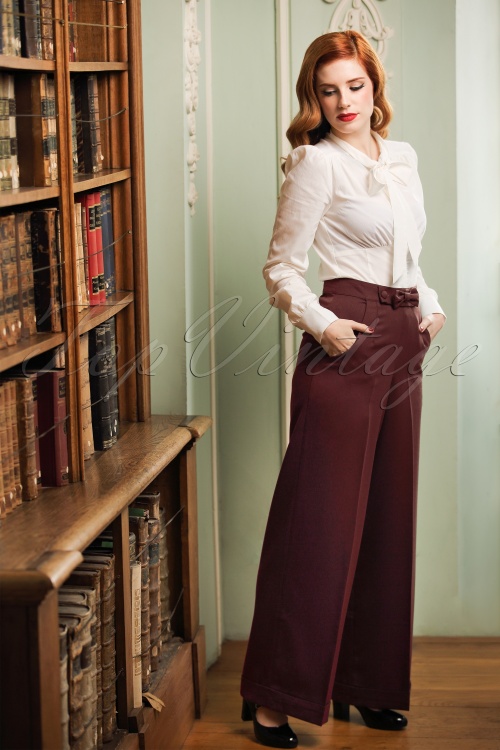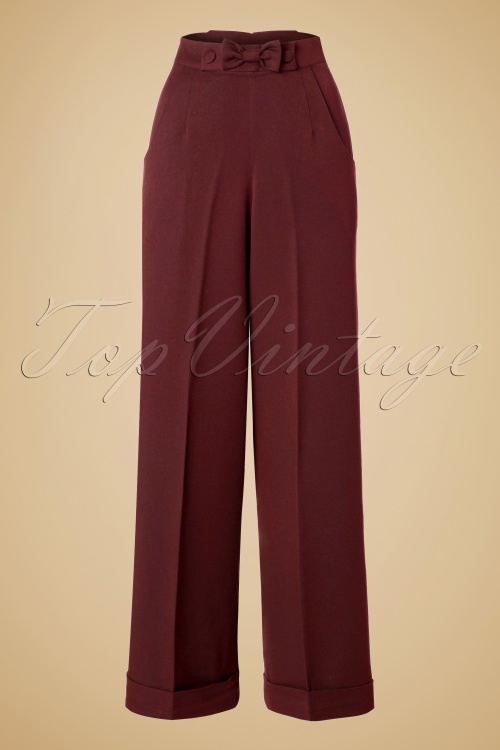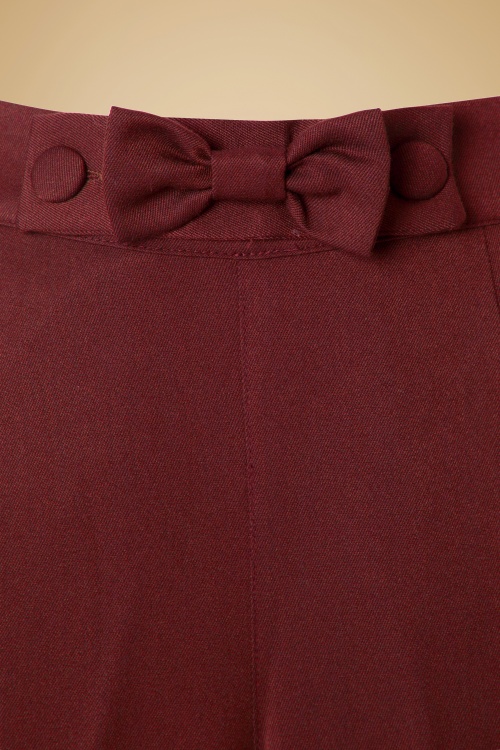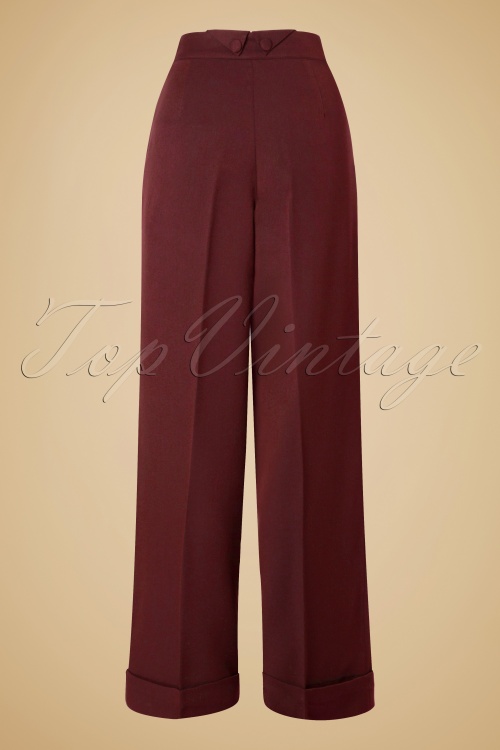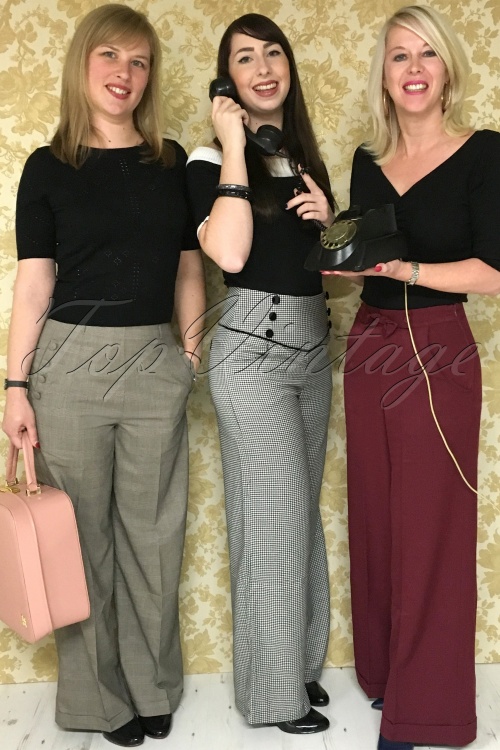 40s Hidden Away Trousers in Burgundy
These 40s Hidden Away Trousers are inspired on the trousers that those progressive women in the 40s / 50s wore! The high waist forms a beautiful contrast with the wide leg and is very flattering, also with fuller hips/bottom. The burgundy red bow and button detail at the back finish it off perfectly. Made from a supple burgundy red cotton blend with a light stretch and finished off with a chic fold over detail at the legs. Pair with a white blouse for a classy look or with a striking top for a sassy look! Pair with a blouse and pumps for a day at the office in retro style!
Wide legs
Detachable bow at the front
Side pockets
Hidden zipper at the side
The legs can easily be shortened
Our stunning redhead Vanessa Frankenstein height: 1.67m / 5'5''
Article nr.
19714
65% Polyester
32% Viscose
3% Elastane
Hang to dry
Handwash cold (don't leave it in the water)
Machine wash Wool cycle COLD
Do not dry clean
Do not tumble dry
Iron inside out on low temperature setting
Zit heerlijk! De kleur is hetzelfde, als op de foto waarop je het strikje goed kan zien. Met mijn 1.59 wel een flink stuk eraf moeten halen, maar dan heb je ook wel een mooi lapje stof.
Brittney
&nbsp|&nbsp
2016-11-28 17:16:05
---
Ik heb deze beauty ontvangen, aangetrokken en...de hele dag niet meer uitgetrokken. Zit goed, mooie kleur en de wijde pijpen zijn een uitkomst voor m'n gipspootje, kan zo gemakkelijker mijn pantalon aantrekken. Ik heb nu alle 3 kleuren in mijn kast hangen. Is er nog een kleurtje, bijvoorbeeld okergeel? Ik ben dus duidelijk fan,
Johannah
&nbsp|&nbsp
2016-11-18 17:15:03
---
de
Leider zu dünn und viel zu lose
Ich dachte, es ist eine Hose für den Herbst/Winter. Aber leider ist der Stoff sehr dünn. Und die Hose ist viel zu groß. Ich bestellte sie in einer kleinern Größe als zu der Größentabelle passend. Trotzdem rutscht sie von der Hüfte. Deshalb muss das gute Stück zurück. Positiv ist die Farbe... wirklich ansprechend.


Ann
&nbsp|&nbsp
2017-11-16 18:47:13
Response from Mandy

Hallo Ann, entschuldigen Sie uns bitte dass Sie nicht zufrieden sind mit der Passform und die Qualität. Wir werden selbstverständlich das Problem lösen. Ich werde mich heute noch bei Ihnen melden. 
Liebe Grüße,
Mandy
Kundenservice
---
Dit is nu mijn tweede broek, heb hem ook in olijf groen. Zitten heerlijk
Inge Berck
&nbsp|&nbsp
2017-10-25 08:01:11
---
Die Farben der Hosen sind in echt noch viel knalliger als auf den Fotos.
Zur Größe kann ich nur sagen, dass ich Sie trotz ausmessen nachher doch eine Nummer kleiner bestellen musste, sonst hätte ich Sackhüpfen spielen können :-D
Auch kleine Frauen (ich bin 1,68 m) können diese Hose perfekt tragen, der Absatz sollte min. 4cm hoch ein, damit das Hosenbein sich nicht auf dem Schuh/Fuß krempelt.

Der Stoff ist super weich und angenehm zu tragen. Der Reißverschluss ist fest vernäht.

Alles in Allem eine wirklich tolle Hose!
Christina Wolff
&nbsp|&nbsp
2017-10-19 14:08:38
---
Ich liebe diese Hose. Wie die anderen Ladys allerdings schon festgestellt haben, fällt sie zu groß aus. Dummerweise habe ich die Empfehlungen jedoch vorher nicht gelesen. Ich trage normal 38/M, habe daher diese Hose auch in M bestellt. Muss sie aber retournieren und S ordern. Und das werde ich, denn der Stoff fühlt sich fantastisch an und die Hose ist sicherlich ein sehr bequemes Kleidungsstück, dennoch absolut stilvoll. Vielleicht sollte man sie sogar in verschiedenen Farben im Kleiderschrank haben......
Juliane Ludenia
&nbsp|&nbsp
2017-10-04 11:14:02
---
Amazing pants!
The material feels really good and the shape of these pants are lovely!
The only thing that could have been better is the size. I ordered a small, and was afraid it was going to be a little bit too tight. But they are actually a little bit loose. But! They looks good on and doesn't fall off. Best part, they feel so comfortable to wear! Definately gping to order from top vintage again! ❤❤❤
Amalie
&nbsp|&nbsp
2017-10-03 14:56:51
---
fr
Les tailles ne correspondent pas... :-(
Bonjour
mes mesures sont de 102 pour le tour de hanches et 79 pour le tour de taille... j'ai commandé un taille M et il m'est vraiment trop grand, à la fois au niveau de la taille mais également au niveau de la longueur de jambe... je mesure 1m66 soit 1 cm seulement de moins que votre jolie mannequin et le pantalon touche le sol même avec des talons hauts...
Je suis un peu décue, il va me falloir le retourner.
Ceci dit la coupe à l'air très jolie quand il est à la bonne taille...
Priscillia Ghesquier
&nbsp|&nbsp
2017-09-30 18:29:33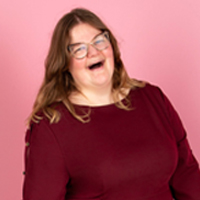 Response from Nicole

Bonjour Priscilla, je suis désolée que le pantalon est trop grand ! Je vous contacterai aujourd'hui encore.
Cordialement,
Nicole
Service Clientèle
---
Oh wauw, ik ben verliefd. Wat een ontzettend mooie broek is dit. Ik heb eerst de groene in maat M besteld, deze was toch wel echt te groot, dus die is nu retour voor een maat S. Ondertussen de rode in maat S besteld, en deze paste perfect! Zo mooi, na het passen heb ik hem de hele dag aangehouden omdat ik hem niet uit wilde trekken. En daarnaast is hij precies de goede lengte om te dragen bij een kleine hakschoen.
matanja verburg
&nbsp|&nbsp
2017-09-26 19:05:16
---
kreeg deze burgundy broek voor mijn verjaardag, ik heb ook een zwarte broek van banned, beide broeken zitten heerlijk.ik ben er superblij mee.
Sylvia van Duijvendijk
&nbsp|&nbsp
2017-09-16 09:44:49
---
de
Der Herbst kann kommen!
So, endlich habe ich mich auch mal an Hosen gewagt und wurde positiv überrascht! Eure Größentabelle ist optimal und die Hosen passen mir wie angegossen!!! Dazu passend die tollen Blusen... I love it!!!
Maria Linzmajer
&nbsp|&nbsp
2017-09-01 07:41:29
---
Allein schon von Kollegen Komplimente zu bekommen, ist schon mal toll. Wenn aber dann noch die Kunden in der Arbeit bewundernd stehen bleiben und mit staunendem Blick bemerken, wie toll diese Hose aussieht, dann weiß frau, dass sie einen sehr guten Kauf getan hat. Dankeschön! Immer wieder gerne.
Julia
&nbsp|&nbsp
2017-02-26 16:30:36
---
de
1,70 und sehr schmale Taille
Nachdem ich die Hosen erst (auf Nummer sicher gehend) in 40/42 bestellt habe, musste ich sie zurückschicken, weil hier endlich mal die richtige Größe 38/40 gekauft werden kann. Die passen jetzt wie angegossen und sind endlich perfekt für meine schmale Taille, so dass der Bund nicht fünf Zentimeter am Rücken absteht. :)
Julia
&nbsp|&nbsp
2017-01-21 22:06:41
---
Prachtige broek, prachtige kleur, goed model ook. Stretcht goed.
Voel je supermooi hierin!
Erna
&nbsp|&nbsp
2017-01-17 11:25:53
---
Beide broeken zijn heel leuk, nadat ik ze had gestreken. Beide waren zo hard gekreukt dat ze bij de eerste pasbeurt allesbehalve stijlvol leken... Gelukkig uiteindelijk dan wel. Let wel op: niet met om het even welk ondergoed te dragen! Stof is redelijk dun, dus ondergoed tekent af.
Nogmaals excuses voor het ongemak!

Groetjes,
Alexandra
Klantenservice
Lynne
&nbsp|&nbsp
2017-01-05 12:45:50
Response from Customer service

Beste Lynne, onze excuses dat je de jurken met kreukels hebt ontvangen! Dit is natuurlijk niet de bedoeling. We verpakken de pakketjes met veel liefde en doen ons uiterste best de artikelen met zo min mogelijk kreukels te versturen. Ik zal nog even contact met je opnemen hierover.









---
Dankzij de zorgvuldige maatadviezen van TopVintage hoef ik zelden iets terug te sturen. Gelukkig maar, want de kleding is over het algemeen fantastisch;-)! Maar bij deze broek vind ik de maataanduiding eerlijk gezegd niet helemaal kloppen. Met mijn smalle taille en bredere heupen heb ik obv de beschrijving voor de grotere maat gekozen. Helaas valt de broek bij mij echt veel te groot uit, dus spijtig genoeg moet ik m retour sturen. Omdat ik het bandje met het strikje voorop ook niet zo mooi gestikt vind, ga ik niet ruilen voor een kleinere maat. Jammer, ik vind de stof en de kleur wel heel mooi! Volgende keer beter;-)
Judith
&nbsp|&nbsp
2016-12-23 13:40:28
---
de
Wieder einmal fantastisch!
Ich finde es immer wieder erstaunlich, wie perfekt eure Modelle passen! Dieses ist schon meine dritte High Waist Hose von Top Vintage, alles unterschiedliche Modelle, aber alle sitzen perfekt, - genau so wie die Kleider. Ich kenne keinen anderen Versand, der die Größen so perfekt passend liefert. Wie macht ihr das nur?!
Henriette
&nbsp|&nbsp
2016-12-11 20:01:12
---
en
Un pantalon bien mais sans plus
Ce pantalon est très sympa mais il aurait pu être mieux ! La matière n'est pas au top, on voit les marques de la culotte, le noeud de la ceinture tombe un peu, il manque de maintien. Le tombé du pantalon est quand à lui très bien. Pour les petites de moins de 1m60, Il faudra passer par la couturière pour enlever de la longueur !






Sarah
&nbsp|&nbsp
2016-12-09 19:30:59
Response from Fleur

Bonjour Sarah, je suis désolée que vous êtes deçue de ce pantalon. Je vous contacterai ce jour pour vous aider. Je vous présente nos excuses sincères pour l'inconvénient!
Cordialement,
Fleur
Service à la clientèle
---
en
Fully Flattering Flowing pants!
I am so excited to wear these beautiful trousers! Oh my days, putting them on even just to try was a pride inspiring activity. Elegant and sophisticated with feminine touches that really add to the flattering shape. I will be buying from this site again!
Daisy
&nbsp|&nbsp
2016-12-03 11:06:57
---
Der Black Friday war diesmal nicht meiner.
Die weinrote Hose habe ich bereits in olivegrün. Sie ist toll. Vom Stoff finde ich sie sogar besser als die grüne Hose. Sie ist ein bisschen weiter als mein grünes Modell. 4 Herzen!

Der schwarzen Cardigan ist ein toller Winterbegleiter, warm und angenehm zu tragen. Er fällt allerdings recht klein aus. Dafür dehnt sich der Strick gut. Er ist taillenkurz und so bestens geeignet für Swingkleider.

Das grüne Kleid hat eine ganz andere Farbe, als auf meinem Bild - sehr kräftig grün. Leider ist die Faltung am Bauch bei mir sehr unvorteilhaft, da ich keinen Bauch zum ausfüllen habe. Es wirkt daher im Profil sehr lappig hängend. Unschön. Bei 1,72 endet das Kleid knapp oberhalb des Knies. Retour. 2 Sterne

Das braune Kleid geht auch zurück, da mir der Stoff zu dünn ist. Außerdem ist es bei mir vorn kürzer als hinten. ich denke, man braucht einfach weniger Oberweite für dieses Kleid. 2 Sterne. Retour
Ulrike
&nbsp|&nbsp
2016-11-29 11:01:49
---
Deze broek is vanaf nu onmisbare in mijn garderobe. De details zijn geweldig. Ik had de broek in de kleur teal besteld. Vandaag twee kleuren erbij besteld. De broek is vrouwelijk, mooi getailleerd en het materiaal heerlijk. Ik ben verliefd.
Bruijn
&nbsp|&nbsp
2020-11-29 14:52:04
---
Hele mooie broeken waarin je figuur tot zijn recht komt als je net als ik een peertje bent
Melanie
&nbsp|&nbsp
2020-09-19 18:40:24
---
Ik had dringend nieuwe broeken nodig dus heb er 3 besteld. De groene en Bordeaux had ik eerst besteld a.d.h.v de maattabel maar na het lezen van de reacties toch beide in een kleinere maat besteld en dat bleek de goede keuze te zijn. Deze zitten als gegoten. De bruine broek is ook heel mooi. Heel goed stof, perfect voor de herfst en winter. Ze is alleen te lang maar dat is niet moeilijk met mijn 1m66. Deze ga ik dus zeker laten inkorten. Aan de taille zit deze broek perfect maar ze zit wel losser aan de bovenbenen dan de andere 2. Dat vind ik niet zo erg want verstopt mijn probleemzone. Het enige waar ik wat schrik voor heb is de rits. Deze gaat nogal stroef en heb schrik dat ik deze kapot ga trekken. Maar omdat ik dus dringend broeken nodig had ga ik ze wel houden.
Ellen
&nbsp|&nbsp
2020-09-02 15:59:47
---
nl
Fantastisch - maar vallen groot!
Geweldige broeken! Vallen alleen wel vrij groot. Ik ben 1.80m en draag normaliter M/L, 38/40. Deze broek in M besteld en deze was echt duidelijk te groot. Vervolgens een S besteld met gemengde gevoelens, aangezien ik verwachtte dat mijn lengte dan een probleem zou worden.
De S zit echter met 1.80m bij mij gewoon goed. Met platte schoenen er onder valt de broek net boven de grond, maar is zeker niet te kort. Een lage hak zou ook nog prima gaan, maar persoonlijk vind ik het niet mooi als bijna de gehele schoen zichtbaar is en de pijp daardoor wat hoger hangt (zoals op de foto's).
Als je dat geen probleem vind, kan een lage hak bij deze broek dus prima, ook als je wat langer bent :)
Deborah
&nbsp|&nbsp
2019-11-08 15:10:17
---
I am not a trousers person, as they always tend to fit funny, but I love these ! They are perfect if you have an hourglass or pear shaped body :)
Agathe Fommarty
&nbsp|&nbsp
2019-11-08 12:40:22
---
Endlich eine Hose, die zu meiner Figur passt und so fließt, wie sie soll - Begeisterung pur! Warte nun, dass sie auch in schwarz wieder lieferbar ist.
Die Becky Blouse ist ein total elegantes Schätzchen! Sie passt bei mir (Oberweite 90 cm) in Gr. S wie angegossen, ein cm mehr hätte es aber nicht sein dürfen. Werde unter dem Busen nur noch den mitgelieferten Ersatzknopf dazwischensetzen, damit sie an dieser Stelle definitiv nicht aufklafft (was sie bei bestimmten Bewegungen tut).
Die Bluse von Collectif Clothing ist von Schnitt und Stoff ebenfalls wunderschön. Leider muss ich sie retournieren, in Gr. XS ist sie mir doch zu eng. Gr. S ist hoffentlich nicht zu groß für meinen Geschmack, aber ich werde es sehen, bestellt ist sie. ;-)
Aber was für eine Freude über die anderen beiden Stücke!! Ein ganz großes Dankeschön an das TopVintage-Team für diesen tollen Shop und Euren herausragenden Kundenservice!
Christina Schlömer
&nbsp|&nbsp
2018-10-13 12:13:59
---
nl
Perfect for curvy retro lovers
De 50s Monroe dress zit geweldig. Ik heb een E-cup en was een beetje onzeker over het dragen van een jurk zonder BH. Door de raad van de maattabel op te volgen is dit de eerste jurk waarbij ik dit wel kan! Wel even een waarschuwing: hij is echt wel super sexy!
De hidden away trousers zijn een vaste aanwinst in mijn garderobe geworden. Ze zijn heel comfortabel en gemakkelijk te combineren met verschillende tops. Ik heb een buikje, maar in deze broeken valt dat helemaal niet op. Wel opletten voor het strikje, dat komt gemakkelijk los in de was.
De navy stay awhile zag er ook geweldig uit, maar was spijtig genoeg net te klein. Ik zou aanraden om bij deze broek net iets groter te gaan als je stevige bovenbenen hebt.
Als laatste de dancing days top. Deze top is elegant en gemakkelijk te combineren. De kleur is even levendig als op de foto en de stof is degelijke kwaliteit. een absolute aanrader voor je dagelijkse outfits.
Mariotte
&nbsp|&nbsp
2018-09-22 09:23:03
---
Kom van maat 4xl en ben wat gewicht kwijt. Dus was de moeilijk met de maten. Heb dankzij de maatabel afgemeten en toch xl besteld. Deze past perfect! Heel mooie broek en zeer afslankend model. Mooi met strikje vooraan. Lengte is ook goed. Zeer tevreden weer!
Marijke Verbeeck
&nbsp|&nbsp
2018-09-04 07:00:18
---
Superschöne Hose, fällt allerdings recht groß aus und muss daher zurück. Werde sie aber nochmal kleiner bestellen.
Nadine Dibiasi
&nbsp|&nbsp
2017-11-26 23:08:57
---
Weer enkele items besteld ,de body een echte aanrader ,de bloes staat fantastisch ,en de broek heb ik ondertussen ook in groen aangekocht en sta te popelen tot ze terug in zwart verkrijgbaar is .Kort gezegd weer zeer tevreden ❤️
Debora
&nbsp|&nbsp
2020-12-20 18:20:40
---