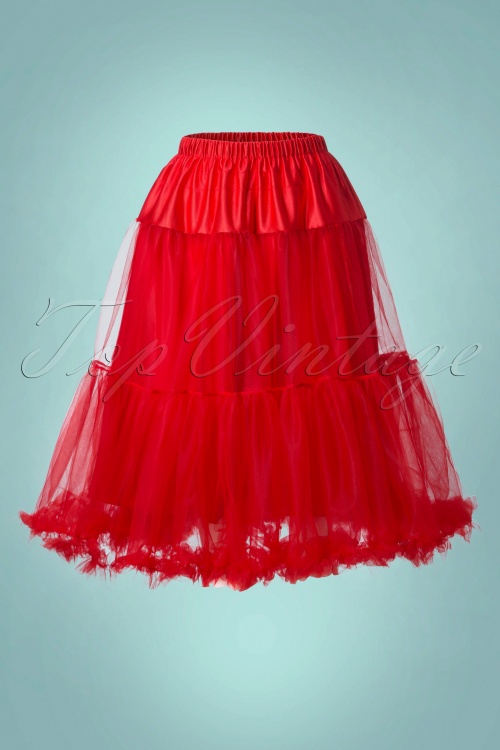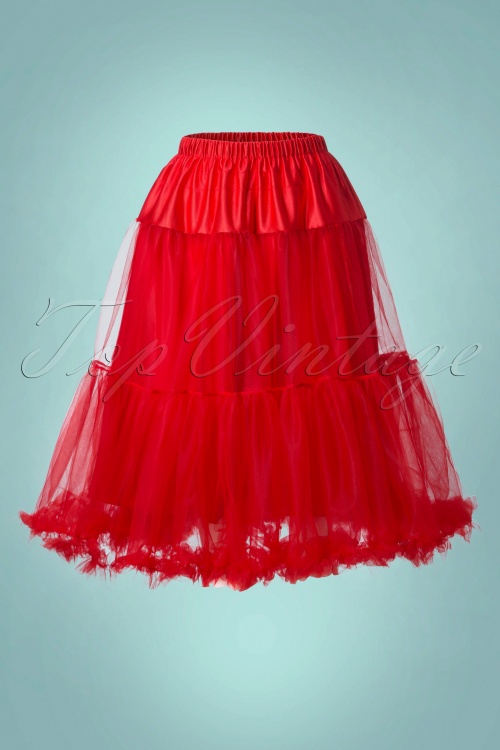 Polly Petticoat in Striking Red
Woo-ha! Polly adds a touch of drama to all your swing dresses and skirts! This beauty consists of 2 layers: the bottom layer is made of a shiny fabric with the look of satin, while the dramatic top layer features two tiers of tulle, framed by playful ruching at the bottom to create that 'va-va-volume' effect! 
Can be worn with all our swing dresses and skirts
Elastic waist band
Article nr.
24120
Washing machine delicates / lingerie with in mesh laundry bag
Do not dry clean
Do not tumble dry
Iron inside out on low temperature setting
nl
Prachtig, helaas niet voor mij
Flats waren nog geen onderdeel van mijn wardrobe en deze waren we heel schattig met de juiste kleur die overal bij past. Helaas moet ik ze terug sturen aangezien ze te groot zijn voor mijn voeten.
De jurk zit prachtig behalve dat de stof te ruim zit aan de buitenkant van mijn borst. Model staat mij aan de bovenkant niet terwijl die zeer flatterend is vanaf mij taille.. Moeilijke keus, maar helaas toch terug.

De zeer geslaagde items zijn de rugzak (soooo adorable) en de rode petticoat is prachtig van kleur en niet te poeffie.. I love it!!!!

De service was uiteraard weer top.

Margot Schnieders
&nbsp|&nbsp
2019-05-31 15:32:36
---
Ik ben groot fan van deze petticoats, ik heb ze nu in drie kleuren. Een petticoat met niet al te veel laagjes vindt ik toch wel fijn. Hij geeft gewoon net dat kleine beetje extra aan een leuke jurk of rok.
Jolanda
&nbsp|&nbsp
2019-04-25 09:52:39
---
Gister 2 jurken ontvangen, heb mij er de hele dag op verheugd.

De bordeauxrode is gemaakt van een dikkere stof, dus heerlijk als het wat kouder is.

Vandaag de blauwe met rozen aangetrokken en ik voel mij fantastisch! De complimenten blijven maar komen en ik straal steeds meer. Vandaag met een paar pumps, maar deze kan ook prima worden gedragen met een paar stoere boots of gympen.

Enorm blij met deze aankopen! Ik denk dat ik nooit meer een spijkerbroek aandoe...

De petticoat vlak voor kerst besteld, maar deze past ook prima onder de blauwe jurk. Geeft het net een beetje extra.
Tessa Khonraad-Weggemans
&nbsp|&nbsp
2019-01-18 09:41:36
---
fr
Top service - Top quality - Je suis fan!
Commandé hier, reçu aujourd'hui et tout est simplement parfait. Les jupons et les gilets qui completent impeccablement la tenue, la robe tombe tip top. Une premiere commande, mais sûrement pas la dernière! Et tout ça à un prix tout doux, je recommande vivement.
Neu Isabelle
&nbsp|&nbsp
2018-01-23 17:47:42
---
nl
Niet zo zacht als die van banned retro
En een tule-laag minder 1 tule en 1 glad stofje wat op zich wel handig is als je wel een petticoat wil dragen maar niet gelijk zo een enorme. Je kan hem niet verstellen waardoor hij bij mij iets afzakt bij banned retro kan dat wel
Yara
&nbsp|&nbsp
2022-12-12 13:12:25
---
fr
Robe très belle, mais trop grande pour moi
Je fais 155cm pour 48kg, cette robe, commandée en S, car il n'y avait plus de XS, est beaucoup trop grande pour ma carrure... je suis très déçues, surtout que, contrairement à d'autres sites, les frais de port de retour sont payants !!!!!

Toutefois, la qualité de la robe est indéniable : le tissu se tient parfaitement bien, de très bonne qualité, les manches sont trop cute...


Del
&nbsp|&nbsp
2022-05-05 08:52:35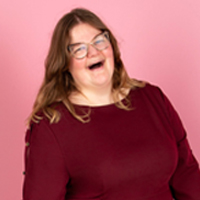 Response from Nicole

Bonjour Del, je regrette d'entendre que la robe en S était trop grande ! Si vous hésitez dans le futur de la taille, vous pouvez toujours nous contacter afin qu'on peut vous conseiller :-)

Meilleures salutations,
Nicole
Service clients
---
Ma tenue est parfaite! La robe est magnifique, le tissu superbe, la ceinture au top, le jupon trop chouette!
Je suis raviiiiie!!!
Gaëla
&nbsp|&nbsp
2022-04-23 10:56:51
---
The petticoat is perfect and what I had hoped for and expected. It adds more swing to the swingdresses and skirts I have, without it being too huge and big. It's just enough.
Kirstine Friis
&nbsp|&nbsp
2022-03-03 21:51:32
---
Voor het eerst een petticoat gekocht.
Had de klaproos swingdress al gekocht en toen toch maar een petticoat erbij besteld want ik twijfelde of het niet een beetje te was.
Maar nee hoor. De jurk valt veel mooier. Net dat beetje extra.
Wietske Meester
&nbsp|&nbsp
2020-06-20 17:51:57
---
Ich habe mir diese zwei Kleider gegönnt.
Das Gelbe ist super leicht auch mit einem weisen Stoff darunter, kommt man nicht ins schwitzen. Kleiner Nachteil bei mir, meine Oberweide ist nicht sehr groß und daher ist der Ausschnitt etwas gewagt.
Klatschmohnkleid, mein absolutes Lieblingskleid, habe es gleich am Muttertag getragen, sehr angenehm zu tragen nicht zu eng obwohl meine Taille weiter ist als in größe L beschrieben ; )
leider ist der Gürtel nicht gelungen, da er keine Löcher hat und somit immer aufgeht. Hab ihn einfach weggelassen
I am Happy
Vielen Dank
Laura
&nbsp|&nbsp
2020-06-15 16:38:49
---
en
Not what I expected from hell bunny
The under skirt is only one layer of tulle, with a satin type layer under that. I've purchased hell bunny dresses in the past of great quality. I didn't get that quality with this item. I'm somewhat disappointed.
Susan Morrison
&nbsp|&nbsp
2020-01-31 01:24:54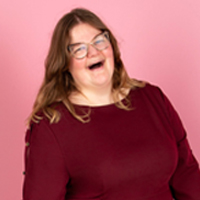 Response from Nicole

Dear Susan, I'm sorry to hear you're disappointed! In the description we mention indeed the details of the tule and underskirt. Maybe you've missed this? Hopefully you will very soon find a beautiful alternative!
Kind regards,
Nicole
Customer Service
---
Ik had nog nooit een petticoat gekocht dus ik wist niet wat ik moest verwachten. Ik besloot ze in 3 verschillende prijsklassen te bestellen om te vergelijken. 2 verschillende van Bunny en de de duurste was van Banned Retro. De goedkoopste (Bunny 24,95) is subtiel en op zich prima, maar het is niet zo'n fijne stof, zegmaar duidelijk goedkoop. De wat duurdere (Bunny 37,95) is een stuk wijder uitstaand, heeft echt veel volume en is dus zeker een hogere prijs waard. Ik durfde het zelf niet aan omdat ik wel erg veel ruimte innam als ik hem aan had. Verder raakte hij af en toe een beetje in de knoop mer zichzelf, dus je moet er wel op blijven letten. Dan tenslotte de duurste, van Banned Retro (49,95), was echt geweldig. Hij heeft wat minder volume dan de vorige, maar zwiert wel veel mooier mee met je bewegingen. Hij is daardoor ook wat beter zichtbaar als je beweegt, wat ik zelf erg leuk vind! Hij is van heel zachte stof waar je gewoon mee wil knuffelen als je het voelt. Ik vond 50 euro voor een petticoat in eerste instantie erg veel geld, maar weet dat hij dat geld zeker waard is!
Ik hoop dat ik anderen die twijfelen over welke ze moeten kopen hiermee kan helpen!! En voor TopVintage, super dat jullie zo'n ruime keuze hebben in petticoats, zodat er voor ieder wat wils is.
Aliek Hasperhoven
&nbsp|&nbsp
2020-01-20 12:25:08
---
Mir gefiel das Kleid so gut, ich mußte es unbedingt haben. Gestern habe ich es zum ersten Mal getragen, es war für mich "Petticoat-Premiere", und ich bin jetzt infiziert :) Ein wunderschönes Kleid, ein tolles Tragegefühl und nur Komplimente.
Kirsten G
&nbsp|&nbsp
2019-10-20 06:47:44
---
nl
Niet zo zacht als die van banned retro
En een tule-laag minder 1 tule en 1 glad stofje wat op zich wel handig is als je wel een petticoat wil dragen maar niet gelijk zo een enorme. Je kan hem niet verstellen waardoor hij bij mij iets afzakt bij banned retro kan dat wel
Yara
&nbsp|&nbsp
2022-12-13 12:11:08
---