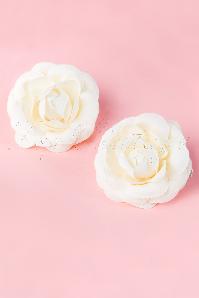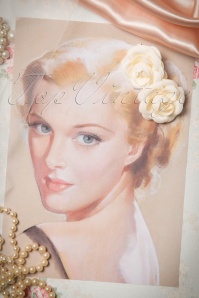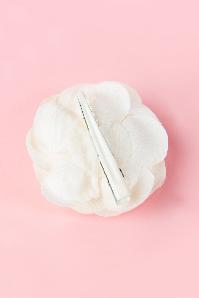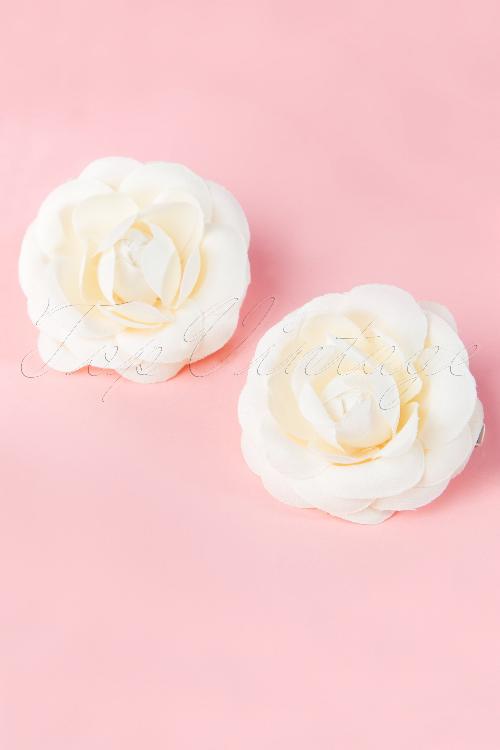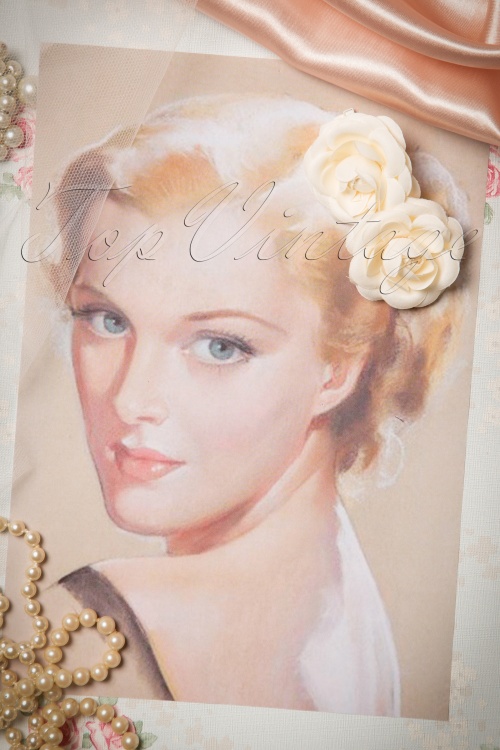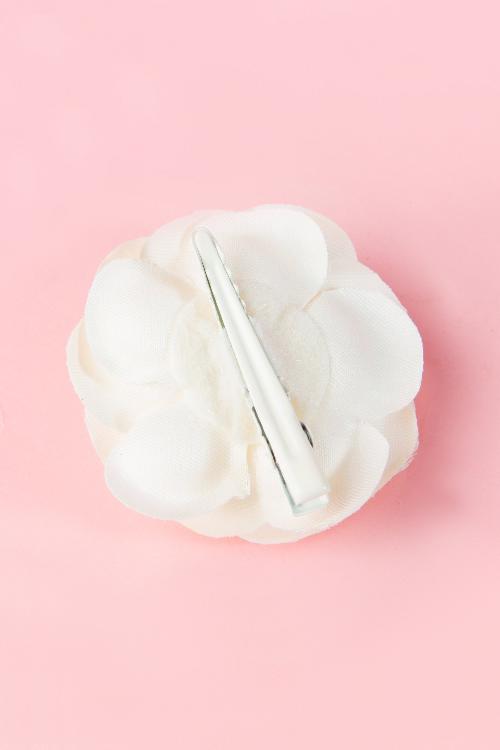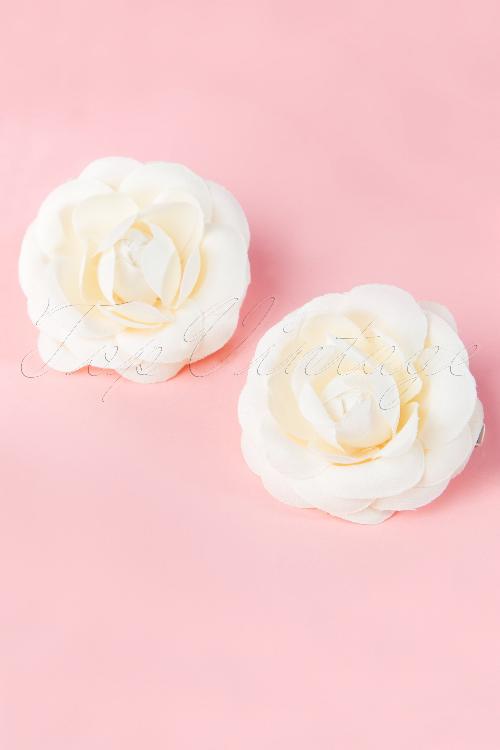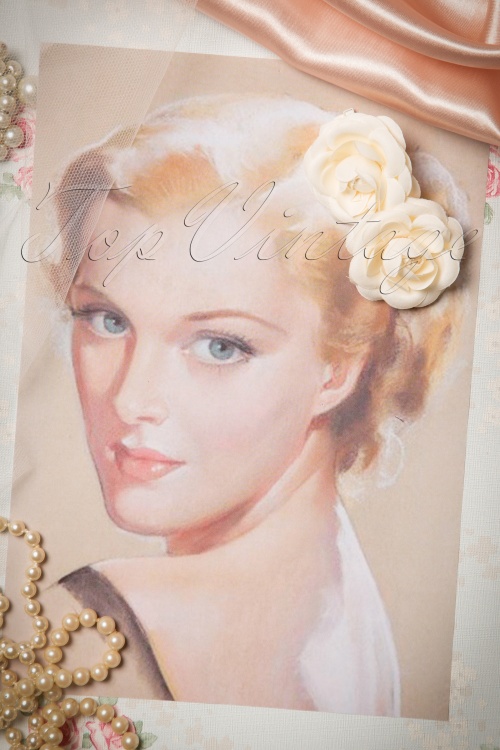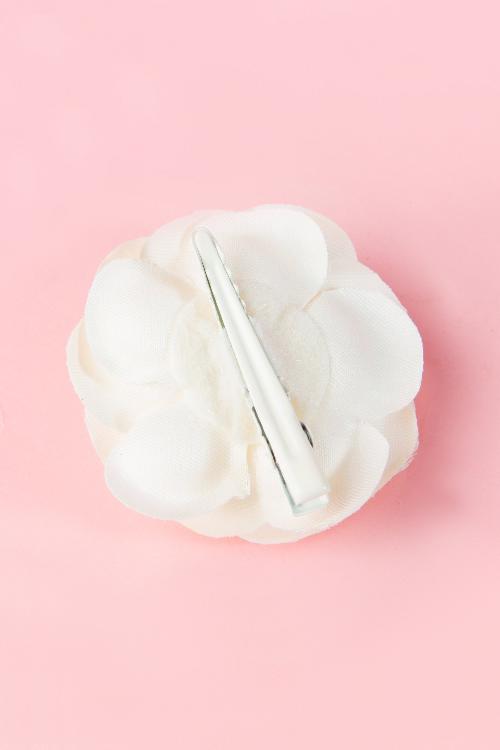 Pin-Up Pair Of Cream Flower Hairclips
Say it with flowers! Two romantic, medium-sized flowers in cream atop of white metal hair clips. 
Height: 2 cm
Diameter: 5.5 cm
Coated metal
Base metal
Fabric
Avoid contact with water/parfum/cleaning agent
Die Blumen sind wirklich schön und sehr gut verarbeitet!
Hanna
&nbsp|&nbsp
2014-12-02 15:23:12
---
Absolute Klasse, einzige Problem, ... ich muss es vor meinen Töchtern verstecken, Grins
Nicole
&nbsp|&nbsp
2014-11-20 16:14:36
---
Allemaal erg leuke haarclipjes voor de zomer om mn hoogblonde haartjes mee op te vrolijken. Niet te klein en niet te groot voor mij. Al heb ik wel veel haar en golvend/krullend.
V
&nbsp|&nbsp
2017-04-10 18:46:46
---
Die Rosen sehen echt aus, fühlen sich gut an und werden gerne von mir getragen.
Christina
&nbsp|&nbsp
2017-04-06 15:34:06
---
gisteren namiddag besteld, deze morgen om half 9 geleverd.... ongelooflijk!!!!
En weeral enorm tevreden ... de ketting om te smelten... wil ze in alle kleuren. het vestje had ik al in het zwart, nu nog de andere kleuren, ze zijn zacht en mooi, gewoon een must have.
en de roosjes iets kleiner dan verwacht, maar toch zeer mooi.
WEERAL TEVREDEN!!!!
thanks
Sandra
&nbsp|&nbsp
2016-06-17 07:00:58
---
....sowohl für Alltag als auch für besondere Anlässe. Angenehm leichter Baumwollstoff, Größe passt ganz genau, allerdings finde ich, dass das Kleid für mich (1,60m) ein bisschen zu lang ist, aber das lässt sich ändern.
Sintija
&nbsp|&nbsp
2016-06-04 18:38:32
---
Wat was ik blij toen het jurkje er weer in mijn maat was een nog blijer nu bijt daar hij past. Zit geweldig! De handtas is perfect, niet te groot, maar zat ruimte en vakjes voor all m'n spullen.
Het roze tophe is van een mooie, stevige stof en zit super! Het toe met kersjes zit ook heerlijk. Lekker soepel stofje. Wel iets doorschijnend, maar dat is met een beetje eet onder ook zo opgelost! En m'n dochter is heel blij met haar haarclips.
Lea
&nbsp|&nbsp
2016-05-25 07:03:57
---
Net mijn prachtige schoentjes binnen.Wat zijn ze mooi.En ze lopen zooooooo lekker.Echt! Kleur,helemaal geweldig.En de bloemetjes ook zo schattig....weer super tevreden met Top Vintage!!!! Ik blijf maar shoppen bij jullie!!!!
Ivana
&nbsp|&nbsp
2016-04-06 13:08:52
---
Artikel wie abgebildet. Dezente weiße Rosen. Gut verarbeitet.
Inga
&nbsp|&nbsp
2016-03-20 19:06:57
---
Dieses Kleid ist einfach wunderschön. Der Rock fällt perfekt und der V-Ausschnitt am Rücken einfach süß.
Die Maßangaben bei dem Kleid waren ein klein wenig verwirrend, da ich gemäß Maßtabelle in zwei größen gepasst hätte. Durch eure schnelle Antwort konnte ich mir das Kleid dann in der richtigen größe bestellen.
Die Haarblumen passen perfekt zum Kleid.
Ich freu mich schon aufs erste Tragen.
Vielen lieben Dank, auch für die süße Verpackung und den "Blitzversand".
Daniela
&nbsp|&nbsp
2016-01-10 12:20:09
---
super handige kleine bloemetjes. Wat harder dan ik gehoopt had en niet van hele super mooie kwaliteit, maar gewoonweg ideaal om snel je look mee te retroglammen. Als dat een woord is.
Merel
&nbsp|&nbsp
2016-01-01 18:18:26
---
Bei den Blümchen gefällt mir, dass man sie auch anders einsetzen kann. Der Preis ist gerade noch so hinnehmbar.
Nadine
&nbsp|&nbsp
2015-09-13 08:12:21
---
Mooie zomerse oorbelletjes...
michelle
&nbsp|&nbsp
2015-07-19 00:24:47
---
Nope, you just look like spring! Perfect on every outfit, nicely made to catch eyes.
Daniela
&nbsp|&nbsp
2015-06-22 14:41:36
---
Bei diesen Blümchen hat mir das Material nicht gefallen.
Nadine
&nbsp|&nbsp
2015-06-17 15:56:03
---
en
ELEGANCE AT ITS VERY BEST !
Every item being sold by Top Vintage is very stylish, and makes you stand out from the crowd ! The flamingo dress is very beautiful, and so 50's when accessorised with a pair of vintage shoes and a vintage handbag. The cardigan is super soft and very stylish. When wearing with a nice pencil skirt and a belt, and of course with a pair of seamed tights and high heels shoes, you feel like being transported back in the 40's,which was an era of pure elegance. The bag is very stylish and matches my gloves. All the accessories I have bought with Top Vintage are super cute. Thank you very much Top Vintage for selling beautiful clothing and accessories, making me feel like a million dollars ! You are my favourite vintage online shop, and I will certainly buy again from you.
FLORENCE
&nbsp|&nbsp
2015-06-11 20:13:08
---
Een mooi kleedje, leuke stof, tekent helemaal niet af.
Perfecte pasvorm, mooie lengte.
Staat echt chique!
Veel complimentjes gekregen. :-)
Elke
&nbsp|&nbsp
2015-05-27 13:32:23
---
Sehr schöne Verarbeitung :-)
Jana
&nbsp|&nbsp
2015-04-30 14:42:33
---
King Louie Socken: Ich hatte mich sofort in das Muster verliebt und gar nicht bemerkt, dass sogar zwei Paar dabei sind! Ein mal die weißen plus sehr schöne, weiche blau-gestrickte, ich freue mich schon, sie zu tragen!

Haarblumen: Da ich nur Perlenspangen für die Haare habe, mussten Blumen her :) Die weißen sind super süß, kleiner als gedacht, stehen mir aber total gut, tolle verarbeitung & ein praktisches Basic um sein Outfit vorallem im Sommer aufzufrischen.
Von der Burgundy bin ich leider etwas enttäuscht, sie steht sehr vom Kopf ab/steht höher ab und ist nicht so flach wie die Weißen, was mir überhaupt nicht steht-aber! man kann sie als Brosche benutzen und ich hatte eine super Idee-ich befestige sie an meinen Strohhut, so schön! :)

Das Buch ist sehr hübsch anzusehen, wenig Text, viele Illustrationen, wie der Titel schon verrät ;)

Die Woody Ellen Geldbörse ist sehr hübsch, weich und gut verarbeitet. Werde ich für Lippenstift etc. zum Aufbewahren benutzen, damit nicht alles in der Tasche rumfliegt:)

Die Midnight Blue Tasche/Rucksack sieht super edel aus und ist wandelbar praktisch. Riecht etwas nach Plastik, aber nicht weiter schlimm, über Nacht ausgelüfet.

Die rote 30s Handbag ist soo schön! Wollte unbedingt eine rote Tasche, die weich ist, in die eine Wasserflasche reinpasst und die auch Crossbody getragen werden kann. Super Verarbeitung und nicht so ein plastischer Geruch wie bei der Blauen. Sehr edel.

In den Regenschirm habe ich mich ja verliebt :) Sehr stabil, hat einen Soft-Velvet Touch an dem Griff, hilfe, ich freue mich auf Regen!

Das Collectif Set aus schwarzen Ohrringen und der Kette: Beides hochwertig verarbeitet, etwas schwerer, aber stört mich nicht :)

Die Splendette Kette ist hübsch und schimmer schön, mein erstes Splendette Teil.

Die Perlen-Herz Ohrringe sind sehr süß und leicht. Sehen aber nicht billig aus, was etwas meine Sorge war!

Und jetzt kommen wir zu meinem einzigen Fehlkauf: Die lilanen Ohrringe, die ich sofort wegen der Farbe haben musste und auch noch im Sale...Also erstmal: Sie sind sehr schön, aber das war es auch leider. Größer wie gedacht, ist nicht schlimm, aber leider ist der Teil den man durch das Ohrloch schieben muss so dick, dass weder ich, noch meine Mama ihn durchbekommt! Evtl eine Fehlproduktion? Werde ich wohl verschenken oder etwas mit Basteln.
Adelheid
&nbsp|&nbsp
2021-02-20 00:32:50
---
en
So happy with my our hase!
T-shirt is beautiful, print is really nice and has good quality and it truly fits to size.
Cardigan also fits to size and it's nice and soft. Fits perfect with a high waisted jeans.
Little flowers pins are delicate, just what I wanted.
Very happy with my purchase, shipping arrived within 5 days and packaging was nice and carefully prepared.
First time I ordered here but not the last. Absolutely reccomended :-)
Marta
&nbsp|&nbsp
2020-07-25 18:45:42
---
love all my items, alleen de schoentjes heb ik moeten terug sturen waren wat te klein en miss candy floss ja daar kan niks tegen op
ingrid soors
&nbsp|&nbsp
2020-07-04 18:03:34
---
Wat een prachtige vintage webshop, en van goede kwaliteit!! De haarspeldjes zijn zo mooi, en blijven supergoed zitten in mijn zeer fijne haren.
Het kleedje past perfect en de matentabel klopt goed.
De ballerina's vind ik echt cute, enkel de schoenmaat valt een beetje klein uit. Moest het mogelijk zijn om in de toekomst jullie schoenmaten tot maat 42 uit te breiden, dan zou dit fantastisch zijn...
Chapeau voor jullie werk en zeer verfijnde pakketjes, wat een plezier om deze in ontvangst te mogen nemen en te unwrappen!
Dominique de Hoon
&nbsp|&nbsp
2019-01-24 12:12:57
---
Magnifique robe bien taillée qui mets en valeur mes courbes féminines...
Marie-Françoise Wawrzyniak
&nbsp|&nbsp
2018-06-19 17:24:19
---
Danke für die schnelle Lieferung und die tolle Qualität. Mir gefällt auch die liebevolle Verpackung.Macht weider so.
Der Rock und Pullover passen super.
Ute Wallasch
&nbsp|&nbsp
2018-05-21 08:56:51
---
Geweldig! Super leuke jurk! Ik wilde weer eens uit mijn comfort zone bestellen en dat was een goede beslissing.
Hij staat me prachtig, hij zit lekker (zachte, ietwat stretchy stof). Mijn C-cup komt perfect tot zijn recht, zonder ordi te zijn en de rok zwiert mooi uit. Je hebt er ook een mooie taille in en riempjes zijn niet nodig.

Op de foto 'overheerst' het groen heel erg op de een of andere manier, maar in het echie komt ook het wit wat meer naar voren. Dus een witte jurk met een drukke rood/groene print. Lekker in balans.

Ik ben maar 1.58 en dus valt hij flink over de knie. Maar dat kan prima bij dit modelletje.

Ik draag mijn nieuwe favo zomerjurkje met
- een dikke rode parelketting (:erg leuke ketting, die ga ik misschien wel in meer kleurtjes aanschaffen. Het is plastic, maar gaat niet snel kapot denk ik en doet niet goedkoop aan. Alleen het vrij grote schakeltje blijft soms in mijn haar zitten)

- en een wit roosje in mijn haar (: perfecte afmeting. Ik heb erg dun haar aan de zijkanten door een aandoening en als ik een schuifje gebruik met een grote bloem zou dat niet kunnen en niet mooi staan. Deze afmeting is perfect, schuifje zit prima en de kwaliteit van de bloem is goed. Erg mooi en prachtige creme-witte kleur.

In het verleden heb ik de rode Dancing Days strappy sandals gekocht en die staan hier ook perfect bij.
Djamila
&nbsp|&nbsp
2017-06-23 19:42:40
---
Leuke haarklippen!
V
&nbsp|&nbsp
2017-04-10 18:47:57
---
Mooie haarklippen niet te groot of te klein staan erg leuk in mn hoog blonde haar.
V
&nbsp|&nbsp
2017-04-10 18:47:47
---
Eine meiner Lieblingsketten, einfach wunderschön und sehr hochwertig. Perfekt mit den passenden Ohrringen
Melanie
&nbsp|&nbsp
2023-02-28 20:55:47
---