Your photo in Topvintage style on our website?
Not only do we love seeing you looking happy and radiant in our retro items but we also think it's fabulous that you share those moments with us via social media and e-mail. This is why we do what we do!


Have you always dreamt of seeing a picture of yourself on our website? Then we have some spectacular news for you! From now on we'll be sharing your gorgeous photos in Topvintage style right here. Be inspired by the looks created by so many of your fellow retro lovers!

How does it work?
Option 1: Via Instagram
Share your photo on Instagram using #topvintagestyle, make sure your account is set to public and don't forget to tag us @topvintage_boutique. Who knows, you might see your photo on our website, social media or in our love letter! Please be aware that this means that you will receive a request for approval from us either via a DM or a comment below your photo.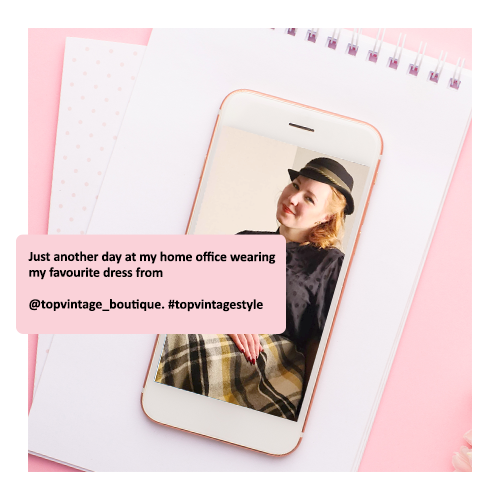 Option 2: Upload your photo
Don't have an Instagram account but still want to share your fabulous photo with us? No problem, you can use the upload button at the bottom of the page to do just that! Upload a photo of yourself wearing your latest treasure, follow our step-by-step guide and you might soon see your photo on our website, social media or in our love letter. Want to increase the chances of your photo being featured on our website? Be sure to upload a colour photo (so no black-and-white) without text, patterns or frames and for which no layout template was used.
Tems and conditions cutomer pictures

Did you spot a pretty dress or a fabulous pair of shoes in our collection that you love but have no idea how to style your favourites? Get your inspiration from the gorgeous retro looks created by other lovely ladies using items from our collection!