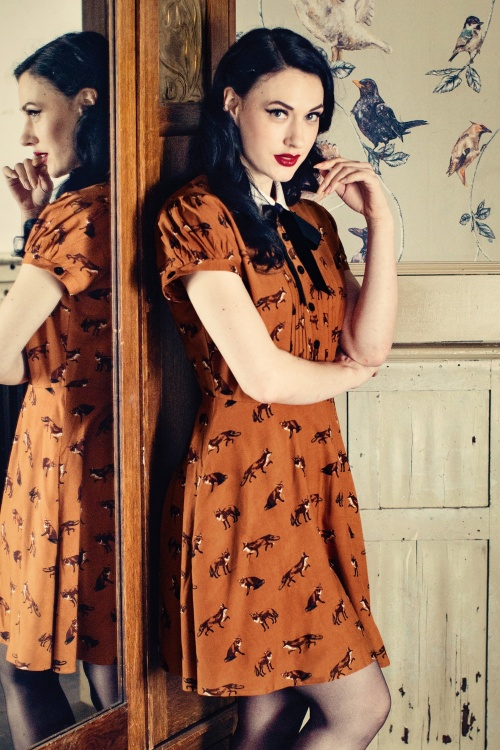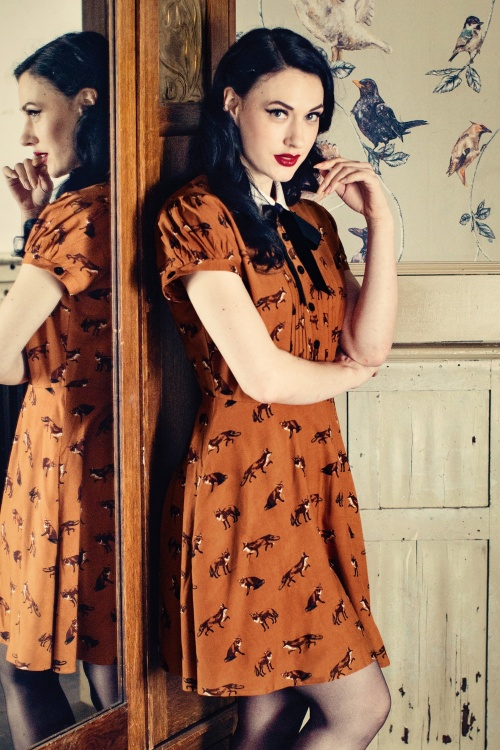 60s Vixey Fox Dress in Rust Brown
Cute and flirty best describe this 60s Vixey Fox Dress in Rust Brown! The fitted bodice of this mini dress features a contrasting white collar, vertical pleats, a row of buttons and playful short puff sleeves. Thanks to the detachable tie ribbon you can instantly add an extra playful touch. But it's the print that really makes our hearts skip a beat... just look at those foxes, L-O-V-E! Made of a breezy and supple viscose (doesn't stretch) in rust brown that sways gracefully with every step you take. Be quick to order this foxy dress and greet the new season with a big smile! ;-)
Mini dress
Short puff sleeves
Pointy white collar
Detachable tie ribbon
Vertical pleats
Row of buttons with 3 functional buttons
Side pockets
Zipper at the back
Hits well above the knee at a height of 1.70m / 5'7"
Article nr.
30793
Handwash inside out (don't leave it in the water)
Wash inside out
Wash dark colors separately
Machine wash 30c delicates cycle
Do not dry clean
Do not tumble dry
Iron inside out on low temperature setting
Do not bleach
de
Schön mit kleineren Abzügen
Das Kleid ist hübsch und hat wirklich eine tolle Farbe. Leider ist es ein knittriger Stoff, der gebügelt werden muss. An der Taille ist das Kleid nicht figurbetont, sondern sehr weit geschnitten. Die Puffärmel müssten wegen mir nicht sein, aufgrund des süßen Musters behalte ich es aber trotzdem :-)
Lisa
&nbsp|&nbsp
2020-10-06 09:33:28
---
en
Das, warten hat sich gelohnt
Nun war er endlich wieder da und zu meinem Geburtstag hab ich ihn mir den collectif Mantel nun selber geschenkt. Bei 159cm Körper Grösse zwar etwas lang, aber er sieht einfach wunderschön, aus, die Farbe und das Material der Hammer . Auch das hell bunny Fuchs Kleid ist toll, zwar etwas dünn, und man muss es bügeln, aber angezogen echt süss, perfekt für kleine Frauen.
sonja
&nbsp|&nbsp
2020-09-28 18:49:09
---
Ik twijfelde over de pasvorm van beide truitjes, maar normale pasvorm genomen en toch goed gekozen! Het blauwe truitje is heerlijk zacht met een subtiel patroon. De wikkeltop is prachtig van kleur en zit perfect.
Het kleed met de vosjes gaat jammer genoeg retour - omdat ik tussen 2 maten zit had ik de grotere maat gekozen, maar ik bleek er in te zwemmen.
Misschien probeer ik het bloesje wel!
joyce De Pauw
&nbsp|&nbsp
2020-09-27 20:10:06
---
fr
Jolie robe un peu grande
La robe est vraiment jolie. Le tissu est assez léger. Je l'ai prise en taille S mais elle est un peu grande au niveau des épaules et de la taille. Néanmoins, si je l'avais prise en taille XS, je ne serais pas rentrée dedans. Donc une petite couture pour l'ajuster fera l'affaire car elle est vraiment jolie. Parfaite pour un style automnal !
Maëva
&nbsp|&nbsp
2020-09-21 14:40:36
---
Gerne hätte ich die Füchse behalten, aber der Rost - Farbton steht mir einfach nicht. Das Kleid ist eher etwas für den Sommer oder die wärmeren Herbsttage, es besteht aus sehr leichtem Material. Also, Füchse dürfen es gerne wieder sein auf einem roten, schwarzen oder blauem Kleid. Danke.
Susanne
&nbsp|&nbsp
2020-09-17 15:15:01
---
Donnerstag bestellt, Samstag war es schon da. Tolles Kleid. Sitzt perfekt in Größe XS. Schöner leichter Stoff. Perfekt für den Sommer.
Schöner Bolero,toll für den Abend.
mel
&nbsp|&nbsp
2020-08-02 03:16:43
---
Love the colour and the print. It is so cute. But the material is quit thin, wrinkley and looks a little cheep. Plus it was not small enough on my waist but there for to tight at the arms. So I really do not get it shape. Bummer. :(
Sophia Hitzler
&nbsp|&nbsp
2019-10-16 16:58:07
---
de
Hat mir leider nicht gefallen
Ich wollte dieses Kleid unbedingt haben, nachdem ich es auf Facebook gesehen hatte, aber leider hat es meine Erwartungen überhaupt nicht erfüllt.
Der Druck ist sehr süß, aber der Stoff ist superdünn und das Kleid war mir auch zu kurz. Also vielleicht für Frühling / Sommer ok, aber ich wollte es für Herbst/ Winter haben und dafür hat es leider nicht gepasst.
Kea-Christin Krüger
&nbsp|&nbsp
2019-10-15 19:44:17
---
nl
Prachtige jurk maar helaas niet voor mij
Echt een prachtige jurk, zat heerlijk maar stond me niet flatteus. Voor mijn bodyshape was het beter geweest als de rok hoger was begonnen. Jammer maar helaas, volgende keer beter :)
Melanie
&nbsp|&nbsp
2019-10-13 10:30:46
---
Gisteren kreeg ik het jurkje binnen. Op het oog leek hij eerst iets te breed, maar eenmaal aan zat hij als gegoten. Ik ben weer blij met een nieuwe en originele aankoop. Tot de volgende x.
Femke Faber
&nbsp|&nbsp
2019-10-11 05:34:28
---
Ik had me echt op deze jurk verheugd, maar hij viel erg tegen. Hij ziet er mooi uit. Helaas is hij erg kort (ver boven de knie, terwijl ik 1.59 ben) de stof is erg dun. Meer zomerachtig ipv herfst. De jurk was op de rug te groot, evenals het borst gedeelte. In ieder geval was het met zorg verpakt, maar hij gaat echt retour.
Fenneke Gout
&nbsp|&nbsp
2019-10-08 18:18:16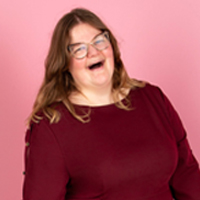 Response from Nicole

Beste Fenneke, wat jammer dat dit item niet was wat je ervan had verwacht! Wist je dat je in de rechterkolom van de maattabel altijd de totale lengte kan vinden? Ook vind je onder het kopje Care & Materiaal de stofsamenstelling van het artikel (in dit geval is dat 100% viscose). Hopelijk voorkom je op deze manier teleurstellingen in de toekomst!
Groetjes,
Nicole
Klantenservice
---
J'ai commandé ces trois articles et tout était parfait! Les boucles d'oreilles sont très mignonnes et les robes ont une coupe parfaite.
LEPINE
&nbsp|&nbsp
2022-12-16 12:42:01
---
Dieses Kleid ist zuckersüß! Toller Schnitt. Sehr bequem. Traumhafte Farbe. Der Stoff ist sehr leicht und angenehm zu tragen. Jetzt für den Herbst/Winter trage ich ein Unterkleid darunter. Perfekt!
Miri
&nbsp|&nbsp
2022-12-09 20:00:28
---
The story of receiving my order starts with the package, which was outstanding. The beautiful package with the bow on it and the message on it »Hi Gorgeous« and instructions how to unpack it, it makes you thrilled what is going to happen when you fully open it. And then…you see how the items were packed with love and precision; makes you feel that you are in seventh heaven! This is my first purchase at TopVintage and I have bought a dress, a skirt, a blouse and a coat. For all four pieces of clothing I can say, they came as advertised on the website, the quality of the material is also very high. When you put them on I really felt that I was standing out with my clothes. If you are thinking "maybe or I can still wait another season", the answer is "no waiting", just choose and order it, as already the experience with the whole order and receiving of the package is unique and I can only recommend it further. And at the end you really look schick, unique and fabulous!
Patricia
&nbsp|&nbsp
2022-11-08 07:23:38
---
Prachtig kleedje, past perfect! Geeft een boost aan mijn zelfvertrouwen! Het was lang geleden dat ik nog iets bestelde bij topvintage, maar echt, hoe gelukkig word je daar van! ?
Fien
&nbsp|&nbsp
2021-11-23 07:09:25
---
Da gibt es eigentlich nicht zu sagen - das Kleid ist einfach super.
Jessica
&nbsp|&nbsp
2021-09-16 12:47:37
---
I adore this dress.
Most dresses by this brand fit me well (except for the occasional one that's too big in the bust). But this dress is anther winner. Super comfy and yet great looking. I recommend this one to everyone!
Isabelle
&nbsp|&nbsp
2020-11-10 13:25:41
---
Zoals alles van dit merk zit dit weer als gegoten! Dit jurkje zit lekker en comfortabel maar is ook meteen super leuk. Zeker een aanrader.
Isabelle
&nbsp|&nbsp
2020-11-10 13:23:39
---
de
Kleiner Fuchs, große Wirkung
Ich hatte mich letztes Jahr schon in das Kleid verliebt. Als es jetzt verfügbar war, habe ich sofort zugeschlagen. Leider musste es zur Schneiderin, aber es hat sich sowas von gelohnt: Ich habe es in S gekauft (163, 50kg, kleines B) Das Oberteil des Kleides saß gar nicht, und war viel zu weit. Die Länge ist bei mir um das Knie herum. Und Ja, es ist dünn; aber: mit einem Unterkleid, dickeren Strumpfhose und eventuell Bolero für die Arme ist es auch dank der Farbe im Herbst noch absolut tragbar. Die schwarze Schleife ist das Sahnehäubchen. Ich liebe es und es hat mir viele Komplimente eingebracht
Joelle
&nbsp|&nbsp
2020-10-22 05:26:42
---
I love this dress. The fabric is pure cotton, and the colors are vivid. The print is gorgeos and it fits perfectly! It's just a little big but with a belt it's PERFECT!
Valeria
&nbsp|&nbsp
2023-02-07 14:37:05
---
de
süßes Kleid, für mich zu kurz
ich liebe liebe liebe Füchse und wollte das Kleid unbedingt haben. Obenrum finde ich es zauberhaft, leider ist es mir zu kurz und ich habe das Gefühl, der Rock legt sich unvorteilhaft um meine Hüfte. schade!
Ramona
&nbsp|&nbsp
2023-02-04 13:44:52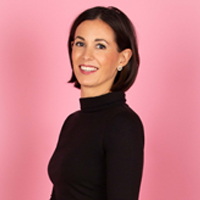 Response from Sylvia

Liebe Ramona, es tut uns leid dass die Passform des Kleid nicht optimal für Sie scheint zu sein. Entschuldigen Sie bitte! Falls Sie es retournieren erstatten wir selbstverständlich den Kaufbetrag.
Liebe Gruße,
Sylvia
Kundenservice
---