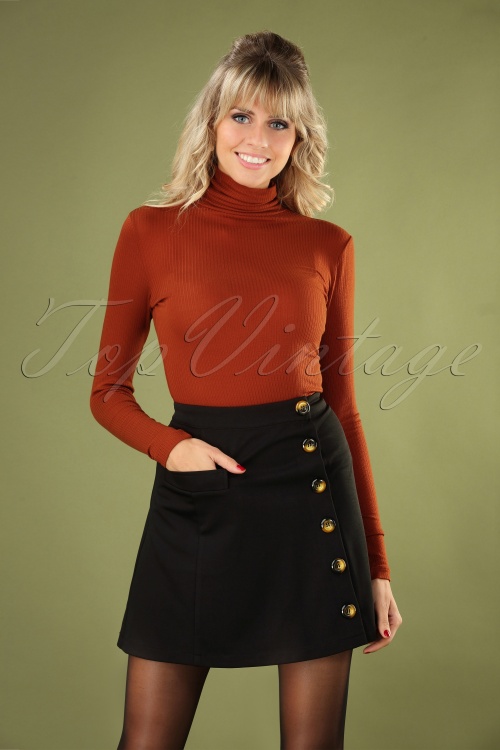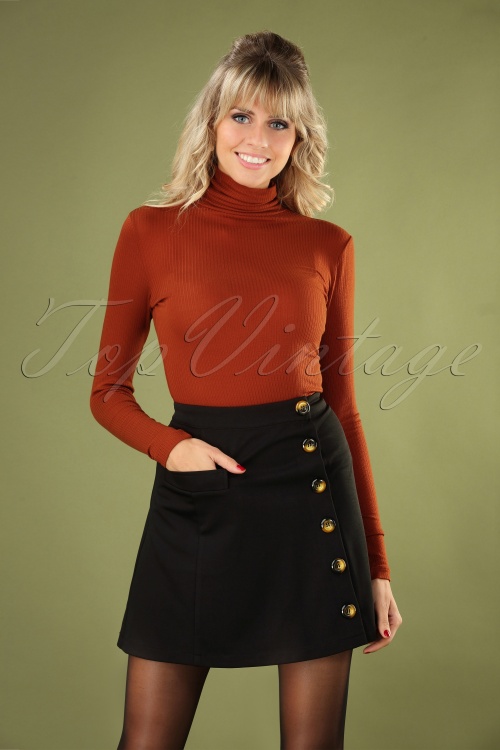 60s Beatrice Skirt in Black
You simply can't get enough of this 60s Beatrice Skirt in Black! She runs from the waist down into an A-line style that is flattering for all body types and features a handy pocket at the front and a beautiful row of buttons. Made of a supple, black fabric with a light stretch that is a joy to wear. This typical sixties skirt is re-tro-li-cious! 
A-line style
Pocket at the front
Functional row of buttons
Our gorgeous blonde Melissa: 1.78m / 5'10"

Article nr.
26159
95% Polyester
5% Elastane
Handwash inside out (don't leave it in the water)
Wash inside out
Wash dark colors separately
Machine wash 30c delicates cycle
Dry clean
Do not tumble dry
Hang to dry
Iron inside out on low temperature setting
Rokje valt goed, dit merk heeft een mooie pasvorm.
Margret
&nbsp|&nbsp
2020-10-30 21:02:47
---
Dieser ist für mich leider nur ein "okay".
Der Stoff ist nicht so schön wie erwartet hatte. Er ist dünn und "schlapperig" und verzeiht leider keine Plösterchen.
Ich habe ihn mit einem dickem Winterpulli kombiniert, den ich den Rock stecke. Dann gehts. Der Rock sieht nämlich sonst gut aus.
Jessica
&nbsp|&nbsp
2020-01-09 13:57:00
---
Die Leggins dehnt sich nicht extrem, somit lieber gut messen und nicht zu klein bestellen. Sitz dann auch sehr gut und in Kombination mit der Bluse hat man ein perfektes Outfit. Die Bluse sitzt super und macht jedes Outfit perfekt. Passt auch super zu den beiden Röcken. Beide Röcke fallen etwas größer aus und können meiner Meinung nach eine Nummer kleiner bestellt werden als angegeben (ich trage sie etwas höher sitzend). Den schwarzen Rock hat mir meine Schneiderin enger genäht (beim Anprobieren dachte ich er sitzt super, habe die Etiketten entfernt und erst auf Arbeit ist mir aufgefallen dass der Rock doch etwas rutscht und zu groß ist) der braune Rock ging zurück und wurde eine Nummer kleine neu geliefert, sitzt perfekt! Bin sehr glücklich und sehr zufrieden!
Anne Lehmann
&nbsp|&nbsp
2019-12-28 16:42:49
---
nl
De zoektocht gaat verder
Het model van deze rok blijft heel mooi en ik was al een tijdje naar zoiets op zoek. Jammer genoeg valt de stof tegen. Ik had hem namelijk toch iets stugger verwacht en ik denk dat daarom de pasvorm (in ieder geval met mijn figuur) ook tegenvalt. Helaas heb ik de rok dan ook terug moeten sturen. Volgende keer weer beter!
JLB Jansen
&nbsp|&nbsp
2019-09-05 12:20:47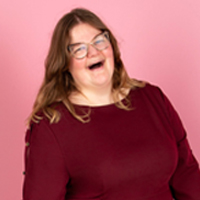 Response from Nicole

Beste JLB, wat jammer dat de stof toch anders was dan verwacht! Wist je toevallig dat we de stofsamenstelling altijd vermelden onder het kopje "Care & Materiaal"? Hopelijk vind je met deze hulp wél het perfecte model. Succes met de zoektocht :-)
Groetjes,
Nicole
Klantenservice
---
nl
super mooi rokje en truitje
truitje en rokje samen gekocht, passen echt goed bij elkaar. De maat van beiden passen perfect. Laat de herfst maar komen. De schoenen zijn heel mooi en elegant. Ben content van mijn aankoop.
Kathleen Coussement
&nbsp|&nbsp
2019-08-03 07:45:00
---
... très sympathique qui se coordonne facilement.
Claudine Renier
&nbsp|&nbsp
2019-01-13 16:13:23
---
Der Rock sieht schick aus und trägt sich angenehm - allerdings hat er (zumindest bei mir) nach 2 Wäschen schon deutliches Pilling. Habe ihn gemäß Waschhinweis in der Maschine gewaschen. Besser Handwäsche.
Sylvia 
Kundenservice 
Verena
&nbsp|&nbsp
2018-12-08 13:20:30
Response from Customer service

Liebe Verena, es tut uns leid dass Ihr Rock nach Zwei Waschgänge bereits pilling zeigt. Es entsteht nicht unbedingt während der Wäsche aber durch die Reibung während des tragen. Bitte entschuldigen Sie uns dafür! Zum Glück haben wir ein Paar praktische Tips damit die Fusseln schnell entfernt werden und Sie Ihr Rock wieder mit Freude tragen werden. Bitte beachten Sie Ihre Mailbox :-)
Liebe Grüße,








---
Leider muss ich der anderen Bewertung zustimmen. Der Rock ist viel größer als angegeben. Die Maße stimmen nicht. Darum muss er leider zurück :(


Tuttifrutti
&nbsp|&nbsp
2018-12-06 19:14:15
Response from Customer service

Hallo Tuttifrutti, bitte entschuldigen Sie uns dass der Rock leider nicht passt. Ich werde mich dazu noch mit Ihnen in Verbindung setzen.

Liebe Grüße,
Desiree
Kundenservice
---
Super leuke trui, wel een kort model, maar dat wist ik van te voren.. Draag mijn kleding graag strak, dus jullie maat advies opgevolgd..hij zit dus ook goed strak, maar na 1x was zit die wel erg strak om de borstparty, ik zou zeer zeker aan raden om een maatje groter te bestellen aangezien die nog gewassen moet worden, laatste bestellingen vallen een beetje tegen, jammer ben een echt fan van jullie.. Volgende keer maar weer beter.

Zwartje rok is een schatje, leuk model, en top kwaliteit voor een top prijs.
Esther Reinders
&nbsp|&nbsp
2018-11-10 06:46:01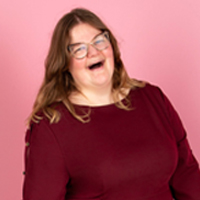 Response from Nicole

Beste Esther, we willen dat je 100% tevreden bent over je aankopen bij ons en vind het oprecht jammer als dit niet het geval is. Ik heb je even een e-mail gestuurd zodat we samen naar de trui kunnen kijken!
Groetjes,
Nicole
Klantenservice
---
De ochtendjas is erg mooi, maar hij is zo lang dat ik er continu op ga staan (ik ben 1,73). Dat is echt te onpraktisch, daarom teruggestuurd. Het rokje is erg mooi, mooie stof en valt goed!
Marinka
&nbsp|&nbsp
2021-09-07 12:36:03
---