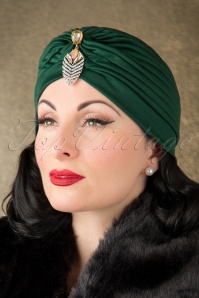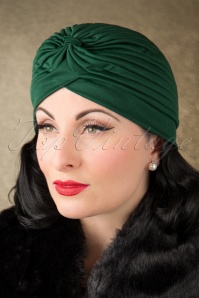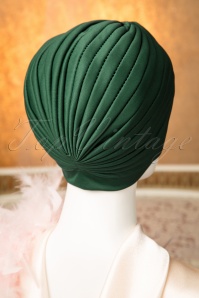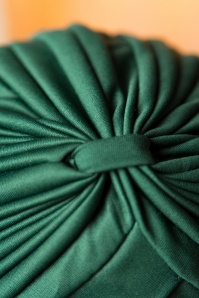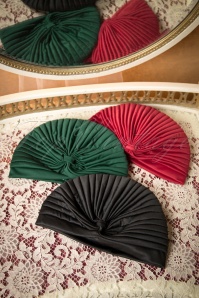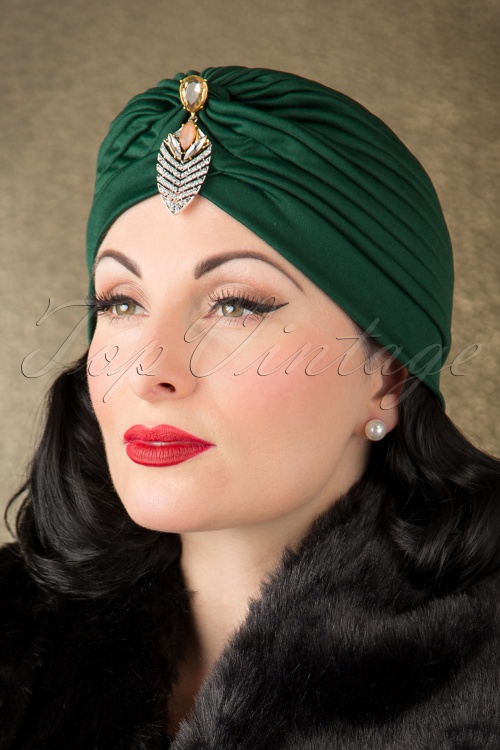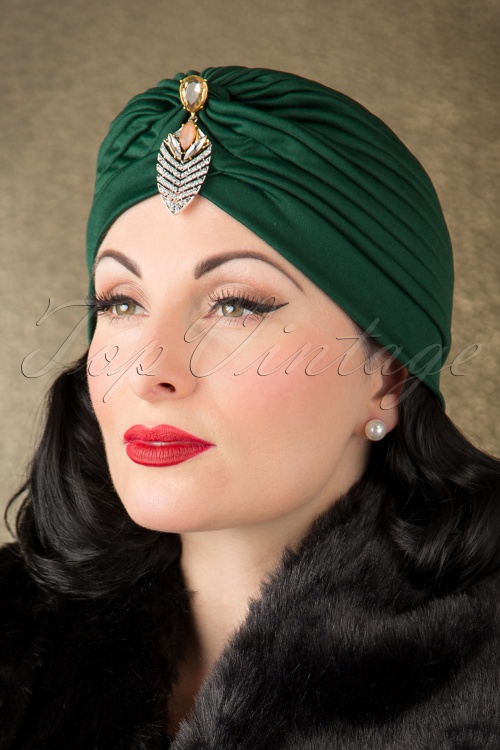 50s Sally Sateen Turban Hat in Green
Looking for the ultimate vintage accessory? Found it! This 50s Sally Sateen Turban Hat in Green is truly a must-have! Stylish and super vintage! Made of a stretchy dark-green sateen. No more bad hair days for you, you'll always look ravishing when you're wearing this beauty on your head! Jazz it up with a vintage brooch or a beautiful earring, just like we did.
Stretchy
Pleated, knot detail
Article nr.
16470
Handwash cold (don't leave it in the water)
Machine wash 30c delicate
Do not tumble dry
Tulband zit comfortabel, leuk met los haar of haar eronder gevouwen, ideaal voor een glamorous bad hair day. Ik krijg veel complimenten erover.
Judith
&nbsp|&nbsp
2016-04-01 22:07:18
---
de
Ein muss für jedes Vintagegirl
Diesen Turban hab ich in schwarz und grün. Kombiniert mit einer Brosche bist du der Mittelpunkt jeder Party. Auf den schnellen Versand konnte ich mich wie immer verlassen, selbst kurz vor Weihnachten. Großes Lob an den Service!!!
Sandra
&nbsp|&nbsp
2016-01-17 11:32:42
---
en
Perfection, perfection, perfection!
Not only the best vintage website...but the best fashion website out there! Every time I buy from Top Vintage I am always very impressed. The products are great quality and gorgeous, the packaging is simply divine and the free gifts with each purchase are an extra delight. It's obvious that they really value their customers. I love Top Vintage!
Colette
&nbsp|&nbsp
2015-11-26 20:07:09
---
Passen alle perfekt <3
Sabrina
&nbsp|&nbsp
2015-11-22 21:49:28
---
nl
"bad hair day" oplossing
deze heb ik al een tijdje geleden gekocht ,maar vergeten een berichtje te plaatsen ...super ,zoals altijd ! Heb het ook in het zwart gekocht toen
Myriam
&nbsp|&nbsp
2015-11-11 14:37:19
---
de Zazoo 50 's Sally sateen sultan hat in green en black ,alle twee Fantastisch !!!
ben er super blij mee !
myriam maes
&nbsp|&nbsp
2015-09-01 11:22:04
---
Ein tolles Accessoire, .. habe direkt alle Farben bestellt....
Sandra Pöstges-Diedrichs
&nbsp|&nbsp
2018-04-06 17:28:00
---
de
Rot, Grün, Schwarz - ich hab´sie alle!!!
Mit diesen tollen Turbanen sind Bad Hair Days Vergangenheit! Ich hab´ sie mir in allen verfügbaren Farben bestellt; nach weniger als 48h waren sie schon da! Das Material ist leicht und elastisch, sehr angenehm zu tragen! Ein tolles Accessoire, das man zu vielen Gelegenheiten tragen kann!
Ulrike Brensing
&nbsp|&nbsp
2018-03-06 15:01:55
---
Das Kleid ist ein absoluter Traum! Sitzt wie angegossen, der Stoff ist etwas dicker, so dass sich nichts abzeichnet. Der Turban passt farblich perfekt dazu und sitzt auch gut. Danke für den flotten Versand!
Kerstin
&nbsp|&nbsp
2017-11-16 14:21:24
---
Als proefkonijn gekocht voor een ander duurder exemplaar. Dit 'hoofddeksel' bevalt echter ook goed. Mooi voor een suffe tussenperiode wat haardracht betreft :-)
Geen hoogstaand product wat kwaliteit betreft maar daar is de prijs dan ook naar.
Eliza
&nbsp|&nbsp
2017-03-24 17:21:31
---
Prachtige sjaal, mooie kwaliteit en kleur. Tulband in zwart en in groen, perfect
om mijn beginnende kaalheid door chemo te verstoppen en er goed uit
te zien.Ga ze ook versieren met een glitter broche.Dank jullie wel voor deze bestelling.
greet
&nbsp|&nbsp
2017-01-17 10:46:50
---
Der Stoff und das Grün sind sehr schön und alles ist gut verarbeitet.
Kombiniert mit einer Brosche ist es ein absoluter Eye-Catcher!
Lana
&nbsp|&nbsp
2016-12-03 18:02:51
---
nl
TOPvintage ! Fantastische service
Bij bestellen had ik zelf een foutje gemaakt en dit is meteen opgelost, geweldige service!!! De bestelling was er binnen 1 dag en ik ben superblij met de shirtjes, schoenen en het hoedje. Heel hartelijk dank, topvintage= topservice!
Arianne
&nbsp|&nbsp
2016-05-02 09:13:35
---
This hat is a beautiful rich green colour, lovely material and an added brooch completes it perfectly.
Colette
&nbsp|&nbsp
2016-04-06 10:01:52
---
Tout simplement confortable et élégant. Le tissus est doux et tien chaud. Ajoutez y une petite broche et ça y es vous êtes la Diva de la soirée.
clara slattery
&nbsp|&nbsp
2018-11-12 12:32:57
---
La perfection pour l'hiver qui arrive! le tissu de cette robe est formidable et chaud. Au niveau des turbans le noir est parfait, mais le vert est un peu trop grand.
clara slattery
&nbsp|&nbsp
2018-11-12 12:11:26
---