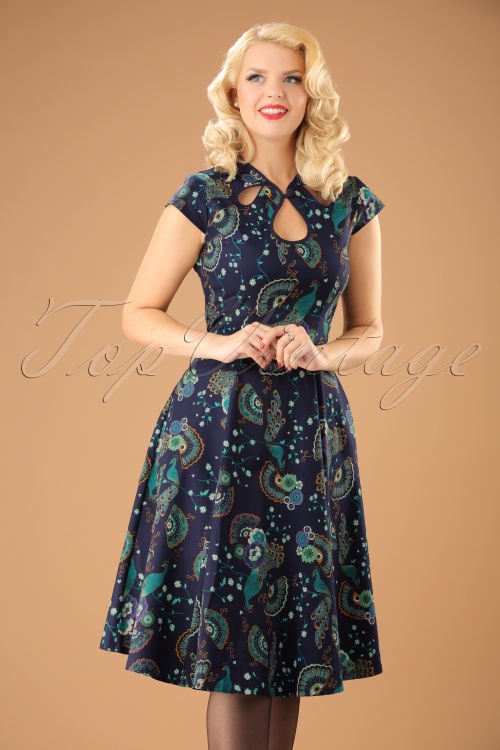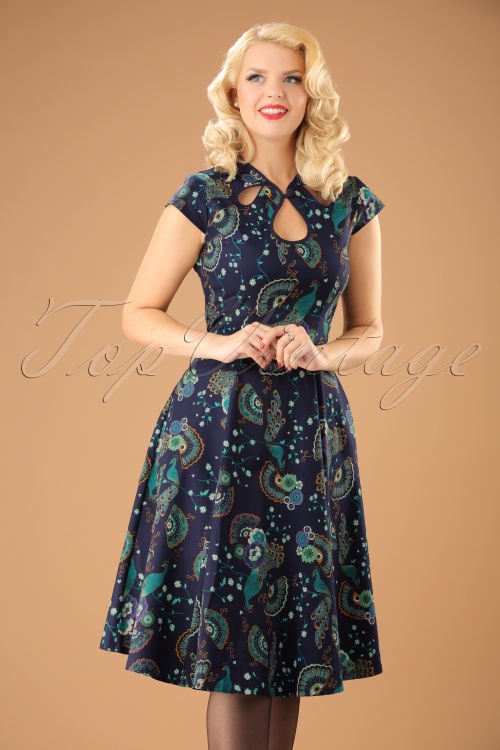 50s Proud Peacock Swing Dress in Midnight Blue
You'll be as elegant and proud as a peacock when wearing this 50s Proud Peacock Swing Dress! The Oriental peacock print in amazing purple and turquois colours will simply take your breath away! The fitted bodice features an elegant keyhole with button, drop-shaped cutouts and adorable cap sleeves. The full swing skirt is super flattering and gives you an amazing feminine silhouette. Made from a sturdy dark blue cotton blend with a light stretch for a lovely fit. Be a peacock in a world full of ducks ;-)
Keyhole with button closure
Cutouts at the neckline
Cap sleeves
Dark blue piping
Hidden zipper at the side
Full swing skirt
Match with one of our petticoats for an extra festive look
Our gorgeous blonde Rachel is 1.72m / 5'8''
Article nr.
19974
Handwash cold (don't leave it in the water)
Wash inside out
Machine wash Wool cycle COLD
Do not dry clean
Do not tumble dry
Iron inside out on low temperature setting
Deze jurk zit fantastisch, mede dankzij de goede maattabel. Het lijfje is mooi aansluitend, met een mooie zwierige rok. Het knoopje in de hals maakt het helemaal af.
Renske Vd Zee
&nbsp|&nbsp
2017-12-13 10:39:17
---
Zwanenrok: super gewoonweg. Ik zag hem en moest hem meteen hebben. Zit comfortabel en is gewoon prachtig.

Pauwenkleedje: De stof is geweldig en ook de pasvorm is weer erg goed. Leuk met het pauwenvestje.

Pauwenrok: Ik ben gek op het prachtige kleurenpalet van een pauw, dus deze mocht niet ontbreken. Zit echt geweldig. Ik had al 2 rokken in dit model van Dancing Days en die strijken wat lastig. Maar bij deze rok is de stof wat zwaarder en met meer strech dus het strijken gaat vlotjes. Ook hier past het pauwenvestje leuk op. What's not to love?

Pauwenvestje: ook weer een geweldige aanwinst. Een beetje duur voor een vestje, maar goed combineerbaar dus je kan er verschillende outfits mee aanvullen.

Blauwe broek: gewone broeken staan mij door mijn lichaamsbouw niet en bovendien hebben de zwangerschappen ook hun sporen nagelaten, dus broeken waren niet echt mijn ding. Maar dankzij het geweldige (en snelle) advies van de dames van Topvintage heb ik er eentje gevonden die me wel goed bevalt. Het buikje wegtoveren doet de broek net niet, maar ze flatteert wel. Bedankt Topvintage! Ze is voor mijn 1m66 en met hakken wel nog iets te lang, maar dat kan wel opgelost worden. De stof is geen echte winterstof dus in de winter met een panty onder voor de echt koude dagen. Het voordeel is dan weer dat je ze ook in de zomer kan dragen.

Rode broek met knopen: Ik heb er zelfs 2 gevonden ;) Zit ook heel leuk. Door de stof kan de broek ook in de zomer dienen.

Blauwe rok: De stof is heel licht dus iets geschikte voor de zomer, maar verder heel leuk rokje.

Geruite rok: Prima pasvorm en valt heel mooi.

Groene rok met strik: Deze wilde ik al heel lang, maar door de prijs toch lang getwijfeld. Uiteindelijk toch maar de stap gewaagd, en o wat ben ik blij. De rok is door zijn snit erg flatterend, ook langs de achterkant.

Rode rok met print: Leuke rok. De stof is iets zwaarder. Leuk dat de print van vilt is. Ik heb de tabel gevolgd en daarin werd geadviseerd de grotere maat te nemen in geval van een buikje wanneer je tussen 2 maten zit, maar de rok valt zo ruim dat ik toch geruild heb voor de kleinere maat (altijd fijn voor het zelfbeeld).

Zwart kleedje: Hele fijne pasvorm.

Rood-blauw kleedje: Ook weer een fijne pasvorm, zelfs met een zwaardere boezem.
Marijke Vanhoebroek
&nbsp|&nbsp
2017-12-11 19:14:41
---
Das Kleid ist wirklich wunderschön und zaubert zudem durch den Schnitt eine tolle Figur. Musste es allerdings, da es größer ausfällt, gegen eine kleinere Größe eintauschen, was zum Glück problemlos und schnell geklappt hat. :-)

Margarete
&nbsp|&nbsp
2017-11-24 21:23:54
---
de
Extravagant und schick
Ich hab das Kleid angezogen es ist einfach fantastisch und einfach schön! Perfekt! Danke Topvintage!
Jaqueline Beyer
&nbsp|&nbsp
2017-11-15 19:56:32
---
nl
Beautiful, but sizing is off
Normally I wear L, sometimes M. I tried both, but finally had to take S. The fabric is a bit stiff. It works well for the skirt, but it would be a bit more comfortable if it had soft lining (at least at the top). On the other hand I prefer natural materials, and if there was lining it would probably be from man-made fabric (as it's cheaper). I still love it.
Eddie
&nbsp|&nbsp
2017-11-01 11:31:33
---
This is a lovely dress! It's perfect for ladies with an hourglass figure. The dress has a pretty sheen, and fits beautifully, although I think a medium would have work just fine. Overall, this is a lovely choice for work or an evening affair. Thank you Top Vintage for sending this dress all the way to the Uniter States!
Tiffany Stahl
&nbsp|&nbsp
2017-10-06 22:19:29
---
Ich liebe TV
Manuela Rauwolf
&nbsp|&nbsp
2017-10-01 17:01:50
---
Angenehm zu tragen, macht eine tolle Figur und der "Tropfenausschnitt" bringt mit dem Muster einen wundervollen asiatischen Flair hinein. Letztes Jahr habe ich das Kleid zum ersten Mal gesehen, leider zu lange gezögter und es war in meiner Größe schon weg. Jetzt habe ich sofort zugegriffen. Einziges Problem. Meine 5 jähriger Tochter hat sich in das Kleid auch verliebt und will unbedingt eine Kinderversion davon............
Elizabeth Schibli-Lazzaro
&nbsp|&nbsp
2017-09-10 15:06:29
---
Just got this dress and since I was afraid that it would be too small (I ordered S following the size guide but I am never S, I am M) but luckily for me it fits perfectly. The print is so beautiful and the dress in all so perfect that I can not be more satisfied than I am. With a peacock blue petticoat (that I have :-))) it is all that I hoped for.
Milica Klaricic Bakula
&nbsp|&nbsp
2017-09-08 09:49:52
---
Kleid und Weste eine Nummer kleiner bestellt - einfach toll und passen wunderbar zusammen. Der Herbst kann kommen!
Christine
&nbsp|&nbsp
2017-09-06 11:15:25
---
je voelt je helemaal top in deze jurk. Past perfect en voelt erg comfortabel aan!! Weer een topjurkje van topvintage!!
natascha de neve
&nbsp|&nbsp
2017-09-06 09:02:24
---
This dress looks amazing! It's so elegant and feminine. Fits like a glove. Only downside is that it's a bit long for a someone shorter such as myself (162cm). If that doesn't bother you than I highly recommend it :)
Maria-Luiza
&nbsp|&nbsp
2017-08-27 06:56:00
---
Die Farben sind großartig. Das Material wirkt angenehm fest und unempfindlich. Die Größenempfehlung stimmt genau. Mir ist es nur ein wenig lang (reicht bei Gr. 1,65 fast bis zur Wade). Ich werde es sicher kürzen.
Sehr schön. Ich freue mich.
Jana
&nbsp|&nbsp
2017-08-12 15:53:31
---
de
Wunderschön, gut verarbeitet, sehr schnelle Lieferung
Meine erste Bestellung bei diesem Anbieter. Es hat alles besten geklappt, das Kleid ist fantastisch, aus angenehmer Baumwollemit etwas Elastan, sitzt korrekt (da auch darauf hingewiesen wurde, bei mehr Oberweite eine Größe drüber zu bestellen) und wird mir mit Sicherheit viel Freude bereiten.
Dinah
&nbsp|&nbsp
2017-08-02 09:54:27
---
ja hij is echt mooi alleen moet ik hem nog ff een stukje innemern
hij is super geweldig bedankt team van Top Vintage

Janneke
Janneke Kremer
&nbsp|&nbsp
2017-08-01 14:02:02
---
Vielen Dank für diese wunderschönen Kleider. Sie passen beide perfekt. Ich freue mich schon, wenn ich sie anziehen kann. Immer wieder gerne...
Gaby
&nbsp|&nbsp
2017-01-23 17:55:53
---
Pauwen jurkje... met vest. Prachtig. Mooie kleuren. Kimono kraagje. Echt origineel.

Het rode jurkje met de rozen had ik met kerst aan, met de petticoat eronder, en een zwarte bolero erop. Omdat de petticoat langer is dan het jurkje had dit een heel feestelijk effect. Ik werd bedolven onder de complimenten. Zonder de petticoat en met dikke pantys is de look weer totaal anders, en daardoor geschikt om gewoon te dragen, zonder een feestje. Ik hoop dat de fluwelen roosjes het goed houden bij een wasbeurt...dat vind ik wel spannend ;-).

Het gebloemde jurkje vind ik ook een topper. Zeker met de petticoat. Heel vrolijk.

De petticoat is lekker zacht, en de roesjes geven een feestelijke uitstraling aan een jurkje.

Wat ik overigens een minpunt vind van de petticoat, het naadje onder de roesjes is met wit afgestikt. Die keus begrijp ik niet. Ik moet echt zorgen dat dat stiksel aan de achterkant zit, want dat valt helaas wel op.
Kletsy
&nbsp|&nbsp
2017-01-10 18:21:57
---
de
Nicht lang überlegen , Kaufen !!:-)
Ich liebe Pfauen und jetzt habe ich ein Pfauenkleid :-)
Das Kleid passt perfekt und fühlt sich Klasse an!!!

Absolute Kaufempfehlung!!
Katharina
&nbsp|&nbsp
2017-01-07 19:16:26
---
nl
This is the prettiest dress - aside from my wedding dress - that I have ever owned!!
This dress is not only amazing to look at, but the fit is just perfect. It shows off all the right curves. It looks even better with the underskirt! I definitely recommend this dress for any wardrobe!
Majken
&nbsp|&nbsp
2017-01-05 20:16:40
---
de
Oh, ich liebe meine neues Pfauenkleid
Schöne Farben, süsser Ausschnitt, der Stoff ist nicht zu dünn. Leider habe ich (noch) keinen petticoat, damit könnte man es sicher auch sehr festlich stylen
Stefanie
&nbsp|&nbsp
2017-01-01 16:01:56
---
Wat ben ik trots als een pauw op mijn mooi samengestelde outfit voor de feestdagen! De jurk, het vestje, de riem én de hoed maken er echt een pracht ensemble van. Heb tevens de bijhorende handtas en nu ook dankzij jullie een prachtige lange jas om erbij te dragen. Kan niet wachten om te stralen, zowel vanbinnen als vanbuiten.
Alles past trouwens perfect en is van supermooie en goede kwaliteit. De jurk in maat S zit als gegoten, het vest ook. De mouwen zijn voor mij iétsje aan de lange kant maar dat stoort me helemaal niet aangezien ik ze gewoon een keer omplooi. De hoed en de riem zijn twee accessoires die alles gewoon eens zo mooi laten schijnen. Ga de zwarte hoed zeker ook nog kopen. Nogmaals bedankt om mij het allermooiste kerstgeschenk te bezorgen dat ik me wensen kon, namelijk...een gelukkig hart en een stralende lach!
Ellis
&nbsp|&nbsp
2016-12-22 23:11:00
---
De vesten zijn lekker warm, en hoog aan de taille wat mooi afslankt. De mermaids heb ik ook super veel complimenten op gekregen. Echt super vrouwelijk!
Alleen de Claudette's heb ik moetten terug sturen. Ze paste perfect maar voor 1 of andere reden ging bij beide jurken de rits niet dicht met mij er in. Zonder mij gingen ze al best stroef. Maar zelfs met hulp niks.. echt jammer.
De pauw jurk is prachtig en zit als gegoten! Laat die feestdagen maar komen!!
Elisabeth
&nbsp|&nbsp
2016-12-08 23:18:56
---
Ich habe lagen überlegt, ob ich das Kleid bestelle und ich muss sagen es ist wirklich wunderbar. Besonders gut gefällt mir der Ausschnitt.

Etwas merkwürdig ist es zwar das der Reißverschluss nicht bis ganz nach oben geht sondern ca. 4 cm unter der Achsel endet aber nun ja..

Vielen Dank für dieses tolle Kleid.
Anni
&nbsp|&nbsp
2016-12-06 11:28:26
---
Helemaal gelukkig met deze prachtige jurk!
Mooie zware stof en snelle en nette verzending. Absoluut een aanrader.
Top!
Louise
&nbsp|&nbsp
2016-11-23 22:45:29
---
nl
Zelden heb ik me zo mooi gevoeld....
Deze set is écht voor mij. Ik ben er ontzettend blij mee. Zoals de titel al zegt, zelden heb ik me zo mooi gevoeld. De halslijn is ontzettend uniek, de lengte is perfect voor mij (ik ben 1.80) en het vestje maakt het helemaal af en laat nog genoeg van de mooie hals zien. De ondertitel klopt van deze jurk; I indeed feel as proud as a peacock! Mocht je hem overwegen; deze is écht de moeite.
Sanne
&nbsp|&nbsp
2020-09-08 22:11:02
---
nl
Zelden heb ik me zo mooi gevoeld....
Deze set is écht voor mij. Ik ben er ontzettend blij mee. Zoals de titel al zegt, zelden heb ik me zo mooi gevoeld. De halslijn is ontzettend uniek, de lengte is perfect voor mij (ik ben 1.80) en het vestje maakt het helemaal af en laat nog genoeg van de mooie hals zien. De ondertitel klopt van deze jurk; I indeed feel as proud as a peacock! Mocht je hem overwegen; deze is écht de moeite.
Sanne
&nbsp|&nbsp
2020-09-08 22:08:55
---
Toen ik m zag was ik verkocht. Alleen uitverkocht...
Angelique
&nbsp|&nbsp
2020-08-29 11:36:28
---
Les deux robes sont très belles et agréables à porter
Sandra Stevens
&nbsp|&nbsp
2019-12-12 12:11:52
---
nl
Mooi kleedje met cape !!!!
Heb dit verleden jaar voor eindejaarsviering gekocht. Paste mij perfect !!!! Doe dit dit jaar terug aan om eindejaar in dancing te vieren. TOP !!!
Emmy
&nbsp|&nbsp
2019-11-21 22:05:22
---
Ich habe mir dieses Kleid für meinen kommenden Tanzabschlussball gekauft und habe mir den Petticout nachträglich bestellt. Es sieht einfach toll zusammen aus! Die Längen passen ebenfalls!
Kanne beide Produkte nur weiter empfehlen!
Hannah Noll
&nbsp|&nbsp
2019-10-29 23:15:01
---
Alles is mooi, kleurrijk, passend en blijmakend!
Het groene rokje is echt mooie kwaliteit, zacht, dikkere stevige stof en gevoerd. Even getwijfeld qua maat omdat ik smalle taille heb en vollere heupen, volgens de matentabel een L(40-42) kiezen. Uiteindelijk kan ik dit rokje wat lager dragen of het gespje kleiner maken.
Het truitje past er mooi bij en is van zachte kwaliteit. Heel leuk met die strepen in die kleurtjes!
Het rode geruit jurkje was een gok: de stof is eerder dun doch voelt zacht en jurk is gevoerd. Ik liet mij vooral verleiden door de vrolijke ''look'' : de rood/groene ruiten en peter pan kraag, het staat mij, dus ik hou het!
De prachtige pauwenjurk....daar dacht ik 2jaar geleden al over, maar ik koos het pauwenrokje , ook heel mooi. Toch bleef ik steeds kijken naar de jurk...dus voor mijn verjaardagscadeau liet ik mij gaan en het staat geweldig. Daar dit een wijde rok heeft, is hier dan een S aangewezen.
En dan de schattige geldbeugel! Zo lief die poes op barkruk en de gebakjes, Mooie kleur, prachtig gemaakt!
TOP!!!!! Leve VINTAGE!!!
Nancy Maes
&nbsp|&nbsp
2019-09-30 12:51:29
---
nl
Top Vintage: Tijdloos&Vrolijk!
Steeds vernieuwend, kleurrijk, groot aanbod, voor elk wat wils!
Ben héél tevreden met mijn vorige bestellingen en het pakje van vandaag!
Dankuwel aan het ganse Top Vintage team!
Nancy
&nbsp|&nbsp
2019-09-30 12:22:46
---
hey sweeties, alles past perfect zo als altijd helaas voor de eerste keer heb ik iets moeten terug sturen wegens te groot de mooie louisa blouse , ni getreurd heb gisteren al een nieuwe bestelling geplaatst,
ingrid soors
&nbsp|&nbsp
2019-08-20 09:26:23
---
Ein traumhaft schönes Kleid! Die Cutouts in Tropfenform passen perfekt zum Pfauen-Design. Aufgrund der Empfehlungen habe ich das Kleid eine Nummer kleiner genommen und es passt perfekt.
Die Ohrringe sehen hochwertig aus und runden das ganze Outfit ab.
Auch bei den Schuhen bin ich den Hinweisen einer Kundin gefolgt und habe statt sonst 37 eine Nummer größer bestellt und sie passen super. Außerdem sind sie äußerst bequem. Das waren sicherlich nicht meine letzten Schuhe von Banned.
Vielen Dank liebes Top-Vintage-Team für die tollen Schätzchen und den super-schnellen Versand! Ich bin total happy
Lilly
&nbsp|&nbsp
2019-07-31 06:28:27
---
Das Kleid sieht einfach fantastisch aus: der Schnitt ist toll (schön feminin) und das Muster bzw. die Farben sind einfach brilliant. Ausserdem passt es wie angegossen und die Lieferung war blitzschnell. Vielen Dank, dass es euch bzw. diesen tollen Shop gibt.
Martina Brünjes
&nbsp|&nbsp
2019-07-26 12:42:03
---
Les articles sont de qualité et l'envoi est toujours très très bien soigné. On est toujours gâté quand on commande. En plus un service client rapide et franchement adorable. C'est tellement rare, restez comme ça !
Lucie Rouillé
&nbsp|&nbsp
2019-01-07 14:07:49
---
bequem, schick, sitzt perfekt und richtig kombiniert ist es für jede Situation das richtige Kleid. Liebe auf den ersten Blick und jedes Mal aufs Neue :)
Julia Schaer
&nbsp|&nbsp
2018-12-03 19:13:35
---
de
Beeindruckend- fällt aber bei mir etwas zu groß aus
Ich schaue immer genau hin, weil ich genau diese Größen zwischen M und L habe (weniger Brust, aber Bäuchlein) und ich habe die größere Größe bestellt. Dass es an der Taille zu locker saß, wäre nicht schlimm gewesen, aber leider schlackerte es an Brust und Ärmeln und gerade da muss es bei diesem raffinierten Kragen ja sitzen, um wirkungsvoll zu sein. Schade, geht also wieder zurück.
Lina
&nbsp|&nbsp
2018-11-15 07:24:46
---
Ik was meteen verliefd op de pauwenjurk. Ik had een L besteld, die zat te ruim bij het lijfje. Ruilen was geen probleem en de M zit als gegoten. Ik kon me niet voorstellen dat ik in een M zou passen, en had voor de zekerheid een L besteld, volgende keer houd ik me zeker aan de pastip! Het blauwe vestje past er erg mooi bij. Helemaal top!
Marianne van de Wiel
&nbsp|&nbsp
2018-10-31 19:02:08
---
Wore this to a party the other day and got a lot of compliments, felt super confident in it.
I hope to buy more of this gorgeousness.
Cieke
&nbsp|&nbsp
2017-12-22 10:22:28
---
Wat een mooie jurk en wat een schattig vestje/bolero. Ik vind ze op elkaar (als set) niet mooi staan, ik draag ze los van elkaar.

De jurk is van een mooi, stevige stof gemaakt en de diepe kleur blauw op de achtergrond is prachtig! De pauwenprint ook erg leuk. Ik heb vrij grote borsten (maat F) maar een kleine taille (75cm) dus twijfelde over de maat. Dankzij de tip heb ik een S genomen vanwege mijn borsten (en niet de XS) en hij zit prachtig! Lengte is over de knie maar dat heeft wel iets old schools vind ik. Je kunt hem natuurlijk laten inkorten als je wilt. Ik vind het zonde van de prachtige stof, haha.

Het vestje is erg schattig, wel veel korter dan gedacht. Het is eigenlijk een bolero dus daar moest ik even aan wennen. Toch gehouden want hij is enig! Het stuk wat geborduurd is, is wat stug maar ligt toch vlak tegen je schouder aan dus daar heb je geen last van. Ik nam een S, mijn gewone maat en die is goed. Hoop alleen dat hij niet krimpt want hij sluit nu juist perfect aan.

Ik draag de bolero niet op de jurk. Dat vind ik erg druk en ook de halslijnen zijn niet mooi samen. Zowel open als dicht gedragen niet. Desondanks erg blij met beiden artikelen!

Groetjes Wendy
Wendy
&nbsp|&nbsp
2022-11-25 19:33:02
---
Hi, thank you for another beautiful dress. It fits perfectly! Your customer service is second to none, delivery is fast , what more can I say except thank you once again. Look forward to ordering from you again soon.
Teresa
&nbsp|&nbsp
2022-10-24 14:10:18
---
de
Leider nicht für mich!
Beide Kleider sind toll von der Farbe und Qualität her. Aber bei 1,52 m sitzt das nicht gut. Und damit ist natürlich auch der Petticoat hinfällig. Wie schade....
Doreen
&nbsp|&nbsp
2022-09-27 13:21:38
---
nl
Pauw pauw pauw ik ben mooier dan jou!
Prachtige jurk! Een beetje aan de lange kant voor mijn kortte, maar dat vind ik geen probleem.

Bij mijn borsten heb ik twee kleine naadjes gelegd, nu sluit hij perfect aan. De maatomschrijving was een zeer goede indicatie, ik wist dat de bovenkant ietsje te ruim zou zijn.

Alleen maar positieve reacties gehad toen ik hem droeg op het werk.
Marjolein
&nbsp|&nbsp
2021-10-21 23:22:43
---
Ein wunderschöner leichter Sommerrock! Ein echter Hingucker!
Maria
&nbsp|&nbsp
2021-03-14 19:19:21
---
I love this dress! The pattern is absolutely stunning and the keyhole feature on the bust is unique and sexy! I ordered the size I should be based on the size chart and it was too big. So I would suggest that you should size down one size. In flared dresses I'm usually a size Uk 14 but in this dress the size chart said I was a size 16 or XL. It was incorrect and size L is perfect on me!
Karin
&nbsp|&nbsp
2020-10-26 20:03:48
---
nl
Nay voor mensen met veel buik
Mooie jurm, mooie stof. Maar door hoe de naden zijn wordt de nadruk enorm op de buikregio gelegd... iets wat je juist van een jurk als deze niet verwacht. Erg jammer, daarom
Retour.
Evelien
&nbsp|&nbsp
2020-10-20 17:24:43
---
Loved the fit and the dress...
divya
&nbsp|&nbsp
2020-10-07 17:32:28
---
Erg mooie jurk, ook als je een buikje hebt. Heb een maat groter genomen dan normaal en die zit goed. Het bijpassende vestje vind ik er juist leuk bij staan en heb over de combinatie al complimenten gehad. Ik ben er erg blij mee.
F
&nbsp|&nbsp
2023-09-21 11:33:59
---
Wat een schitterende print heeft deze jurk. Zulke mooie blauwe tinten. Het bovenlijfje is heel bijzonder uitgesneden, prachtig. Helaas was het bovenlijfje voor mij te ruim dus heb ik de jurk retour gestuurd.
Willemijn
&nbsp|&nbsp
2023-04-28 13:12:39
---