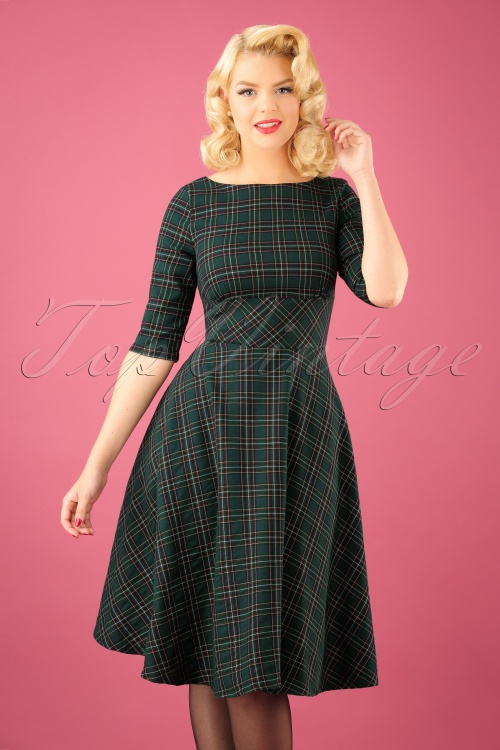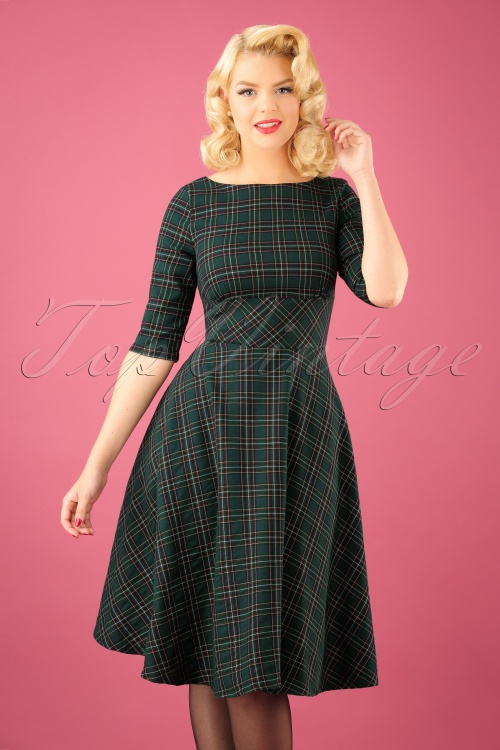 50s Peebles Tartan Swing Dress in Green
Put on this 50s Peebles Tartan Swing Dress in Green and swing your way into winter season! The one thing a true vintage lady never gets enough of; check prints! The gorgeous fitted bodice features an elegant high neckline, pleading at the bust, 3/4 sleeves and a low cut V-back. From the broad waistband down she runs into a gorgeous swing skirt that moves along gracefully with every step you take and also features handy side pockets. She's made from a dark green fabric with a gorgeous tartan check print in red, black and cream and is surprisingly supple and comfy to wear. Tartan all day, every day!
Swing style
High neckline
3/4 sleeves
Side pockets
Zipper at the back
Pair with one of our petticoats for an extra festive look
Our gorgeous blonde Rachel is 1.72m / 5'8''
Gorgeous Influencer Nelson Anyways is 1.68m / 5'6''
The featured pumps and accessoires are not available in our shop
Article nr.
22598
63% Polyester
34% Viscose
3% Elastane
Handwash inside out (don't leave it in the water)
Wash dark colors separately
Machine wash 30c delicates cycle
Do not dry clean
Do not tumble dry
Iron inside out on low temperature setting
Guter etwas schwerer Stoff. Sehr gute Passform für meine kleine Rundungen optimal. Top Länge für meine 1.60. In Gr. S.
Malou Saraols
&nbsp|&nbsp
2017-09-30 11:36:54
---
de
nicht so alltagstauglich
Was für ein WUNDERSCHÖNES Kleid - von vorne. Der tiefe Ausschnitt hinten macht es leider so gar nicht alltagstauglich. Das muss man dann schon eher für den großen Auftritt vorbehalten... Wie schade!
Maria Cordes
&nbsp|&nbsp
2017-09-25 18:39:07
---
de
Leider nichts für mich...
Ich hatte mich spontan in dieses Kleid verliebt, die Farben, die Materialzusammensetzung - es schien perfekt zu sein. Das ist es in diesen Punkten auch, die Farben sind leuchtend und schön, das Material schwer, weich und angenehm auf der Haut und gut wärmend. Nur leider ist die Passform nichts für mich. Ich habe es (aufgrund des Brustumfangs) in S bestellt. An der Brust sitzt es auch sehr gut, dafür schlackert aber die Taille (und mit Gürtel wirft der Stoff rundrum unschöne Fältchen) und das Kleid steht bei mir an den Schultern ab (2cm Luft nach oben). Auch die Schulternähte schliessen nicht ab, ich scheine für dieses Kleid insgesamt zu schmal zu sein. Auch die Ärmel sind recht weit. Für grössere Konfektionsgrössen sicherlich insgesamt besser geeignet - in diesen Grössen war es auch sofort vergriffen, das hätte mir zu denken geben sollen...
Christina Köhler
&nbsp|&nbsp
2017-09-16 09:49:11
---
I received the trousers and the dress today and tried them on immediately. The material is amazingly soft and comfortable. However, the size I picked for both is too big for both and since the size I need is out of stock I will try to get them retaken because they look very good on once I pin them. I am a size 18UK with a H cup with hourglass figure. I went a size up following the instruction and it is way too big. Same for the trousers they are mentioning to order a size up if you have a fuller waist but again this was too big.
So if you are similar to me in body shape and size I think it is better to stay to the range 3XL and not go up a size. I hope this may be helpful for other customers.
Adriana
&nbsp|&nbsp
2020-10-07 13:05:49
---
Cette robe est extrêmement chic, très bien cintrée, longueur idéale au niveau des genoux. Le dos, un peu dénudé, reste très élégant car l'ouverture du col arrive juste au dessus du soutien gorge (que l'on ne voit donc pas). Je ne reçois que des compliments lorsque je la porte !
Yolaine
&nbsp|&nbsp
2020-01-08 10:09:54
---
de
Weihnachten kann kommen .....
Konnte nicht anders und mußte einfach beide haben :-) . Bei der Größe war ich mir sehr unsicher .Völlig unbegründet - beide passen prima & sehen super aus !
Merry Christmas !!!!

Kirsten
&nbsp|&nbsp
2019-12-03 12:25:43
---
Zeer goede kwaliteit. Valt bij mij aan de taille iets groter. Reeds zeer veel complimenten gehad als ik deze aanhad! Perfect winterjurkje!
Tamara Pauwels
&nbsp|&nbsp
2019-12-02 20:52:51
---
de
Super schönes Kleid für den Herbst
Das Kleid ist super schön! Der Stoff fällt super, der Sitz ist einfach perfekt!
Es wird nicht das letzte sein, das ich bestelle!
Schnelle Lieferung!
Danke schön ;¬)
Susanne Rosenthal
&nbsp|&nbsp
2019-11-24 17:12:20
---
Een heel schattig jurkje van een fijne stof. Helaas zit de jurk echt krap bij de armen. Op zich geen enorm probleem, maar je kan je armen niet omhoog doen zonder de jurk stuk te trekken. Deze heb ik dus retour gedaan.
J.
&nbsp|&nbsp
2019-11-03 09:04:56
---
I love this dress! Fits me well in a size medium and I am 79-80 around the waist and 95 around the bust
Camilla Frederiksen
&nbsp|&nbsp
2019-10-25 06:38:21
---
fr
Parfaites pour le bureau
Confortables, toutes douces, et facile à porter, pour être élégante et féminine au bureau, je les adore !
marie Barreau
&nbsp|&nbsp
2019-10-04 07:49:25
---
Ein Traum. Alles stimmt! Auch bei grosser Oberweite sitzt alles. Der Stoff ist dicker und somit wintertauglich. Herzlichen Dank für die immer schöne Verpackung und das nette Present. Seit ich euren Shop gefunden habe, macht mir einkaufen Freude und ich habe meinen Stil gefunden! Grossartig!
Madlen
&nbsp|&nbsp
2018-01-18 13:52:13
---
nl
Nog net de laatste te pakken!!

Prachtige jurk. Lekkere stof, stevig en toch ook met iets stretch. Eem jurk die ik alle dagen aankan. De reviews van de andere eigenaren van deze jurk hebben niets teveel gezegd. En dank voor de snelle bezorging! Het stickertje met het kusje erop deed mij glimlachen.
De details zijn ook belangrijk! Dank!
Klaasje Adams
&nbsp|&nbsp
2018-01-10 19:30:49
---
Heerlijke jurk met mooie print! Heb ook de rok!
Natalie Cleton
&nbsp|&nbsp
2017-12-08 21:13:05
---
de
bunny 50s sherwood coat in black
Ich hatte mich sofort in diesen Mantel verliebt. Eigentlich trage ich Größe 44, da diese nicht verfügbar war ,habe ich es mit einer Nummer kleiner versucht. War natürlich viel zu klein. Es ist sehr schade daß dieser traumhafte Mantel nicht auch in größeren Größen angeboten wird.
Lieferzeit, Rücksendung und Rückzahlung laufen super flott und problemlos.
Danke
Kathleen Abart
&nbsp|&nbsp
2017-11-29 08:45:20
---
Der kurze Cardigan ist perfekt für Kleider und die Farbe ist einfach super! Er passt auch perfekt - nur Achtung bei großer Oberweite, da könnten die Knöpfe zu sehr auseinander gezogen werden. Ich hab 75C und die M passt perfekt.
Der Gürtel ist auch genau so wie erwartet, er hat keine Löcher - hält aber durch den goldenen Ring in der Mitte perfekt! Die Farbe ist auch toll.
Das Kleid ist wunderschön, ich hab mich schon beim ersten ansehen verliebt. Die Farben und die Qualität ist einfach atemberaubend. Ein schöner, schwerer Stoff, perfekt für Herbst/Winter!
Leider ist mir die M viel zu groß! Ich hab mich eigentlich an die Maße gehalten, aber an der Taille ist es mir locker um 5-10cm zu weit, auch an den Schulten steht es ab.
Ich werde wohl mind. eine Größe kleiner benötigen. Schade, aber ansonsten stimmen die Angaben von der Größe für gewöhnlich sehr gut.


Silke Neuhauser
&nbsp|&nbsp
2017-11-27 16:58:29
Response from Mandy

Hallo Silke, entschuldigen Sie uns bitte dass Sie nicht zufrieden sind mit den Größen. Es tut uns sehr Leid. Ich werde mich heute noch mit Ihnen in Verbindung setzen sodass wir das Problem lösen können.

Liebe Grüße,
Mandy
Kundenservice
---
Ik deed de groene jurk aan en twijfelde of ik hem niet te tuttig vond. Mijn man vond hem direct mooi maar toen mijn oudste (4,5 jaar) me zag en zei "ohhhhhh mammmmaaaa!!! Wat ben je mooi geworden!!!" (Verontwaardigd nog wel) was ik om. Oké, ik houd hem. Super dikke stof dus erg lekker.
Het blauwe rokje is ook van mooi kwaliteit en tekent mooi af.
Blauw geruit jurkje was uit eerdere bestelling. Een heel klassiek jurkje waar ik veel reacties op krijg. Nog steeds.
Maar de reactie van mijn oudste dat ik mooi geworden ben, die raakte mijn hart. Helaas voor hem zat er geen kammetje bij maar chocolade letter (wel lekker mmm), want zijn broer van 3 had het vorige kammetje gehad. Dank je wel weer voor snelle afhandelen!
Laura van der Vlist
&nbsp|&nbsp
2017-11-25 11:38:18
---
Helaas stuur ik deze jurk terug mooie stof maar de jurk is veel te lang ik ben de lengte vanfloral jurken gewend ik ben maar1.58 lang bedankt voor de schocolade letter grt lucia
lucia heesters
&nbsp|&nbsp
2017-11-24 16:54:45
---
Ein sehr schönes Kleid für den Herbst und Winter. Der Stoff ist schwer und hat einen kräftigen Grünton. In Größe S war mir das Kleid leider viel zu groß, obwohl ich sonst eine S trage. XS passt jedoch perfekt. Insgesamt sehr zu empfehlen. :)
Marie
&nbsp|&nbsp
2017-11-01 09:40:10
---
en
Fantastic service, can't wait to order again!
For my first purchase, I ordered a green check pattern dress from HellBunny and a black circle skirt from Vintage Chic.
The dress is lovely, very flattering, although it is about a couple of cm too big for me around the waist, which might be expected, since I usually wear a size 8 and the S size for this brand is a UK10. Nothing a few stitches can't fix. The fabric is soft and the colours are intense and very eye catching.
As for the skirt, it is just what I was looking for, very flowy, with an elasticated waist, and pockets. It is an staple that I see myself wearing almost daily.
The package was dispatched and arrived very quickly, with a charming sheet of instructions.
Discovering TopVintage has been a fantastic experience. I thought I would not be able to find some of my favourite brands in the EU after Brexit, but TopVintage has everything I could wish and the service is really great, my new favourite shop!
Patricia
&nbsp|&nbsp
2022-02-10 08:27:10
---
en
Pretty but has issues with the cut
I so wanted to love this dress but failed. The waistline is a bit too high, and I do not have a long torso. Because of this, the skirt part doesn't have the nice rounded shape in the back, around the butt. It sort of hangs down pretty flat, so the skirt part doesn't manage to deploy in the back the way a swing skirt should. I also find that the bust part has an unforgiving cut that sort of flattens the chest. It fit fine on me, but that's only because I have the exact size and shape bust that fits. As I was trying it on, I couldn't help but wonder how it would fit on girls with a larger chest or girls with not perfectly round or soft breasts.

I get that swing dresses are supposed to have slightly higher waists than the natural waist, but this one went a bit too far. I sadly must return it.
Viktoria
&nbsp|&nbsp
2021-12-21 16:45:26
---
Ich bin begeistert. Tolles Kleid, schöner, etwas schwererer Stoff, guter Sitz. In der Taille habe ich 75 cm - d.h., ich habe zwischen S und M geschwankt. Aus den anderen Rezensionen habe ich aber herausgelesen, dass man dann eher zur kleineren Größe gehen kann. Schließlich soll es in der Taille ja anliegend sitzen. Passt perfekt.
Sandra
&nbsp|&nbsp
2021-11-30 08:43:21
---
Ik was enorm verliefd op deze jurk, tot ik 'm aan deed. De stof voelt heerlijk en is wat dikker, de tartan in prachtige kleuren en op het eerste gezicht stond hij echt super (maat 10). Tot ik me omdraaide; aan de achterkant valt hij ineens helemaal niet zo mooi. Een eind boven de taille valt de rok al recht naar beneden, bijna babydoll-achtig waardoor het er vanaf de zijkant heel gek uit ziet. Ik heb 'm een paar keer aangehad in de hoop het verkeerd gezien te hebben en heb zelfs overwogen 'm nog zelf in te nemen maar omdat de rits nog wel lang doorloopt durfde ik dat niet aan. Dus met veel pijn in het hart is deze prachtige jurk weer retour gestuurd.


Sascha
&nbsp|&nbsp
2021-11-25 19:07:57
---
Dit zijn toppers! Eindelijk leuke en warme winterkleren!
Die cardigans van Mak zijn zo leuk! Hopelijk komen ze in deze lengte ook met volledige mouwen :)
Tina Nissens
&nbsp|&nbsp
2021-08-31 11:26:39
---
Ein wirklich wunderschönes Kleid aus festerem Stoff, daher das perfekte Herbst-/Winterkleid - das Karomuster ist genau in der richtigen Größe, nicht zu klein, nicht zu groß, einfach schön!
Für den Alltag gut zu kombinieren mit schwarzem Kurzpulli oder -cardigan und Stiefeln oder Stiefeletten, für Feste mit Pumps und Clutch ein wunderbares für sich stehendes Signaturepiece!!! :-)
Steffi
&nbsp|&nbsp
2021-08-26 06:42:14
---
de
Schön, leider nur zu kurz
Leider bin ich für diese Kleider wieder zu groß (1,75 m), die Leibhöhe ist leider nicht passend, seh wie rausgewachsen aus :'-(
Wenn es Lang-Größen gäbe, würde ich es sofort nochmal bestellen.
Bitte liebes TopVintage Team, bietet Langgrößen an :)
Carolin
&nbsp|&nbsp
2020-11-30 12:13:30
---
Très satisfaite de mon achat, manteau de bon qualité et très élégant. Conforme a la photos. Attention toutefois ce manteau taille grand.
Florence
&nbsp|&nbsp
2020-11-05 09:31:43
---
de
Wunderschöne Rückenausschnitte
Diese Kleider sind klasse! Sehr schöne, feste Stoffe, die sehr angenehm auf der Haut liegen. Die Schuhe passend hervorragend zu beiden Kleidern und sind sehr bequem und hübsch.

Miri
&nbsp|&nbsp
2022-12-09 19:30:14
---
Wow, deze Bunny jurk is echt geweldig. Eindelijk heb ik weer eens een goede aankoop gedaan, nadat ik helaas een paar mooie jurken terug moest sturen. Hij zit precies goed om de taille en kleed mooi af. Fijne, stevige stof ook. De rits is ook makkelijk dicht te maken omdat hij zo laag zit. Ik vind de jurken hier vaak best wel lang ( ben 1,67 ) maar deze komt precies iets over mijn knie en dat staat precies goed. Maat M past voor mij perfect ( taille 79 cm, zit tussen maat 40 en 38 in met cup D ).
Hij zit bij de borst precies goed maar als je een grotere cup hebt zal hij denk ik te strak zitten. De stof stretcht niet echt dus dan zou ik een maat groter pakken. Ben blij met mijn aankoop, ga hem direct aan doen zaterdag op een feestje.
A.
&nbsp|&nbsp
2022-03-09 08:31:32
---