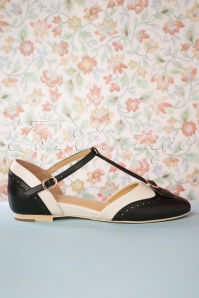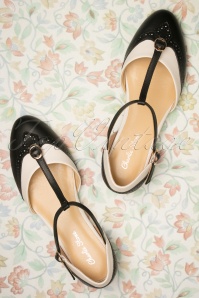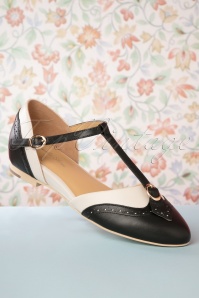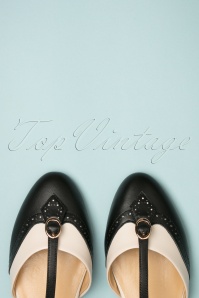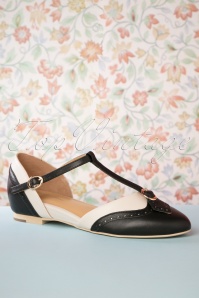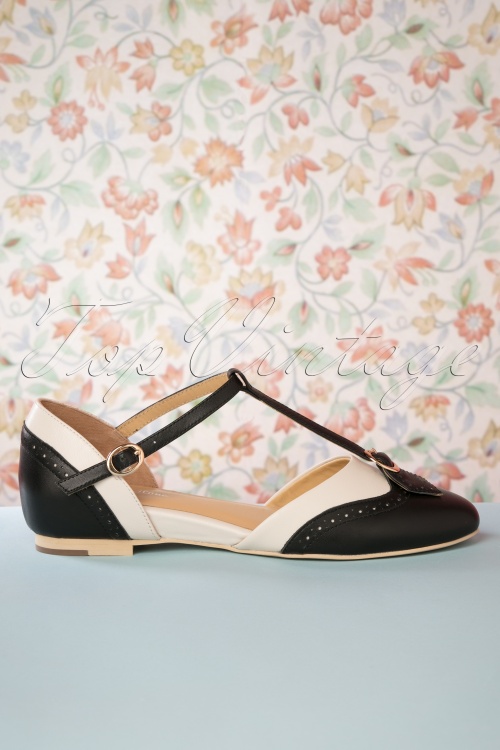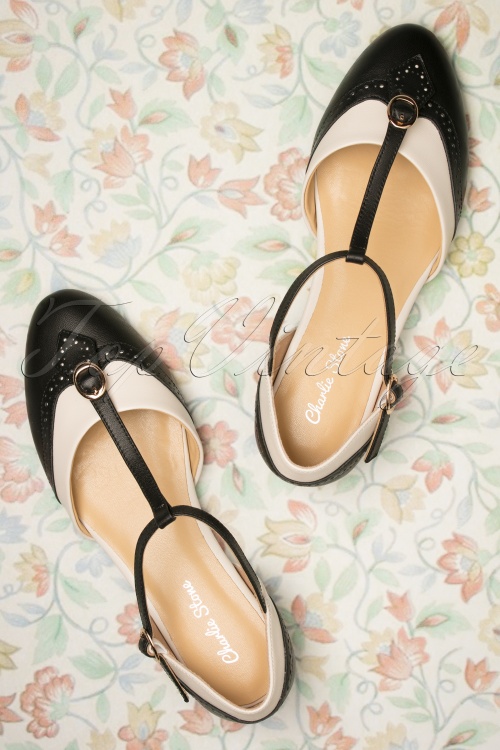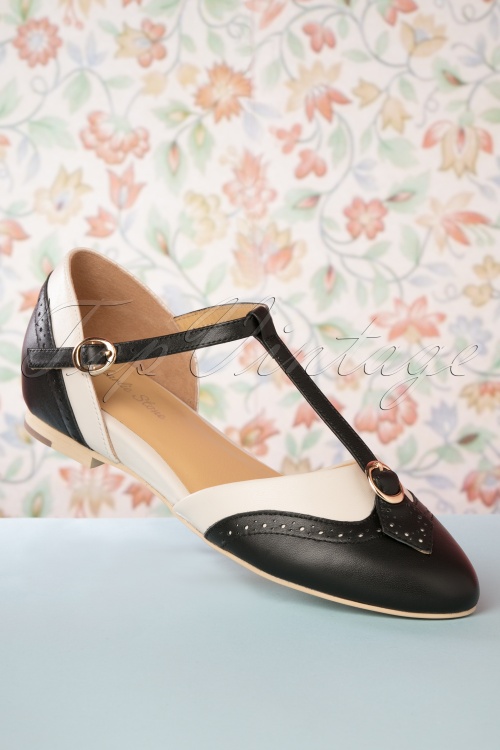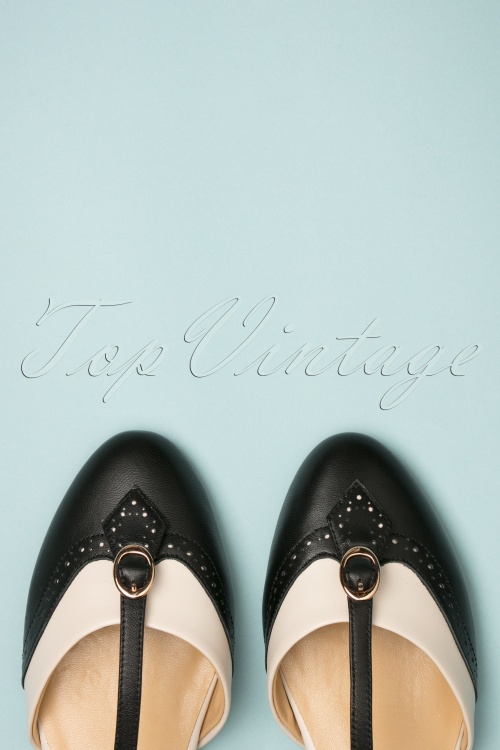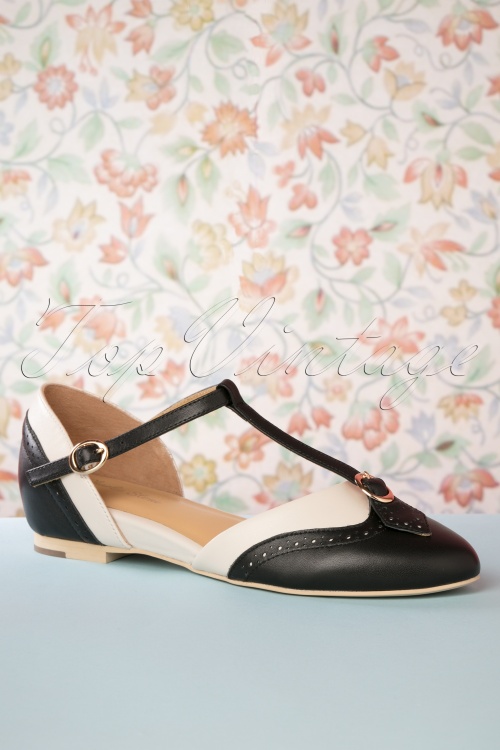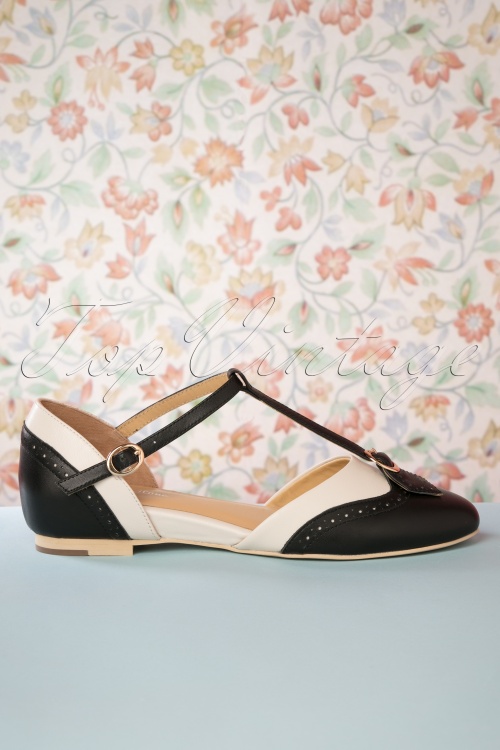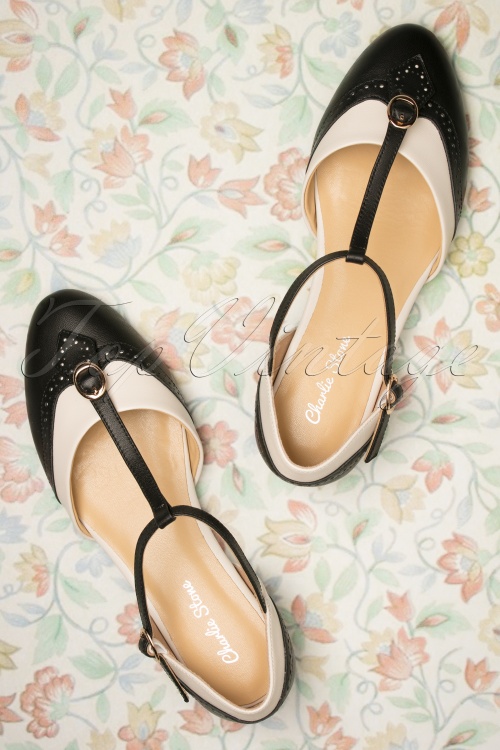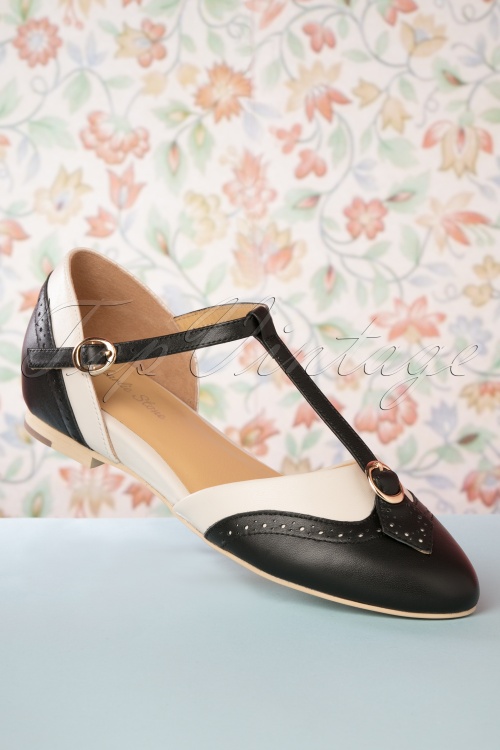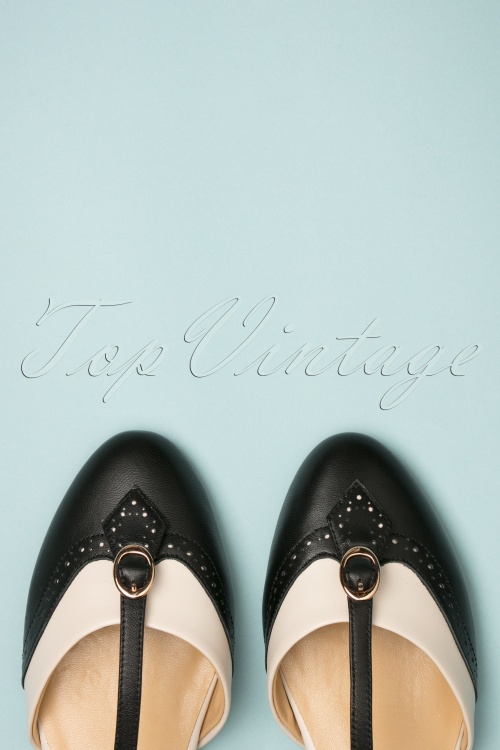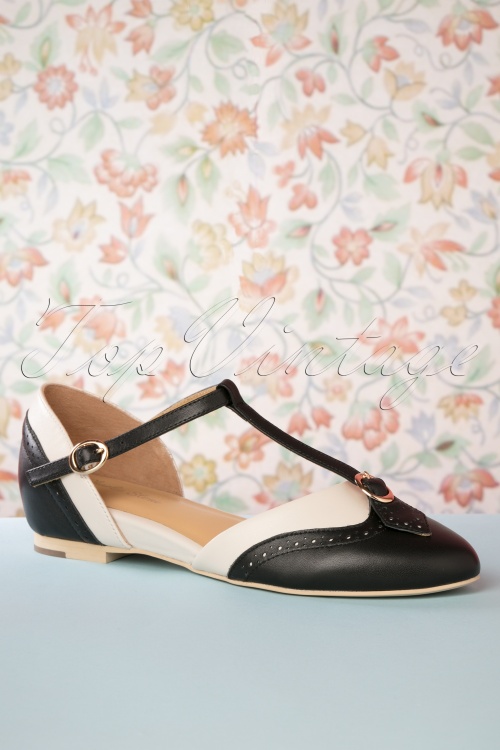 50s Parisienne T-Strap Flats in Black and Cream
Inspired by the elegant black and white fashion trend that dominated the streets of Paris in the 1920s... channel your inner Parisienne by wearing these 50s Parisienne T-Strap Flats in Black and Cream! Made of high quality black and cream-coloured leather featuring a playful T-strap, brogue detailing and elegant, gold toned buckles. Pair them with your favourite outfit and pick up that 'je ne sais quoi' attitude this spring!   
Ballerina flats
In- and outside made of genuine leather
Almond toe 
T-strap
2 gold toned buckles
Adjustable ankle strap
Internal heel elevation (20mm) 
Comfy footbed
Article nr.
27861
Innersole genuine leather
Genuine leather
Gold tone base metal
Upper Genuine Leather
Synthetic sole
Avoid contact with water/parfum/cleaning agent
These have been on my wishlist for so long and finally I have them and the shoes are just perfect!
I'm a 38,5 and I sized down for these shoes (normally I get a 39), and got a 38. They fit perfectly.
If you use different sizing: my feet are 24,6cm long so you can measure yourself of you want :)
Sanne
&nbsp|&nbsp
2022-12-25 11:23:12
---
These shoes are comfortable and stylish, you can feel the quality (hence the hefty price tag)

I am so happy to have found them as being a size 8.5 it's always so hard for me to find shoes that fit and most vintage brands don't seem to go beyond a size 7.

I would say that size 42 does indeed equate to a size 8.5 this this brand?

Please stock more of this brand!!
Louisa
&nbsp|&nbsp
2022-05-13 10:57:20
---
nl
Stylish en geen blaren in de zomer
Schoenen zijn mooi afgewerkt, comfortabel en van mooi materiaal gemaakt. Echte aanraders als je net met wat meer vintage stijl of gelikt je ensemble af wil maken zonder dat je op hoge hakken gaat.
Alexandra
&nbsp|&nbsp
2021-08-20 11:06:24
---
fr
Gorgeous and comfy shoes
These shoes are amazing! It's made out of leather, the quality is very good. They are also very comfortable, the sizing is perfect.
Patricia
&nbsp|&nbsp
2020-11-06 13:46:00
---
Traumhafte Schuhe! Ich habe eine Zwischengröße (36.5) und die Schuhe passen mir in 36 perfekt!
Melanie Kaczmarek
&nbsp|&nbsp
2020-03-17 12:11:57
---
Ganz wunderbarer edler Schuh, der richtig "Wind" macht. Zudem bequem und chic. Was will frau mehr? Fällt vielleicht eine halbe Nummer größer aus, aber dadurch ist die Bequemlichkeit m. E. noch gesteigert. Bitte unbedingt noch andere Farben ins Sortiment bringen oder evtl. nachordern, gerne wieder dieses (ausverkaufte) Modell in rot. Und bitte in Echtleder! Danke.
Schneewittchen!
&nbsp|&nbsp
2020-02-25 12:34:19
---
Zo'n ontzettend mooi deze schoenen van Charlie Stone. Ze stonden al heel erg lang op m'n wishlist maar vorig zomer waren deze steeds uitverkocht. En om nu import fees te gaan betalen vanuit Australië...Ik heb altijd maatje 39 en heb deze ook in 39 besteld. Passen perfect en ze zitten heerlijk!
Jolanda
&nbsp|&nbsp
2019-12-22 08:07:36
---
Al eeuwen opzoek naar de perfecte platte vintage schoen. Normaal gesproken loop ik altijd op hoge hakken. Ik heb een hekel aan platte schoenen. Maar deze zijn zo vrouwlijk, comfortabel en klassiek dat ik opslag verliefd werd!

Zo leuk dat Topvintage deze Charlie Stone schoenen verkoopt! Kocht ze voorheen altijd via de officele Australische site. Maar de prijs liep hoog op met de extra douane kosten die er nog bij kwamen. Hoop dat jullie nog meer modellen/kleuren gaan bestellen! Ik wil ze allemaal! xxx Rommy
Rommy
&nbsp|&nbsp
2019-03-20 14:39:19
---
fr
So beautiful and soooooo confortable
j'espère en voir d'autres modèles sur Top Vintage : ) je suis ravie !
GOULLIEUX audrey
&nbsp|&nbsp
2019-02-13 07:17:26
---
La taille est juste, je suis très saitisfaite.
Lulu
&nbsp|&nbsp
2023-05-06 14:34:07
---