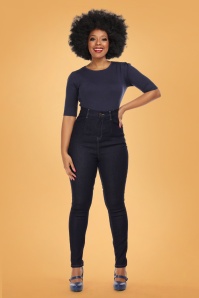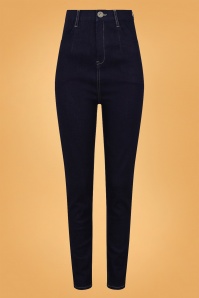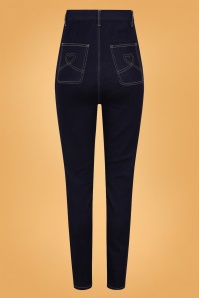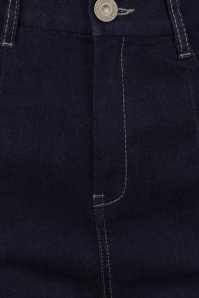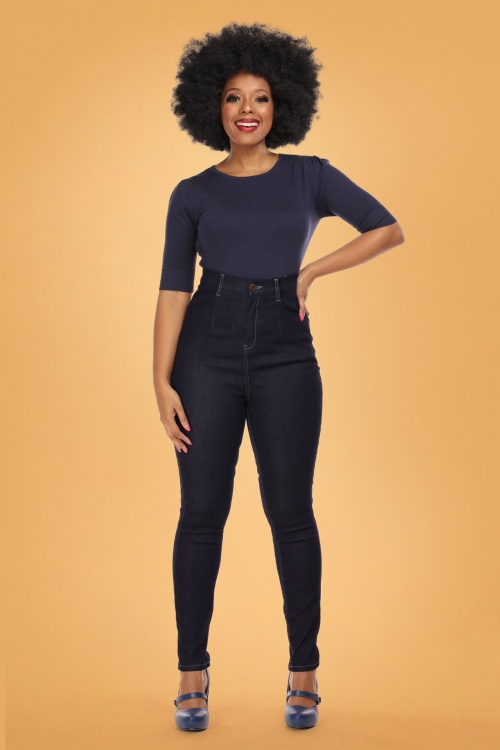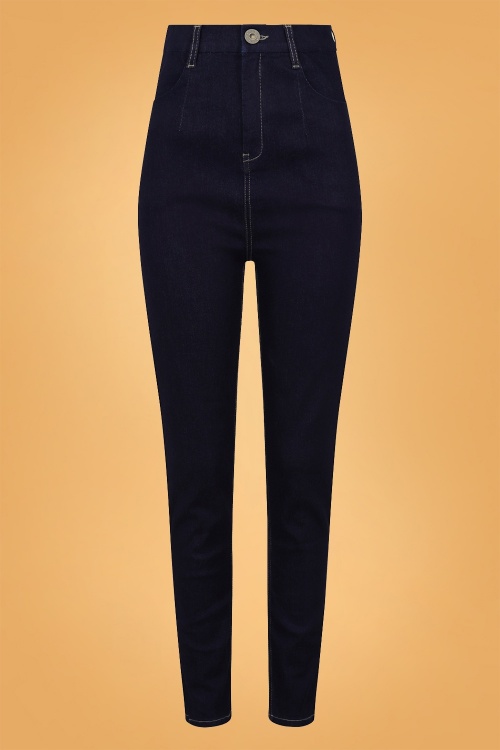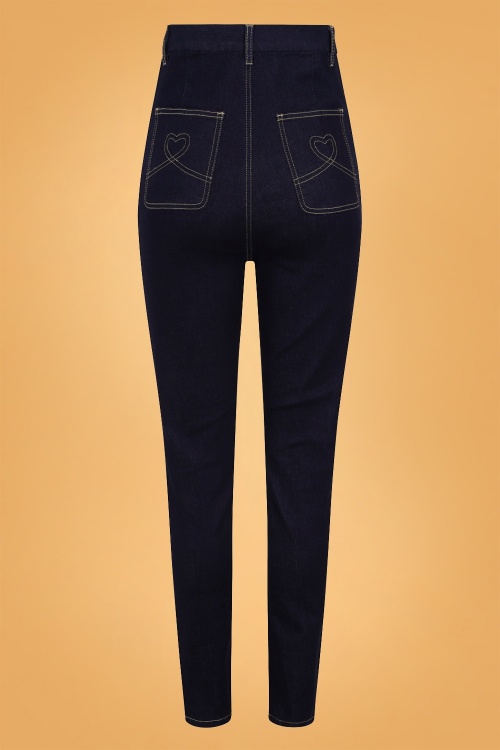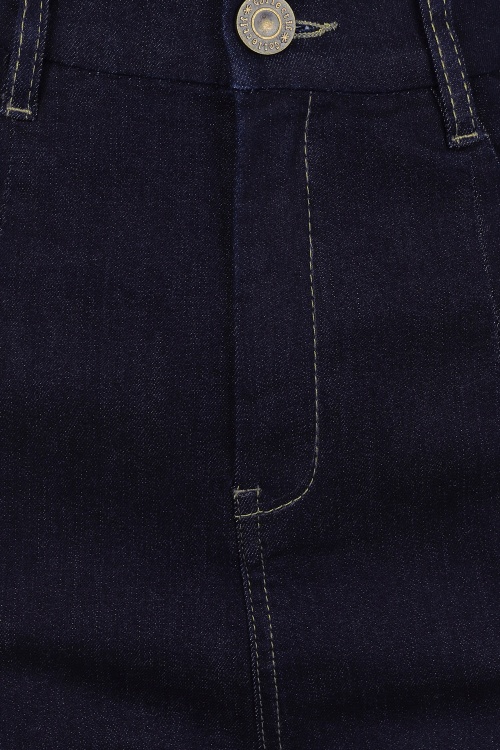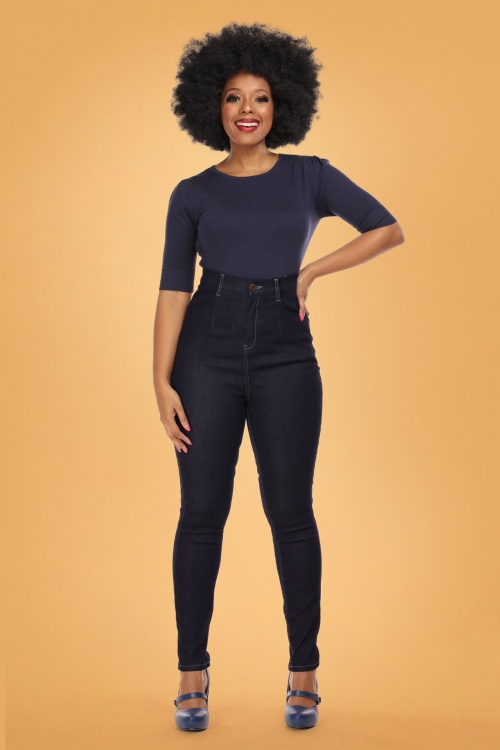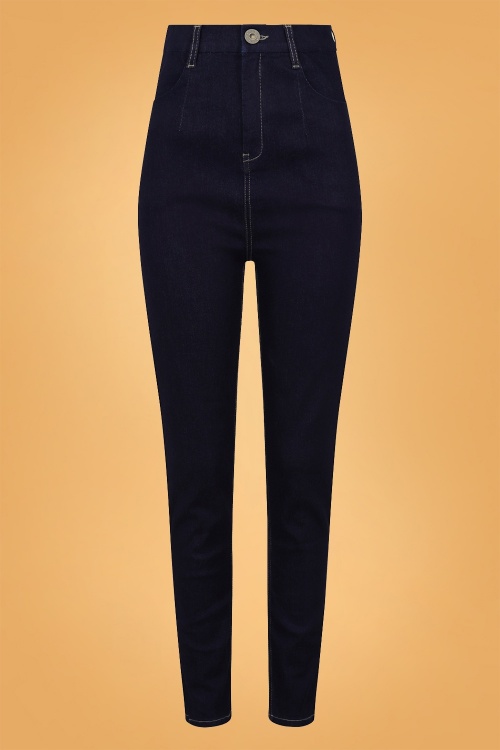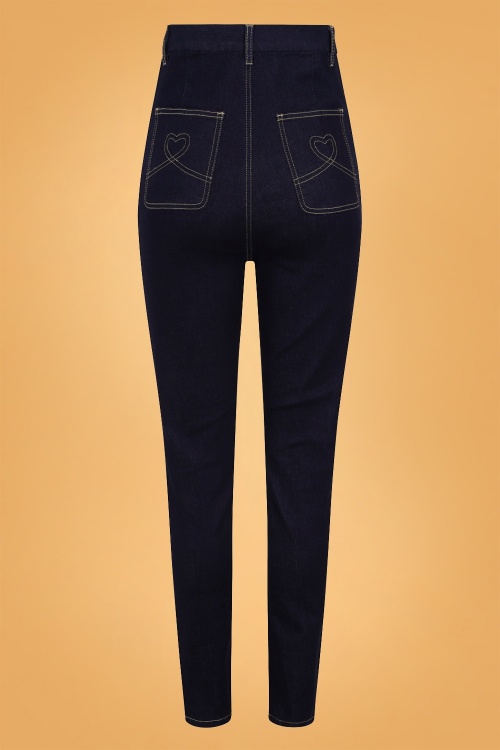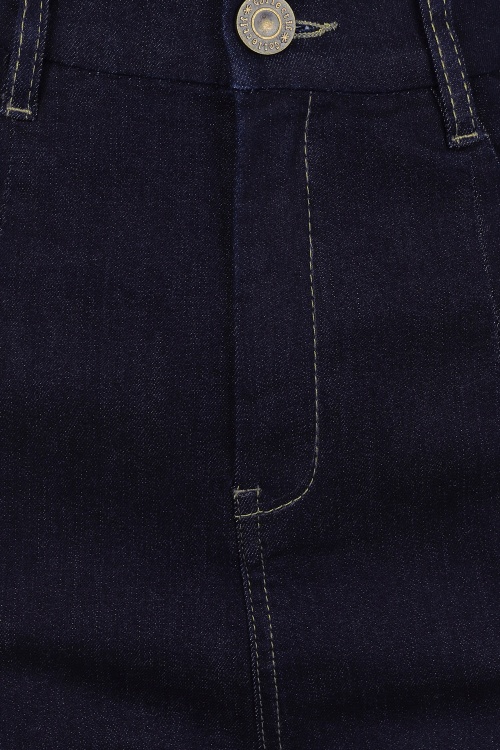 50s Lulu Skinny Jeans in Navy
Show off your curves in these 50s Lulu Skinny Jeans in Navy! This curve-hugging, high waist denim beauty will accentuate your best features! Made of a stunning, dark-blue cotton blend with a light stretch making her a joy to wear, finished off with copper-coloured buttons and contrast stitching for an authentic touch. Pair Lulu with high heels or sneakers for a feminine but cool look and let your hot curves take centre stage!
High waist
Pockets at the front
Patch pockets at the back 
Belt loops
Zipper with button closure at the front 
Slim legs
Article nr.
29806
98% Cotton
70% Polyester Lining
30% Cotton lining
2% Elastane
Handwash inside out (don't leave it in the water)
Wash inside out
Machine wash 30c delicates cycle
Do not dry clean
Do not tumble dry
Iron inside out on low temperature setting
Do not bleach
Aber man sollte sie definitiv eine Nummer kleiner bestellen. Ich trage Größe 42 und hier ist mir die L schon minimal zu groß.
Constanze
&nbsp|&nbsp
2021-02-18 18:13:45
---
De groene broek met wijde pijpen is super! Hij zit lekker zacht en past perfect maakt mij ook heel lang! Let op: hij is niet voor heel grote ladies!

Het topje is leuk en cute maar wel erg kort!!!! Maar als ik het in de broek steek ziet niemand het!
Yentl
&nbsp|&nbsp
2021-01-18 07:10:23
---
nl
Zoals altijd mooie kleding!
De coltruitjes zijn stuk voor stuk top, maar die van King Louie is echt mijn favoriet! Wat een enorm fijne stof en ondanks dat hij niet dit is toch vrij warm en ik ben een kou kleum dus dat zegt wat! De Tencil viel daarin tegen enorm tegen! heel erg kort en de stof voelde niet fijn, die heb ik retour gestuurd.

De jurk van Pretty Vacant is erg mooi, hele mooie kleur, wel een stugge stof dus wel echt op je maat bestellen.

De jurk van King Louie ja, gewoon zoals King Louie de jurken vaak maakt, perfect, prachtige stof en print en de maat valt als gewoon.

De Banned retro rok met de katjes print is erg leuk, wel een dunnen stof, de rode rok helaas ook en kreukt snel maar toch een mooie rok. De rok van Timeless is echt gewoon geweldig! Enorm mooie print! Goeie dikke stof en pilt niet! Over deze rok heb ik al veel complimentjes gehad ;)

De broek van Collectif clothing viel helaas qua pasvorm tegen voor mij, verder wel een mooie stretch broek en voelde goed aan qua kwaliteit.

De broek van Banned is mooi, valt goed en is lang! yes! met mijn lengte 1.80m moeilijk een lange broek te vinden, maar wat een dikke teleurstelling dat hij na een dag dragen al pilled op de kont, het kruis en waar de rand van mijn jas heeft gezeten echt heel heel jammer want ik vindt hem verder heel leuk en hij zit goed verder. Maar dat pillen is echt een teleurstelling.

De miss Candy Floss blouse heb ik helaas nooit mogen ontvangen :( Ik kreeg iets verkeerds toegestuurd, toen ik na de kerst daar over contacten was de blouse uitverkocht, ik mocht als compensatie dan het verkeerd gestuurde artikel gratis retour sturen....... Best een hele grote teleurstelling want ik had hem echt graag als pronkstuk in de kast gehad.
Anita
&nbsp|&nbsp
2021-01-06 00:10:48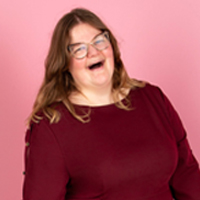 Response from Nicole

Beste Anita, wat fijn om te horen dat je over het algemeen zo tevreden bent over je aankopen! Wel jammer van de blouse, we hebben inderdaad contact met je gehad en het op de best mogelijke manier kunnen oplossen, helaas erg balen natuurlijk dat het item uitverkocht was. Ik weet zeker dat je volgende bestelling weer zonder problemen verloopt :-)
Groetjes,
Nicole
Klantenservice
---
en
Could have been nice but wrong fit
I first ordered this pair of trousers in S thinking it might be a bit small around the hips because that is usually my problem trying on trousers. But as the size guide recommended sizing down when in between sizes I went with an S rather than M. It turned out that S was far too big for me. I am very small in height (approx. 1,57 m) so the pair was a lot too long. Not only at the bottom but also on the waist. To get the appropriate fit I had to pull the trousers up to beneath my bra (it really is a very high waisted pair of trousers). Then I ordered an XS which still was too big. It seems like these trousers are more suitable for taller women (taller than me at least) because otherwise they are just too loose and too long.
Nevertheless the fabric feels really good and qualitative and the colour is nice too. It is stretchy so it could be very nice and curve hugging. I would say generally a nice pair of trousers and ideal for tall(ish) and/or curvy women. Pity I have to send these back!
Melina
&nbsp|&nbsp
2020-12-03 19:05:45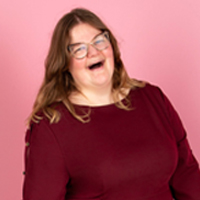 Response from Nicole

Dear Melina, what a pity the fit was not right for you! Hopefully you will find a good alternative very soon :-)
Kind regards,
Nicole
Customer Service
---
De broek van collectif zit super ! Ik heb een L genomen voor mijn maatje 42-44 en past perfect! De broek is vooral voor dames met een zandloperfiguur
Charlotte Peetermans
&nbsp|&nbsp
2020-11-05 18:59:34
---
Le pantalon en lui-même à l'air très bien mais malgré les conseils et le guide pour le choix de la taille, il me va bien trop grand, d'autant que la matière est extensible.Avec ce type de coup au vue de la photo, je me serais attendue à ce qu'il soit plutôt cintré, resserré à la taille, mais au final ça baillait pour moi (je fais un 46-48 FR mais j'ai les cuisses et fesses fortes pour une taille marquée et pas trop de ventre).
J'hésite à recommander pour essayer la taille en dessous, car je ne sais pas si la coup ne fera pas que ca baille quand meme...
Sarah Bernadoux
&nbsp|&nbsp
2019-12-19 09:24:35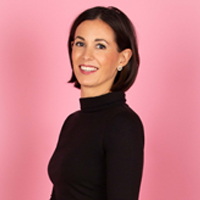 Response from Sylvia

Bonjour Sarah, Quelle dommage que la coupe et la taille ne vous va pas comme il faut. Veuillez nous excuser! Je vous contacterai pour arranger un échange et pour vous conseiller par rapport à la bonne taille. 
Cordialement,
Sylvia 
Service Clientèle 
---
Super zeg, die hoge taille! Staat prachtig.
Door de stretchy stof sluit de pasvorm ook perfect aan, terwijl de broek mee rekt waar/wanneer dat nodig is. Top!
Kirsten
&nbsp|&nbsp
2019-11-20 21:41:01
---
en
Perfect fit for curvy women
I got a L and they are the only pants that fit my back waist perfectly. They are so stretchy I can wear them doing gymnastics or riding my horse. Awesome pants!
Kass McGann
&nbsp|&nbsp
2019-10-15 15:00:38
---
Een raar model, compleet uit de verhoudingen ? Maat XS besteld; Sluit perfect aan op de benen, maar de taille daar kan ik gewoon bijna twee keer in. Ik kan me niet voorstellen dat iemand met een maatje XS deze broek kan dragen??!! Deze gaat dus terug. Jammer, want wel een gaaf model broek.
Aylin Tufekci
&nbsp|&nbsp
2019-10-12 17:56:46
---
nl
Mooie broek en leuke top
De broek heeft een hele mooie pasvorm, helaas knelt de broek bij mijn knieën en gaat de broek weer terug met grote spijt.

Het topje is super mooi maar helaas toch korter dan verwacht dus ook deze gaat jammer genoeg terug.
Katja
&nbsp|&nbsp
2022-05-22 20:00:44
---
Mooi model met echte hoge taille en toch skinny look. Ik had niet goed in de maat tabel gekeken en "gewoon" mijn standaard maat XL besteld, maar dat was echt te ruim. 100% mijn eigen schuld want als ik in de tabel gekeken had was ik op L uitgekomen.
Dus tip van flip, ben niet eigenwijs en check even de tabel want het is echt de ultieme high-waist skinny.
Roanda
&nbsp|&nbsp
2022-05-21 07:39:05
---
nl
Zit lekker maar enorm ruime taille
Wonderlijk model, wel gehouden. Normaal heb ik maat M, bij deze broek is maat S nog te ruim. Gigantisch brede taille heeft de broek, laten innemen, maar dat komt dan nooit helemaal goed
Lijn
&nbsp|&nbsp
2022-04-13 13:00:26
---
nl
Valt een beetje tegen jammer genoeg
De broek is heerlijk stretchy, is echt hoog en sluit mooi aan. Maar niet zonder riem te dragen, want gaat na een uurtje of 3 heel erg lubberen bij de billen. Had de broek in denim en zwart besteld. De denim was echter gewoon blauw, en de zwarte gewoon navy / donker blauw. De denim daardoor retour gestuurd. De stiksels op de zakken laten na 3x wassen / dragen ook los, lijkt me niet de bedoeling, erg jammer...
Natasja
&nbsp|&nbsp
2022-02-28 15:46:09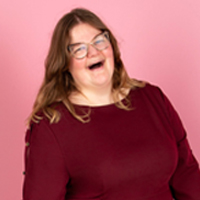 Response from Nicole

Beste Natasja, wat vervelend om te horen dat je niet tevreden bent met je aankoop. Ik mail je vandaag nog zodat we samen een oplossing kunnen vinden! 
Groetjes,
Nicole
Klantenservice
---
Zeer mooie broek goede pasvorm
Super blij mee
Mariam De roder
&nbsp|&nbsp
2022-01-14 16:45:54
---
nl
Eindelijk eens broeken met een echte hoge taille.
Reguliere broeken zitten altijd te laag in de taille voor mij, waardoor ze snel afzakken en me een "muffin top" geven. Tijd om eens wat retro modellen te proberen.

De skinny jeans (Collectif), prachtige broek, leuk om onder tunieken e.d. te dragen (was mijn idee) maar komt bij mij niet zo hoog in de taille als bij het model, meer op de natuurlijk taille, en dat is mij niet hoog genoeg. Dus deze gaat terug (met pijn in het hart. De broek is mooi, het model werkt gewoon niet voor mijn figuur).

De wijde spijkerbroek (Collectif), daarvan komt de taille wel zo hoog (tot bijna mijn beha) en dat zat ook erg prettig (ik heb de buik graag ingepakt), maar het werkte net niet bij de onderbuik. Daar heb ik het graag wat losser, de broekspijpen hadden voor mij nog iets wijder gemogen op de punt (de wat stijvere stof hielp ook niet). Een lange tuniek erop dragen had gekund, maar met wijde broeken draag ik juist graag korte bovenstukken. Dus deze gaat ook terug helaas.

De 2 Banned Retro broeken zijn nagenoeg hetzelfde, de ene alleen met een soort van bretels. Ik weer nog niet wat ik van die 'look' moet vinden op mijn figuur, maar gelukkig kun je ze gemakkelijk losmaken, dus ik heb opties. Voor rest zitten ze heel fijn. Lekker hoog in de taille (niet zo hoog als de wijde spijkerbroek, maar hoger dan de skinny jeans), de pijpen goed wijd, de stof ook "fladderiger". Ze zijn wel aan de lange kant voor mijn 1.65m, maar ik draag graag een hakje en anders kort ik ze wel in.

Kortom, alle 4 mooie broeken, maar 2 niet geschikt voor mijn bouw/wensen. Gelukkig zijn die anderen 2 in veel kleuren verkrijgbaar :)
Petra
&nbsp|&nbsp
2022-01-10 19:20:24
---
Chouette pantalon bonne qualité
Cependant la coupe ne me correspondait pas du tout au niveau des fesses notamment
Certainement plus un défaut de mon côté que celui du pantalon
Alexandra GEFFRIAUD
&nbsp|&nbsp
2021-05-08 08:20:42
---
Mooie broek, maar de pasvorm is echt anders dan verwacht. De xl zat goed op mijn heupen maar ik had zeker 15cm ruimte in de taille. Ook is de broek net wat kort. Gelukkig past mijn vriendin hem wel en is ze er blij mee! Hij geeft nog wel verf af, dus dat is een aandachtspunt.
Marlies
&nbsp|&nbsp
2021-02-24 18:55:25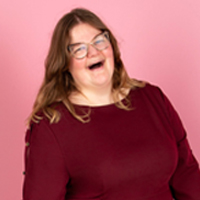 Response from Nicole

Beste Marlies, wat fijn dat je iemand anders blij kon maken met je aankoop! Donkere items kun je het beste eerst even wassen voordat je ze gaat dragen. Als het goed is geeft het artikel dan niet meer af ;-)
Groetjes,
Nicole
Klantenservice
---
Leider auch in XS etwas zu weit und hat deshalb unschöne Falten geworfen.
Carmen
&nbsp|&nbsp
2022-10-10 20:15:09
---
de
Traum jeder Sanduhrfigur
Eines vorweg, die Hose sitzt traumhaft. Der ultra Highwaistschnitt schmeichelt jeder Sanduhrfigur. Es ist die erste Hose, die ich nach 7 Jahren trage.
Ich empfehle jedoch mindestens eine Nummer, eher zwei, kleiner zu kaufen. Ich habe die gemäß der Empfehlungen eine Nummer kleiner gekauft. Leider weitet sie sich beim Tragen so sehr, dass sie nach unten rutscht und im Schritt seltsam aussieht. Ich trage normalerweise XL, habe hier eine L genommen, bräuchte wohl doch eher eine M. Deshalb das eine Herz Abzug.

Jessica
&nbsp|&nbsp
2022-10-06 07:55:11
---