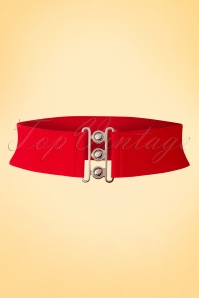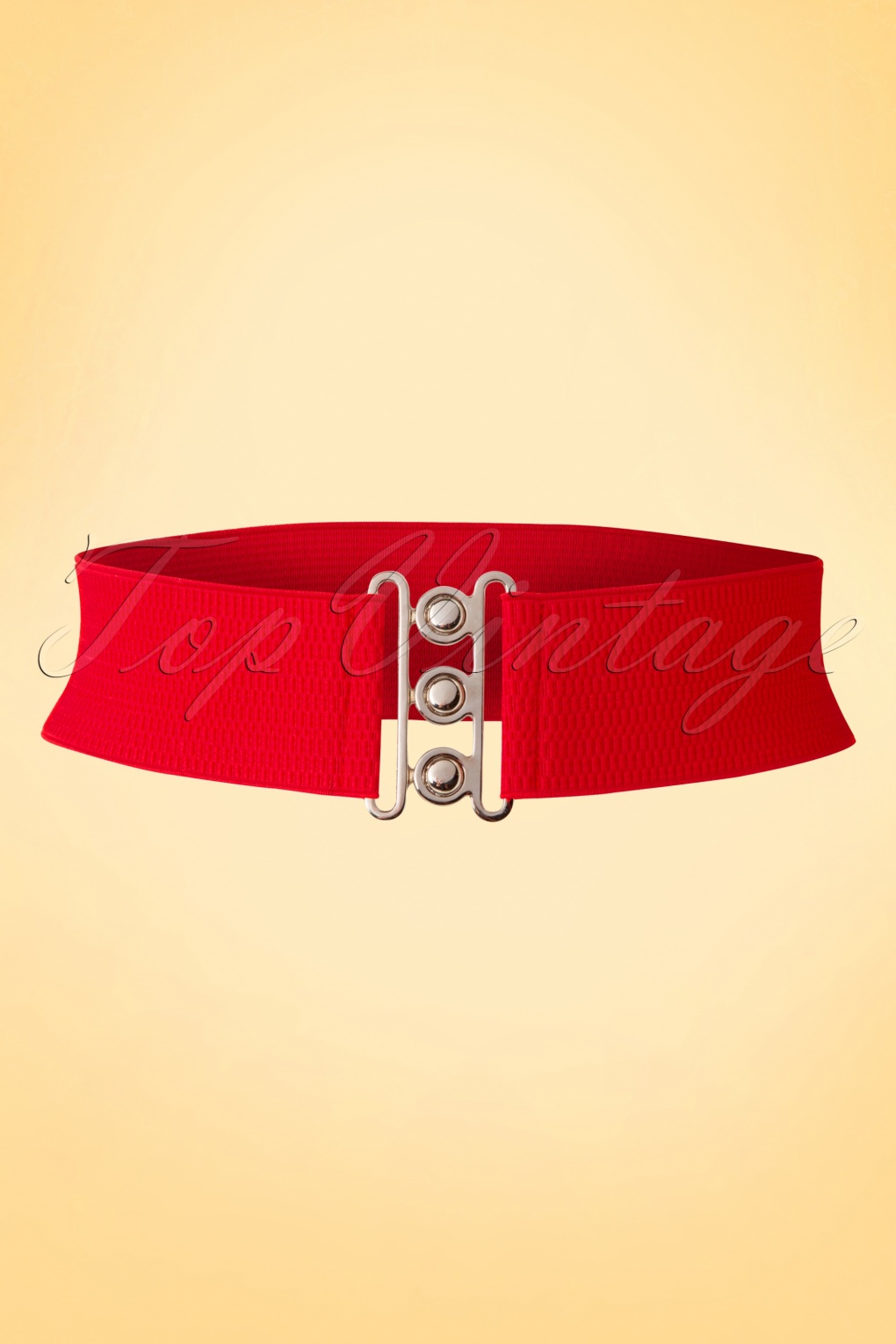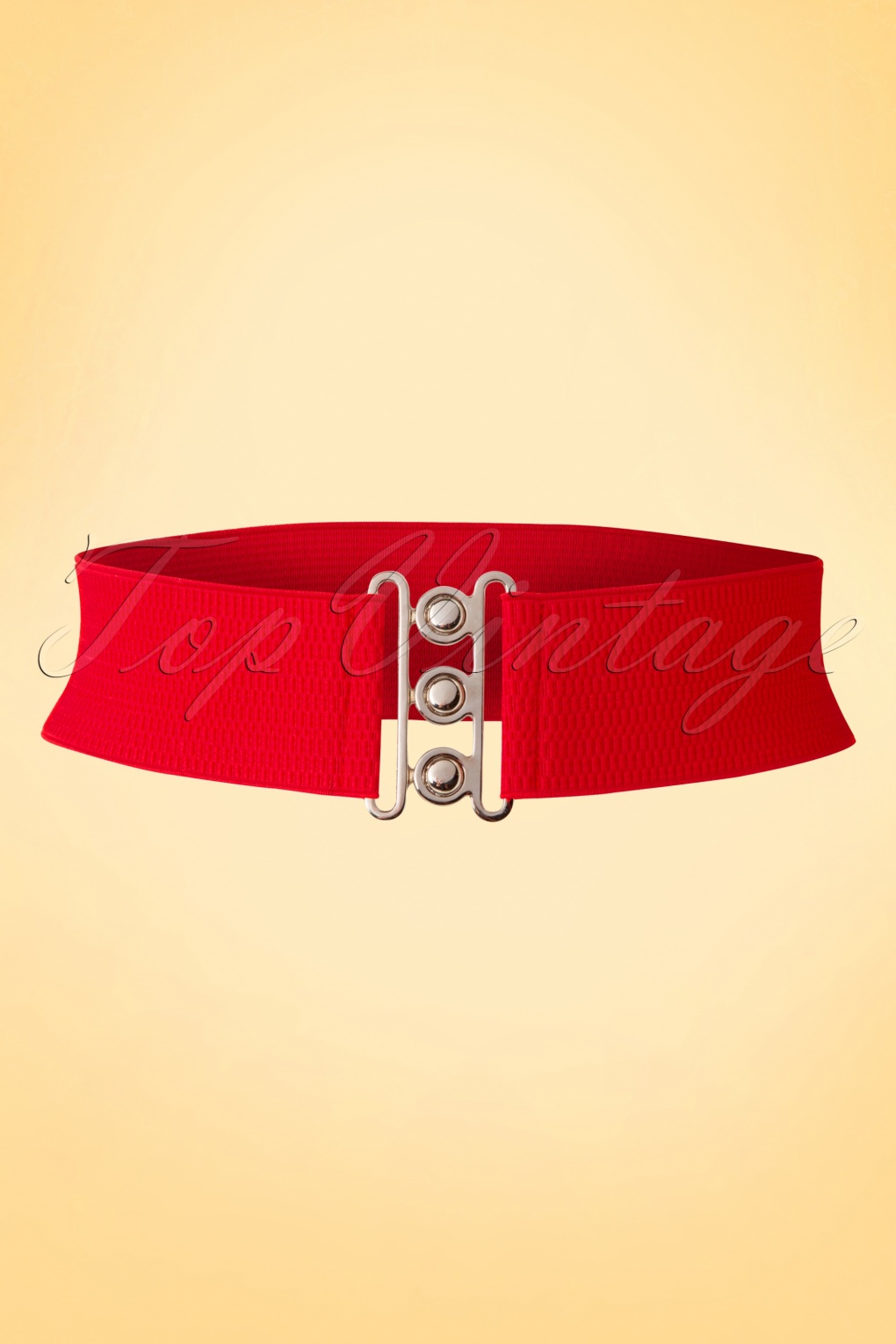 50s Lauren Vintage Stretch Belt in Red
This 50s Lauren Vintage Stretch Belt in Red by Banned is thé ideal accessory to finish off any vintage outfit! Made from wide red elastic with a silver toned buckle to clinch it in the waist. Pair with our lovely swing dresses and define your waist for a stunning silhouette!
Elastic
Silver toned buckle
Article nr.
14720
Avoid contact with water/parfum/cleaning agent
Die Sachen passen perfekt, jedes Teil ein Traum, sehr liebevoll verpackt und wurden megaschnell geliefert. Wie immer :-) Herzlichen Dank!
Tanja | 2016-03-25 06:39:43
---
This belt is a real musthave to my dresses this summer :-)
Jennie | 2016-02-28 18:04:48
---
retour gestuurd
Nina | 2015-10-10 12:49:03
---
Vielen Dank, dieses Kleid ist der Hammer, sitzt perfekt und der Stoff ist sehr angenehm. Bin einfach begeistert! DANKE
Melanie | 2015-10-08 19:24:44
---
hele mooie rok maar valt klein.
Anja | 2015-06-17 10:03:33
---
zit prachtig. lekker zomers, fijn soepel katoenen stofje ook, schijnt niet door... kortom erg tevreden!!!
Renée | 2015-06-16 22:38:02
---
Voor een klein prijsje hebben mijn jurken nu net dàt meer vavavoom... Ik kan niet wachten tot de riem met de strik ook terug in zwart en rood binnen is.
De jurk met strepen is prachtig. Ze moet iets korter gemaakt worden voor mij. De stof is van een dikke kwaliteit (verbergt dus wat je verbergen wilt). Ben blij ermee
mara | 2015-06-11 08:24:44
---
Ein toller Gürtel der zu allem passt und die Taille wunderbar formt.
Nadine | 2015-05-28 06:08:56
---
nl
leuk leuk leuk leuk leuk !!!
Er moet bijna een nieuwe kledingkast bij ;-)
Letty | 2015-01-22 22:20:44
---
Hallo, heute bekam ich das reizend verpackte Kleid. Darüber habe ich mich schon gefreut. Meine Freude war dann grenzenlos als ich es angezogen hatte über die tolle Passform und Qualität. Meine Mama (93 Jahre) flippte fast gleich mit aus und mein Mann, der große Modekritiker war auch begeistert. Auch ich, mit meinen 60 Jahren, werde wieder ab und an in die 50er Jahre eintauchen wenn ich es trage. Es wird einer meiner Lieblingsshops. Vielen herzlichen Dank und viele neue Ideen für die nächste Kollektion wünscht Roswitha aus Deutschland
Ach ja, die Lieferzeit war enorm. Nach zwei Tagen war das Paket schon da.
Dafür alle Herzchen für euch
Roswitha | 2015-01-21 14:25:09
---
en
Belts make a good outfit great
I recommend these belts as they complete any look:)
Ylva Norrgård | 2019-07-08 17:54:29
---
nl
Mooie échte Vintage accessoires
De riemen passen overal bij, staat ook mooi bij mijn werkuniform, de slaatjes van jullie vind ik altijd mooi en deze is vooral heel erg mooi afgewerkt en de tas... de tas is gewoon TOP! LoveIt!
Ellen Scheuller | 2019-06-12 15:39:22
---
Je viens de recevoir mes ceintures dans un jolie emballage et super bien protégés par Amanda que je remercie....Je suis ravie de mes achats de très belles qualités, les tailles sont parfaites, vraiment ce site est magnifique je recommande et le prix est abordable. BRAVO A TOUTE L'EQUIPE
Martin | 2019-03-15 17:33:56
---
Das Kleid ist wirklich sehr schön, vor allem der Ausschnitt ist super und macht ein tolles Dekolleté!
Der einzige Schwachpunkt bei dem Kleid ist der Gürtel aus dünnem schwarzen Stoff, dieser ist nicht verstärkt, wodurch sich der Gürtel aufrollt, das sieht nicht schön aus.
Zum Glück hatte ich für ein anderes Kleid einen breiten roten Gürtel mitbestellt und der passt wunderbar zu dem Rosenkleid!


Hallo Zoe, vielen Dank für Ihr Feedback! Wir sind neugierig wie wir unsere Qualität noch verbessern können und werden es sofort Intern weiterleiten. Viel Freude mit das tolle neue Outfit :)
Liebe Grüße,
Alexandra
Kundenservice
Zoe | 2018-09-26 20:35:03
---
Mega Kleid ,die Farbe wie auf dem Bild, werde es für den Größenvergleich mal noch in M bestellen, lieg wohl zwischen den Größen.
Schöne Verarbeitung, rechtfertigt den Preis ;)

Melanie Reuß | 2018-08-15 16:09:26
---
A good fit and a nice bright red, but not as sturdy as I was expecting, but for the price I would buy it again.
Claire Barnsby | 2018-04-04 18:28:24
---
C'est toujours un plaisir de recevoir les colis. Tous les articles correspondent aux descriptions et à mes attentes
Charlotte Gillardeau | 2018-01-03 15:57:08
---
de
Perfekt für den Sommer!
Das blaue Oberteil ist sehr interessant und sehr bequem. Außerdem nicht gerade bügelintensiv (wird eigentlich nicht gebügelt). Ich trage es am liebsten zu einer Caprihose. Der Stoff ist sehr angenehm.
Den Zitronenrock habe ich in England gesehen und musste ihn dann haben. Sieht wirklich super aus und die Taschen sind einfach praktisch. Mir gefällt er am besten mit einem schwarzen Oberteil.
Das rote Oberteil erscheint erst ziemlich dünn, ist aber super bequem und gerade wenn es sommerlich warm ist, genau richtig.
Die beiden Boleros sind Nummer 3 und 4 dieses Modells. Sie passen super zu allen Oberteilen und Kleidern, die eher einen Bolero als eine Strickjacke fordern. Sie sind auch sehr angenehm zu tragen und problemlos zu waschen.
Die rote Bluse habe ich bereits in mehreren Farben. Sie sieht super aus und ist gut kombinierbar. Ich habe sie mir zu einem dunkelblauen Rock bestellt.
Gürtel kann man ja nie genug haben! Durch einige Kleider habe ich diese Art Gürtel bereits in weiß und schwarz. Jetzt war rot an der Reihe. Dunkelblau wäre auch noch schön!
Ina | 2017-06-15 17:53:42
---
Das Kleid passte perfekt und mit den beigefügten Accessoirs aufgepeppt ein echter Hingucker.
Sehr zu empfehlen
Christine | 2017-06-09 09:44:12
---
die Gürtel passen perfekt und man kann sie zu allem tragen
Silvia | 2017-04-26 08:50:52
---
Vorige week eerst het rode en zwarte vestje besteld en dit waren weer toppertjes, zaten gelijk perfect dus gelijk de rode in blauw besteld.
Omdat het zwarte vestje niet beschikbaar in rood was een vestje van Bunny besteld en ook hier zeer tevreden over en is iets dikker.
Over de rok ben ik al langere tijd aan het twijfelen, ik ben vrij klein (1.60) en vrij brede heupen dus ik was bang dat het niet zou staan..............maar wat ben ik blij dat ik de rok toch besteld heb, hij zit super fijn ,staat goed en ik voel mij op en top vrouwelijk.
Top Vintage weer heel erg bedankt voor de snelle levering en de hele mooie spulletjes!!!
Miranda | 2017-03-28 16:04:42
---
De gele rok is geweldig, mooi van kleur, mooie pasvorm. De stof is wel dun maar voor de warme dagen is dat geen probleem.Het blauwe kleedje met de hartjes is super schattig, wel kort van lijf maar met een beetje handigheid van naaien is dat opgelost.Het was te mooi om terug te sturen. De speld is geweldig.Het kleedje met de bloemen, mooi van model en kleur, ik kan het nu al dragen met dikke kousen en een vestje erop.Het blauwe truitje is prachtig van kleur een mooie dikke stof.Het gele jasje met de lieve strikjes is super.Het zwarte bloesje is leuk, kan goed op rok of broek.Het zwarte truitje met lange mouwen is speciaal door de das die eraan vast gemaakt is.Leuk om te dragen op mijn katjes rok die ook geweldig is. De elastiek van de riemen is dun maar ok voor zijn lage prijs. De rok met de vogels was prachtig van tekening en kleur maar te zware stof waardoor hij weg steekt. De levering is super snel, mooi verpakt met ook nog een leuk geschenkje! Ik kijk al uit naar mijn volgende bestelling! Bedankt Top vintage, jullie zijn top!Groetjes en tot snel ;-)
Anke | 2017-02-28 12:10:28
---
de
Tolle Ergänzung zu Kleid und Rock
Beide Gürtel haben die gleiche Größe. Der weiße ist jedoch wesentlich fester und enger. Dennoch sehr gut zu tragen und macht aus jedem Kleid einen Blickfang. Die Blume im Haar ist wirklich das und optisch sieht die ganz toll ist. Das rote Tuch für die Haare hält perfekt im Haar und lässt sich problemlos wie auf dem Foto binden.
Nathalie | 2016-06-16 21:57:06
---
Fijne stretchy riem, die gelukkig niet te strak valt en daardoor prettig draagt. Perfect om mijn collectie jurken mee op te vrolijken! En voor een leuk prijsje
[email protected] | 2016-05-26 11:00:10
---
Prachtige kleur! Erg leuk bij mijn Lady V jurk <3
Iris | 2016-04-24 10:41:40
---
Alles wurde wie immer liebevoll verpackt und blitzschnell geliefert. Außer der Hose und dem Rock passte und gefiel alles perfekt! Herzlichen Dank und weiter so!
Tanja | 2016-04-17 17:43:37
---
Je surveillais le réapprovisionnement de la robe jaune miel depuis un moment et j'ai sauté sur l'occasion quand je l'ai vu dans ma taille et j'en suis ravie. La coupe est top, le tissu est lourd et élastique, parfait pour l'hiver.

Très contente du boléro couleur rouille aussi, très doux au touché.
Morghane | 2021-10-21 07:46:36
---
en
Lovely elasticated belt to go with my flared dresses
Really like this elasticated belt with front silver buckle that will go with many flared dresses I have. I am normally a size 14-16 and the large size was perfect for me. Bought a second one in another colour too.
Elaine | 2021-02-15 15:59:56
---
en
Lovely elasticated belt to go with my flared dresses
Really like this elasticated belt with front silver buckle that will go with many flared dresses I have. I am normally a size 14-16 and the large size was perfect for me. Bought a second one in another colour too.
Elaine | 2021-02-15 15:57:48
---
The stretch makes it super comfortable and flattering. The colour is fantastic and perfect to match with lipstick red accessories for a real pinup look. The size is true to the size guide, and I'm happy to finally find clothes with my measurement all over.
The only negative thing I can this of is that the zipper in the back makes it a bit hard to get dressed without help. But that is a small thing in an over all really awesome jumpsuit.
Anna | 2020-09-26 10:34:28
---
fr
Ceinture qui habille avec style
J'aime les différentes couleurs de la gamme. Je l'ai en noire. Aujourd'hui, j'ajoute la rouge. Elle est parfaite pour parfaire le look.
Maëva | 2020-09-21 14:56:13
---
fr
Ceinture qui habille avec style
J'aime les différentes couleurs de la gamme. Je l'ai en noire. Aujourd'hui, j'ajoute la rouge. Elle est parfaite pour parfaire le look.
Maëva | 2020-09-21 14:53:57
---
youpi j'ai enfin reçu ma commande ...Super produits j'adore : jolie qualité , emballage soigné et petit cadeau Merci . Je les avais commandé pour une soirée samedi soir dernier ...Quel dommage que le colis ait mis 10 jours pour arriver ;)
Carole | 2020-06-30 09:52:57
---
nl
Top fijne en aparte spullen !
Blazer zit comfortabel maat tabel correct iets ruim en mooie stof, soepel zacht als 'n vest, sluit mooi aan op figuur!
Rode baret is groter dan ik dacht, lekker zacht, pracht kleur en degelijke stof zit goed en staat leuk!
Allerliefst de kers en aardbei broche, top kwaliteit en op jas, jurk of andere kleding zoals 'n baret te dragen.
Riem is oranje rood en o.k. zeer stabiel valt vrij klein uit
Dank aan T.V.

A.J.S. | 2020-03-03 20:28:37
---
nl
Prachtig, sexy, vrouwelijk <3
Elke keer is het weer een feestje als ik iets gekocht heb. Het zit comfortabel, goede stoffen en krijg altijd een hoop complimenten, is het geld dus zeker waard!

Zenalda Furtado | 2020-02-19 06:52:12
---
I ordered size small and the belts are a perfect fit! Fits true to size and cinches in the waist ❤️
Sandra | 2022-06-20 19:58:02
---