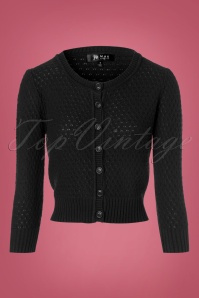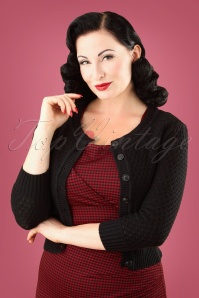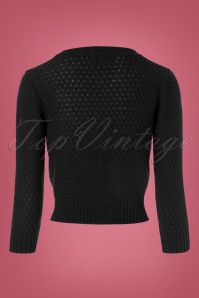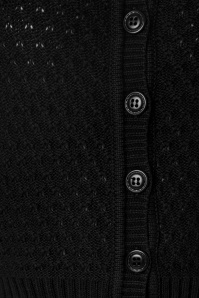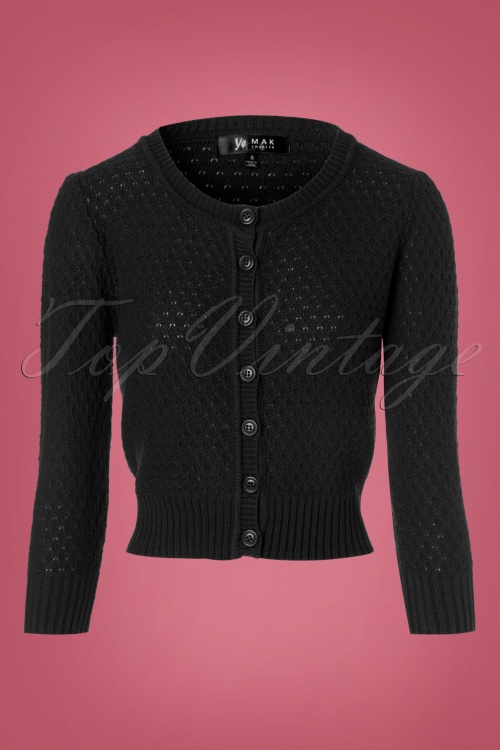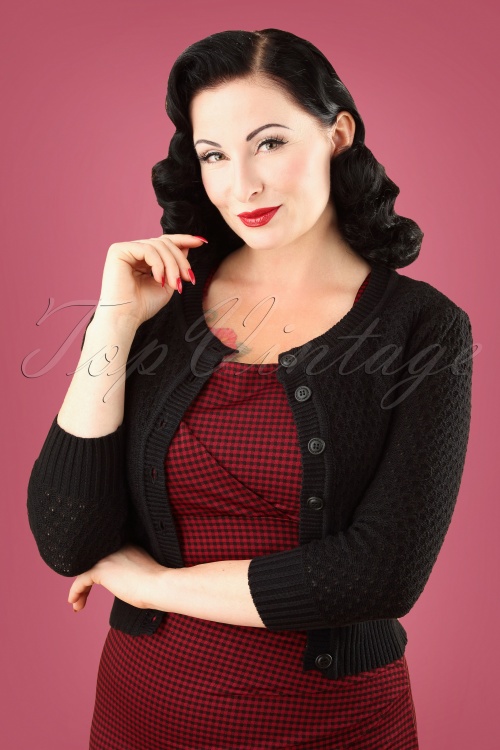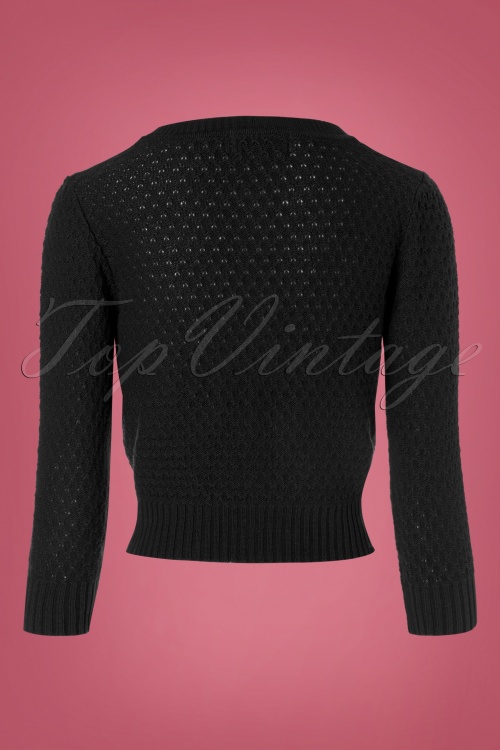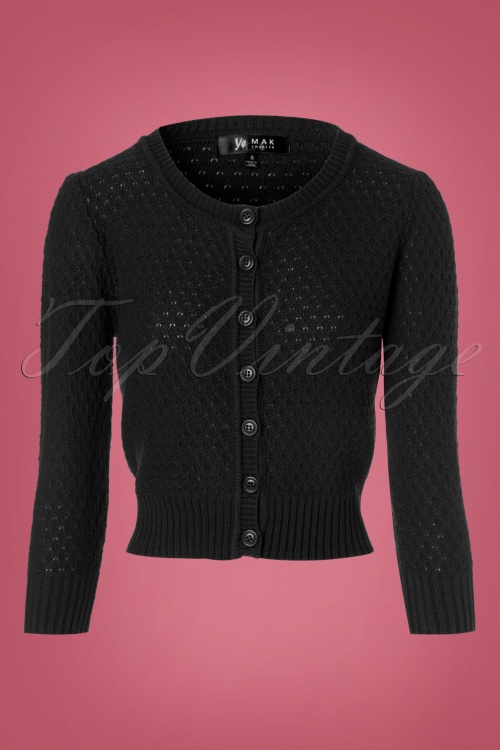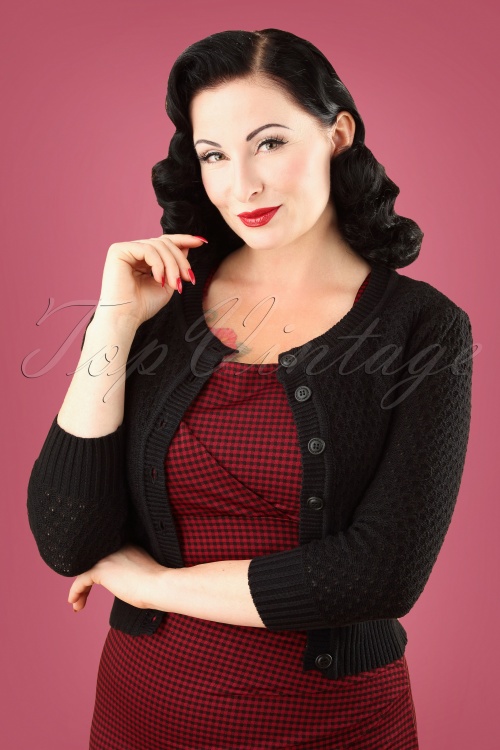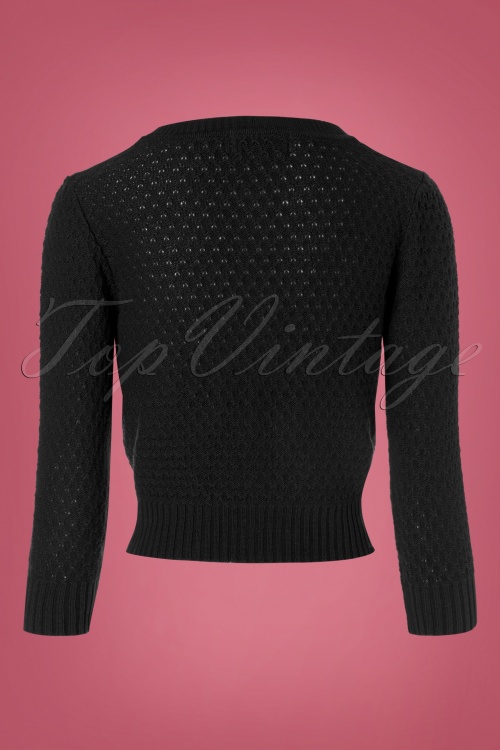 50s Jennie Cardigan in Black
The combination possibilities are endless with this 50s Jennie Cardigan in Black! Cardigans are often undervalued garments but let's change that! You can wear them open or closed and make it possible to enjoy your summery clothes on cold days as well. They do deserve some credit for that, don't they?! This versatile cardi features a classic cut with a round neckline, 3/4 sleeves and stretchy rib board for a beautiful fit. Made from a thicker yet lovely supple and stretchy, fine knitted black cotton featuring a subtle check pattern. Jennie simply deserves a spot in your wardrobe, doesn't she?
Round neckline
3/4 sleeves
Stretchy rib board
Slightly shorter and therefor a perfect match with high waist items
Article nr.
23263
Handwash cold (don't leave it in the water)
Wash inside out
Wash dark colors separately
Do not dry clean
Do not tumble dry
Air-dry flat
Iron inside out on low temperature setting
fr
si tu ne sais pas choisir, prends les 2!
ces cardigans sont manches 3/4. c'est la touche rétro pour toutes les tenues: avec une robe, avec un top décolleté ou col roulé, ou fermé et porté comme un pull. ils sont aussi doux que leur prix!
Aurelie Wantier
&nbsp|&nbsp
2019-10-15 06:35:58
---
Ik vind deze cardi's fijn omdat ze van een dikkere kwaliteit zijn, ik draag ze aansluitend of losser, kan beiden, ik heb ze in verschillende maten gekocht.
Ik wil ze bijna allemaal, helaas niet voorradig nu, dus op de 'tip mij' lijst :-)
Alweer tevreden! xxx

Ilse
&nbsp|&nbsp
2019-09-26 15:22:58
---
Der Herbst kann kommen! Dieser wunderbare Cardigan ist ein echter Allrounder und jetzt schon ein Lieblingsstück
Janine Birnkammer
&nbsp|&nbsp
2019-09-05 18:11:33
---
Ich habe mich nach langem überlegen endlich getraut hier zu bestellen und ich hätte nicht so lang überlz sollen.
Tatjana Brandtner
&nbsp|&nbsp
2019-01-03 22:21:39
---
Ich besitze diesen Cardigan bereits in mehreren Farben und nun sollte auch der schwarze bei mir einziehen. Bei der Anprobe war ich jedoch entsetzt! Was ist das??? DIe anderen Cardigans sind taillenkurz und die Ärmel wie beschrieben dreiviertellang, das Modell insgesamt recht eng anliegend. Dieser jedoch geht mir bis zu den Hüftknochen, die Ärmel enden an den Handgelenken und er sitzt insgesamt wie ein Sack...!!! Ich vermute nun, dass er vom Hersteller evt. falsch ausgezeichnet wurde und ich Wirklichkeit Größe L oder XL ist (ich habe S bestellt). Da er ausverkauft ist kann ich ihn leider auch nicht umtauschen. Nun bin ich ratlos und hoffe, dass der Kundenservice mir helfen kann.
Christina
&nbsp|&nbsp
2018-11-21 14:05:08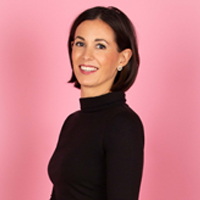 Response from Sylvia

Liebe Christina, natürlich kann unser Kundenservice Ihnen helfen! Ich werde mich sofort mit Ihnen in Verbindung stellen damit wir die Sache schnellsten klären und lösen können. Bitte entschuldigen Sie die Unannehmlichkeit, dass war bestimmt nicht unsere Absicht!
Liebe Grüße,
Sylvia 
Kundenservice 
---
J'ai hésité avant de commander cette jolie jupe et puis j'ai finalement craqué. Aucun regret, elle est juste parfaite et réellement féminine.
La livraison est toujours aussi rapide et efficace et le petit miroir de poche apprécié.
Un grand merci à toute l'équipe.
Sandrine.
Sandrine DOERLER
&nbsp|&nbsp
2018-10-19 10:15:26
---
nl
Mooi, maar niet voor mij.
Het witte bloesje is heel leuk, maar stond mij helaas niet zo leuk. Ik wilde heel graag een wit bloesje proberen, maar ik hou blijkbaar toch niet zo van die kleur als ik het aan heb. Daarnaast stond het model mij ook niet zo geweldig dus hij ging weer terug.

Het vestje was erg leuk en lekker warm, maar helaas viel hij te groot uit. Groter dan ik had verwacht. De meeste tops en vestjes bestel ik in maat M en dat heb ik bij deze ook gedaan, maar ik denk dat ik van dit vestje een S had kunnen hebben.
Astrid Lippolt
&nbsp|&nbsp
2018-09-14 12:43:20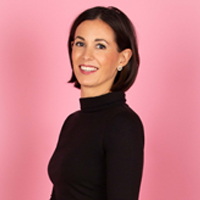 Response from Sylvia

Beste Astrid, jammer dat ons Fly Away Shirt in wit toch niet jouw kleur bleek te zijn, je had het in ieder geval een kans gegeven! Natuurlijk krijg je na ontvangt gelijk je centjes ervan terug. Ik mail je even om te bespreken of we je vestje misschien om kunnen ruilen voor een kleiner maatje, we willen tenslotte dat je helemaal happy bent met je aankoop. Ik spreek je zo!
Groetjes,
Sylvia
Klantenservice 
---
nl
Anders dan op de foto...
Ik had verwacht dat dit vestje lange mouwtjes zou hebben en tot iets onder de taille zou vallen, want zo lijkt het op de foto, vind ik. Jammer genoeg zit het vest erg strak bij de armen, en valt het veel korter bij armen en in de taille, zelfs bij een broek met hoge taillering... Heb hem teruggestuurd.


Claudia
&nbsp|&nbsp
2018-09-07 11:09:06
Response from Customer service

Beste Claudia, wat ontzettend jammer dat deze Cardigan niet aan je verwachtingen voldoet... Uiteraard is het geen probleem om deze naar ons terug te sturen, we zullen meteen het aankoopbedrag aan je terugbetalen. Hopelijk is het de volgende keer beter!

Groetjes,
Auke
Klantenservice
---
Sowohl die Qualität, als auch der Schnitt und die wundervollen Farben überzeugen. Der Herbst kann kommen!
Annika Bautsch
&nbsp|&nbsp
2018-09-04 16:49:29
---
Cardigan van prachtige kwaliteit ! Staat leuk bij alles. Kon niet kiezen que kleur, dus heb ze (bijna) allemaal gekocht ;)
Fabienne De Bie
&nbsp|&nbsp
2018-08-30 15:33:34
---
Vandaag mijn bestelling ontvangen. Ben erg blij met de Sugarshock truitjes. Ik begrijp dat sommige mensen de mouwen te smal vinden maar mij zitten ze als gegoten, gelukkig zijn de schouders niet smal. Het zwart-witte shirt van Vixen is gemaakt van een synthetische stof waar ik niet dol op ben. Uit ervaring weet ik dat ik tops van dat materiaal altijd in de kast laat hangen omdat ze koud aanvoelen. Het zwarte vestje van Mak heeft een mooie stof en de breisteek van het vestje vind ik ook mooi. Maar het vestje is voor mij te kort, op de foto oogt het langer. De groene jurk moet ik helaas net als het vestje en het Vixen shirt retourneren omdat deze erg smal is op de schouders.
Jammer dat ik 3 artikelen moet retourneren Maar nogmaals ERG blij met de SugarShock jumpers. Ik ga meteen nog een paar truitjes van dit merk bestellen.
Cynthia Van den Bor
&nbsp|&nbsp
2018-01-27 13:24:07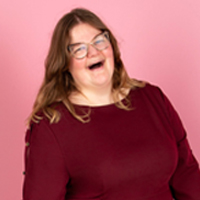 Response from Nicole

Beste Cynthia, super om te horen dat je zo blij bent met de jumpers, maar wat jammer dat je deze keer minder geluk hebt gehad met de overige items! Uiteraard mag je deze artikelen retourneren en wij zullen het aankoopbedrag terugstorten op je rekening. Hopelijk vind je de volgende keer weer artikelen waar je helemaal happy van wordt ;-)
Groetjes,
Nicole
Klantenservice
---
en
Jennie cardigan, a perfect match!
Love this Jennie cardigan in cotton, and I love its name ;-)
True to size!
Jennie Andersson
&nbsp|&nbsp
2017-12-19 21:05:51
---
nl
Op mijn lijf geschreven
Wat n prachtige kleren heb ik weer.
De zwarte jurk is fantastisch en zit geweldig.
Het vestje is lekker warm.
Het mantelpak is ook geweldig mooi, beetje jammer dat de kleur veel donkerder is als op de foto.
Bedankt weer en tot de volgende keer.
Groeten Rosa
rosa busio
&nbsp|&nbsp
2017-11-27 11:41:13
---
Eine super Jacke! Nicht zu dick, nicht zu dünn, nicht zu lang, nicht zu kurz, angenehmer Stoff, einfach rundum toll! Mehr gibt es nicht zu sagen, außer dass ich hoffe, es wird noch viele weitere Farben geben! :)
Britta Bölling
&nbsp|&nbsp
2017-11-15 20:50:23
---
Zuerst, es ist wirklich schlimm. Liebes Top Vintage Team. Ihr schafft es immer wieder, auch wenn man sich sagt, nein man hat doch genug, immer wieder zu bestellen, alleine um dieses liebevoll verpackte, zum Herz erwärmen schöne Päckchen zu öffnen.... Und ihr topt euch immer wieder. Danke für die wundervollen Goodies ! Das musste jetzt gesagt werden... Dann zu dem Kleid. Es ist wirklich schön und sitzt faßt perfekt, ich muss nur die Träger ein wenig weiter herunter ziehen, aber das ist ein Problem, das ich leider häufig habe, das die Rücken/Schulterlänge zu groß ist. Trotzdem definitiv auch für schmale Frauen geeignet ohne zum Schneider rennen zu müssen. Allerdings verlor das Kleid allein beim anprobieren schon extrem viel Glitzer, so das ich Angst habe das es bald seinen Glanz verloren hat. Ich werde es aber trotzdem behalten, da man bei dem Preis auch nicht zuviel meckern darf und es wirklich schön ist...Und bestimmt auch ohne Glitzer sein wird...Das Strickjäckchen sieht wirklich Vintage aus, aber auch hier gibt es ein kleines Minus. Die Ärmellänge ist extrem knapp, bei meinen 162cm gerade ok... Trotz der kleinen Kritikpunkte habt ihr mich mal wieder glücklich gemacht. Danke!!!!


Yvette Kölbl
&nbsp|&nbsp
2017-11-14 12:39:43
Response from Mandy

Hallo Yvette, entschuldigen Sie uns bitte dass das Kleid schon so viele Glitzer verloren hat! Es freut mich aber dass Sie es trotzdem behalten möchten und zufrieden sind. Ich werde mich trotzdem heute noch bei Ihnen melden um es zu besprechen und das Problem zu lösen! 

Liebe Grüße, 
Mandy
Kundenservice
---
habe sie in rot und schwarz bestellt. passen perfekt, super Material.
Silvia Brandlhuber
&nbsp|&nbsp
2017-11-07 09:32:48
---
nl
Schattig maar aan de ruimte kant
Ik had maat S besteld, maar het model van dit enige vestje valt vrij ruim. Ik heb een kleine boezem waardoor vestjes al snel ruim vallen bij de schouders, maar bij dit vestje was dat effect sterker. Behalve dat het een dottig modelletje is en - naar ik inschat - een fijne kwaliteit die lang goed blijft in de was, heb ik het vestje toch geretourneerd.
Martineke
&nbsp|&nbsp
2017-11-02 07:22:53
---
Diverse kleding al mogen ontvangen!
Top, een goede reden om te sparen voor mooie kleding
Miranda van der Meer
&nbsp|&nbsp
2022-10-22 10:59:23
---
Alles was geweldig zoals altijd!
Rokken passen perfect en zijn prachtig.

De vestjes zitten goed en zijn super schattig en ik heb al meerdere complimenten gehad over mijn tas; de kleur van de tas is in het echt nog mooier dan op de foto (en er past veel in).

Kortom, ik ben weer helemaal tevreden :)
Sanne
&nbsp|&nbsp
2022-09-15 20:04:46
---
Wat een geweldig mooie jas! Mooie pasvorm (bij mij precies op maat), slank model, mouwen op prima lengte. Wat voor mij helaas te groot is is de kraag. Dit is dan ook de reden dat ik - met lichte pijn in het hart - de jas retour heb gestuurd.

De vestjes vind ik verschillend van pasvorm. Vorig jaar gekochte modellen maat S lijken dezelfde maat te hebben als de maat M welke ik nu heb besteld. Ook de twee maten M lijken een verschillende pasvorm te hebben. Lastig dus..

De petrol jurk past perfect en wat een fijne stof! Helaas vallen de lijnen op de buik dusdanig dat ze bij mij juist daar de nadruk op leggen, iets wat ik liever niet heb, dus ook retour.

De witte jurk? Verliefd op! Geweldige pasvorm, vrij zware katoenen stof met heerlijk twee zakken in de rok. Bij mij iets wijkend in de halslijn, maar de rest van de jurk is dusdanig fijn dat ik dat voor lief neem. Leuk te combineren met de vestjes die ik kocht!
M. de Heer
&nbsp|&nbsp
2022-09-06 11:09:14
---
Absolut meins
Melle
&nbsp|&nbsp
2022-08-30 19:20:24
---
fr
Adorable et super qualité !
Ce cardigan est vraiment très mignon et de belle qualité ! Dimension conforme grâce aux mesures proposées. Pour une première commande, je suis ravie !
Justine
&nbsp|&nbsp
2021-09-27 15:40:12
---
de
Ein wunderschönes Kleid
Ich habe das Kleid erst gestern bestellt und heute kam die Lieferung schon an. Das Kleid passt perfekt und es sieht wirklich toll aus. Die zwei Taschen an den Seiten sind euch praktisch. Dies ist nun mein erstes Vintage Kleid und es wird auch nicht das letzte bleiben. Einfach nur schick, elegant und weiblich.
Yessi
&nbsp|&nbsp
2021-09-03 13:44:27
---
Mooie kwaliteit. Past bij heel veel.
Daar de truitjes wat korter zijn vind ik ze ideaal om te dragen op een high waist.
fanny oplinus
&nbsp|&nbsp
2021-01-03 11:53:15
---
de
unter aller Kanone; iwie enttäuscht
habe den Cardigan in weiss zweimal bestellt - und wieder zurückgesendet.

nicht nur, dass die Grösse diese Saison zwei Nummern kleiner ausfällt (daher die erste Rücksendung und Neubestellung) - die Qualität GEHT GAR NICHT. Bei beiden Farben. Schon gar nicht für den Preis. ÜBerall Ziehfäden, Knopflöcher schlecht verabeitet, oben und unten schiefe und krumme Knopfleise, was beim offenen Tragen ins Auge sticht.

Den Kundenservice habe ich kontaktiert, leider fand ich die Reaktion - entgegen älterer Erfahrungen - relativ sachlich.

Da ich unbedingt einen kurzen BAUMWOLL Cardigan in schwarz brauche, werde ich wohl nochmals mein Glück versuchen - der Schnitt und Muster ist einfach zu perfekt. Wieviele ich zur Auswahl bestellen "muss" muss ich mir noch überlegen, schade dass dann wieder eine Rücksendung anfallen wird...
Katrin
&nbsp|&nbsp
2020-09-12 12:46:33
Response from Bernice

Hallo Katrin, es tut mir leid, dass Sie diesmal überhaupt nicht zufrieden waren mit den Cardigans. Sie dürfen Sie selbstverständlich wieder an uns zurückschicken. Bei einer Reklamation ist das komplett kostenlos. Sie erhalten von uns dann den Kaufbetrag wieder zurück.


Liebe Grüße
Bernice
Kundenservice
---
de
Vielseitige Strickjacke für kleine Ladys
Mit meinen knappen 1,60 sind mir Ärmel meist viiiiel zu lang. Um dem zu entgehen, habe ich bewusst diese Strickjacke bestellt. Sie ist vielseitig zu tragen - im Alltag ist sie beim abspülen praktisch weil die Ärmel nicht im Weg sind. Gleichzeitig passt sie auch zu einm hübschen Kleid mit enger Taille. Durch das Strickmuster macht sie immer etwas her.
Der Ausschnitt ist etwas weiter als erwartet, sie passt nicht zu allen Kleidern. Mit Blusen ist sie aber toll, da schaut dann oben neckisch der Kragen raus.

Es sitzt nur an den Armen und der Taille figurbetont! Ich finde das sehe bequem. Wer den Sweater Girl Look mit hautengem Cardigan nachahmen möchte sollte sich nach etwas anderem umsehen.
H
&nbsp|&nbsp
2019-11-05 08:53:09
---
Die Bluse ist ein Traum! Besonders gefällt mir das Grün, im Kontrast zu den kleinen Rotbraunen Füchsen. Die Schleife kann abgenommen werden, aber gerade sie macht die Bluse komplett und ist sehr hübsch. Die Cardigans sind sehr hübsch und angenehm zu tragen; alle sind klasse mit Blusen zu kombinieren.
Miri
&nbsp|&nbsp
2022-12-09 19:48:32
---